In recent years, web development outsourcing in Vietnam has been a popular option for companies worldwide. Vietnam is an appealing option for software and mobile application development outsourcing. This is due to its competitive outsourcing pricing, highly qualified IT workforce, and top tech expertise.
Before getting into the subject at hand, let's first discuss the reasons why firms love outsourcing in the first place.
5 Reasons Why You Should Outsource Web Development?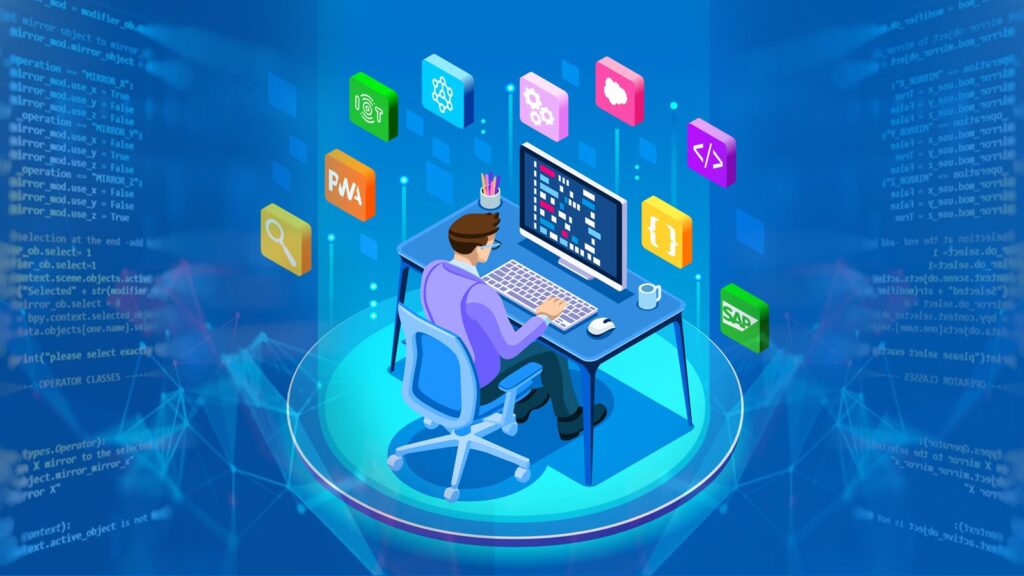 Outsourcing has become a prevalent process nowadays in many fields, and the IT sphere is no exception. There are several advantages to outsourcing web development, which Designveloper will promptly list below.
Recommended reading: Top 18 Web Development Companies in Vietnam
1. Access to a larger pool of development resources
Developing a strong and visually appealing website or app necessitates the usage of highly experienced and qualified specialists. Outsourcing allows you to select developers and UX/UI designers that best meet your project needs from a massive pool of talent located all over the world.
An outsourced team may offer you a ready-made team of professionals capable of completing and delivering a high-quality project on time. They provide access to a global technology talent pool. It also allows you to acquire crucial IT capabilities that you may lack in-house or can not locate locally.
2. Cost saving
Outsourcing product development is significantly less expensive than employing a team of in-house developers. This is due to economic inequalities between developed and developing countries. In general, the rates charged by outsourcing development firms are substantially cheaper than those set in the local market. A typical corporation may save up to 60% to 70% by outsourcing to low-cost countries.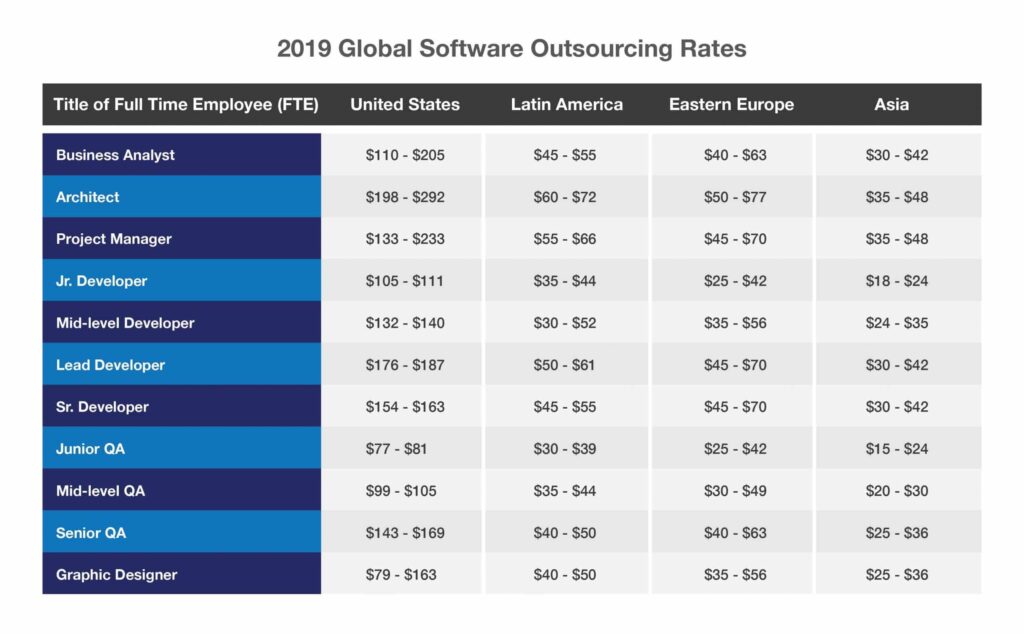 Recommended reading: The Outsource App Development Cost: A Detailed Guide
3. You can focus more on the essentials
Creating a mobile app or website on your own takes a lot of time and work. You are in charge of keeping a close eye on the project and ensuring the usage of the best coding techniques and quality standards. You are also in charge of testing the product after ensuring that all bugs have been fixed.
If the company is outsourcing, its staff will have more time to work on other important business issues. The service provider's team of skilled developers and QA experts will give you a product that meets all of your criteria and requirements for the quality of the product as you focus on other core issues.
4. Save time
If the project's development work is done by a third party instead of an in-house one, it may be done faster. A company can also work on multiple projects simultaneously and combine an internal team with one from outside the company.
5. High quality
If you hire web developers and designers to work on your products in-house, there is a chance that the quality of your products will go down. These problems could happen if your staff doesn't have the knowledge and skills to meet the highest quality standards.
When you outsource, experts in the field will take care of your project instead. They have a lot of experience, knowledge, and skills that help them do their jobs in the best way possible to ensure quality. The final product you get will not only be of high quality, but it will also be reliable, scalable, and full of different features.
Most outsourced companies have separate quality assurance teams that check the code to make sure it is correct and send the customer software with no bugs. Also, they can do a wide range of tests, including those related to performance, security, and usability. This makes your application impossible to break into and able to give excellent results even when it's under a lot of stress.
3 Growing Regions for Web Development Outsourcing
Asia, Eastern Europe, and Latin America remain common destinations for offshore software production. In terms of Asia outsourcing, India and China, to many, still hold the top two spots as the world's most dominant outsourcing destinations. However, among Asian-Pacific countries, Vietnam, an emerging powerful IT outsourcing and offshore development center, is getting noticed daily. Before we delve further into the state of web development outsourcing in Vietnam, we must first address the context of the three growing regions mentioned.
1. Latin America
Latin America has become known as a place where new technologies are developed in the past few years. Companies in the US like the high level of expertise in the area and the fact that they can communicate with outsourcing providers in the same or a similar time zone. This region is also close by and has similar cultures to their workers.
Latin America is a popular choice for web development because it has a lot of people who speak English well. Developers here also spend a lot of money on education, especially technology-related education. Think about going to Argentina, Brazil, Chile, Colombia, Mexico, and Peru.
Recommended reading: 10 Best Countries to Outsourcing Software Development in 2022
2. Eastern Europe
Outsourcing web development is becoming more and more popular in Eastern Europe and other places. Countries in the area speak English very well, making it easy for Western Europe to do business there. The area as a whole is also beneficial. Even though rates are lower than in Western Europe, they are still much higher than in Asia. In some of its countries, like Poland, there are more and more IT professionals, making it an excellent choice for web development.
Some of the most innovative countries in the world when it comes to website development are Eastern Europe. These include Croatia, Poland, Romania, and Ukraine.
3. Asia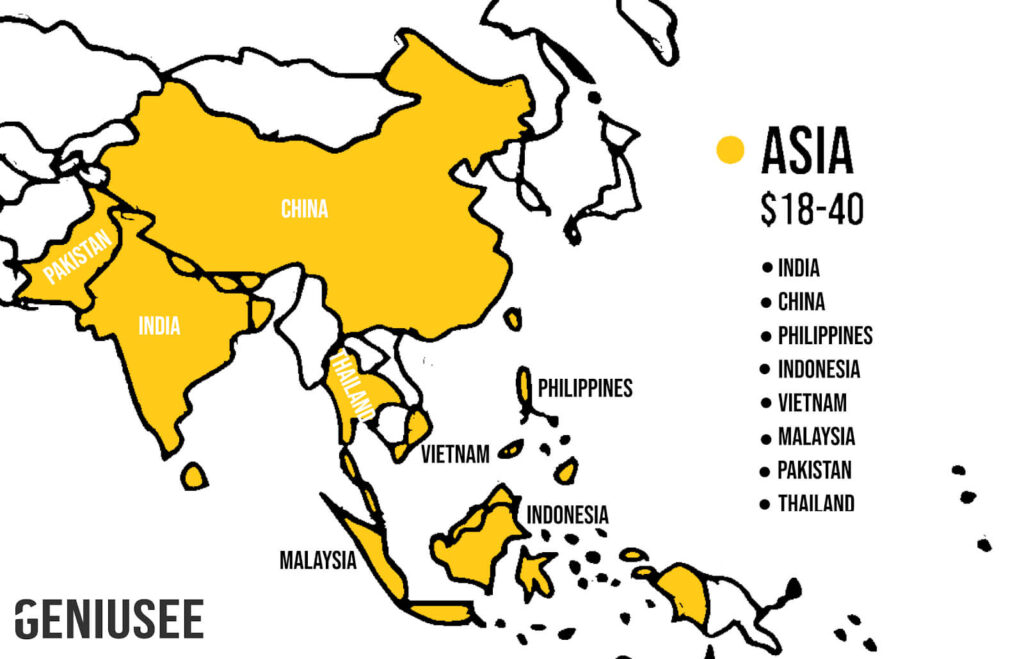 When most people think about offshore web development, Asia is the first place that comes to mind. India, in particular, is one place that comes to mind first for many people. Since it was one of the first places we outsourced technology, it is full of skilled software engineers. This is also the site where you'll probably find the best deals.
Before working with a development partner, it is crucial to set up unambiguous terms. Misunderstandings and missed deadlines can be caused by language barriers, geographical distance (or lack of it), and other incompatibilities. You should also ensure that your organization and the development partner are a good fit. If you're thinking about outsourcing web development to Asia, keep in mind that it can be hard to make sure the two cultures work well together.
When it comes to web development, China, Hong Kong, India, the Philippines, Thailand, and Vietnam are some of the most important countries in Asia. Vietnam is especially emerging as one of the top destinations for web development outsourcing. In the next section, we will get into why this is the case.
Recommended reading: Top 3 Best Countries for Software Outsourcing Asia Pacific Region
Why Not Consider Web Development Outsourcing in Vietnam?
In recent years, Vietnam has become a new paradise for offshore software development outsourcing. Vietnam has established itself as a vibrant and productive environment for offshore software development in the Asia-Pacific region. IT purchasers looking for a qualified and cost-effective personnel pool can go no farther than this country. The numbers do back this up:
According to C&W's 2015 rankings, Vietnam is the best destination for global outsourcing.
Vietnam came in at number 13 on the top 50 digital nations (Tholons Services Globalization COUNTRY INDEX – 2019).
According to the A.T. Kearney Global Services Location Index (GSLI) for 2019, Vietnam was number five.
If you're planning for web development outsourcing in Vietnam, you must get acquainted with the benefits and challenges such a move raises.
5 Benefits of Web Development Outsourcing in Vietnam
1. Production Cost
One of the best things about outsourcing to Vietnam is that skilled tech workers are easy to find and don't cost too much. The prices are much lower than in the U.S. or in other popular outsourcing countries like China or the Philippines.
CIO magazine says that sending software development to Vietnam could save companies in the West about 90% of their costs. A senior developer in the United States costs $65–$130 per hour, while a developer in Vietnam costs $20–$45 per hour.
Recommended reading: A Detailed Guide for Web Development Cost
2. A Strong Labor Pool
A survey by TopDev found that Vietnam has more than 400,000 IT engineers and more than 50,000 IT students who graduate from the country's more than 153 IT institutions each year.
Top six on the Topcoder Report's global Developer Skills Charts for 2016.
In 2016, Hackerrank's Developer Skills Charts ranked Vietnam at the 23rd spot in the world.
In 2018, the Developer Skills Chart of Skill Value Report put Vietnam at number 29 in terms of Skillvalue.
Also, to meet the growing need for people, several IT companies have teamed up with schools to set up training programs and give scholarships to Vietnamese students who want to work in the technology sector. People in this situation could go to school in the United States, the United Kingdom, or any other industrialized country to learn more about technology.
Recommended reading: Web Developer Salaries in Vietnam
3. Stability
Vietnam is at the top of the list of Southeast Asian countries with the most stable governments. Since the start of the 20th century, the economy has grown quickly. According to data from the World Bank, Vietnam's gross domestic product (GDP) per person grew by 2.7 between 2002 and 2018. In 2019, it was worth more than $2700. The World Bank says that 45 million people were able to get themselves out of poverty during this time.
Trading Economics predicts that Vietnam's GDP per person will reach $2185 by the end of the year 2020. Vietnam's fast growth is due primarily to a stable economy, sound policies, and good leadership.
4. Favorable Investment Environment
Vietnam has had both broad and long-lasting economic growth due to its policies, which are based on the market and look outward rather than inward. The World Bank thinks that Vietnam is one of the most prosperous countries in East Asia growing. On the human capital index (HCI), this country is 48th out of 157, and only Singapore is ahead of it in the ASEAN region.
Vietnam's government is working hard to modernize the economy and make the country a better place to do business. Foreign investment is actively encouraged, and it's not hard for companies from other countries to shop in the country. Even though the rigidity of the communist political system worries many people from outside the country, it is the solid foundation for a fast-growing economy and a stable, safe society.
5. Pandemic Resilience
During the COVID pandemic, when most countries in the West were struggling to deal with it, Vietnam was a leading example of how strong a society could be and how robust its technology could be. Vietnam's information technology sector was able to keep running, and the country was able to get through the crisis thanks to quick thinking and careful planning. In June of 2021, Vietnam had the largest population of any country in which there had been no COVID deaths. Because of this, most IT workers in Vietnam no longer need to do their jobs remotely.
Outsourcing to Vietnam instead of other countries indeed has a lot of benefits. But you shouldn't forget about how hard it is to run a business in this country.
3 Challenges of Web Development Outsourcing in Vietnam
1. Cultural Differences
If you want to outsource your web development to Vietnam, you should pay close attention to the different cultures. Asian culture affects the way Vietnamese people work, but so does the country's environment and the society in which they live. The way people work in the West is very different from how people work in Vietnam. Most Vietnamese programmers are quiet but friendly, but they can also be pretty outgoing at times. Do some research on the land before you start integrating or making business connections with people there.
2. Limited English Proficiency
Another big problem with business process outsourcing (BPO) is that most Vietnamese people can't speak English well enough to communicate well. Even though English is the business language in this country, the population still lacks English proficiency for the most part.
On the English Proficiency Index from 2021, Vietnam got 66 out of a possible 120 points, a pretty low score. The language barrier could get in the way and make it hard to communicate.
3. Time Difference
Vietnam is eleven hours ahead of the United States and seven hours behind the United Kingdom. Now, businesses could use the time difference to their advantage because it lets them serve customers on any day or night.
But when it comes to outsourcing software development, you may often need to work in real-time. When this happens, people are in different time zones could make it hard to communicate well.
Even so, outsourcing to this Southeast Asian country has more pros than cons. Vietnam's outsourcing business is doing well, and many companies are meeting the growing need for software product development worldwide. One of these businesses is Designveloper, a well-known software development company with its main office in Ho Chi Minh City, Vietnam.
On Designveloper, the Leading Firm for Web Development Outsourcing in Vietnam

Designveloper is the most successful software development company in Ho Chi Minh city. The firm was founded in 2013, and in a relatively short amount of time, it has grown to become the most successful software development company in the city. Designveloper is committed to producing the most efficient software solutions to maximize the growth of companies (such as LuminPDF, Walrus Education, Swell & Switchboard, Joyn'it, or Bonux). The company's staff of engineers and designers consists of enthusiastic experts in their disciplines and have years of relevant expertise.
The vast majority of projects are centered on either consumer items, information technology, business services, or financial matters. They concentrate most of their efforts on developing websites, mobile applications, UX/UI design, and VOIP.
In addition, Designveloper is a prominent software development company in Vietnam. Their talented in-house designers and developers will leverage the most cutting-edge technologies to build an application truly one of a kind for your business. They will work closely with you from the beginning to the end to develop the ideal application. They will do this by working closely with you from the beginning to the end.
How Does Designveloper Differ?
Designveloper, the company that has been in charge of app development projects for several of the most well-known businesses in Vietnam, has been referred to as the "one-stop-shop" for app development in Vietnam. This moniker comes from the fact that the company has fulfilled all of an organization's needs for app development. In addition, the company is pleased with the skilled designers and programmers who work for it and is proud of their accomplishments. A streamlined experience is the ultimate product of their hard work, and it is something that customers will almost certainly enjoy as a result.
Their devoted team will collaborate with you to guarantee that each design or coding project produces the best potential outcomes. They will do this by working as efficiently as possible. In addition, Designveloper's staff can absolve you of the challenges one usually faces when dealing with Vietnamese outsourced teams. The company's highly experienced, English-savvy workforce has a smart team culture that can quickly relieve any cultural differences and smooth things out for a more efficient collaborative process.
Conclusion
As a result of globalization and technological progress, many businesses have found that sending their software development to other countries has become an essential part of their business. Several of the best software development companies globally are based in Vietnam. Because of this, Vietnam has become one of the most popular places for software development outside of the country. And Designveloper is a leading example of a web development outsourcing firm in Vietnam done right.