BPO, short for Business Process Outsourcing, isn't a new concept. However, not all companies understand this umbrella term well enough to select optimal options for their unique features and core competencies.
As a substitute for in-house employees, outsourcing counterparts provide different expertise and resources to handle their client's issues. Grasping distinct Business Process Outsourcing types and their characteristics is a must if companies want to join this shared workload market.
What is Business Process Outsourcing (BPO)?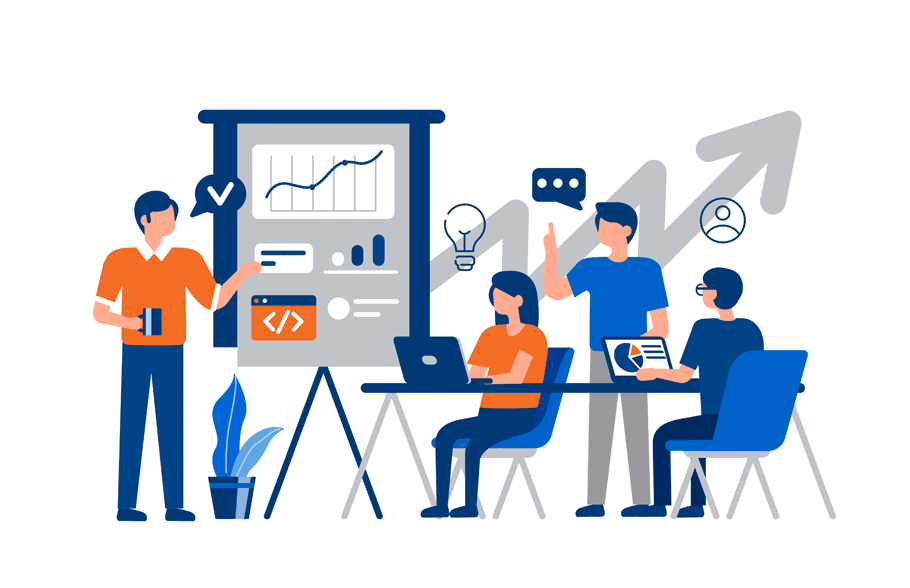 BPO (Business Process Outsourcing) is the process of entrusting external vendors with part of business-related obligations and functions. Business Process Outsourcing services now come into five varieties depending on two important components as follows:
Types of assigned tasks: Front-office Business Process Outsourcing and Back-office Business Process Outsourcing
Location of providers: Offshore Business Process Outsourcing, Nearshore Business Process Outsourcing, and Onshore Business Process Outsourcing
Characteristics 5 Types of Business Process Outsourcing
1. Front-Office Business Process Outsourcing
Should a company want an outsourcing agency to undertake customer-focused activities, it'll choose front-office Business Process Outsourcing services. Accordingly, the company can capitalize on high-qualified workers for customer support, software development, sales, and marketing.
Outsourcing those jobs, the company can concentrate more on core roles instead of wasting time and costs on new recruitment and internal training.
2. Back-Office Business Process Outsourcing
Those working at the back office don't take responsibility for client-facing missions. Instead, they focus on IT services, accounting, human resources, business process automation, payment, quality assurance, and more. Along with the development of global outsourcing, back-office Business Process Outsourcing is also subcategorized into Knowledge Process Outsourcing (KPO), Legal Process Outsourcing (LPO), and IT-Enabled Services (ITES) Business Process Outsourcing.
3. Offshore BPO
Exactly as it states, offshore outsourcing means having overseas vendors in charge of business work. This Business Process Outsourcing type gives a company multiple benefits such as diversified resources, tax-advantaged policies, and political certainty.
More importantly, the organization can approach a talent pool and good-quality services at a lower price. This possibly decreases operating costs and even product prices for end-consumers. A typical example for offshore BPO is that a US software company hires a development team in Vietnam to build an app.
4. Nearshore Business Process Outsourcing
If the US firm in the given instance decides to work with a provider that stays geographically closer, we'll describe this act as nearshore Business Process Outsourcing. The motivations behind this option are specialized skills, reduced costs, and tax advantages.
5. Onshore Business Process Outsourcing
This kind of outsourcing occurs when a contractor is located in its client's own country. Both companies may have offices within the boundaries of a city or they can settle down in different cities.
Like the other Business Process Outsourcing firms, onshore ("domestic") outsourcing is chosen for the availability of lower rates and assorted expertise skills. Additionally, when the company also factors in the cultural similarity of work and a demand for frequent in-person meetings, onshore Business Process Outsourcing can be a leading option.
Recommended reading: How Can Outsourcing Developers Help Your Business?
Implementation of Outsourcing Processes for the 5 BPO Types
There are some important rules it should follow for a successful outsourcing process:
1. Identify the Project's Scope, Characteristics, and Ultimate Goals
Before rushing to have projects done externally, you should ponder their characteristics (e.g. cost efficiency, capabilities, and time) and ultimate objectives. Normally, outsourcing is needed for non-strategic but still critical missions that go beyond the company's capacity.
2. Choose the Right Provider
The next important stage is choosing the right provider based on whether business functions are front-office or back-office and whether they need implemented inland or outland. Answering those questions, coupled with the project's unique requirements, will help you pick a suitable contractor. Reputation is another key issue. So you may ask associates for recommendations or turn to professional websites and groups for better choices. 
3. Formulate a Well-Managed Outsourcing Strategy
Contracting business-related work isn't like choosing which movies to watch. Therefore, planning the execution of outsourcing processes is a must to ensure everything goes on the right track. You may jointly work with service providers to reach the best consensus in outsourcing plans.
4. Design Service-Level Agreements (SLAs)
SLAs will determine service types clients need from providers, specific metrics to measure performance, and so on. They are the anchors of both parties committing to binding conditions and gaining a win-win situation when the project ends.
5. Develop Effective Communication Channels
Poor communication is attributed to misunderstanding and decreased productivity, especially when business work is assigned abroad. Therefore, using communication and project management tools is a feasible solution to boost interactions between parties.
6. Review the Contractor's Performance Regularly
The hiring company should engage in the vendor's working process to determine whether the project is working seamlessly. Many outsourcing firms now use agile models and management software so that the client can check the work progress and give immediate feedback for better results.
The Business Process Outsourcing Market
This part will give you a more comprehensive outlook on different aspects of the Business Process Outsourcing market, including its worldwide market size, major trends, benefits, and challenges.
Introduction to Business Process Outsourcing
According to the 2021 report of Grand View Research, global BPO services were valued at US$232.32 billion in 2020. This figure is projected to increase with a compound annual growth rate (CAGR) of 8.5% between 2021 and 2028. This anticipated boom is incentivized by the increasing demand for fostering business agility, reducing operational costs, surviving the tougher competition, and more.
What's more, the business process outsourcing market is promoted by technological advances like SaaS-based solutions, AI, big data analytics, and social media browsing.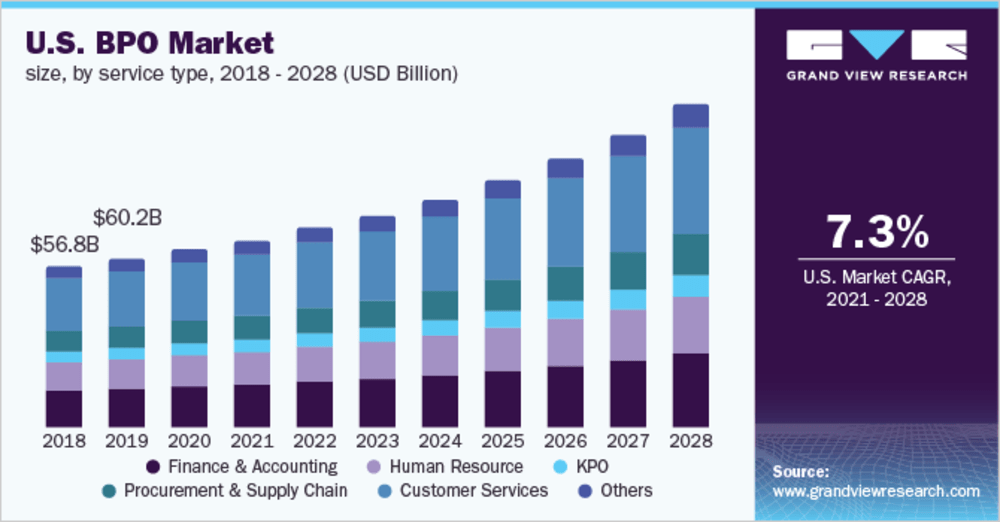 In 2020, the largest market share of Business Process Outsourcing services (over 31%) was recorded in the customer services sector. Its dominance is believed to proceed because of a rise in service centers needed for offline and online technical support.
Moreover, two sectors including human resources and banking are predicted to experience impressive growth. The expectation is an inevitable result of the growing demand for personnel functions (e.g. recruitment or payment processing) and the introduction of stricter regulations for banking institutions.
Meanwhile, IT and telecommunication companies used outsourcing services most in 2020, from billing administration, accounting to call centers. The ever-increasing number of IT firms and fast industrialization are two primary motivations behind the segment growth.
Recommended reading: What is Outsourcing & How Outsourcing works?
Benefits of Business Process Outsourcing
Organizations now engage in the outsourcing market to achieve their inherent objectives as follows:
Cost Reduction: Deloitte's 2021 Global Outsourcing Survey indicates that cost reduction is a key economic drive behind a company's outsourcing decision. The invasion of Covid-19 that poses a global economy to upheavals is among the major impacts here.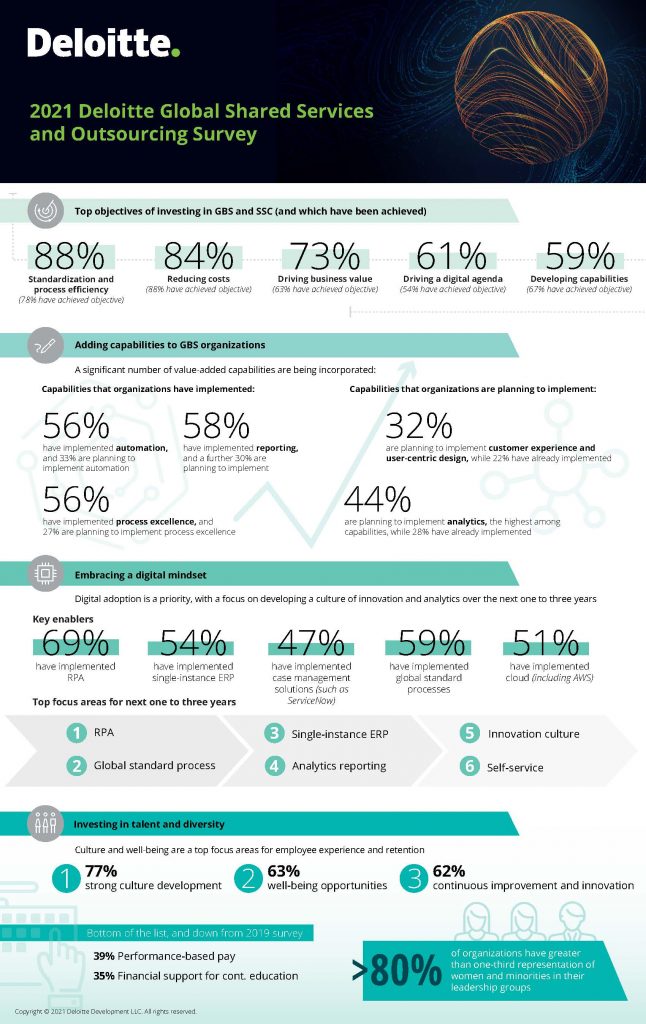 No matter how much business leaders talk about agility and technological innovations, their deep implication is ultimate costs. Decreased expenditures here mainly fall into onboarding, regular training, management, and installations for new technologies or processes.
Even inefficient administration and amateur performance may incur major mistakes. For those reasons, companies go to Business Process Outsourcing agencies for help to eschew those costs. 
Focus on Core Functions: Having several business functions conducted by experts, companies may channel more energy into core competencies. This action improves their competitive advantage in a rapidly changing environment and increases their involvement in the value chain. Consequently, they can maximize overall business growth and promote end-user fulfillment.
Better Performance in Non-core Missions: Outsourcing organizations will provide high-qualified deliverables, cutting-edge technologies, and customized procedures to boost a company's overall productivity in non-core tasks.
Increased Global Presence: Allocating business work to overseas agencies is a decent way to approach new niches in different countries. For example, AT&T, which specializes in telecommunication services, assigns most of its call center jobs to offshore locations (e.g. Mexico or India) to improve its international profile and share the burden with the headquarters.
Increased Efficiency and Speed to the Market: Working with expert teams will transform a company positively. With specialized skills, Business Process Outsourcing vendors help produce a more productive and innovative business idea. This hence encourages the company's capacity, enhancing accuracy and saving time for launching new products. Also, BPO enables the company to act flexibly to market dynamics and associated risks.
Key Trends in Business Process Outsourcing
Business Process Outsourcing services have lately thriven with outstanding trends as follows:
Robotic Process Automation (RPA): Employing AI and bots to tackle small tasks such as data entry or insurance claims is a developing trend these days. Although this trend is criticized for higher unemployment, those functions will be automatically processed to reduce labor costs and enhance productivity. Besides, there's a myth that automation will completely replace humans. More precisely, RPA requires workers to be highly skilled to back the automation system behind the scenes.
Social Media Management: Replacing traditional websites and phone calls, social networks are becoming a fertile ground for companies to easily contact their customers. Therefore, investments in social media management tools are a favored option to engage customers in new products and obtain feedback in real-time.
Cloud Computing: One IDG study in 2018 concludes that 77% of respondents had a whole or part of computing infrastructure operating in the cloud. This Business Process Outsourcing service will be widely adopted among enterprises and even SMBs because of their rising focus on enlarging data storage, improving data administration, and saving costs.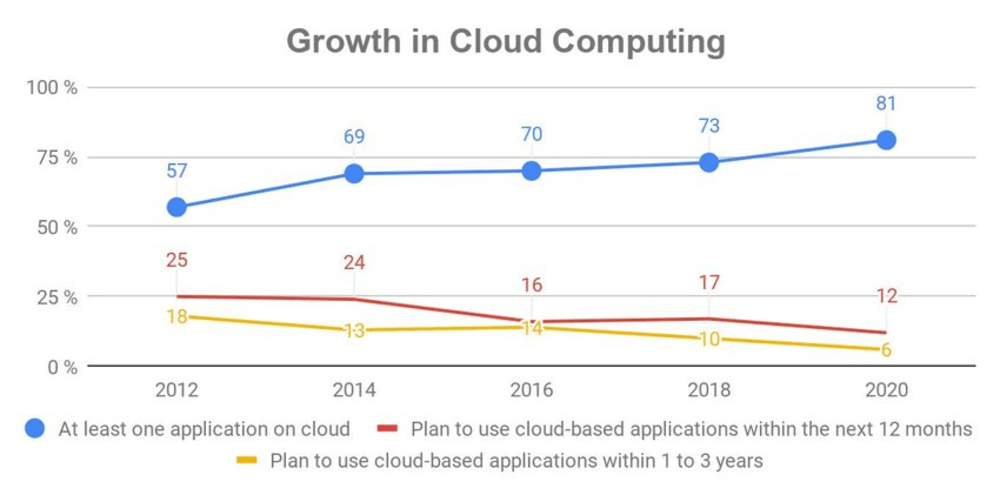 Remote Working Support: When the pandemic has no sign of cooling off, remote working is forecasted to proceed over a long haul. Moving much of business work to the virtual workplace requires a wider application of advanced technologies and omnichannel communications to work from home productively. This trend will profoundly affect the whole structure of the Business Process Outsourcing industry.
Challenges of BPO
Inevitably, companies will encounter many drawbacks when they opt to delegate some responsibility to service providers:
Security Violation: Confidential disclosures and privacy breaches are the top concerns among companies when hiring external organizations. Although various Business Process Outsourcing services provide credible and legitimate assistance, data vulnerability may occur especially if providers stay abroad and follow distinct security requirements. Not to mention that various projects now are undertaken through online portals and with the support of technologies. Cyberattacks may use unknown security holes to hack critical data.
Unprecedented Costs: Miscalculating costs for external teams can make bills snowball exponentially. Apart from necessary expenditures, companies should consider hidden expenses on maintenance and upgrades, layoffs, declining productivity, and contract renegotiations. Besides, exchange rate changes should be weighted if companies receive foreign services.
Communication Issues: Language and culture barriers possibly result in misunderstandings between stakeholders. This accordingly keeps business processes in check, wastes more time and costs.
Overdependence on Third-Party Vendors: A service provider plays an important role in the hiring company's workflow. Despite a higher level of expertise, nothing ensures the vendor will always work well to reach the best results. Let alone some providers use less experienced employees to cut costs, which may negatively affect the overall quality. Therefore, controlling the contractor's performance ineffectively causes some great disruption to the company.
Conclusion
Apart from large enterprises and SMBs, startups have also made requests for outsourcing services in recent years. That's why the BPO industry has been diversely segmented to meet their separate demands. Choosing the wrong partners will compound problems your company is encountering. Therefore, you need to understand your business's requirements and available Business Process Outsourcing forms to make an informed decision.