Which are the best countries to outsource web development countries to in 2022? Before you can answer that question, you need to get acquainted with the concept of web development outsourcing.
Outsourcing is the process of giving programming work to an outside contractor instead of doing it in-house. It's no longer a trend; instead, it's a way to cut costs and gives you access to a larger pool of talent. A skilled and dedicated team might be the best choice for either a brand-new start-up project or an already-made product. If you want to know which countries are the most advanced when it comes to web development, you can find the answer here in this article.
The 5 Benefits of Web Development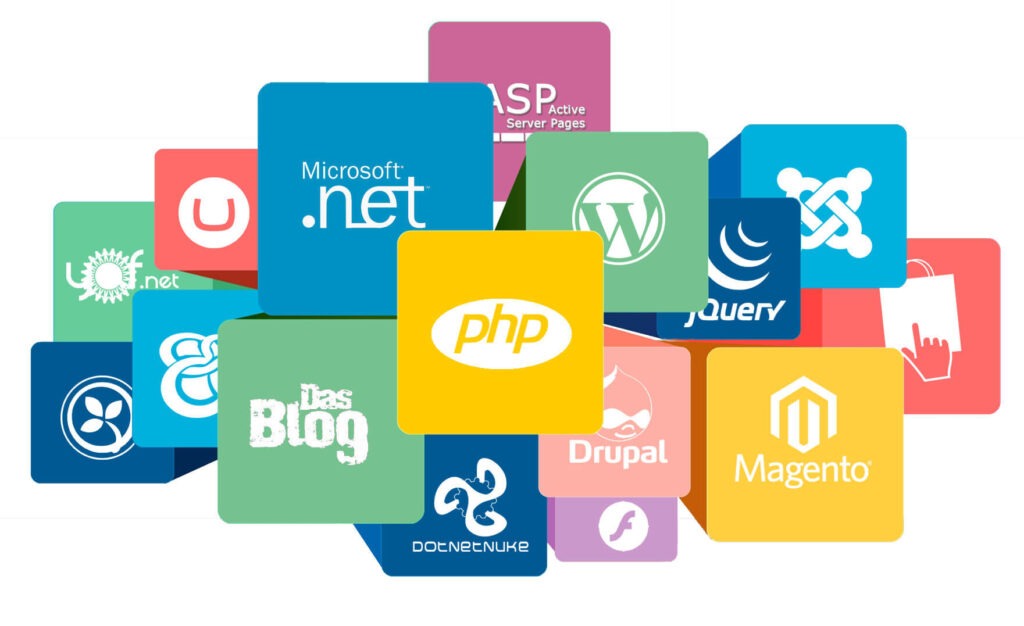 Everyone agrees that one of the best things about outsourcing web development is that it can help save money. Along with the fact that cloud technology and project management tools make it easier to manage outsourced web development, some of the benefits of outsourcing web development include a pool of experts, flexibility, saving time, and easy access.
Designveloper will proceed to list out specific long-term as well as immediate benefits when you outsource web development.
Recommended reading: How to Outsource Web Development with the Three Steps?
1. You Get Access to Global Talent Pool
When you need advanced skills but don't have enough money, it's time to outsource web development to other countries. When there are more people to choose from, it's less likely that you'll get hired, so prices go down. Also, if you can't find qualified people in your area, you can be sure that a vendor who specializes in web development offshore will have applicants who meet your needs. Offshoring is also a great way to find web engineers from around the world and give the job of hiring and keeping employees to a third-party partner.
2. When You Go To Other Countries to Outsource Web Development, You Save Cost
By outsourcing their development teams, companies can cut their overall costs for labor and operations. Most of the time, the main goal of remote development teams is to finish projects without going over the budget. Also, the staff will be in parts of the country where the cost of living is lower. This means that the pay is lower, but the quality of service stays the same.
If web development is not your main service, it is better to set up a team in another country. If you use this strategy, you can focus on important business goals, cut costs, work with top-level engineers, and not spend a lot of money on their services.
Recommended reading: A Detailed Guide for Web Development Cost
3. Fantastic Time Effectiveness
Hiring a team of web developers in a different country is always easier and takes less time than alternatives. All you have to do is find a trustworthy outsourcing partner and pick the best tech talent for your needs. Most of the time, the offshore web development team has everything they need to start working on your project as soon as the contract is signed.
It's also easy to sign contracts and bring on remote developers. When you hire a whole outsourced team from the same company, the developers may already know each other or have worked together in the past. It also helps to avoid problems with communication from the start.
4. Stunning Risk Reduction
Creating new products when there is no guarantee that they will sell is inherently risky. Similarly for websites. Small and medium-sized businesses and startups would be smart to hire a company to do their web development instead of hiring developers full-time.
When you hire a third-party service provider, you don't have to manage the project yourself or make sure that all of the requirements are met. Your outsourcing partner will also take on some of the risks and responsibilities. This will not only help you get results you're happy with, but it will also allow you to meet global compliance standards.
5. The Outsourced Web Development Countries Will Have Up-to-Date Technology
One of the most important competitive advantages of outsourcing is that it gives you access to world-class technology that is affordable and will help your business become more digital. Offshoring to a product development team with the latest technology, agile methods, quality software, and a project management system makes sure that the web development process goes smoothly and that the end-user has a great experience.
In the business world, we live in now, it's important to have an online presence. Offshore providers are development companies that are based in other countries. In the modern world, many businesses turn to offshore providers for help with building web apps, websites, and other technologies. Using a company that is based in another country has a lot of benefits. For that matter, many places have become centers for web developers around the world.
5 Best Countries to Outsource Web Development To
1. India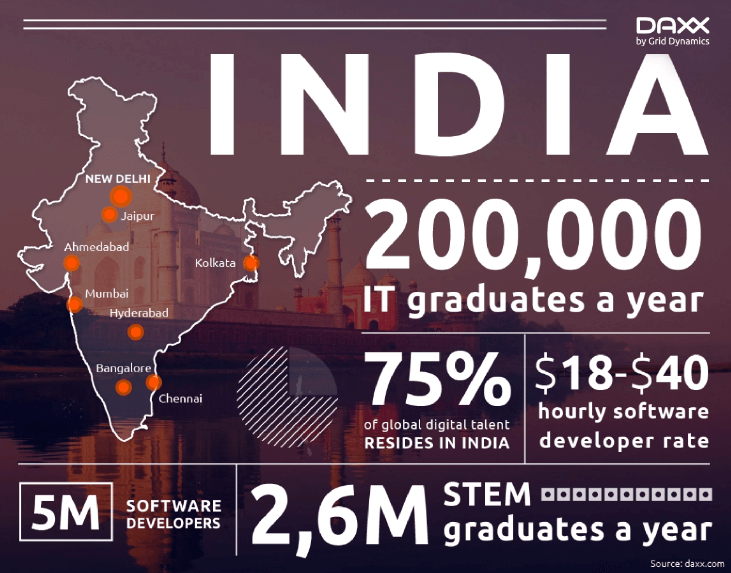 India is widely considered by experts as the number one place for offshore outsourcing. This is because more than half of the top 500 companies in the world are already working with Indian companies. The people there speak English very well, which is a huge draw. In addition, the country has become a leading exporter of services related to information technology and corporate outsourcing. Four out of every ten people who work from home in the web development and technology industries are from India.
India has a lot of problems, such as limited physical and financial infrastructure, frequent policy changes, like the new eCommerce rules that just went into effect, and many others. All of these problems make it hard to do business in India, especially for international companies. On the other hand, a supplier of outsourcing services chosen well will handle problems at home and take away risks.
2. China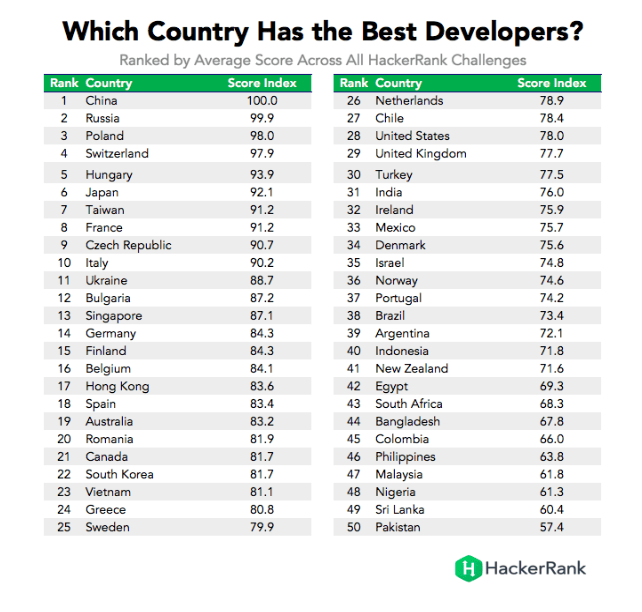 China is a good place for businesses to do business and the economy to grow. The top spot in all HackerRank challenges is now held by developers from China. The Chinese government gives financial incentives to businesses in the technology industry to get them to grow. As just one example, there are already more than fifty scientific and technology business parks all over the country.
The local government has been and is continually making changes to make it easier for businesses in the country. China's web development is the most advanced in Asia because of all the work that has been put into building up its IT industry. Also, it's easy to find a web developer who is an expert in the technology you want, whether it's JavaScript, Python, or Shell.
3. Vietnam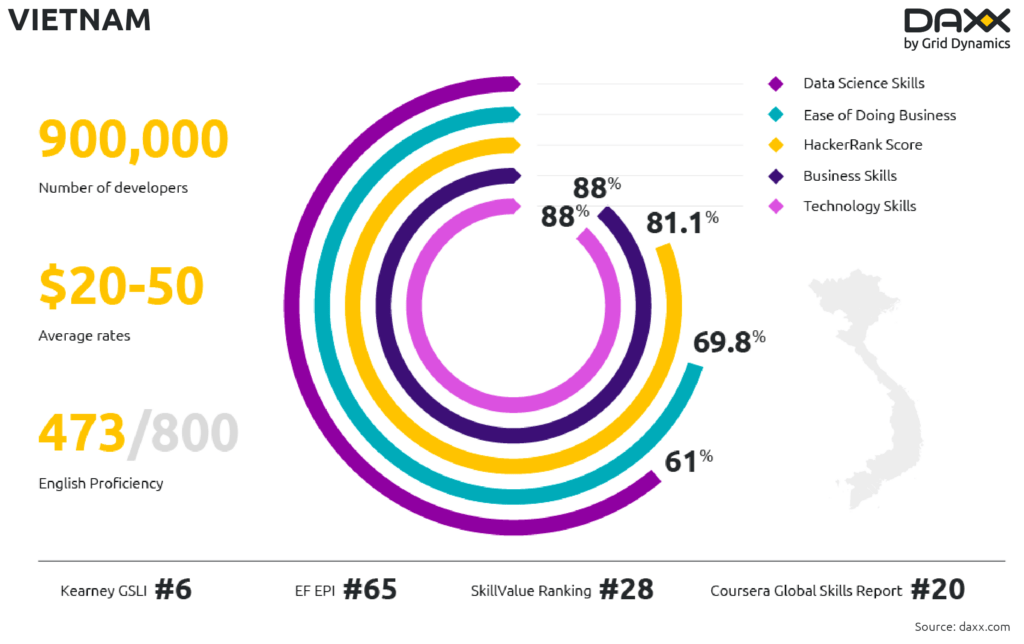 Vietnam's economy is growing at one of the fastest rates in the Asia-Pacific area. By switching from low-tech manufacturing to a service-based economy, the country went from being one of the poorest in the world to a lively place with a good business climate. With an average rate of economic growth of 5.5%, Vietnam is one of the few Asian countries that could beat China and India.
Vietnam is not only a rising star in Asia's busy economies, but it is also becoming a strong outsourcing powerhouse. In addition, the government gives legal and financial incentives to people who work in IT. Tech companies can get a tax break on their business income for up to 4 years. They can also have their taxes cut by 50% for up to 9 years.
Recommended reading: Top 18 Web Development Companies in Vietnam
4. Ukraine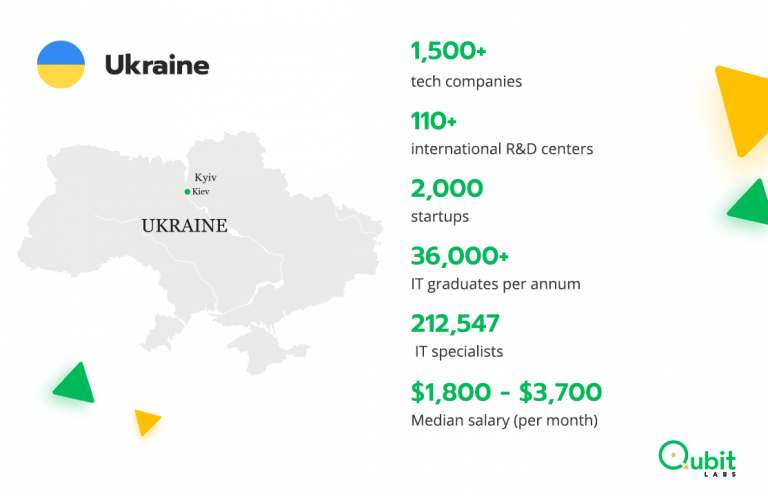 Ukraine is quickly becoming one of the most important and competitive places to outsource in the world. More than a thousand Ukrainian companies that specialize in outsourcing can help you find the best coders. Because of this, Ukraine has become a great place for both new and big companies to invest.
It is expected that the IT outsourcing market in Ukraine will grow by $6 billion in 2022 and by $8.4 billion in 2025. The Coursera Global Skills study found that developers in Ukraine have the seventh most technical knowledge in the world. One more study says that about 85% of programmers who work in Ukraine know at least an intermediate level of English.
5. Argentina
Everyone knows that the main reason a company decides to outsource is money, or more specifically, the quality-to-cost ratio. For this reason, Latin America and Argentina in particular have become the most popular places for outsourcing.
EF says that Argentina has the best English skills in all of Latin America and the 15th best English skills in the world as a whole. On top of that, the Argentine government spends more of its GDP per person on education than almost any other developing country. This helps keep the number of people who can do the job growing steadily.
Conclusion on the Best Countries to Outsource Web Development
If you decide to outsource web development to any of the countries in the article, your company will be better off. This value will come in the form of both better technical skills and better use of money. Offshore development countries offer their clients a wide range of benefits, ways to work together, and technological skills to help them move up the client's value chain. You will need to do a thorough investigation to find the best place and business for outsourcing.
Consider Designveloper as an option if you are contemplating working with a Vietnamese company. We have been regarded as the best web development business here for a number of years. Contact us to take advantage of our highly skilled and knowledgeable staff of programmers who are able to deliver reliable services at more affordable rates.