Outsourcing web development outsourcing is an excellent choice if you want to build a website or online app, need some maintenance and upkeep, or don't need full-time services around the clock. This is especially true if you don't need services offered all the time.
Today, almost every kind of business needs to have its website. After all, when people look up your business online, the first thing they usually find is your online presence. With web development outsourcing, companies can keep as much control over the project or projects while giving some or all of the development work to a self-managed vendor.
Outsourcing web development has been a worldwide trend for years. This is because it has many advantages over hiring a local team to work on the same web development projects. In the first section of the article, Designveloper will focus more in detail on the current state of the web development outsourcing industry.
The Current State of Web Development Outsourcing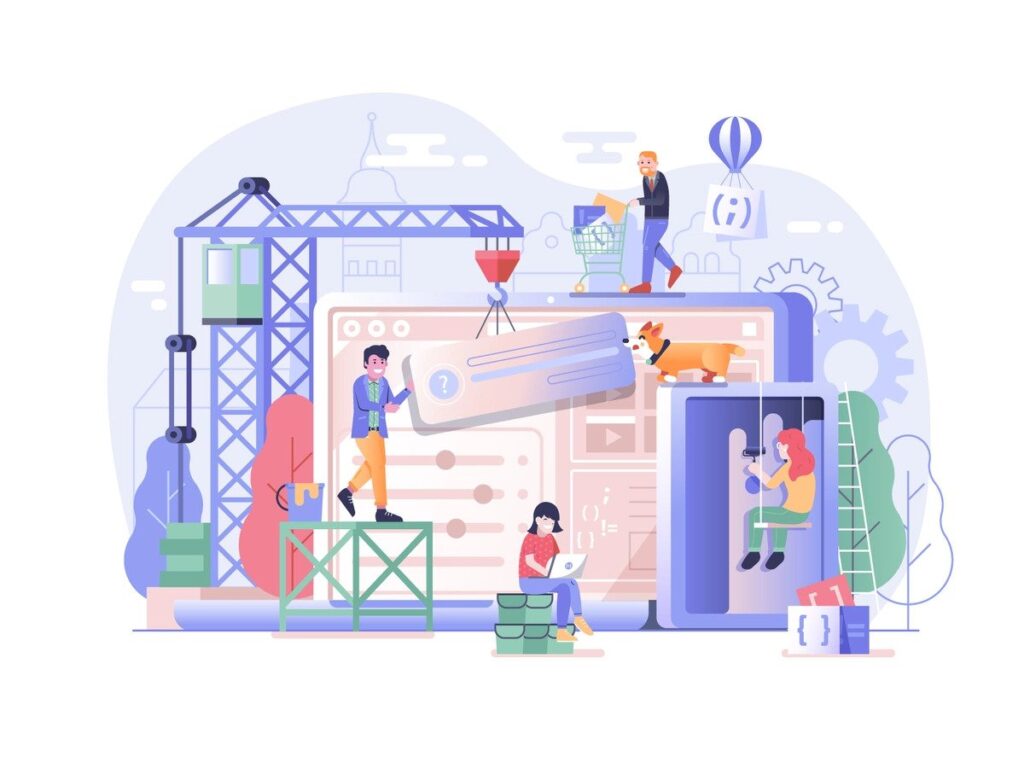 To understand the current state of web development outsourcing, you must first understand what web development outsourcing is. Web developers specialize in building websites like online stores, blogs, news portals, gaming websites, and informational websites. They also make platforms and apps for social media, mobile apps, and content management systems. This is different from in-house web development. When a company hires a third party to do web development instead of in-house, this is called outsourcing.
An overview of the industry in 2022
Web development is one of the most popular and fastest-growing industries globally. Statista says that the global income from outsourcing IT was about $66.5 billion in 2019. Even the COVID-19 pandemic hasn't stopped growth. On the contrary, the need for web developers has grown in many markets as eCommerce sales skyrocket, businesses move to online-only operations, and organizations become more reliant on digital tools that let them work remotely. Web developers are in high demand in areas like eCommerce, media and entertainment, healthcare, online banking, and remote education. This is because we are getting used to living in a world where people are more isolated.
The US Bureau of Labor Statistics predicts that the number of jobs for web developers and digital designers will grow by 8 percent from 2019 to 2029. This is much faster than the average for all other jobs. The demand for web developers has grown much faster than the number of skilled workers who can do the job. Before COVID-19, the global IT skills gap was close to its all-time high, and it hasn't changed much since then, according to KPMG.
Recommended reading: Top 18 Web Development Companies in Vietnam
The average cost of outsourcing web development
Regardless, below is a list of the five currently sought-after countries for web development outsourcing.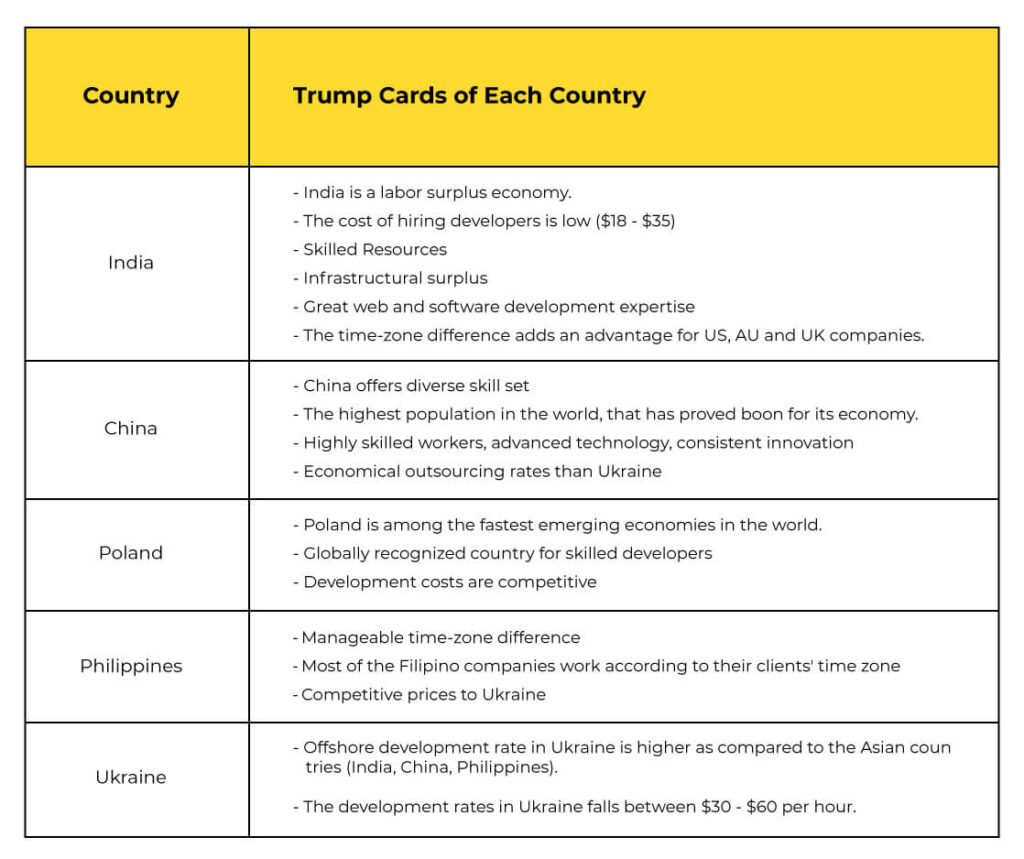 When you take advantage of overseas web development outsourcing, you have a few factors to consider, namely: the cost of outsourcing, the time-zone differences, each country's limitations such as rules and regulations, as well as the level of innovation.
Recommended reading: How to Choose a Web Design Company That Fit Your Business?
5 Benefits of Outsourcing Web Development
Outsourcing is a great way to save money, but it can also help a business run more smoothly. Many companies outsource web development so that their full-time employees can focus on more critical business tasks, improve scalability, or don't have the skills and knowledge to do it themselves.
This section will focus on the five main benefits of web development outsourcing: Reduced costs, Speed up development time; 24/7 support; Access to more talents; Better security.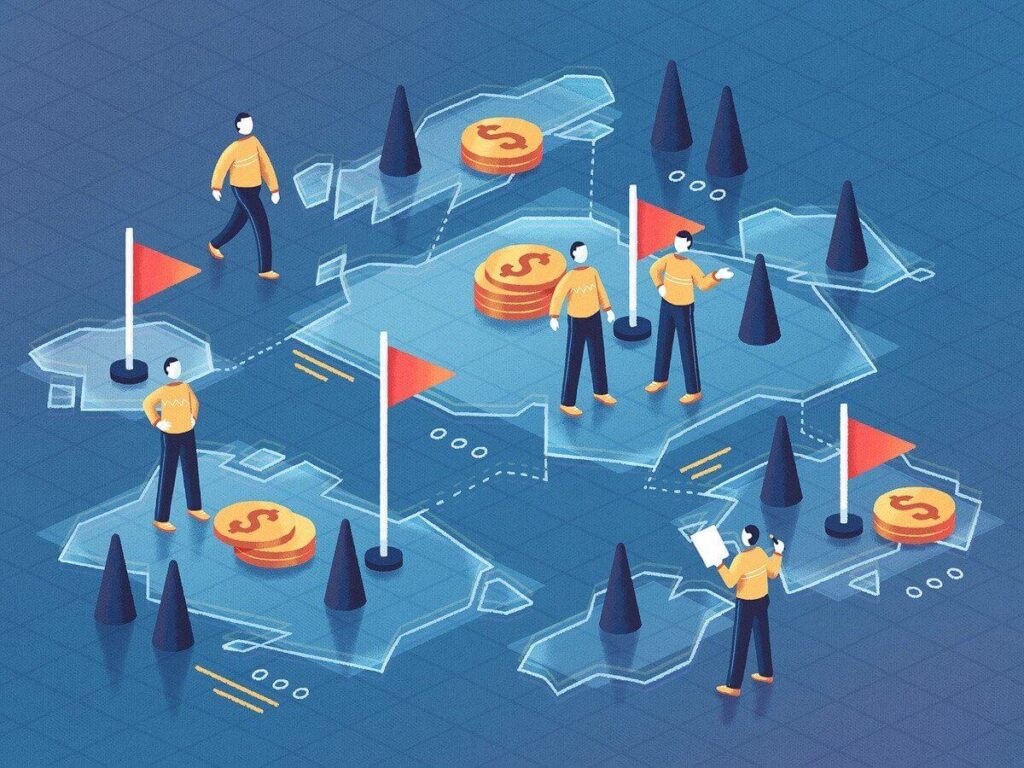 1. Reduced costs
For web development outsourcing, fixed costs become variable costs. You find an outsourcing partner just for this project, and when the app or website is done, you can end the deal. It's important to remember that hiring and firing staff will be easier since the customer has no responsibilities to the developers under the Labor Code.
Due to the different labor prices in other countries, both nearshoring and offshoring are financially appealing ways to outsource. Also, you won't have to pay any taxes on the developer's salary, which will save you even more money. In any case, you will be able to find a solution that works with your budget.
2. Speed up development time
When it comes to your project, a development team with experience and the right skills will be able to start working on it right away. The team will have access to all the web development and web design tools they need to finish the job. In addition, since they will only be working on your project, they will be able to complete it quickly and satisfactorily.
Also, companies that employ web development outsourcing can get access to cutting-edge technologies that would be very hard for them to get on their own. Outsourcing speeds up the organization and development processes. When possible, the work of an outsourced development team is done according to a specific development method. Your web application is built quickly, well, and with as few changes as possible.
Recommended reading: A Detailed Guide for Web Development Cost
3. 24/7 support
If your company needs help 24/7 support, excellent outsourced staff will be able to give it to you. When you send work overseas to a team in a different time zone than your home country, that team will be able to work and be reached at times when an in-house team in your home country would be closed.
The most experienced outsourcing companies always look for partners who want to work with them for a long time. So, they will handle the technical side of your project, but they will also help you run the business operations that go along with it.
4. Web development outsourcing grants access to more talents
If you tried to fill a job locally, you would have a pretty small pool of candidates. Your web development outsourcing team can come from anywhere globally, making it more likely that you will find people with the skills and qualities that your business needs.
This is especially helpful for companies located in areas with a lot of competition for talent. Meanwhile, with web development outsourcing, you can find the right professionals for your project. Because of this, you have a much larger pool of qualified specialists from which to choose.
5. Better security for web development outsourcing companies
With the right strategy for outsourcing, data security can be better than where you live. Firms that consider web development outsourcing companies generally worry about their clients' data, privacy, and information. By teaming up with a Business Process Outsourcing (BPO) partner in a place like the Philippines, your business could access world-class security and infrastructure. The best BPOs will have solid rules for employees' cell phones and personal devices, turn off USB ports on all PCs, and have software that lets you sign in once to use cloud-based products.
There's additional security in terms of the work agreements. Information technology outsourcing companies always have their clients sign a non-disclosure agreement. In addition, they use the secure repositories that Gitlab offers and services that are hosted securely.
Recommended reading: Top 7 Web Development Companies
4 Pitfalls to Avoid For Web Development Outsourcing
When companies outsource web development, they often make deadly mistakes that they could have avoided. These mistakes happen frequently. What are some of the most common mistakes people make when they outsource web development, and how can you ensure you don't do the same things?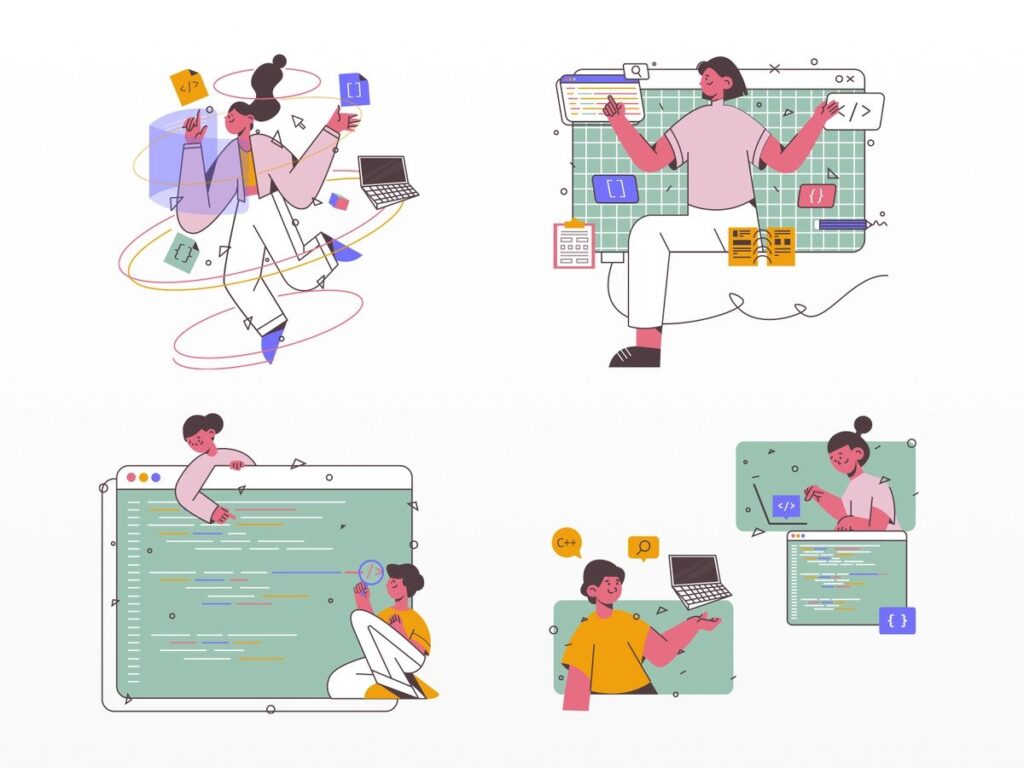 1. Outsourcing incorrectly
You and your team can save money, time, and work by outsourcing web development. But not every time is web development outsourcing needed. Your group might be able to finish the project without any help from outside. Or, you may need help but haven't researched the market or your audience. Wait until you've looked into it.
Also, think about what you need. You should be able to talk to and track the progress of an outside team.
2. Ignoring language barriers
Communication problems are one of the biggest problems that can come up for web development outsourcing. When you give your project to a team outside of your organization, there is always a chance that you and they won't understand each other. Because of this, there will be delays, mistakes, and other problems.
No matter where you decide to outsource your work, the most important thing is that you can talk to the other person easily and that they understand what you need. Set up a way to talk to each other regularly, and think about how you will deal with any problems caused by different time zones. You should also tell them what you want from them, find out how they work, and ask how they have dealt with cultural differences in the past. It would help if you also looked into how they do things.
3. Not focusing on the quality
When it comes to web development outsourcing, it can be tempting to choose the cheapest option. But if you do that, you might end up with work that isn't as good as you want. If the price you've been told is low than what other sellers in the area and on the market are charging, you should be suspicious.
Also, when you hire an outside team to work on your project, you are putting it in their hands. This is because you are no longer in charge of the project. This leaves you entirely at the vendor's mercy when it comes to the quality and accuracy of the product.
4. Not taking security seriously
When you outsource web development, you put your faith in the outsourced company's abilities. This means that you are giving the vendor the responsibility to ensure your project is safe and secure. If they figure out how to get around your safety measures, the whole project could be in danger.
You must do a few things as a firm looking for or employing web development outsourcing. Make sure your information is kept safe. Ask your service provider about the security protocol they use and how they will keep your sensitive data safe. Please don't give out more information than you have to. You should also make sure the contract spells out how the other party will use the information you give them. There is always a chance of danger when working with a third party. However, you can make it less likely to happen by doing thorough research on potential partners.
Conclusion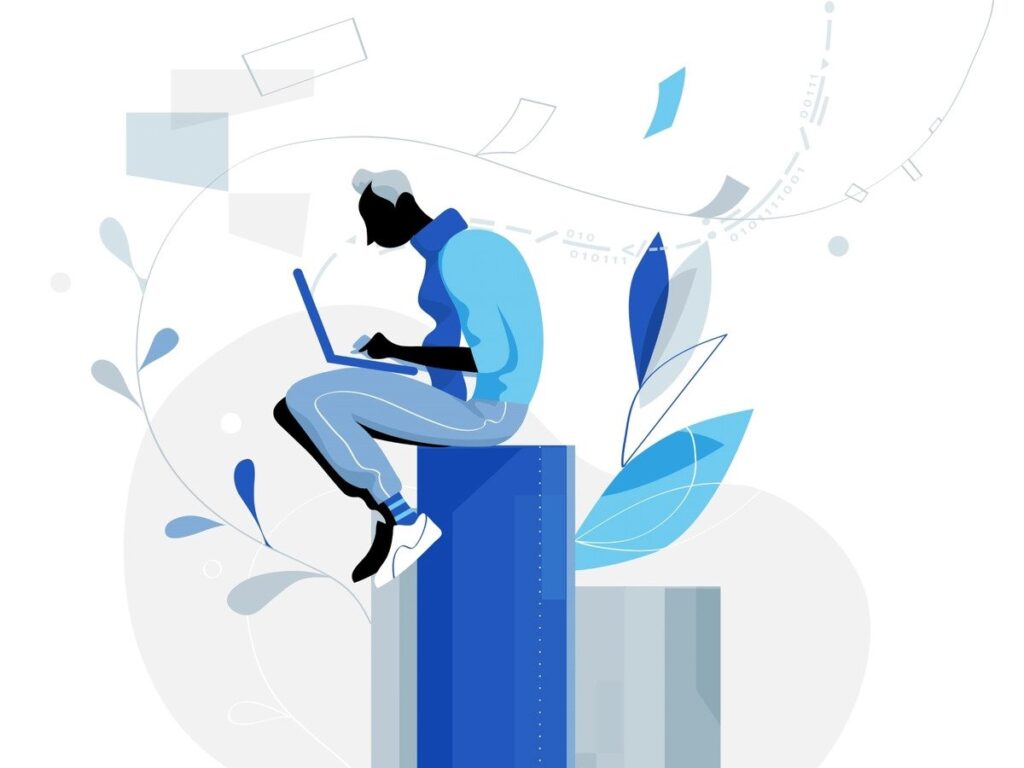 Web development outsourcing can be a great approach to save money and get high-quality services, especially in 2022. If you work with a reputable web outsourcing business, you can save money, bring products to customers faster, and get full technical help from experts in your field.
Where this article from Designveloper helps to equip you with sufficient knowledge on the subject and ensure that you know it is essential to consider the location, skillset, and project scope when choosing a provider to prevent pitfalls and maximize the benefits.