What are web developer salaries in Vietnam? Whether you want to hire a web developer or look for an opportunity to become a web developer, you'll need to know the answer to that question.
Making money from building and maintaining websites is undoubtedly an attractive lifestyle. But you should also consider practical expectations for your financial freedom in the future. It's not as straightforward as you might expect.
In today's post, we'll give you the latest information about web developer salaries in Vietnam. Use the guide to figure out where exactly you might fit in on this increasing salary scale.
Factors that Affect the Salary of a Web Developer


Before finding out how much a Vietnamese web developer can earn (Vietnam's average income). Let's talk about factors that affect salary increases. There are generally five fundamental factors: years of experience, educational background, gender, skills, and locations.
1. Years of Experience
Web developer salaries depend heavily on the level of experience. More hands-on experience typically leads to higher pay, up to a point. Let's say an employer needs a candidate who has ten years of experience in web development. If you don't meet this requirement, you may find yourself on the lower level of the pay scale.
According to Glassdoor, a web developer with one to three years of experience can earn $63,805 on average. The salary is much higher, that is, $87,160 if he works for more than ten years in this position.
Recommended reading: What Does a Web Developer Do? Career, Salary, Reviews
2. Technical Background
Besides involved experience, mastery of programming languages (like HTML, CSS, JavaScript, etc.) is the critical requirement for web app securing work as a web developer and requesting a salary boost.
That said, do you need a bachelor's degree or a Ph.D. to become a well-paid web developer? The short answer is NO – education isn't accounted for at all. You can teach yourself, learning everything you need about coding online. You may not get paid top dollar at the beginning, but the more experience you have, the higher your salary is.
Recommended reading: Front-End vs Back-End: Which Suits You Best?
3. Gender
Gender shouldn't affect salary, but in reality, it does. Women are a minority in the Vietnamese web development industry since most of them have interests in other fields, not technology. That leads to the fact that men often get a higher salary than women.
4. Skills
Skills in job descriptions can be interesting predictors of what salaries a web developer can negotiate. While learning a little JavaScript or putting SQL on your CV won't help you earn an extra $30K+, it's a step in the right direction when looking toward the future of career growth.
5. Locations
The cost of living is different among cities, so it has a big impact on determining compensation. How much you need to spend on housing tells you the equivalent income you'd need to live comfortably in a certain place.
Web Developer Salaries in Vietnam
Now that we've covered all of the factors that can impact web developer salaries in Vietnam. Let's get to the point of this post and answer the main question – how much can Vietnamese web developers make? (Vietnamese average income)
Note: We'll show web development salary in Vietnam, referencing the five factors described above: years of experience, educational background, gender, skills, and locations. The below figures and facts were collected from Payscale and Glassdoor.
Recommended reading: A Detailed Guide for Web Development Cost
1. Vietnamese Web Developer Salaries: by Years of Experience
The more years of experience you have, the higher the wage you can get. A web developer with less than one year of experience makes about $7,400 per year. Meanwhile, an experienced developer with two or four years lands an annual salary of $16,700.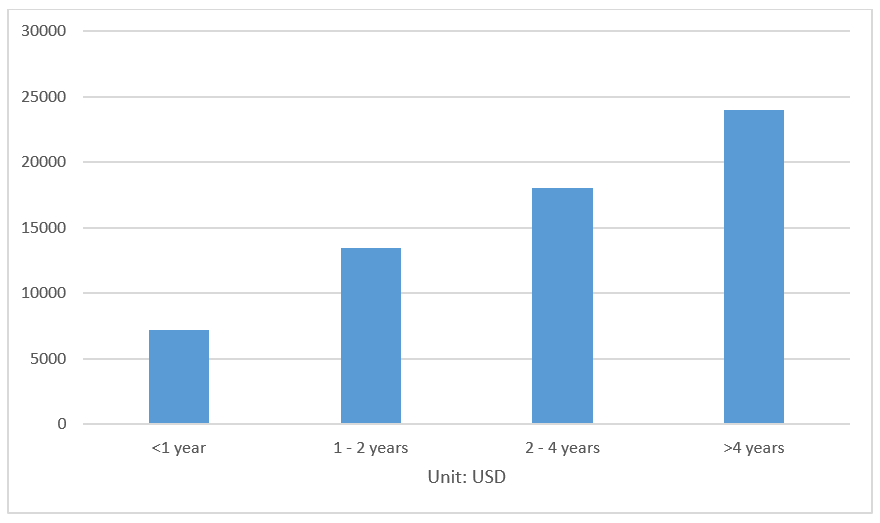 2. Vietnamese Web Developer Salaries by Education
Higher education equals a bigger salary, but how much more money can a degree add to your annual income? Take a look at the table below.
You can see when the education level is Certificate or Diploma, the average annual salary of a web developer is $6,200. Someone with a Bachelor's Degree gets a higher salary of $8,000. A Master's Degree brings its holder an average yearly salary of $13,000.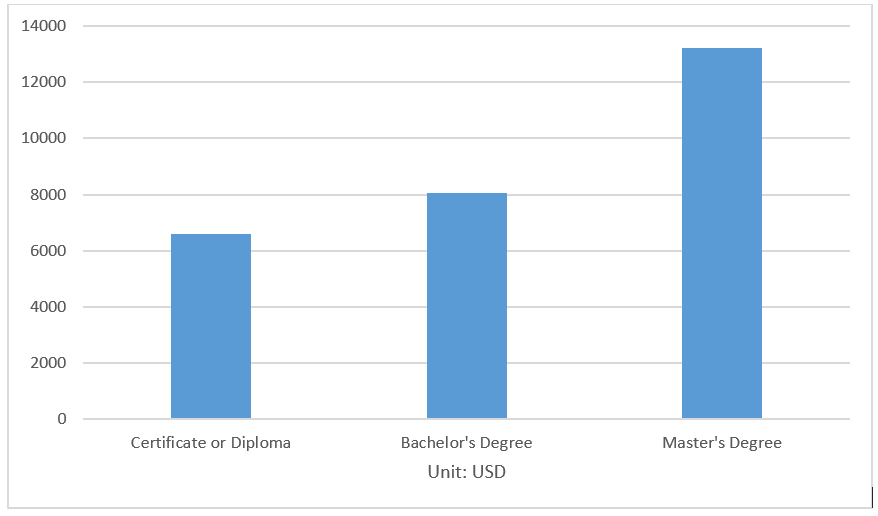 Recommended reading: Web Development Process: How Does Change Happen?
3. Vietnamese Web Developer Salaries by Gender
At most Vietnamese technology companies, male web developers report earning a higher base salary than females for the same role. As seen in the following chart, the discrepancy is significant.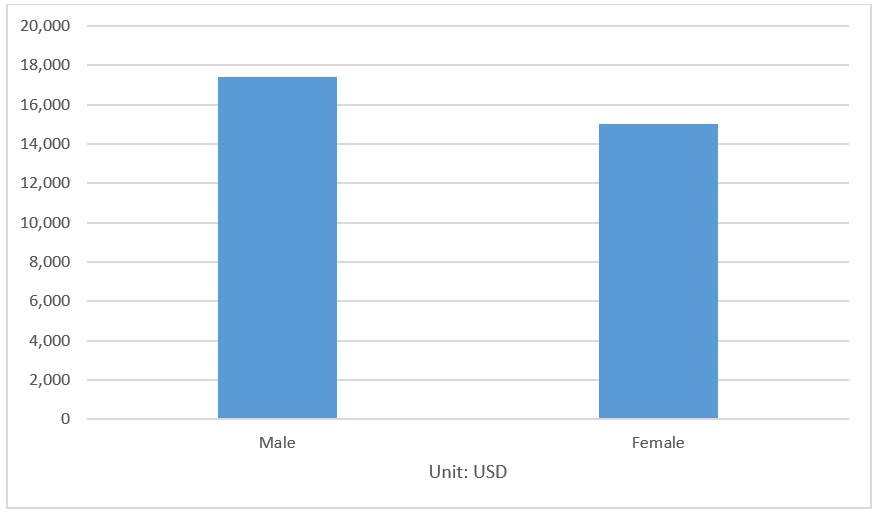 Recommended reading: How Much Does Google Pay Their Software Engineers?
4. Vietnamese Web Developer Salaries by Skills
Front-end web developer salaries boast an average annual salary of $19,800, and back-end ones get a $17,400 yearly wage. Even though it's not the highest income in the tech industry, you can make a lot more with experience.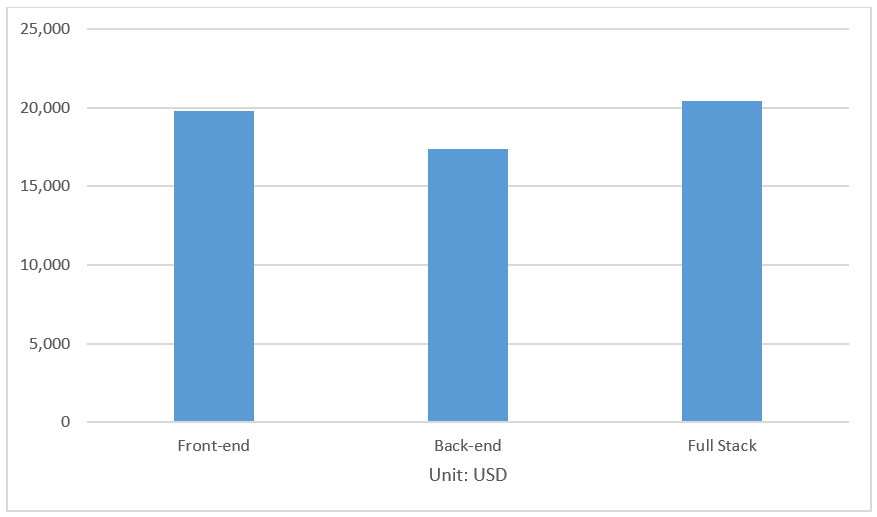 Recommended reading: Web Design Process: 8 Steps That You Need to Know
5. Vietnamese Web Developer Salaries by Locations
When it comes to the salaries of web developers, they're almost always location-dependent, too.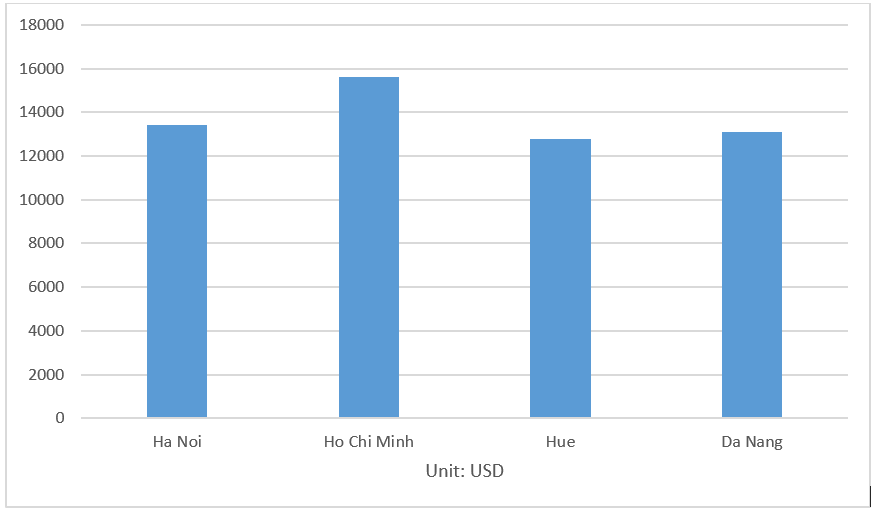 There's a different range of salaries when looking at the above graph. It's from a yearly pay of around $12,650 in Hue to a staggering $15,700 in Ho Chi Minh City. How different web developer salaries are!
6. Web Developer Salaries Comparison by Countries
According to PayScale, the country which pays the highest annual salaries for web developers is US – $59,108. The second place is Australia, with a salary of $41,237 per year.
Meanwhile, annual web developer salaries in Vietnam are $14,694. This number isn't huge, but it's still bigger than Indonesia and the Philippines.
Web Developer Job Growth
According to the U.S. Bureau of Labor Statistics (BLS), web developers' jobs will grow at a rate of 13%, compared to the period of 2016 – 2026. This growth rate is faster than most other occupations.
Vietnam has gradually become the next outsourcing hub for web development. That's why in the following years, Vietnamese web developers continue to be the "rock stars". Also, digital transformation was prevalent across many industries leading to sustained demand for developers and digital specialists.
Another reason for the high demand for web developers is the continuous and exponential growth of the global web and mobile consumer markets. More than ever before, Fortune 500 companies and micro-businesses alike rely heavily on their web and eCommerce platforms to market and deliver their new products and services.
Below, we catalog the number of open jobs listed for "Web Developer" on different job sites.

Bear in mind that, according to an NPR story, about 70% to 80% of all open jobs don't show off on the Internet. Thus, the figures may be probably more prominent.
Also, it's worthy to note that web developers are frequently employed under related job titles such as "front-end developer", "web page designer", and "back-end developer". The full list of web development-related jobs will indicate a higher population of web developers.
Web Developer.

Front-end Web Developer.

Back End Developer.

React Developer.

JavaScript Developer.

Ruby on Rails salaries (Ruby on Rails Developer).

Java Web Developer.

PHP Developer.
Web Developer Salaries Forecast
Employers are willing to spend a lot of money finding the best candidates who can demonstrate the skills they need to get the job done. Whether that's building a website or coding the next big mobile app, they always try to find the best match for their position.
In 2018, salaries stabilized as the Vietnam market matured. But in the period 2019 – 2022, job moves can expect an average increment of 15 – 25%. Highly experienced developers with sought-after soft skills such as teamwork and communication, coupled with a strong product-driven mindset, may be able to negotiate increments of over 50%.
How Much Does a Web Developer Make in the United States?
The average salary for a web developer is $74,785 per year in the United States and $2,000 cash bonus per year. Besides, Web developers earn an average yearly salary of $69,038. Wages typically start from $37,716 and go up to $126,373.
Salary satisfaction: 57% of Web developers in the United States think their salaries are enough for the cost of living in their area.
1. How much do similar professions get paid?
Front end developer salary: $106,199
Full-stack: $113,397
Developer: $92853
Software Engineer: $107,006
App Developer salary (Application Developer): $88,777
.net Developer: $96,243
Web Developer Earnings by Seniority
Top-level web developer earnings: $126,373
Senior-level web developer earnings: $94,903
Mid-level web developer earnings: $69,038
Junior-level web developer earnings: $50,223
Starting level web developer earnings: $37,716
Web Developer Salaries in Vietnam
Salaries in Vietnam are usually discussed on a monthly basis, rather than an annual amount. Monthly salary ranges are provided and discussed below, presented in $USD to make it easier to compare.
The Vietnamese Dong (VND) is generally stable and is devaluing slightly over the long term. Consider the following general guides for roles relating to web development:
Web developer salaries: can range from $500 to $1400 USD per month. Web developers all have experience with HTML5, CSS, and Javascript, and there is a small variation depending on their proficiency with back-end languages (PHP, Python, Java). Experienced candidates are typically about $1000 USD.
Back-end developer salaries: can range from $500 to $2000 USD per month. Backend developers tend to have deep experience in PHP, Python, or Java. They may also have some front-end skills. Experienced candidates are typically about $1300 USD.
Mobile developers have higher salaries: ranging from $1000 to $2000 USD per month. Experienced candidates are typically about $1300 USD.
UI and UX designers: can range from $600 to $2,000 USD per month.
Final Thought
Now you've had a clear understanding of web developer salaries in Vietnam with the Designveloper's post. When you're starting as a web developer, it can be hard to know where on the spectrum you might fall. By learning the rate of web developers in your area and with your level of expertise, you can make sure not to settle for less than you deserve!