Coming up with a concept to build your company's online presence isn't too hard. But turning the on-paper idea into a product is what most companies have to struggle with at their early stage. Besides, developing websites is a long-term task that even involves their later maintenance and improvement when companies scale up.
So who should your startup entrust the creation of the website to? An in-house team, an independent freelancer, or a web development company? The answer depends much on your company's business objectives, budget, and more. Yet if your startup opts for a sustainable and economical solution, working with an outsourcing agency is more advisable. In this article, we'll detail what your company should know to pick a qualified web agency.
The Difference between Freelancers and Web Development Companies
Outsourcing is a contemporary tendency because internal staffing now hardly meets the increasingly complicated demands of most companies. However, management boards hesitate over whether a web development or freelance individual is a better option for their web-related projects. Based on what we've researched, there are several obvious differences you should ponder to finalize the most suitable partner.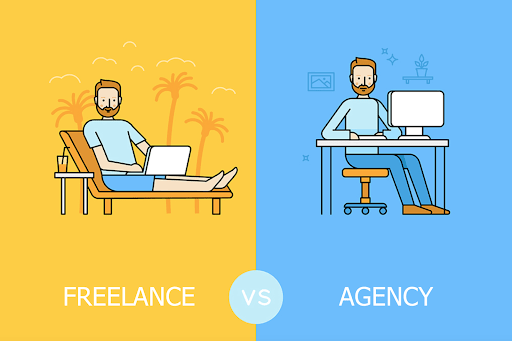 1. Expertise and Resources
Independent freelancers now equip themselves with a wide range of expertise areas and skills. But it doesn't mean they are adept at all cutting-edge technologies. Accordingly, they are incapable of tackling all aspects of a project resourcefully. Not to mention that many of them fail to quickly adopt the latest web development trends and technologies to fulfill their client's requirements.
Meanwhile, web agencies have robust technological and human resources to handle most web projects, irrespective of industries, scales, and complexity. Their development teams usually involve different specialists who are assigned with respective parts of a project. They also often stay well-informed of new techs to conduct distinct web projects for all niches.
2. Convenience
An independent freelancer merely handles some aspects of a web project. So your company needs to recruit numerous freelancers to process the whole project. Conversely, hiring a web development company means one-stop cooperation to satisfy all your business's requirements.
Furthermore, working individually exempts freelancers from customer support, testing or product maintenance and improvement after the website is launched. Meanwhile, an institutional entity often complies with a strict quality assurance and testing process before launching the finished product. Therefore, choosing a web development agency will give a longstanding advantage to your company when your web needs to be scalable and upgraded in security and technical terms.
3. Experience
Compared with freelancers, their institutional counterparts have greater experience and a whopping client base that consists of customers from different segments. Consequently, the latter better understands their client's requests for web development in a certain sector, for example, eCommerce. What's more, their high level of experience allows them to choose the most appropriate technologies and give sound suggestions to their customers. Accordingly, future websites may attract and retain potential leads.
4. Reliability
Normally, your company often looks for reliable freelancers through reputable job-seeking sites or referrals. Many of them work consistently with your company's goal, but others may quit halfway. Besides, the web's quality relies much on a freelancer's expertise and understanding of your business.
Web development companies conform to industry standards and agile methodology. Further, they also have project management software to involve all stakeholders in the brainstorming and web development process. This helps build a more effective web.
5. Cost
Hiring a freelancer may cost less than partnering with a web agency if your company needs someone to cover a small part of a whole project. But large and complicated web projects require more freelancers who may not know others. This hence makes them fail to work seamlessly as a team to achieve the best outcome. This possibly incurs unexpected costs in debugging or more.
Working with an outsourcing company may accompany a huge sum at the beginning of the project. But in the long haul, this is an economical solution for your company.
Recommended reading: A Detailed Guide for Web Development Cost
How to Find a Qualified Web Development Company for Your Startup
Today only some clicks on search engines can lead you to a whole slew of web development companies. Yet not all of them are qualified enough for your startup's web projects. To compare available options in the market and filter out unsuitable candidates, you should browse through reputable B2B platforms like:
Those websites provide your startups with a detailed list of the top development companies in all technology subsegments. All their fundamentals (e.g. main services, technologies, average hourly rates, portfolios, etc.) and the testimonials of clients are available. Such information will help you grasp how the companies work and which problems you may confront when working with one of them.
Referral marketing is another popular way to look for a qualified web developer. But even when you do so, you still should learn about that agency to ensure their compatibility with your company.
What Things to Look When You're Selecting a Web Development Company
There are several important criteria you should look through to choose the most suitable web development company for your web projects:
Your project requirements
Before finding a dedicated partner, you should define your project requirements that relate to current business challenges, goals, and available resources to digitize your business operations. Then, you can estimate the project size and which project aspects need to be assigned to an outsourcing team. This helps your company deduce the proper cooperation model (staff augmentation, dedicated teams, and full-process outsourcing).
A development company's portfolio and main services
You should browse through a company's portfolio to learn about whether the company has conducted projects in your startup's sector, which main services are offered, and which case studies the company has carried out. Accordingly, you'll know more about their expertise and experience in a wide range of areas. Beyond that, you may see whether their web development and design style tallies with your company's needs.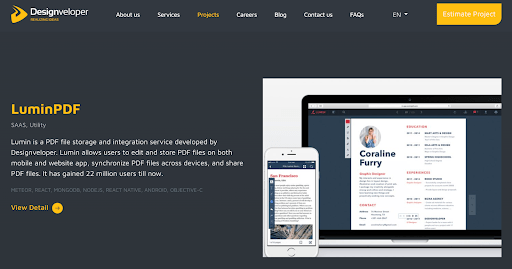 Reviews and feedback about the company
An effective website doesn't only require an eye-catching appearance but also necessarily functions well. Reading customer feedback and unbiased reviews will give you more information about the performance of previously developed websites, the web development model, the length of time to complete projects, difficulties during the development process, and more.
Pricing model
You should consider outsourcing costs which include expenses only related to web development and other incurred expenses (e.g. maintenance or upgrade). Moreover, you should figure out which payment models are available and whether pricing matches services.
After-launch support
You should factor in those providing after-launch services because they know their deliverable well enough to maintain and update websites when your startup scales up. Hiring another team who doesn't know your website well may incur unexpected costs.
What Type of Project Is Suitable for You?
Provided you're new in the segment, you should figure out which type of project is suitable for your startup. Normally, the web development project comes into different varieties, depending on technologies and other important criteria.
For instance, if your company prioritizes the website's great adaptability, developing an original website from scratch is a better option. This gives your startup more chances to customize its future website with essential functionality so that it may fit your demands well. Meanwhile, if money and time are two major concerns to your company, you had better build a website based on available templates. In this case, CMS (Content Management System) platforms such as WordPress, Drupal or Magento are adopted to support the web development process without much coding knowledge.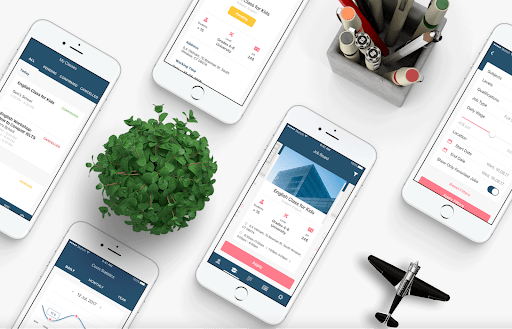 Which industry your company is working for (e.g. real estate, construction, etc.) should be considered. For example, eCommerce websites often factor in SEO friendliness, login authentication, product landing page, secure payment methods, and more. Meanwhile, education-oriented websites are more likely built with social share buttons, Q&A games, and so forth. Sensitive industries such as healthcare and banking are often victims of cyberattackers, so requiring more complicated security layers on data privacy.
Therefore, to find a suitable web project and pick up appropriate technologies, you need to determine the unique requirements of your company's industry and consult an outsourcing agency if you have no idea of where to start.
How to Find Out the Type of Projects That A Web Development Company has Done
Today, the Internet advances enable your startups to learn about which projects a web developer has worked on without hassle.
Most commonly, visiting a reputable research and review platform (e.g. Clutch or GoodFirms) is a decent way for your company to have a comprehensive insight into an outsourcing firm and make an unbiased comparison between multiple web development agencies. Thereby, you'll get to know distinct types of projects those companies have done by reading through their portfolio and reviews of former clients. es
However, not all web projects of those outsourcing companies are published on those platforms. So you may visit their websites which provide more details about their web deliverables such as challenges their clients were confronting, their solutions, tools, and technologies used to carry out web projects.
How To Tailor Your Requirement To Suit The Needs Of A Web Development Company
You're opening a finance consulting firm and also a complete expert when it comes to financial planning, personal investment, and more. However, building a finance-related website is definitely beyond your knowledge. So your startup can't define development trends, patterns, design theories, industry standards, and other common problems that you're possibly unaware of. It's a common mistake of insisting on poorly-informed business solutions just to satisfy all your aesthetic and functional requirements. That's why you should tailor your requests to achieve win-win consent with your web agency.
To do so, you first must know exactly what your startup and potential end-users expect in a prospective web. But if you struggle with where to start, you should ask an outsourcing agency for educated recommendations and provide all essential information so that the company may understand your current issues.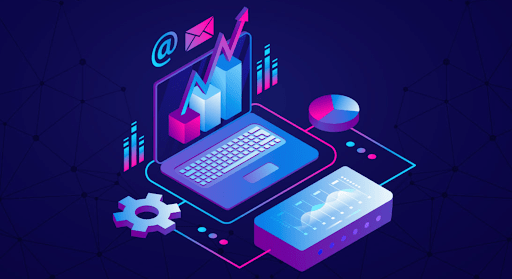 Secondly, the ignorance of web development is the main culprit of clients setting too high, or unrealistic, expectations for web projects. Therefore, equipping fundamental knowledge about this sector may help your startup understand what an outsourcing agency does for you and modify your requirements so that they may fit the needs of the service provider.
The ultimate goal of any company when going online is always attracting potential customer segmentation and becoming more competitive over other rivals. This doesn't translate to glamorous web products with complicated features. Understanding that fact, a web development agency often targets approachable and easy-to-navigate deliverables, accordingly providing proper tools and technologies to produce desired products.
Thus your demands for a future website should revolve around such important objectives instead of trying to mimic other competitors' websites that possibly don't match your brand or building an outstanding UI layout that fails to meet end-user needs.
When You've Chosen A Web Development Company, Here's What They Can Do For You
A web development company can provide your startup with a variety of services. You may hire extra staffing to perform some non-core aspects of web projects. In addition, your internal workforce can work with a dedicated outsourcing team to share duties and risks during the web development process.
In case full project outsourcing is your preferred option, it means you'll rely on a whole development team from an external company to conduct web projects. Here's what the team can do for your startup:
Discuss the problems your company is facing and speculate an effective idea of building a web;
Design a website blueprint identifying all the important features and functionality of a site;
Select a suitable programming language, frameworks and tools to build the backend;
Conduct UI/UX designs in the frontend;
Involve stakeholders (including your company's representatives) in the development process through project management software to guarantee the whole work is going on the right track;
Test the website (e.g. performance, speed, etc.), detect faults and debug;
Launch, maintain and update the website to improve customer experience and fulfill your demands when your company expands in the future.
Conclusion
Websites function as an important vehicle to connect companies with their potential or current customers over the Internet. Apart from internal and freelance staffing, recruiting a web development company is a long-term solution for many startups. However, they should do thorough research to find a qualified partner for their web projects and avoid later risks.
With this latest technology now available, it is a much better option for you to switch to Designveloper. We offer all of the services needed for any size business and more – from web development, mobile application design, and consulting. We are here waiting for your call! Give us a call today if you want an estimate or just some advice on how we can help your company with these new developments in technology!