If you live in the 21st century, the idea of outsourcing apps to a third party is not new. Even though there are still debates about how and when to outsource app development and whether the outsource app development cost is worth it, the IT outsourcing market continues to grow.
Outsourcing app development is developing as a business approach at a speedy rate. But none of the most important problems have disappeared. Software development often runs behind schedule, and poor communication with remote teams and lousy management also drive up the cost of outsourced mobile app development for businesses. Work with an experienced provider of IT outsourcing services. They will be able to help you solve problems like these.
In this article, we'll talk about how much it costs to outsource app development, which is one of the most essential things to determine. In the first section, we'll talk about how companies usually outsource app development and other business processes, so you can get a better idea of what's at stake.
How IT Companies Handle The Outsource App Development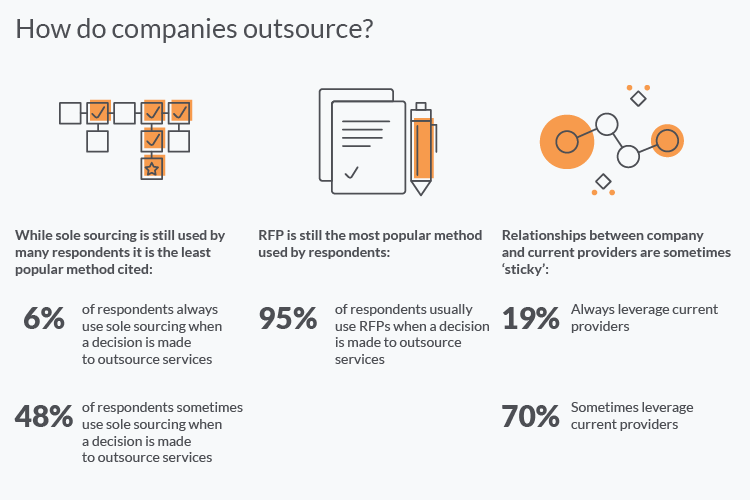 Source: Deloitte
First things first, you need to understand what outsourcing means. Before fully understanding how companies outsource work, you need to know this. At its most basic, outsourcing means giving specific tasks to a third-party service provider instead of using the resources already available to a company. Almost every industry outsources some of its work to third parties regularly today.
That company can hire workers from a wide range of providers is not surprising. You can outsource work in many ways, from a website owner hiring a virtual assistant (VA) to handle basic administrative tasks to a business hiring an entire team to handle all of its digital marketing needs. Hiring someone else to do the work is one of the things you can do. Statista says that the mobile app development process is part of an information technology operation that is most often done by a third party.
Recommended reading: How to Outsource App Development Successfully in 2022
Companies use IT outsourcing to build software products, deliver business solutions, or expand their software development capabilities. There are three main ways to work together: a dedicated development team; a time-and-materials model; and a fixed price model. If a client doesn't pick a suitable model for a project, their budget for software development could go wrong. So make sure your IT outsourcing provider can suggest the best way for your business to work together. Designveloper will explain this in more depth.
1. The fixed price model
The services hired to carry out this model usually stick very closely to the agreed-upon budget and scope of work unless there is a force majeure. With this pricing method, customers can get a good idea of how much they might spend. On the other hand, it is not flexible for outsource app development because the customer still has to pay the fixed price even if the scope shrinks. This is because it doesn't allow any changes as the program is being made.
2. Time and Material (T&M)
Most of the time, the T&M model is for when you require an expert to work on a project for a short amount of time. This could be a UX designer, a DevOps engineer, or a solution architect. Generally, it is not a good app idea to give these specialists full-time jobs under the dedicated development team model because you will have to pay more for their help. Still, there are quite a few significant differences from the usual way of doing things.
Recommended reading: 8 Tips On How To Choose a Mobile App Development Company
Because of this, it makes more financial sense to hire these experts on a part-time basis and pay only for work that is done based on the hourly rate of an IT expert. This agreement will make sure that the responsibilities are taken care of openly and honestly to save money and get the job done on the mobile development timeline and for a fair price.
3. Dedicated team
A dedicated development team model is a good option for long-term projects with changing needs. It's best when a client needs to make a product or improve its software development skills. It gives the team a stable base to work from. The client is given a team of software developers solely focused on the project. In this model, the client works closely with the developers to create a roadmap for the project. They can also either manage the team themselves or give that job to the vendor. Also, the client stays in complete charge of the software product. This model is very adaptable and can be easily changed to fit new needs.
Recommended reading: Top 20 Best IT Outsourcing Companies in 2022
5 Factors Which Influence The Outsource App Development Cost
Software development is a complicated process with many different parts that affect the cost as a whole. It's hard to estimate how much it will cost to make an app without first looking at what it needs to do. Here, we've put together a list of the most important things that affect the price.
1. The platforms
Every application development platform has its own tools, libraries, and other features. The technology used by mobile app developers also affects how much they charge. PayScale says that it costs more to hire an Android or iOS developer than a Unity expert. Building an app for just one platform, like iOS and Android, or a web browser costs less than building an app for more than one platform. These things affect how much it costs to develop an app through outsourcing.
2. UI/UX designers
A well-designed app will get more people to use it, which will lead to the app's success. Because of this, you need expert UI/UX designers. The pay for these jobs can vary depending on whether you use ready-made templates, simple patterns, or a complex design with animations, custom illustrations, and transitions. The second option can be costly and eat up your entire budget for outsource app development. Besides, you should take a deep look at your partner's mobile app design process, because a good process can make your project quickly!
Recommended reading: How to Tell If a UI/ UX Design Company is Good to Hire?
3. Features and complexity
The features will determine how long it will take and how hard it will be to build the project. The outsourced app development cost will go up in proportion to how long a developer works on a particular feature. To find out how much it will cost to outsource app development, you need to give specific details about the type of app and its features.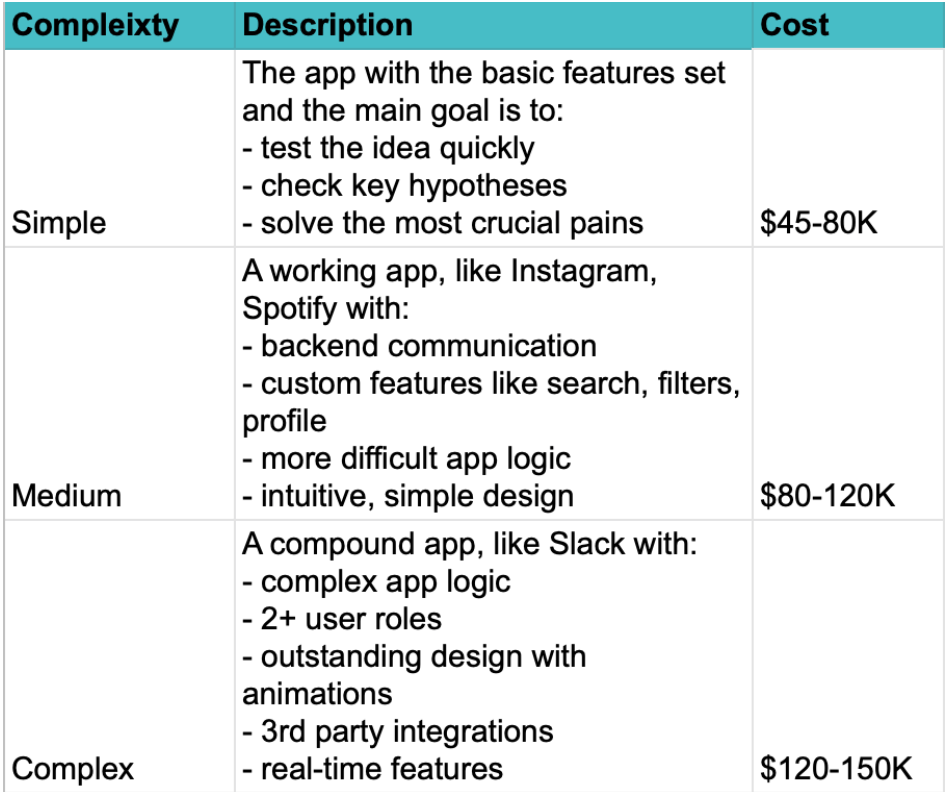 Source: Uptech
4. Technology
The chosen technology directly affects how much money is set aside for making software. The speed of development depends on the languages for app development and how experienced the developers are. While making an estimate for a project, a software development company will tell you about the necessary technologies and whether they are free to use or cost money.
5. Location
It is a well-known fact that hiring IT developers in the US and Western Europe costs a lot. Also, there aren't many talented people in those countries. PayScale says that North America and Western Europe are where software development services cost the most. At the same time, Eastern European and Asian countries are the most cost-effective and high-quality places to outsource software development. One thing to keep in mind about this factor is that, while the lower outsource app development costs are attractive, you'll need to consider cultural and language differences when working with people from different countries.
Integrations and hiring models are two other things that affect how much it costs to outsource app development.
Recommended reading: Why Should You Develop Mobile Applications in Vietnam?
3 Risks To Avoid To Save The Outsource App Development Cost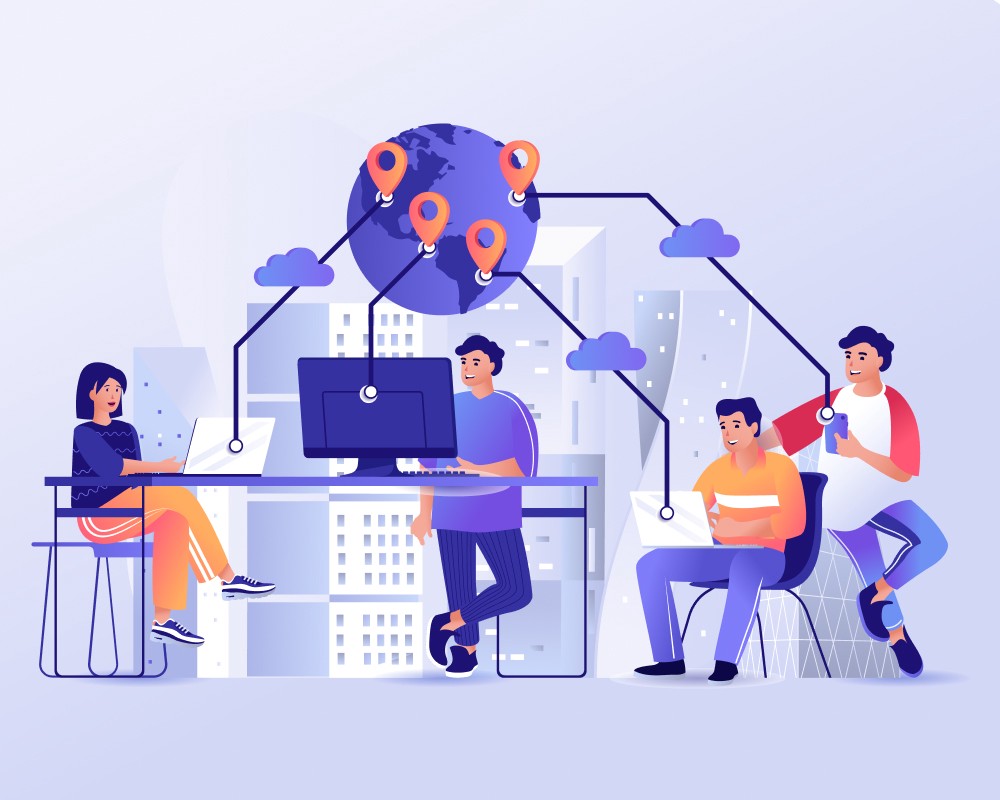 1. Communication
You must know what your developer needs, so they must have good communication skills. People usually think that a professional developer has good communication skills because they write well-written project documentation in English. However, there are always going to be exceptions to this rule.
The main benefit of software outsourcing is that it makes it easier to find and hire talented people worldwide. However, this creates a problem in the form of a communication barrier, and consequently for the outsource app development process. Different time zones, languages, and cultures all affect how people talk to each other. Other things play a role, such as technology.
2. Contract
No matter what kind of engagement model you choose, you should pay special attention to the contract parts that deal with confidentiality, liability, data protection, following rules, and intellectual property rights.
When writing a contract, it's essential to think about what both sides need. If an agreement isn't written well, it could lead to unexpected costs for outsourcing app development or even harsh penalties. Before agreeing to the terms and signing the contract, it is essential to read it carefully.
Recommended reading: Things to ask Web Designer Before signing the wrong contract
It is the client's responsibility to know what happens if a payment is late or not made, as stated in the contract. Suppose a payment is late for more than a certain amount of time. In that case, a vendor often reserves the right to stop providing services to a client and lay off any IT professionals who work for that client.
3. Requirements for the outsourcing app development cost
One of the main reasons your budget is more than you thought it would be is that the project specifications are wrong and incomplete. Customers often ask for a quick product launch to get a jump on the competition in the market. They have a general idea of what features the product should have. Still, they don't think much about competitive analysis, product discovery, user experience, or app security standards. The jobs are added to the queue right away without any research or giving any specific instructions.
Because of this, the product isn't scalable, easy to use, secure, or suitable in other ways. So, the client will have to spend more money to make it better fit in with industry standards.
Conclusion On The Outsource App Development Cost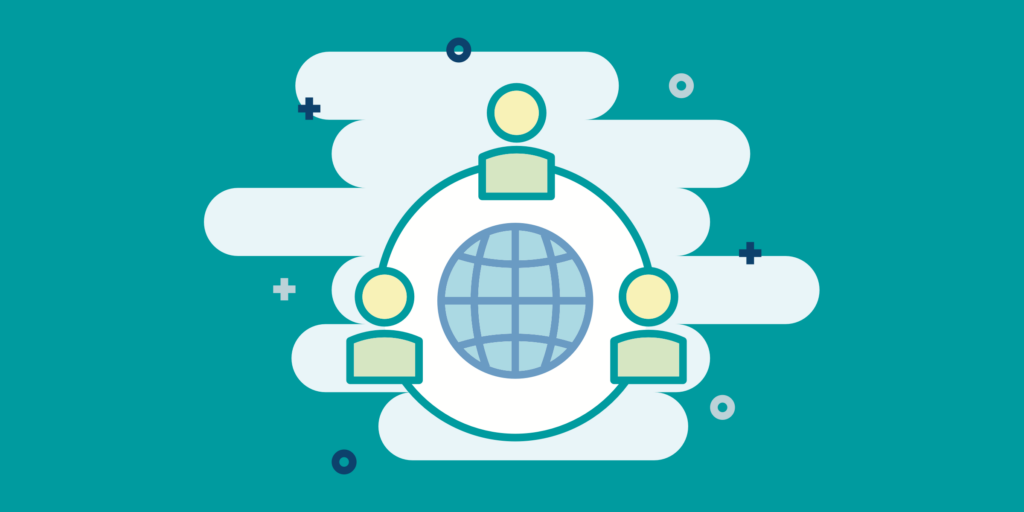 As you can see, the outsource app development cost is not so much based on the software engineer's salary as it is on several other factors, such as the cooperation model, business needs, knowledge transfer, and some other factors. So, if you read this post from Designveloper, it will definitely help you learn what you need to know about the subject.