Your business wants to develop an app, yet cannot afford it. Contracting out goes beyond your limited budgets, while in-house staff needs the training to produce the desired software product. Surely, many companies are facing the same problem. However, the good news is you now can have your own apps built on certain software platforms such as Uibackery.io. And the next stop is a list of the best mobile application development platforms you might want to know.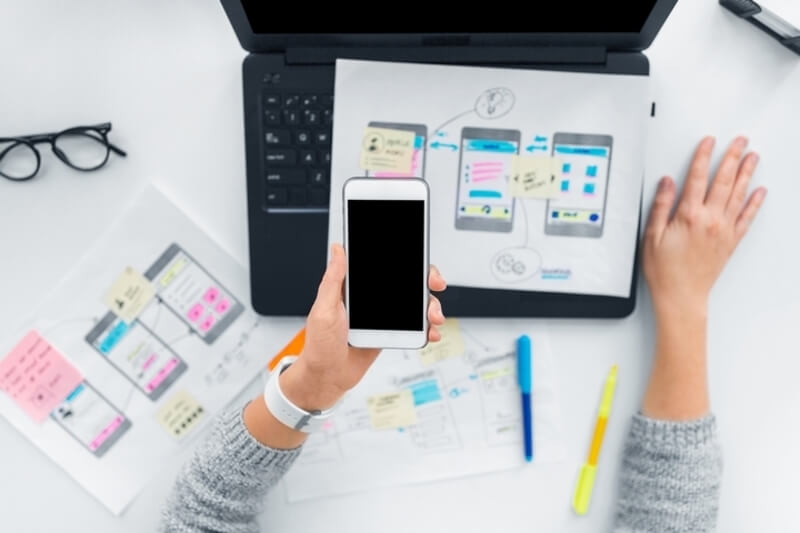 What Is a Mobile Application Development Platform?
Simply speaking, software platforms are application builders which make the application development faster and more accessible to even those without coding skills. But a business can face limitations as those platforms are not a perfect solution for building software. The blog post, therefore, will suggest some of the best application development platform creators that you should consider before building any apps.
The Top 5 Mobile Application Development Platforms
People at Designveloper understand this and that's why we will show you 10 Excellent mobile app development platforms in 2019 that are suitable for individuals, organizations, or SMEs. These platforms will help you build an in-house mobile app as required from basic templates and configurations. However, not all enterprises have enough resources to develop a mobile app. Currently, mobile app development is expensive, time-consuming, and privileged for well-funded companies.
Nowadays, it is easy to see people using smartphones in daily life. Smartphones completely changed the way we interact with each other. For example, people now can go shopping online quickly and conveniently on E-commerce mobile apps. As a result, compared to desktop and web apps, mobile apps now become a priority for enterprises to attract more customers.
1. ShoutEm – The best software platform
ShoutEm allows you to build impressive applications with no coding knowledge. Indeed, only dragging and dropping available features, you can customize layouts, add built-in extensions (e.g. Photos, Events, Maps, or Articles), pick up many monetization options (e.g. Mobile advertising, E-commerce, or Coupons), and integrate applications with various content sources such as WordPress, Facebook or Twitter to facilitate the advertisement of your applications. Also, it provides analytics to analyze the behaviors of your customers or visitors, then optimizes services to increase sales.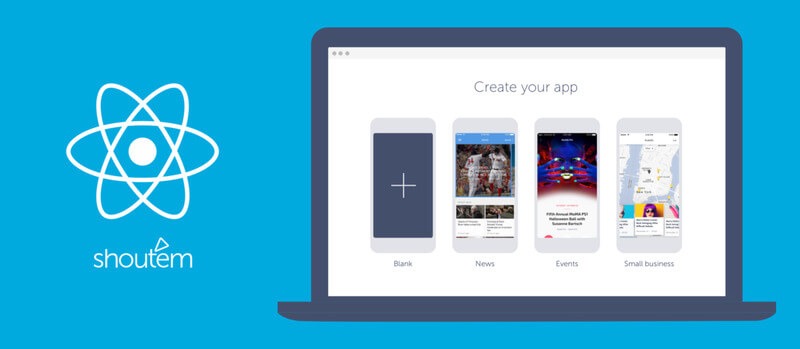 With applications built on ShoutEm, you can easily upload them to both iTunes and CH Play. Any new content will be automatically updated in those stores as well. Some remarkable apps made on ShoutEm are Gig Pic (photo sharing) and Golf News Net (golf news publishing).
Despite enabling to create an easily managed software with customized functions, ShoutEm is unsuitable for those who would like graphically intensive applications (e.g. video games).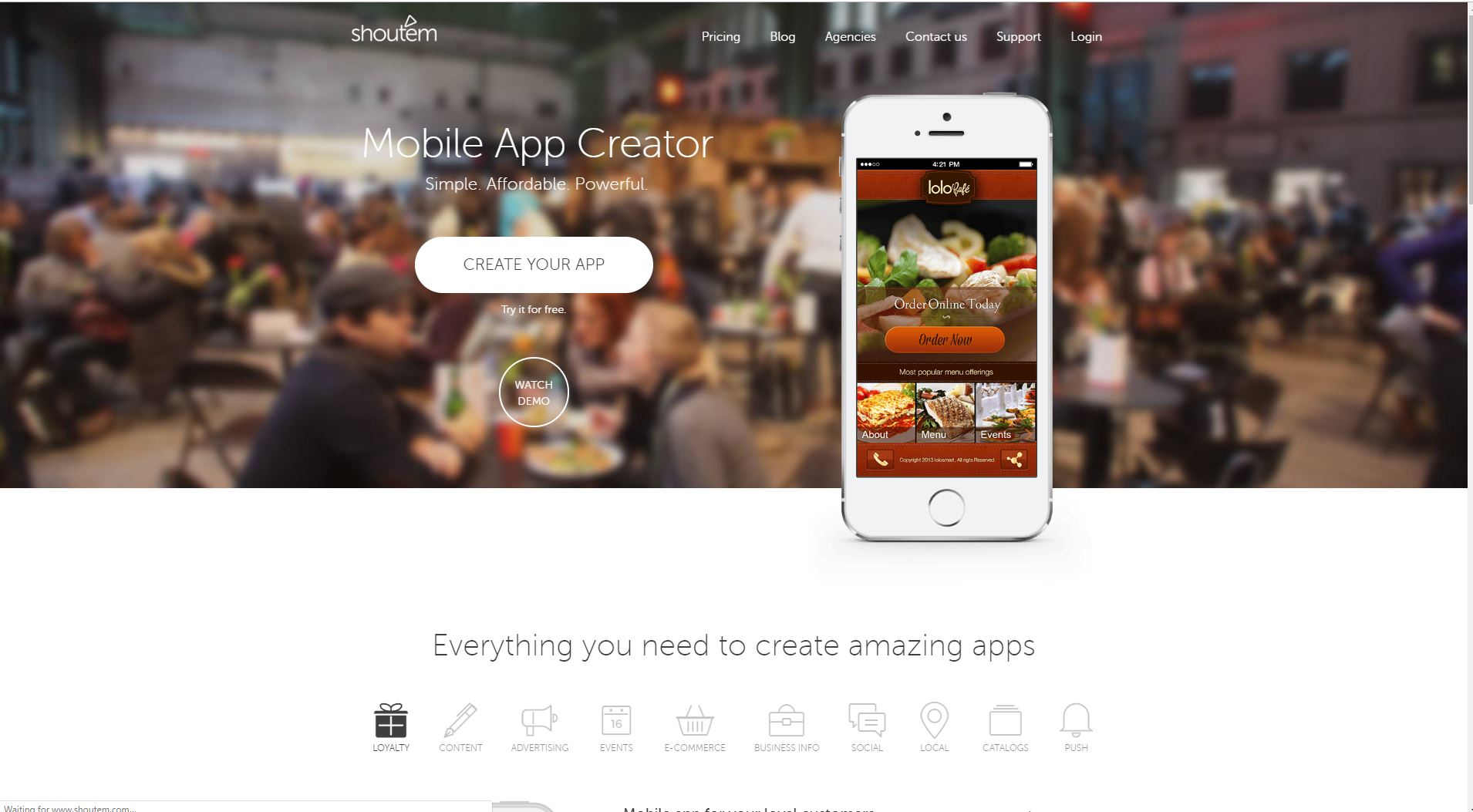 Shoutem is a cross-platform mobile app development platform using React Native with an enormous amount of UX/UI templates: over 40 screen types, more than 200 layouts, and roughly 40 extensions/features. It deserves a five-star rating for its interface and content. Its mission is to build mobile apps that are affordable for everyone. Launch fast, require no coding skills, and are simple to set up.
Shoutem is tightly integrated with existing content sources such as WordPress, YouTube, and Vimeo. And RSS to create amazing content, event, e-commerce, and social app. After the complete design, the app will be published automated to iTunes Appstore and Google Play. Additionally, it also offers real-time content updates. Regular auto-update to ensure your app always keeps up with new iOS and Android updates.
The pricing plan starts at $19.9/ month (billed annually) but with just HTML5 App. If you want to create an iOS and/or Android app. The price should be $49/ month at a minimum.
Recommended reading: 10 SAAS Ideas for Entrepreneurs in 2022
As reported by Gartner, the top-tier research and advisory company, OutSystems is the leading low-code application platform (LCAP) to provide enterprise development and management solutions fast. However, it does not suit individuals or small firms, or those with a shoestring budget.

Operating in cloud, hybrid, and on-premises environments, OutSystems allows you to easily build your own full-stack and cross-platform applications, manage application performance (e.g. small caching to the large database), and integrate with other external systems, databases, or customized software to facilitate business management. According to Beatriz Clarke, STEMCELL's applications development manager, you can also find "pre-built connectors and modules" in OutSystems Forge to save much time building applications. More importantly, OutSystems ensures the confidentiality of business data.
3. Awesome software platform – AppInstitute
Helping build native applications for iPhone, Android, and web, AppInstitute has been used to invent over 30,000 applications by simple drag and drop manipulation. "Easy to use" is a common comment of many users in Capterra who have no technical experience. Additionally, it provides monetization options (e.g. Loyalty programs or Online payments) and analytics to track customer retention and revenues.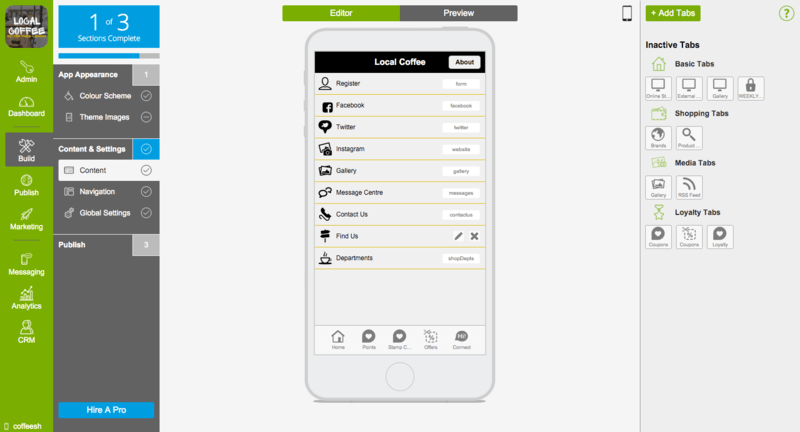 AppInstitute is the best application development platform option for small businesses in different industries, typically Wired Cafe Bar and Spokes Bike Store. However, if you would like a tool that provides highly customized backend data, this platform is not for you.
Recommended reading: Lifestyle Startup Ideas for 2022
Again, without no technological knowledge, you can easily invent a shopping or content application on GoodBarber. The platform supports building iOS native applications using Objective-C, Android native applications in Java, and progressive web applications (PWA) with the underlying use of Angular. It targets small and medium-sized enterprises (SMEs), especially those who like to access the source code and various plugins to optimize their custom applications.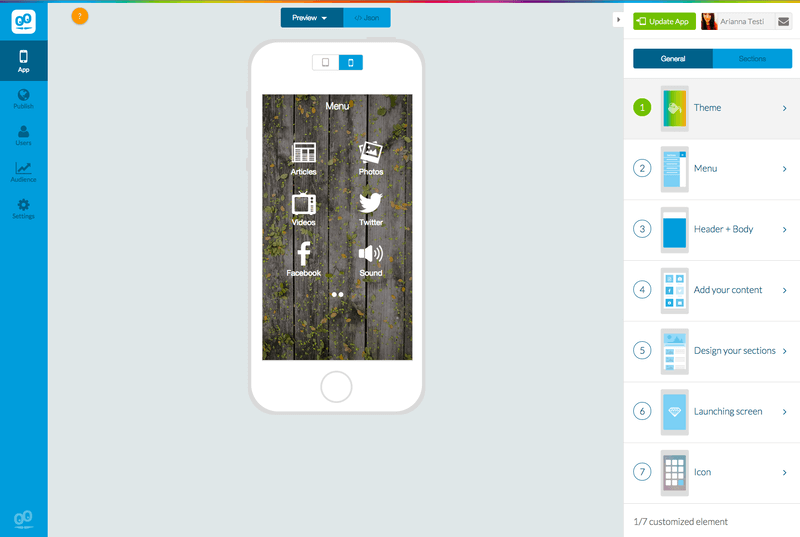 As their main product platform is shopping and content applications, such accompanied features as one-click payment, permanent cart, push notifications, CMS (Content management system), or chat box is provided. Also, you can monetize through external advertisement sources like Admob or MobPartner or internal advertisement campaigns. Despite the purpose of building e-commerce applications, it is not suitable for developing ones with extensive e-commerce integration.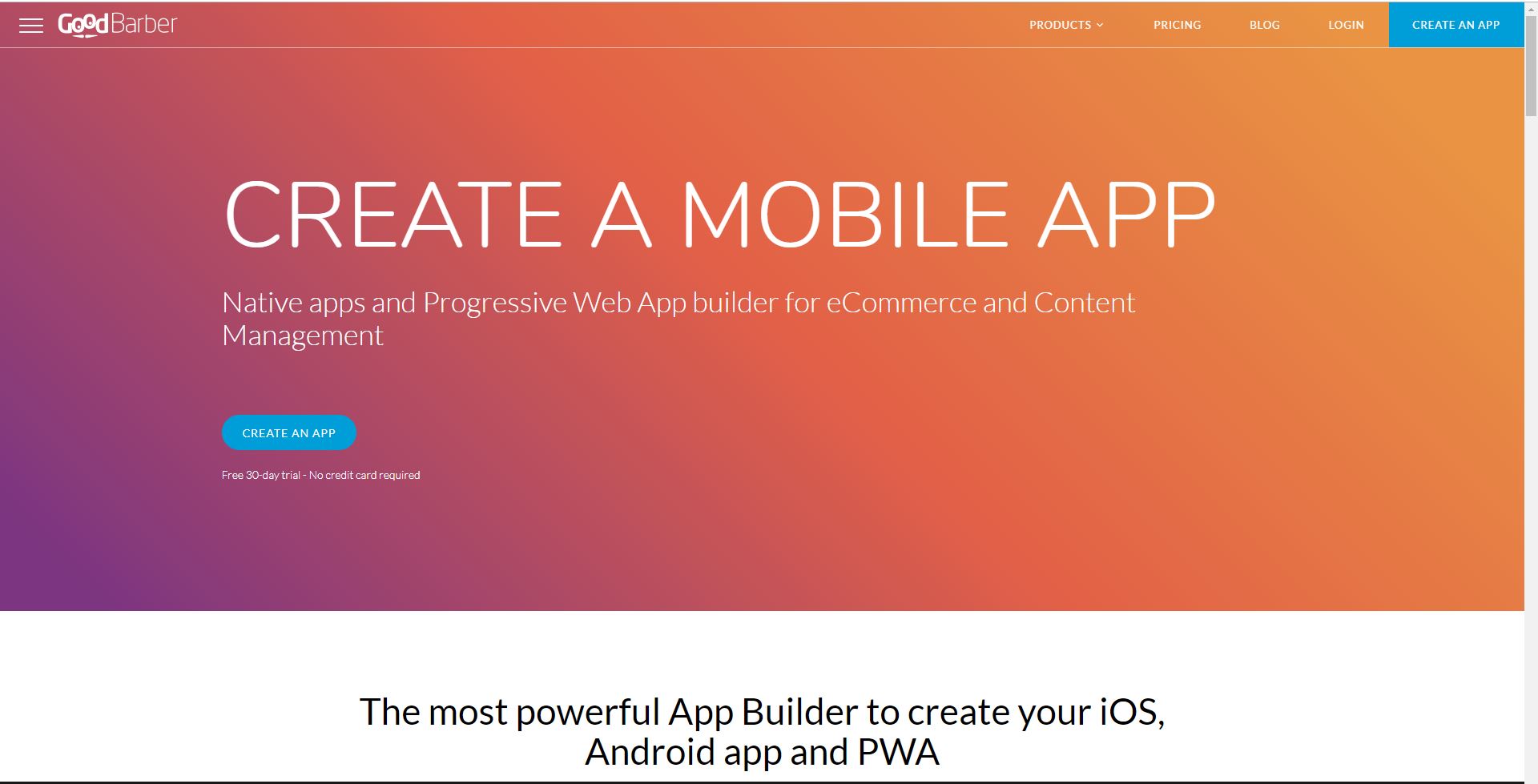 GoodBarber is another mobile app builder, which focuses on native apps and progressive web app (PWA) to deliver an incomparable user experience in shopping and content creation with the most advanced mobile technology. Especially, the apps are fully equipped with SEO and SSL security.
In fact, GoodBarber has a team full of experts to assist you in creating a mobile app and ensures the back-end architecture runs smoothly. Moreover, feedback from more than 30 000 published apps keeps them maintaining the quality. Performance and robustness at the highest level to grow constantly.
The standard pricing plan starts at €25 /month for one PWA. If you want the Native App for iPhone (universal iOS app) with up to 1TB of storage, the price is up to €96/ month.
"I say this to anyone looking at event apps in the association management profession. Yapp is by far the best solution we have come across to engage our attendees during events and reduce our overall event printing cost," said John Meidl, Events and Membership Manager at NCPeds (North Carolina Pediatric Society) Yapp. Like Meidl, other clients who want to build applications for events, meetings, conventions, and organized teams also give high recommendations to the platform. Yet different from mentioned creators, the builder is not for those who prefer an e-commerce software development tool with extensive customization and monetization options.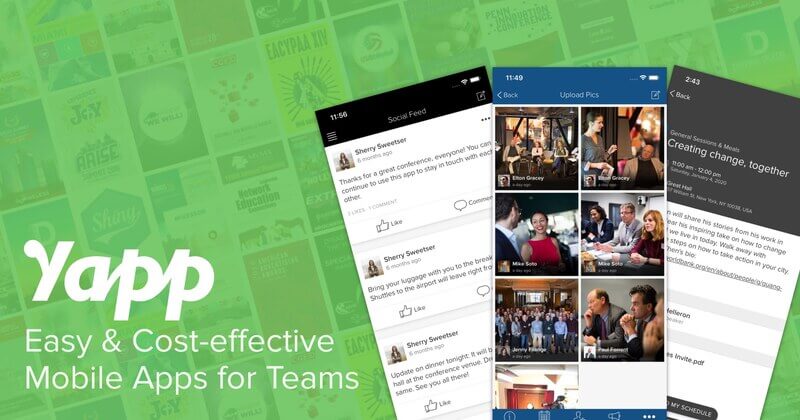 Only by clicking the edit button, then dragging and dropping built-in features, you can easily manipulate distinctive menus and self-design your apps on iOS, Android, and the Web. Providing all functionalities of meeting or event apps, Yapp can help you to hold an event, and track your organized talks or workshops. It can also help share documents, allow anonymous polls, and even protect your apps from unsuitable content or manage who should be involved in your apps by Admin controls.
After the acquisition of AppMakr, a cloud-based application maker, Appy Pie then becomes the largest no-code application development platform, assisting you to invent hybrid or HTML5-based apps incredibly fast and easily.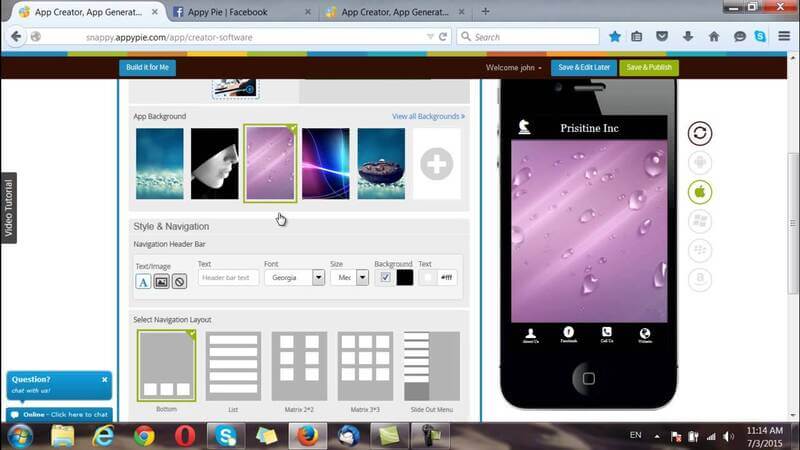 No matter which industries you work in, you can customize your apps by adding required features like Push Notifications, Navigation, Social media, and photos integration or taking monetization options (e.g. Coupons, Discounts, or Loyalty programs). Also, similar to other software makers, Appy Pie supports you to monitor users' behaviors on your apps. Accordingly, the app builder is best for those who prefer a quicker, simple way for IT platforms and solutions while they have no technical experience. Yet the platform is not perfect for making apps with specific or complicated properties.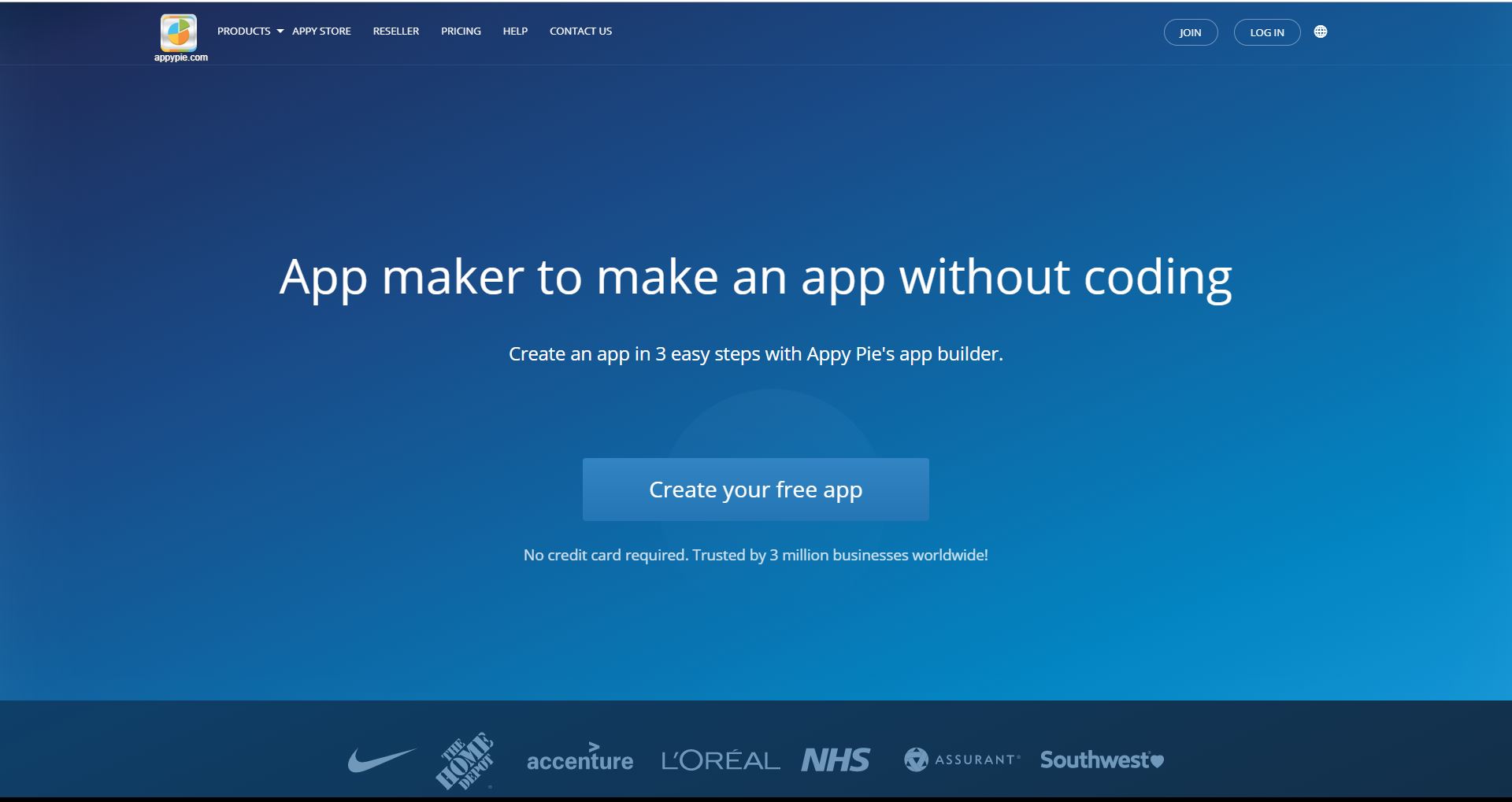 This is absolutely the best choice for someone who knows nothing about coding. In just a few minutes, you can build a professional. And powerful native mobile app with a simple set of actions: drag and drop. You do not need to set up any coding environment (like Eclipse or Visual Studio). Just drag and drop to customize the layout and add stunning features. Like a chatbot, artificial intelligence, augmented reality, and virtual reality. And internet of things for your own Android, iOS, HTML5, or PWA app. In addition, many experienced developers also use Appy Pie. It will help them build a powerful and unique app in just a short period of time.
This excellent mobile app development platform also offers its users a wide range of tutorial videos, FAQ sections, and forums acting as a resourceful learning platform to learn basic and needed skills. It also has brilliant customer support through 24×7 live chat and over-the-call support.
The pricing plan is starting at 36$/ app/ month for HTML/android platform support, unlimited app editing, 5000 push notifications, google analytics, email customer support, and earning money through advertising features. This is quite affordable and perfect for startups, entrepreneurs, and small to medium-sized businesses. Moreover, it can be up to 120$/ app/ month with salient features such as iOS platform support, 25000 push notifications and even removing Appy Pie branding!
Shared with Clutch, Kris Jones, CEO at Appek Mobile Apps said that Bizness Apps offered them a very affordable base platform for simple application development. Indeed, if you would like to quickly start your small business and have no complicated requirements for apps. An app maker is a cost-effective option for you.
Since its establishment in 2010, Bizness Apps has aimed at small and medium-sized businesses (SMBs) of all kinds. Therefore, anyone who looks to develop straightforward apps for individual or recreational purposes will find the creator inappropriate for them.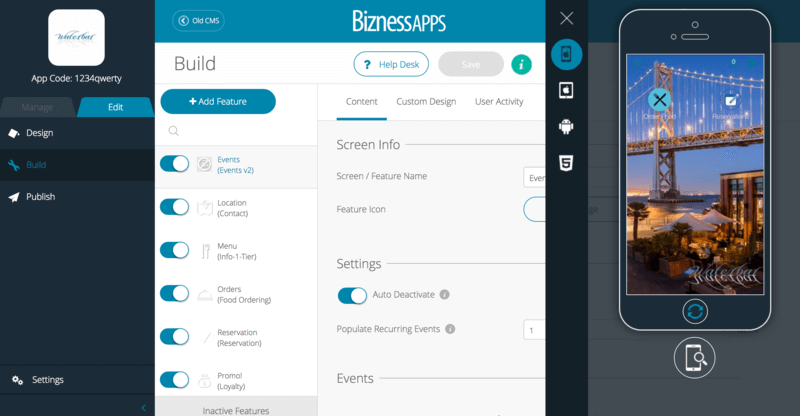 Providing decent apps for schools, real estate agencies, restaurants, and much more. Bizness Apps have increasingly proved reputable when supporting building business-related features (e.g. Mobile ordering, Messages, Reviews, or Loyalty programs), easily managing your virtual reputation, or marketing your services. So, the app builder can give you online solutions with secured apps and powerful content management systems on iOS, Android, and even Progressive technology environments.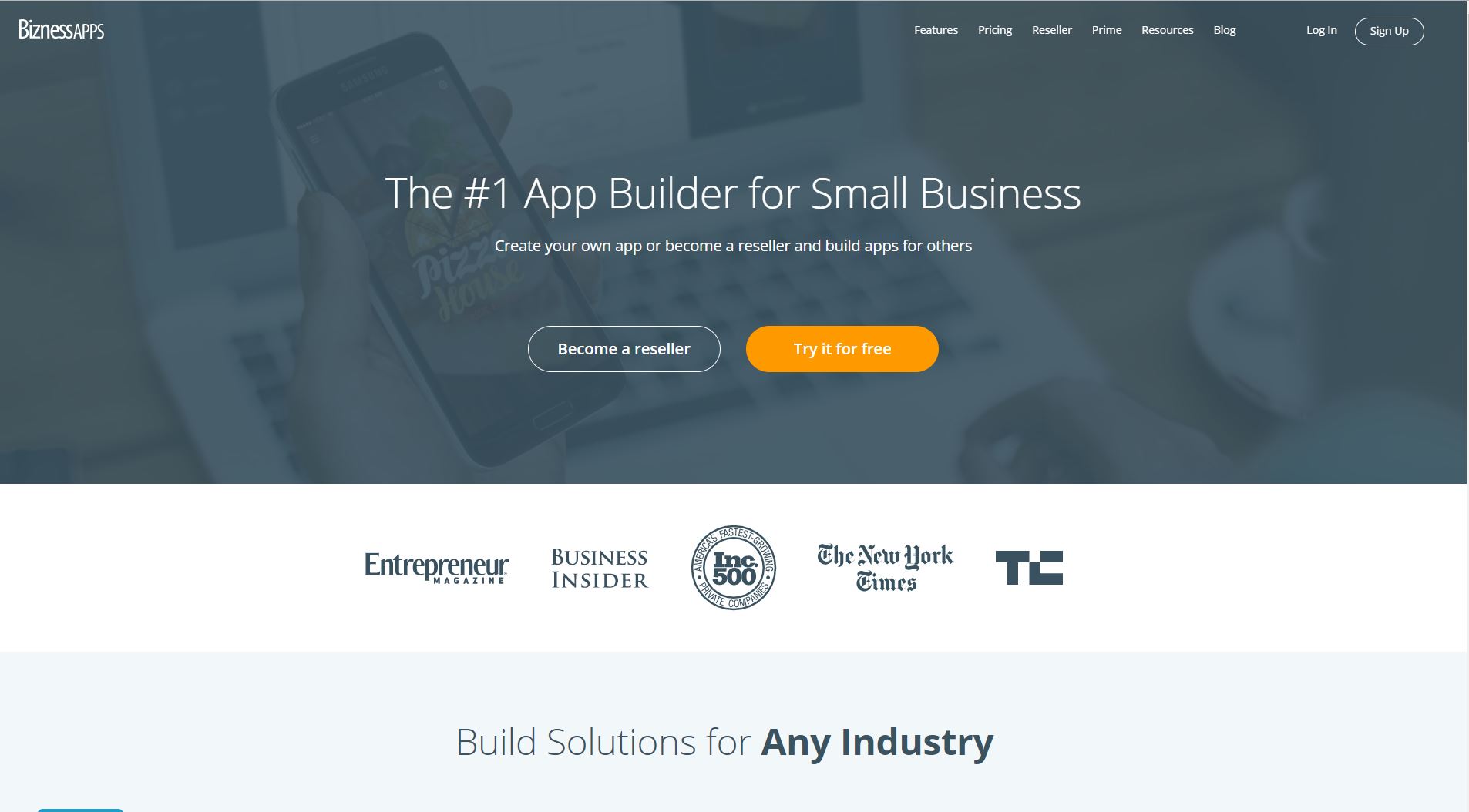 The next one is perfect for someone who comes up with a big idea – Bizness Apps. They thrive to help their customers create a faster, easier, and more cost-effective mobile application development. This could be a good choice for restaurants, community organizations, real estate agencies, or schools. They have a wide range of helpful features such as mobile ordering, loyalty programs, reviews, third-party app integrations, and event marketing programs.
Compare with Appy Pie and GoodBarber, Bizness Apps offers its customers unlimited push notifications, native iOS and Android apps, coupons, and especially live updates. This is absolutely a superiority over the entire competitors in the market.
Bizness App provides a standard package at $99/month for individual apps; the reseller plan starts at $300/month for standard, $360/month for Gold, and $400/month for Platinum.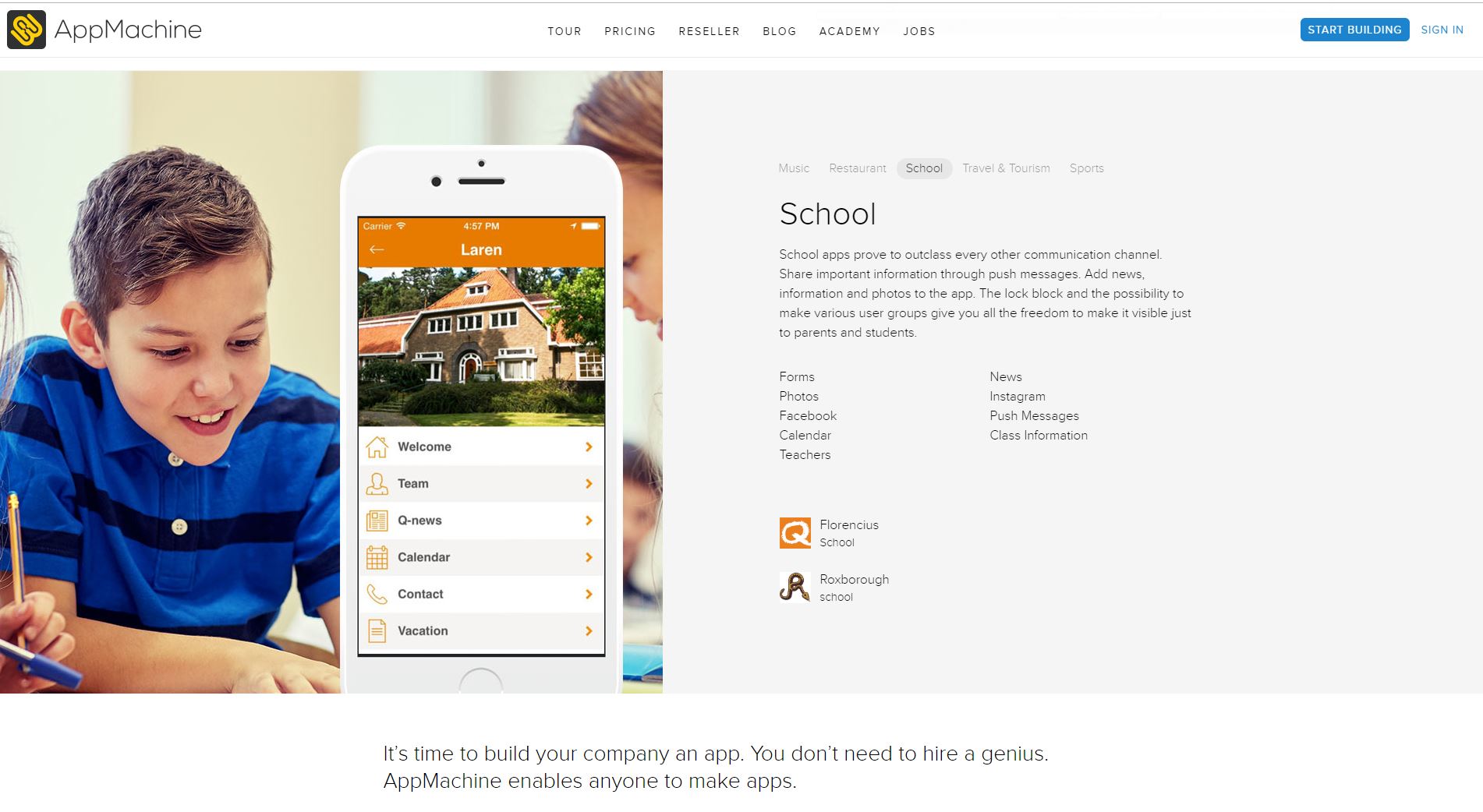 The strength of AppMachine is the automation and is completely suitable for those who already have a website, as it will scan all the contents on your website to build apps for iOS and Android. It has more than 35+ pre-coded, snap-together Building Blocks, skin selections, and design features to choose from. The only task you need to do is fill in all the App Store information, AppMachine will do the rest! Yeah, you hear it right. AppMachine will submit your apps to the App Store and then provide you a QR code and app site to get your app promoted easily. People just need to scan QR codes or use the app site on their smartphone to download your app directly from Apple's App Store and Google Play.
In the process, you can check the status right on your smartphone, PC, Mac, or tablet and update quickly through the CMS.
The pricing plan offers 2 options for individuals and resellers starting from $49/ app/month with an app previewer, live update, and advanced design features.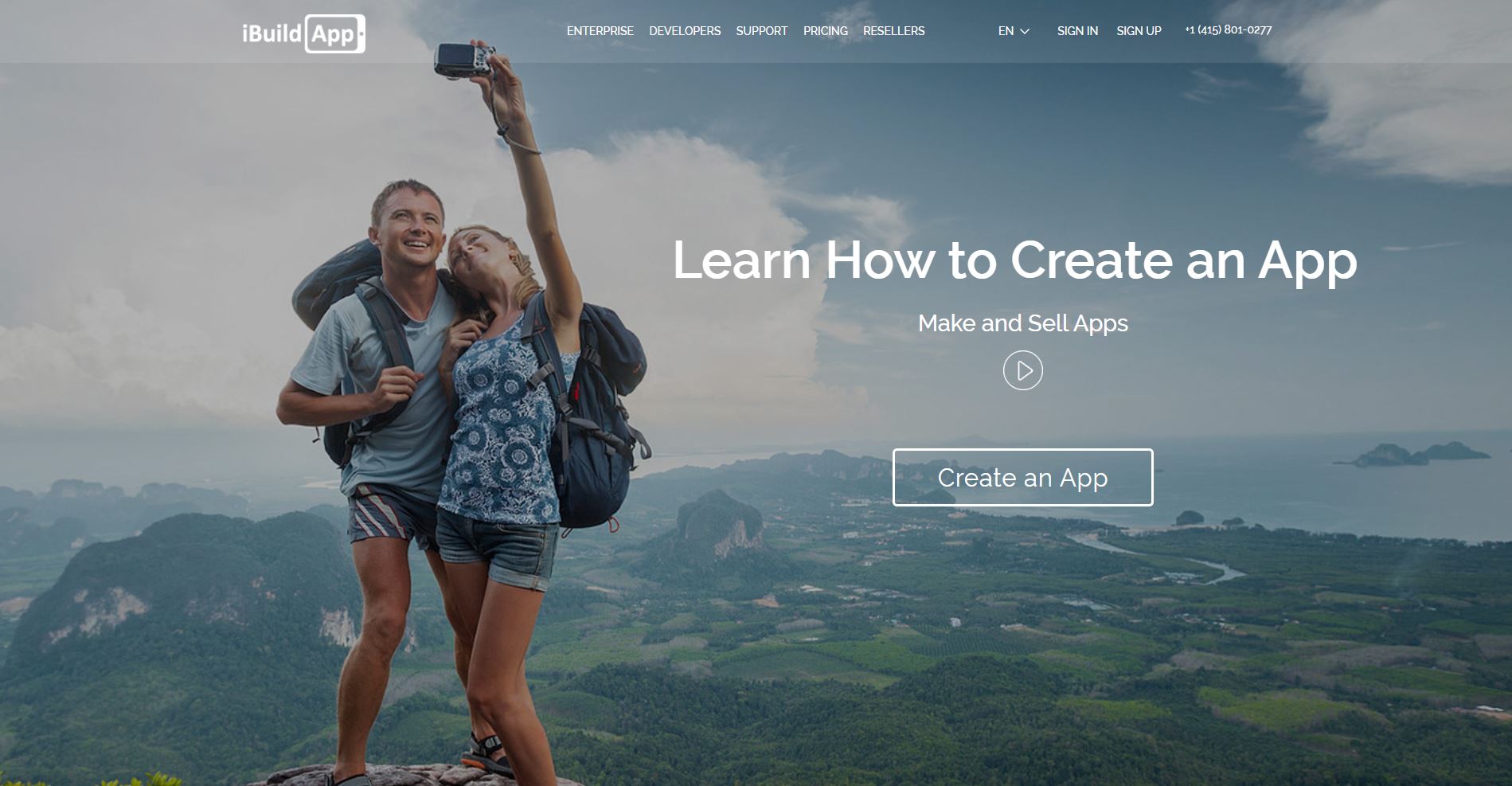 iBuildApp.com is one of several leading cloud-based mobile app development platforms with 2,000,000+ users worldwide. Apart from the above, iBuildApp offers great choices for manufacturing/ construction, financial service, and media field in a matter of minutes. Obviously, iBuildApp becomes the easiest app builder in the market with 1000+ design templates, powerful features, 24/5 full support, and more. The 15-day-money-back guarantee on all plans is also a plus.
Their pricing plans now offer a 40% off for professional and business packages, starting at $23.40/ month.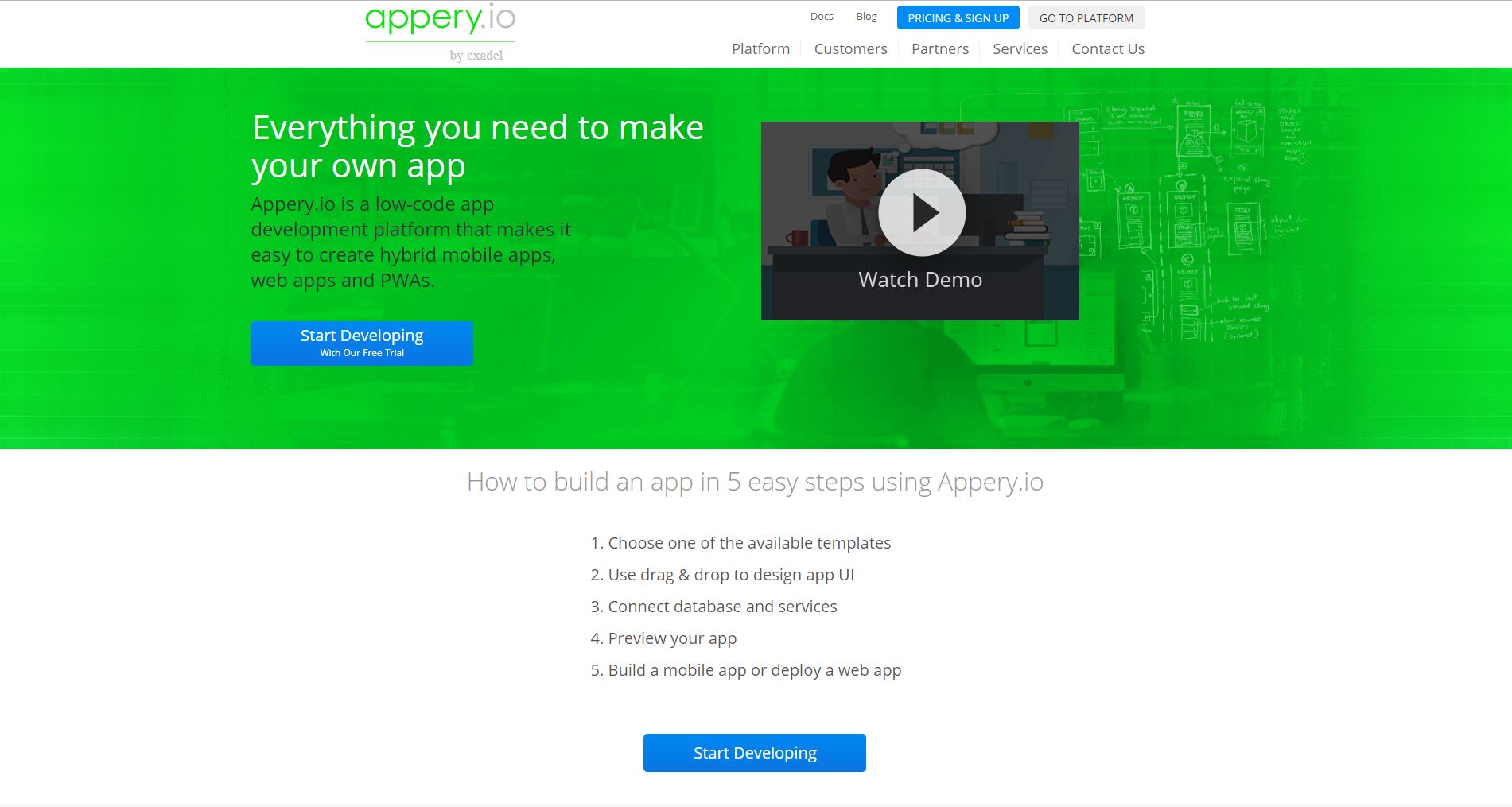 Appery is a cloud-based mobile app development platform that is trusted by over 500,000 users. If you have an idea and want to turn it into a real mobile app, Appery is the right place. The highlight features of Appery are the API Express – which enables enterprises to easily and securely integrate apps with any back-end system; multi-platform support – iOS/Android/Windows Phones and on-site tutorials and support. Moreover, Appery uses the drag and drop interface to build the UI with 30 out-of-the-box jQuery Mobile themes. It also offers advanced customization for developers with jQuery Mobile, AngularJS, Bootstrap, and Ionic.
The pricing plan starts at $70/month for 3 apps and 50,000 platform APIs. They also offer custom plans and deployment options.
AppSheet or you can understand as making iOS and Android mobile apps from sheets without any coding. This kind of feature is suitable for making a staff-management. And a sale-tracking app that can extract data from GoogleDrive, Office 365, Dropbox, and OneDrive.
Appsheet provides basic templates. But advanced customization with GPS, maps, image capture, code scanning, signature capture, and charts. And email notifications features. Moreover, Appsheet has a good reputation for its customer service and support through email and forums. Because "they do not even skip a tiny message even if it might be silly or irrelevant"
Appsheet only invoices per licensed user. In particular, the pricing plan starts at $5/active user/ month for Premium. $10/active user/month and custom price for a mission-critical enterprise app.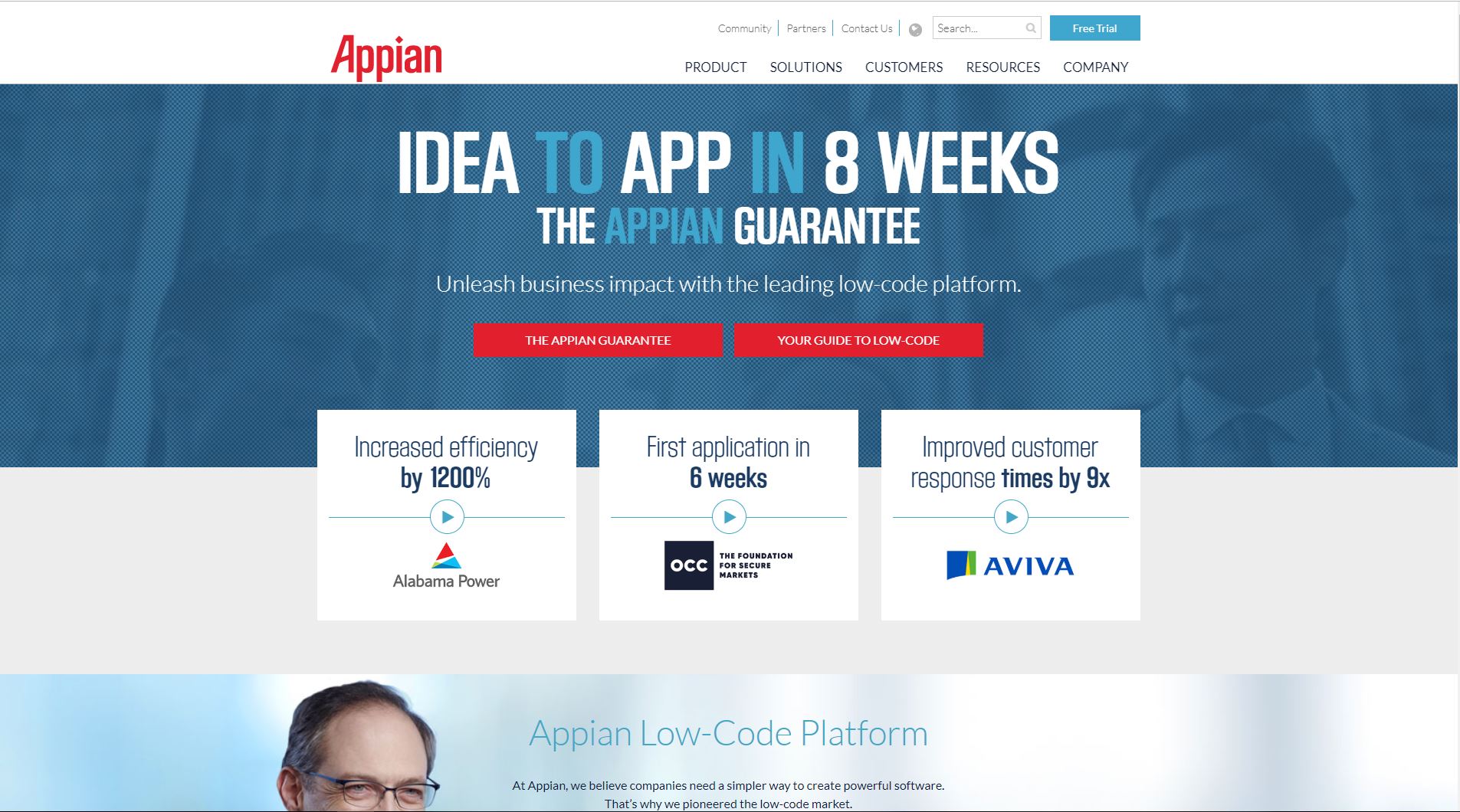 The next tool understands the importance of speed in the fast-growing industry: Appian – one of the most low-code mobile app development platforms. To be more precise, Appian offers a guarantee program to develop an app in just 8 weeks! They optimize the process with AI and software robots to automate any process end-to-end without the need for custom code. You can create an app of a simple intuitive architecture – from a productive low-code design environment to a fully managed cloud. With Appian, you build an application once, and it runs everywhere perfectly. With no extra work or cost. When you have a problem, do not hesitate to contact them via mobile, web, chat, voice, email, or any communication channels.
You can sign up for a free trial plan and then upgrade to $90/user/month for standard licensing or a custom plan if needed.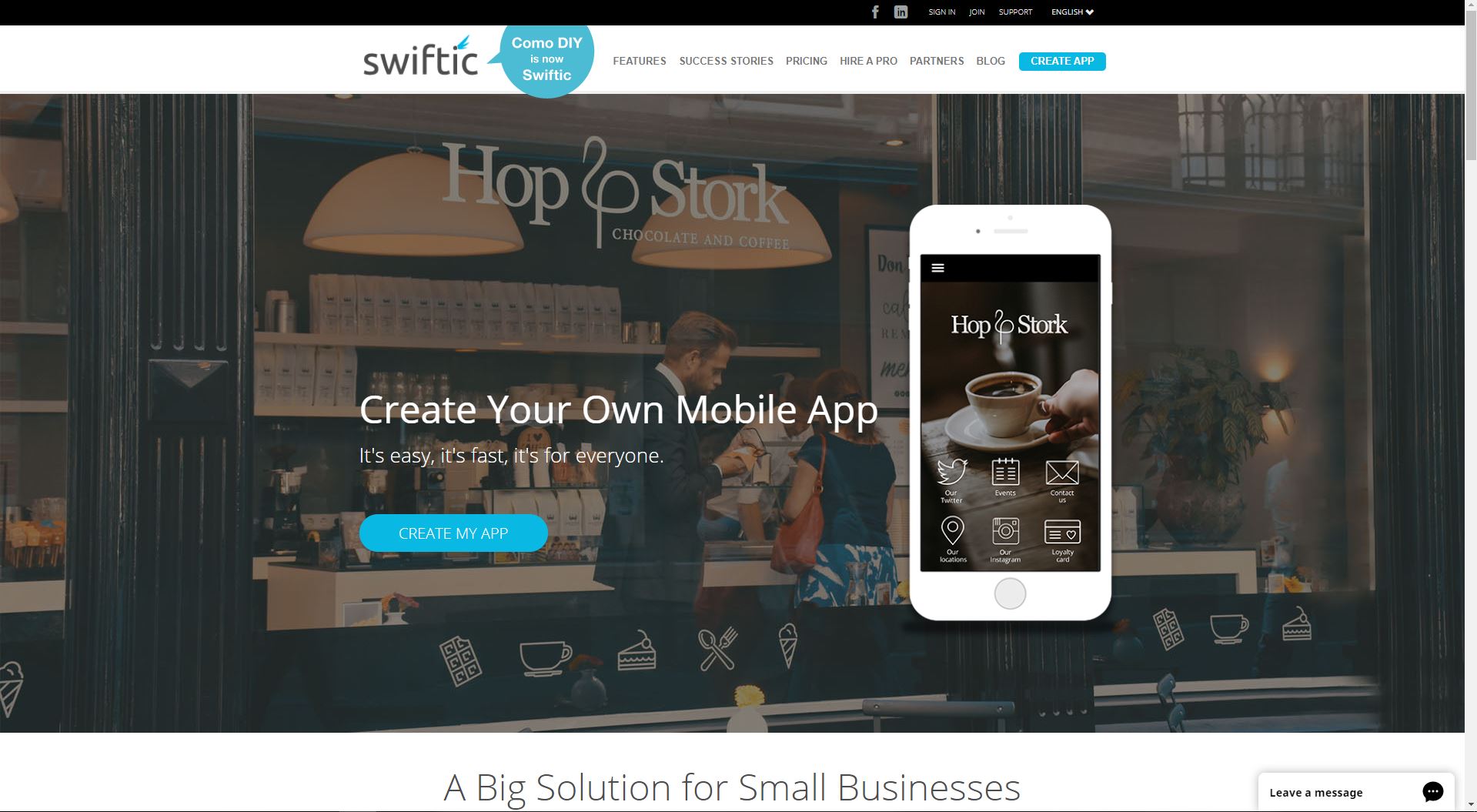 Last but not least: Swiftic – an exclusive iPhone & Android App Maker for small businesses. They consider themselves as the Best Do-it-yourself App Builder with just 3 steps:
In Step 1: Name your App

Step 2: Input content

Step 3: Create
Its strength is to offer a loyalty-program app with push notifications, in-app coupons, scratch cards, and delivery. You do not need to start from scratch, as they will import your online content, give you full guidelines to customize templates, and a guarantee program that up to 30-day money back
Swiftic just has one package with a pricing plan that starts at $57/month when paying every month or $48/month when paying yearly. They also offer 30% off now, so come and build your app now!
Final Thoughts About Software Platforms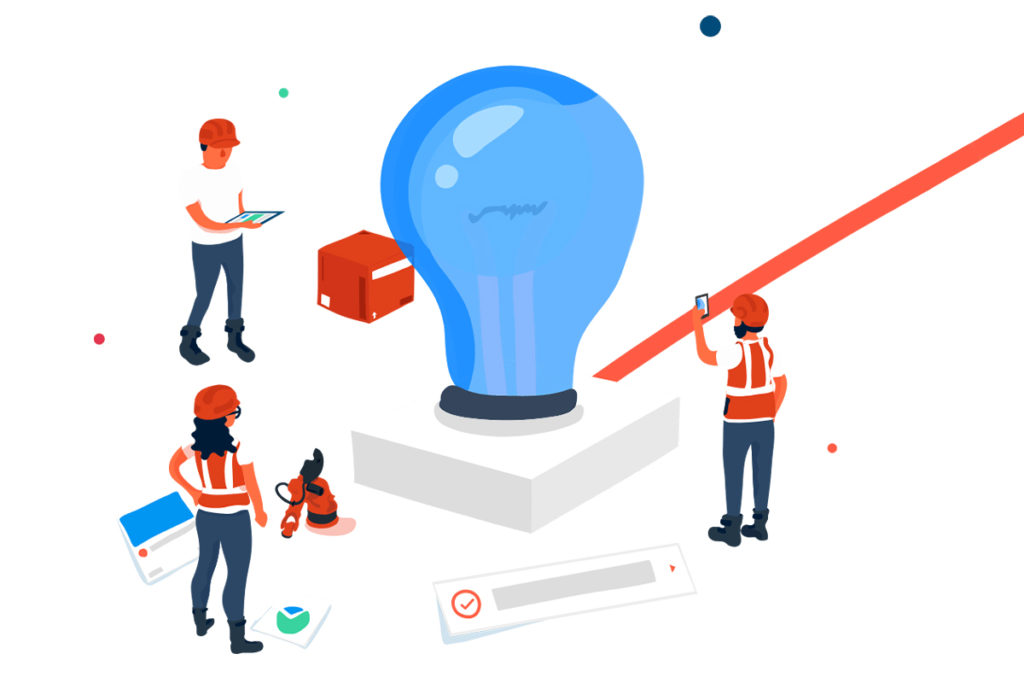 Apparently, the advent of app makers has turned applications accessible and friendly to users, even when they lack programming skills. In the ever-changing world of no or low-code application-building tools. 7 mentioned in the blog post are typical examples. To optimize your personal or business uses, you should do careful research on which one is the best application development software platform. If not, your money and time will be wasted.
Microsoft Software Protection Platform Service, which is also referred to as sppsvc. It belongs to Microsoft Windows Operating System and is one of the integral parts of the Windows OS. The service is aimed at piracy prevention and software tampering protection, which helps to initiate licensing easier.