Along with ubiquitous smartphones, accompanied applications also play an essential role in serving personal and organization purposes. Any companies, regardless of industry or size, have very high demands of mobile applications, because it facilitates their approach to targeted customers. However, which companies can help develop your desired applications? This blog post will list 10 mobile application development companies you should consider in Vietnam.
1. Savvycom Software
Headquarter: Level 12, Viet A tower, Duy Tan street, Ha Noi
Website: https://savvycomsoftware.com/
Review on Clutch: 4.9/5
"When it comes to meeting deadlines, Savvycom is extremely good. They know how to maximize their time and resources." – Niels Delater, CEO (Spectos GmbH)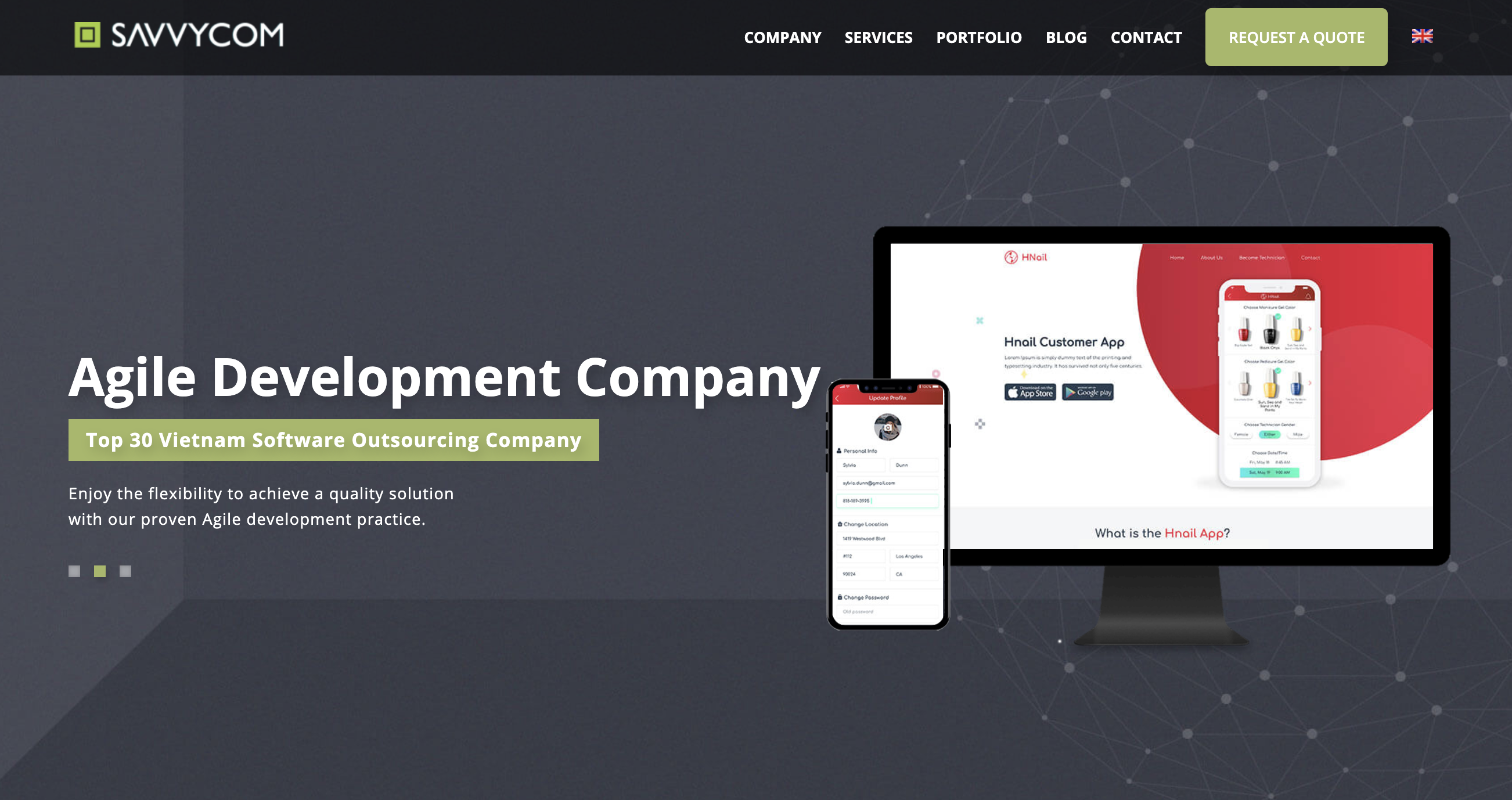 Founded by four passionate software engineers in 2009, Savvycom has become one of the top-notch software developers in both Vietnam and the global market. With different prestigious awards by Vinasa (Vietnam Software Association) or Clutch, they prove their top quality services, professionalism and reliability.
Their main services include Mobile application development (50%), Full stack service of the website (20%), IT solutions for enterprise management, Cloud and DevOps services (30%). Most projects are run on Healthcare, Medicine, Financial services or IT, for key clients such as Nielsen Norman Group, TaylorMade, Automattic, etc.
2. Ventuso LLC
Headquarter: 154/30/25 Pham Van Hai street, Ho Chi Minh city
Website: https://www.ventuso.net/
Review on Clutch: 4.8/5
"They increased efficiency by helping us adopt current technological trends in the customer service industry." – CFO (Uncruise)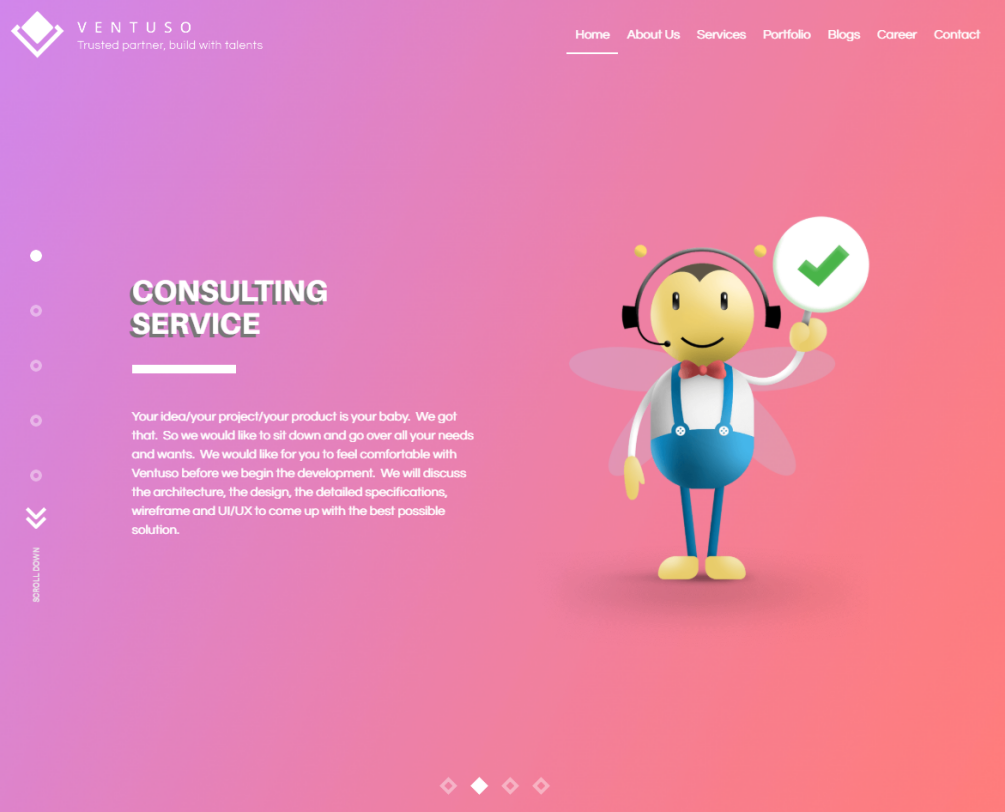 Ventuso was founded in 2010 to convey a message of making the world different. Led by a group of highly motivated engineers, Ventuso desire to become the best mobile application development company in both Vietnam and South East Asia.
They mainly offer Mobile application development (60%), Customized software development (20%), UX/UI Design (10%), Technical Consulting service and Supplying engineering teams (10%), with most projects on IT. Some of their major partners are MVP Finance, Uncruise or Ztrip.
3. InApps Technology
Address: 288 Pham Van Hai street, Ho Chi Minh city
Website: https://www.inapps.net/
Review on Clutch: 4.6/5
"I have been really impressed with the team at Inapps. They are professional, work ahead of schedule and are technically strong across a range of fields." – David Liem, CEO (Ripples)

Founded in 2016, InApps then has evolved to be a leading software development company in Vietnam, awarded by Good Firms, Clutch or Software World and becoming a major partner of Aeon Mall, MacDonald or Techcombank.
They provide services on Mobile application development (65%), Web development (15%) and other services like UI/UX Design, Offshore development, IT Staff Augmentation, QA and QC (20%). Their projects vary in many industries, from E-commerce, Games, Healthcare to Education.
4. Team4Solution
Address (Vietnam): Floor 6th, TechnoSoft Tower, Ha Noi
Website: https://team4solution.com/
Review on Clutch: 5/5
"Their team delivered a high-quality product in a very short time period. Team4solution's project management was effective and their developers were highly skilled." – Ashish Chawla, Hospitality Manager (India)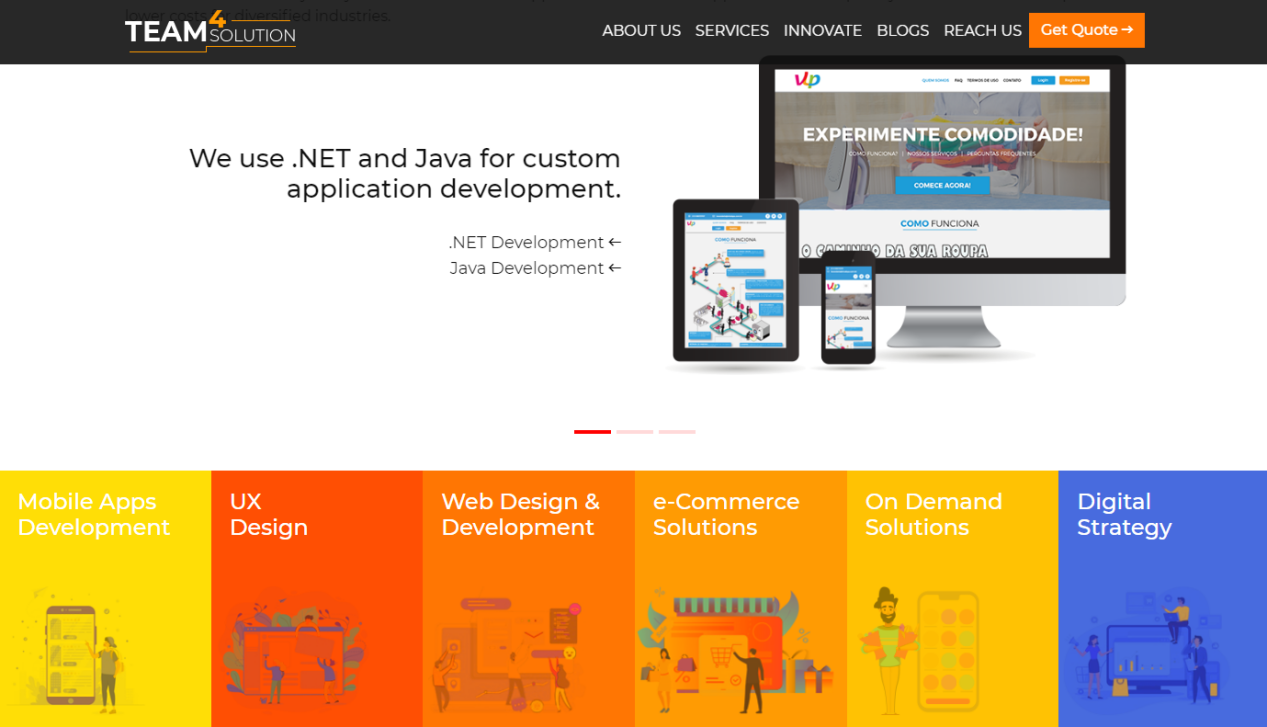 Despite being founded in 2017, Team4Solution has developed to become a multinational company with the headquarter in Malaysia and different branches in Vietnam or India.
70% of their services are regarding Mobile application development. They also run projects on Web development, Cross-platform application, or Javascript, in a wide range of fields like Real estate, Automobile and Transportation, Government, Online shopping, E-learning, or Insurance and Warehouse.
Address: 144 Nguyen Thai Binh street, District 1, Ho Chi Minh City
Website: https://www.designveloper.com/
Review on Clutch: 5/5
"… Designveloper really stands out. They led the development of a very complex Javascript app, meeting deadlines, and delivering excellent results. Designveloper ability to handle all aspects of the development process, from conceptual design to deployment of large-scale production apps makes them an attractive option for both small and large projects." – Max Ferguson, Founder (NitroLabs Limited)

Founded in 2013, Designveloper, over a short time, has grown to the leading software development company in Ho Chi Minh city. With a team of passionate and professional developers and designers, Designveloper is determined to build the best software solutions to maximize the growth of clients (e.g. LuminPDF, Walrus Education or Bonux).
Most projects are on Consumer products, IT, Business services, or Finance. Of which, they focus on developing websites (20%), mobile application (20%), UX/UI Design and VOIP.
6. Wizeline
Address (Vietnam): 195 Dien Bien Phu street, Ward 15, Ho Chi Minh city
Website: https://www.wizeline.com/
Review on Clutch: 4.9/5
"Wizeline delivered a product to specifications and in a timely manner. Their speed supplemented an efficient workflow. Their flexibility is also noteworthy." – Garrett Wymore, Head of Product and Marketing at Whistle Labs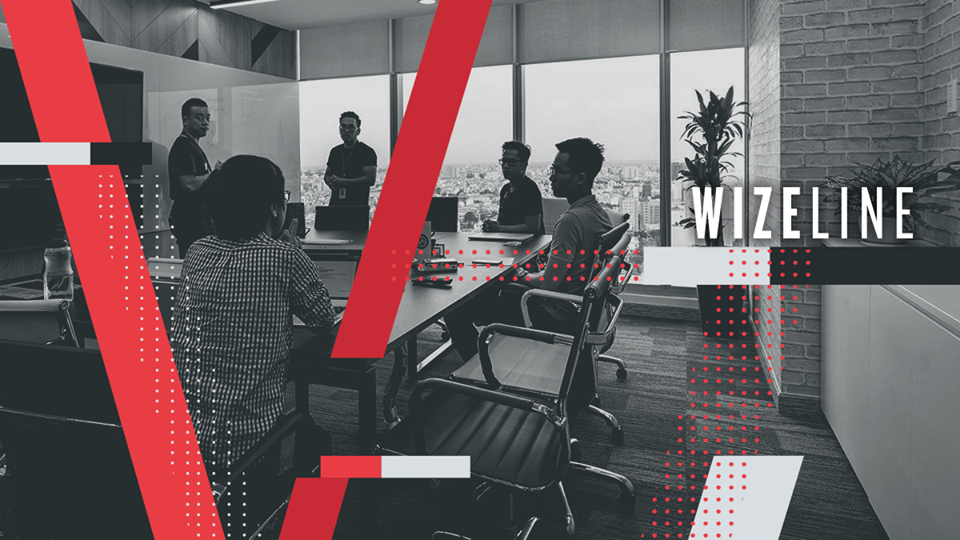 Wizeline is a global software development company, founded in 2014 in the US. Until now, it has around 10 offices in different locations in the world, aiming at delivering innovative products to clients (e.g. Digital Arts Network or Dover Corporation). They primarily offer services on Web (20%) and Mobile application development (20%), Customized Software (50%) and UX/UI Design (10%).
7. Siclo
Headquarter: 25 Hoang Hoa Tham, Ward 6, Ho Chi Minh City
Website: https://www.siclo-mobile.com/
Review on Clutch: 4.6/5
"Siclo met expectations, delivering quality creative work. Initial reactions regarding the mobile application seem promising. Their team is full of patient and respectful workers that are dedicated to their clients. Customers can expect a skilled team while working with Siclo." – Elodie Bottine, CEO at MyNabes
Founded by two enthusiastic engineers in 2015, Siclo now has two offices in Vietnam and France. Like other agencies, they also offer main services such as Web development (40%), Mobile application development (40%) and UX/UI Design (20%). Their clients come from startups, small and medium businesses, and even large corporates in different industries like IT, Finance, Healthcare and Medicine, Advertising and Marketing, Business services and Transportation.
8. Co-well Asia
Headquarter: 1st Floor, 3D Creative Center Building, 3 Duy Tan Street, Ha Noi
Website: https://co-well.vn/en/
Review on Clutch: 4.6/5
"CO-WELL ASIA collaborated efficiently and provided comprehensive support. Their industry knowledge was quite apparent." – Anh Vi, Digital PR Specialist (Bitexco Group)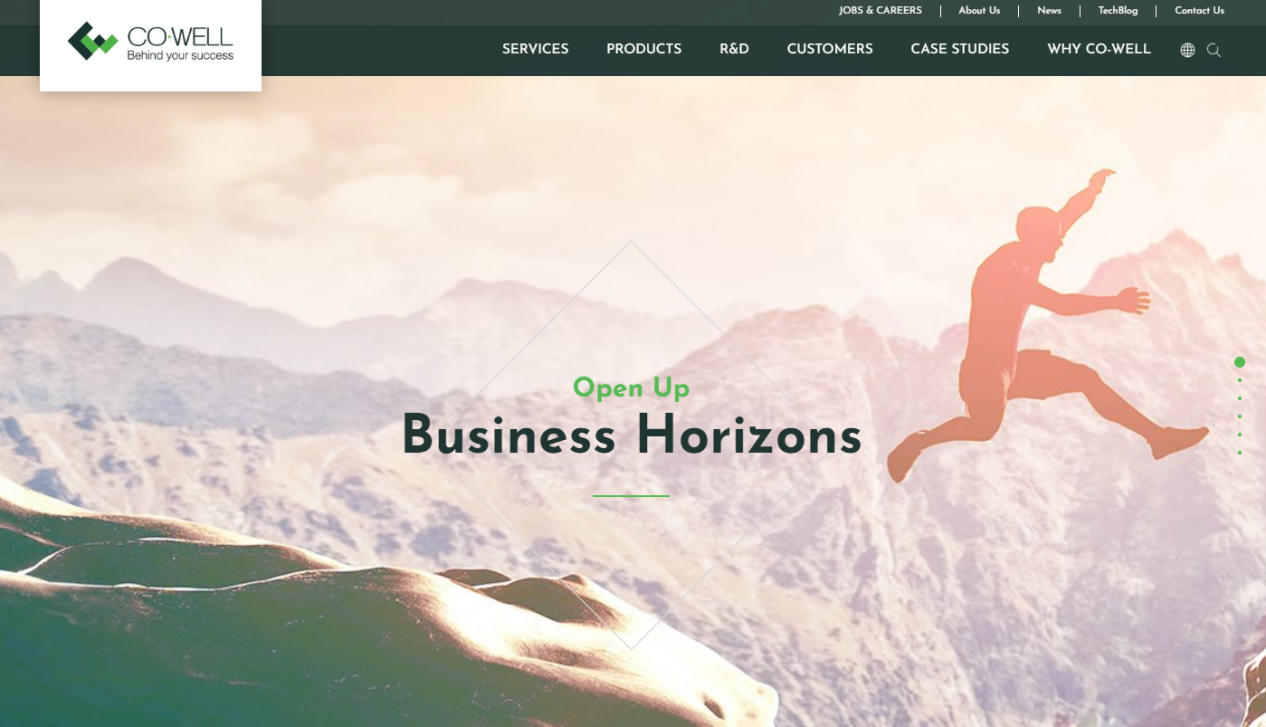 As a subsidiary of Co-well Japan, Co-well Asia was founded in Ha Noi in 2011. Over nearly 10 years of operation, it has conducted over 250 software projects for international clients; 80% of which are offered to large corporations (e.g. Heineken, IDOM Inc or Will Group). They run most projects on Business solutions (Mobile/ Web/ Custom software), AR-VR and software testing for different fields (e.g. Healthcare, Telecommunications, E-commerce or Manufacturing).
9. QSoft Vietnam
Address: No.47, Number 23 street, Cau Giay District, Ha Noi
Website: https://www.qsoftvietnam.com/
Review on Clutch: 4.5/5
"The app has just launched, but feedback so far has been positive, praising the improvements and overall functionality. This success has proven that QSoft understands the complex healthcare industry, though their QA leaves something to be desired." – Alvin Vo, Co-founder (MDKINECT)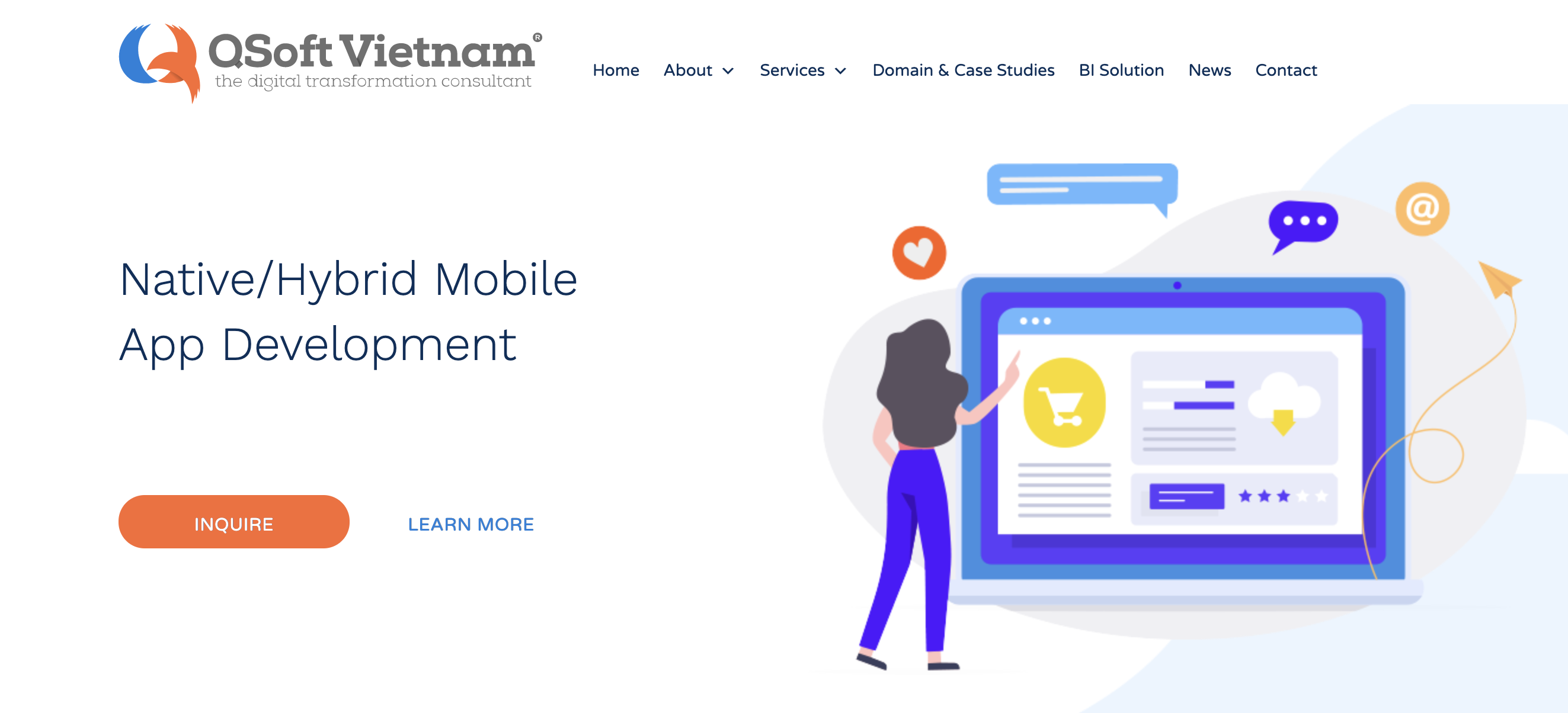 Since its foundation (2005), QSoft Vietnam has defined it as one of the leading software development in Vietnam, and then successfully expanded to the global market. As a CMMI Maturity Level 3 company, Qsoft has provided many outstanding projects on Mobile application development (60%), Websites, Blockchain and so on. Their clients are mostly from Banking and Finance, Education, Healthcare or Media. Domestically and globally awarded, Qsoft has become a reliable partner of Panasonic, AT&T or Australian Government.
10. Powergate Software
Headquarter: 2nd floor, Trung Yen Plaza, No 01 Trung Hoa, Ha Noi.
Website: https://powergatesoftware.com/
Review on Clutch: 5/5
"Power Gate Software's team was able to offer excellent communication skills, industry expertise, and valuable insights, all of which contributed to a very successful project." – Julie Steward, Senior Office Manager (AstraZeneca)
Over a decade of development, Powergate has become a well-known IT outsourcing company in Vietnam. They work on many projects of Mobile application and Websites for Fintech systems, Healthcare, Marketing or Ecommerce. Such achievements and experience enable them to be globally trustworthy and professional with projects from Macau, US or Saudi Arabia.
---
Final thoughts about the top 10 mobile application development companies in Vietnam
In short, no matter which industry you work in, the demands for mobile application is always inevitable in this era. So to optimize your requirements, you should consider thoroughly to find the best outsourcing IT company.