Flutter is an open-source UI development created by Google. It has replaced React Native to become the most widely used hybrid app development framework, according to Statistics. Offering multiple benefits to build cross-platform apps without hassle, Flutter is generally believed to dominate the app development sector in the coming years. If you're looking for the best flutter app development companies in Vietnam, this article will be a good start for your search.
Let's deep-diving into 10 Flutter App Development Companies in Vietnam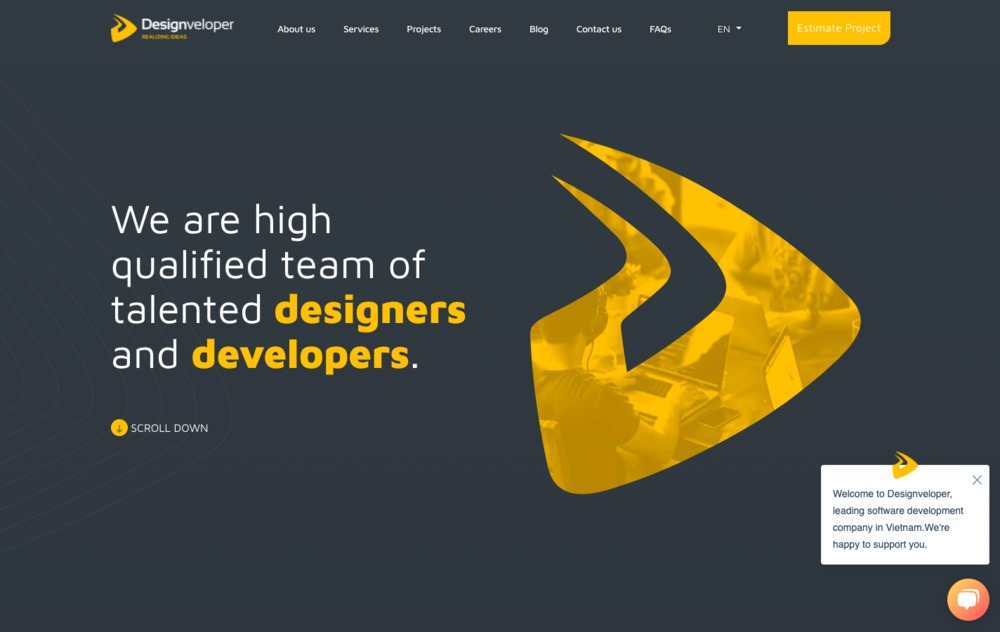 Located in Ho Chi Minh City, Vietnam, Designveloper is a talented team specializing in mobile app development, web development, UX/UI design, and VOIP.
The company's technical solutions are affordably tailored to suit the diverse needs of SMEs and large corporations in consumer products & services, information technology, and so forth. Further, to deliver top-quality and cost-effective deliverables, Designveloper follows the agile development process. Besides, the company frequently communicates with clients to reach the best consensus as well as avoid misunderstanding. This contributes to rave reviews clients give to the vendor on reputable B2B rating websites like Clutch.
Designveloper is also verified as a reliable partner of prestigious third parties. It accordingly integrates leading technologies such as React Native, Meteor, and Flutter to develop functional, yet highly attractive mobile apps efficiently.

2. Savvycom Software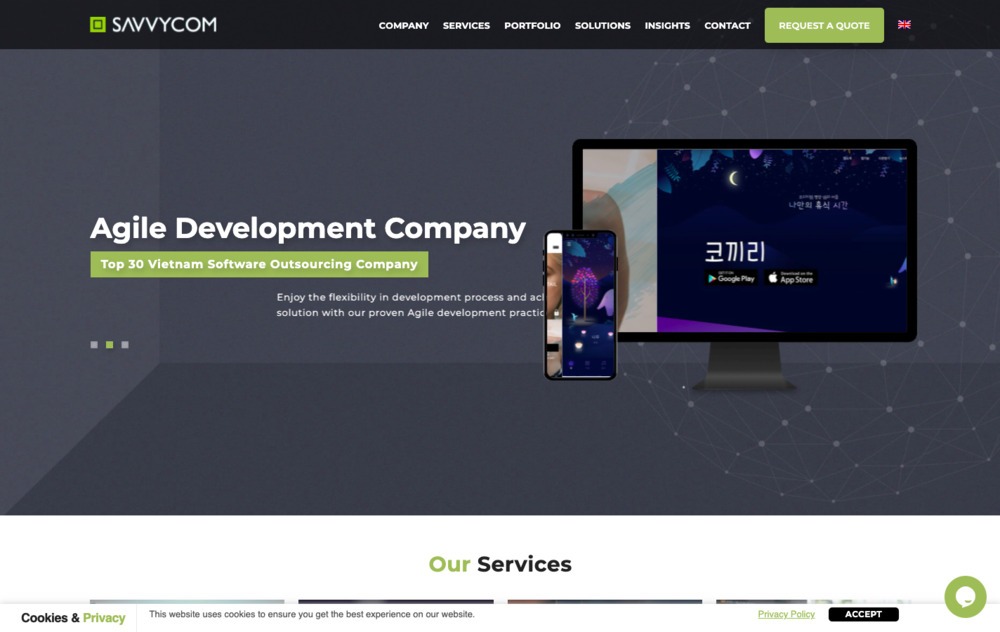 The first candidate on this list is Savvycom Software. Founded in 2009, this Ha Noi-based developer has been recognized by local and foreign clients for its innovative and cost-effective digital solutions. Their core services particularly cover mobile app development, web app development, enterprise solutions, and Cloud & DevOps.
Regardless of your business size, Savvycom Software's expert team can transform your ideas into scalable products thanks to cutting-edge tech and agile methods.
Also, Savvycom Software is considered among the top 30 Vietnam mobile app developers. So there's no surprise to say that mobile app development is the company's strength. Apart from native and emerging tech apps, the vendor also focuses on building cross-platform apps with Flutter, React Native, and Ionic.
Further, the vendor strives to grasp end-user behaviors and experiences through in-depth research. The company accordingly strives to build potential apps that harmonize with your business goals and keep your company highly competitive in the marketplace.
3. Enlab Software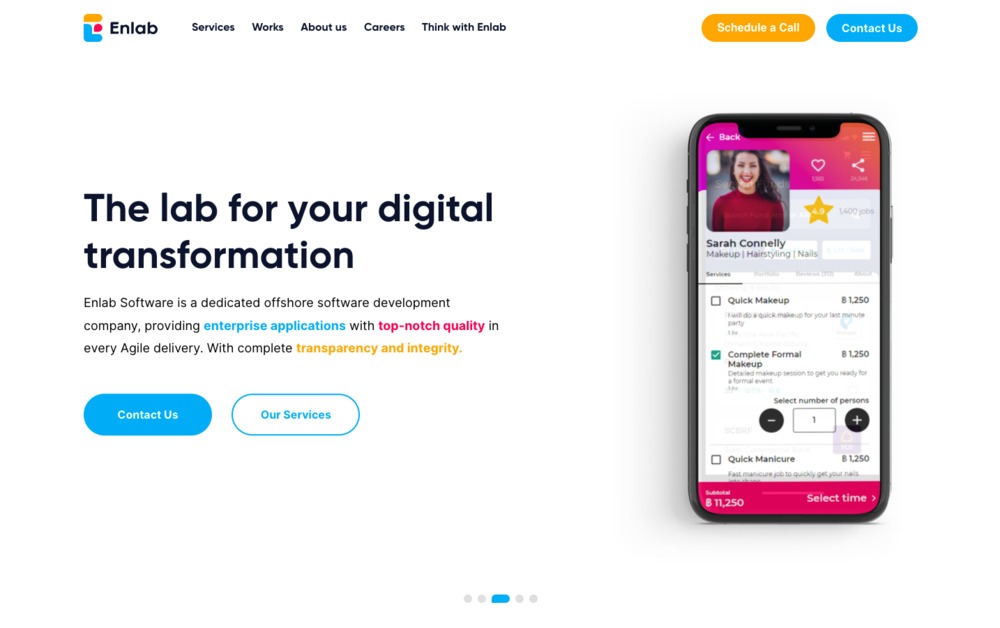 Located in Da Nang, Vietnam, Enlab Software is also among the top-ranked players in mobile app development. The company aims at offering high-quality products through the agile development process. Accordingly, Enlab Software provides full-stack services to build cross-platform and native apps with the leading-edge UI development technologies known as Flutter and Xamarin.
Over years of operation, the flutter app development company has helped clients increase their brand presence on mobile devices through cost-effective and highly functional experiences.
Apart from mobile solutions, Enlab Software also focuses on custom software and web development for SMBs mostly in advertising, manufacturing, and financial services.
4. Relia Software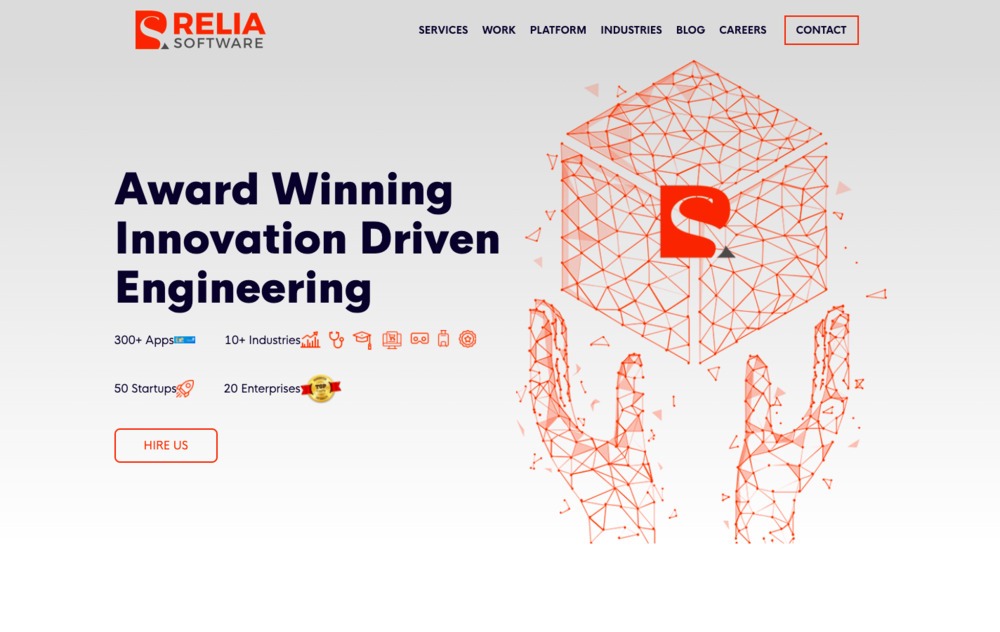 Founded in 2013, Relia Software has the first office based in Ho Chi Minh City, Vietnam, and two other branches in the United States and Canada. The company's services entail app development (i.e. mobile apps, websites, and enterprise apps), UX/UI design, AI & ML, and Blockchain.
Like other app developers, Relia Software also works toward the provision of native and cross-platform apps through the Test-Driven Development (TDD) and Behavior-Driven Development approaches.
Particularly, the company offers front-end and back-end development services for clients from SMEs or large enterprises. The vendor accordingly uses the latest technologies and shared libraries that facilitate the efficient and fast implementation of complex features. Such tools also help deliver clean code and APIs for easy maintenance as well as updates. Further, the team's dedication and expertise contribute to turning Relia Software into one of the top IT service providers in Vietnam and Asia.
5. Adamo Digital Software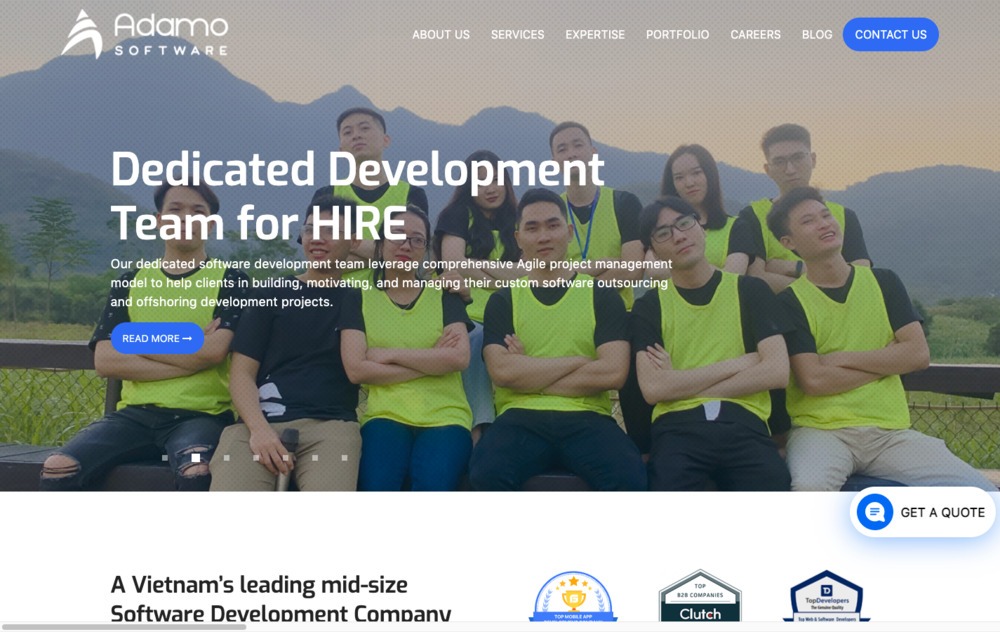 Another outstanding name on this list is Adamo Digital Software. Headquartered in Ha Noi, the company particularly targets services of mobile app development, web development, UX/UI design, DevOps consulting, and Big Data analytics. The provider's major clientele comes from SMEs in such sectors as food and beverage, travel and hospitality, social networking, and healthcare.
Since its foundation in 2016, the company has built impressive native and cross-platform mobile apps at an affordable price and with leading technologies such as React Native and Flutter. Concurrently, Adamo's team has received positive feedback from clients for their professional attitudes, flexibility, and understanding to build tailor-made solutions.
6. Apps Cyclone Technology JSC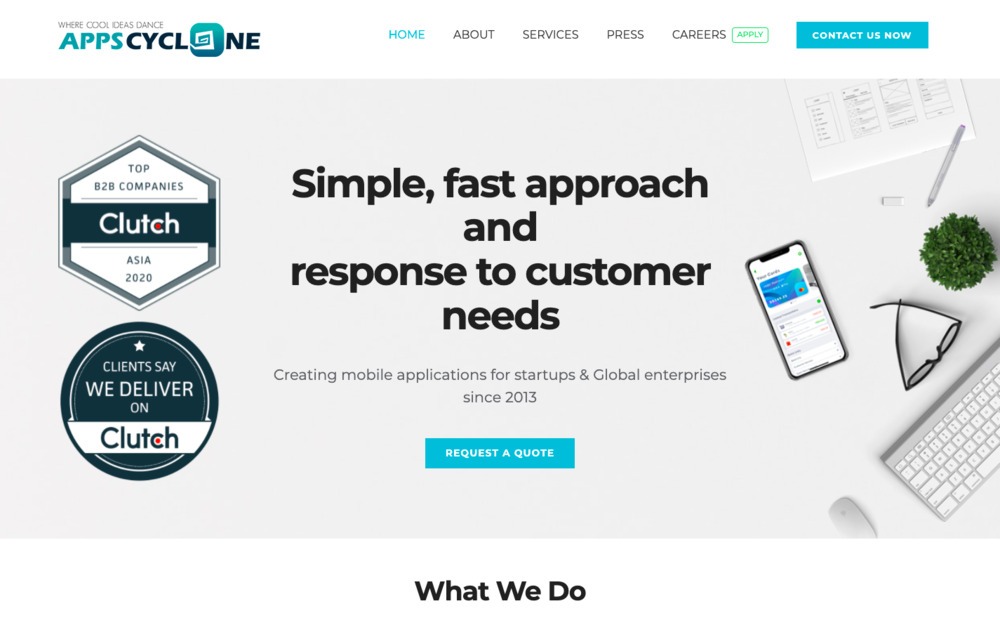 Generally, Apps Cyclone Technology JSC is listed by Clutch as one of the leading mobile app developers in Vietnam and even Asia. This is an inevitable result of the company's high-qualified employees in creating high-performing and functional mobile apps for iOS and Android. Beyond that, they also utilize top-notch technologies such as React Native or Flutter to make user interface (UI) designs exclusive and outstanding.
Besides mobile app development, the flutter app development company also provides startups and small businesses in multiple industries with web-based solutions. Its development process is also considered simple and fast to promptly respond to customer needs.
7. Rikkeisoft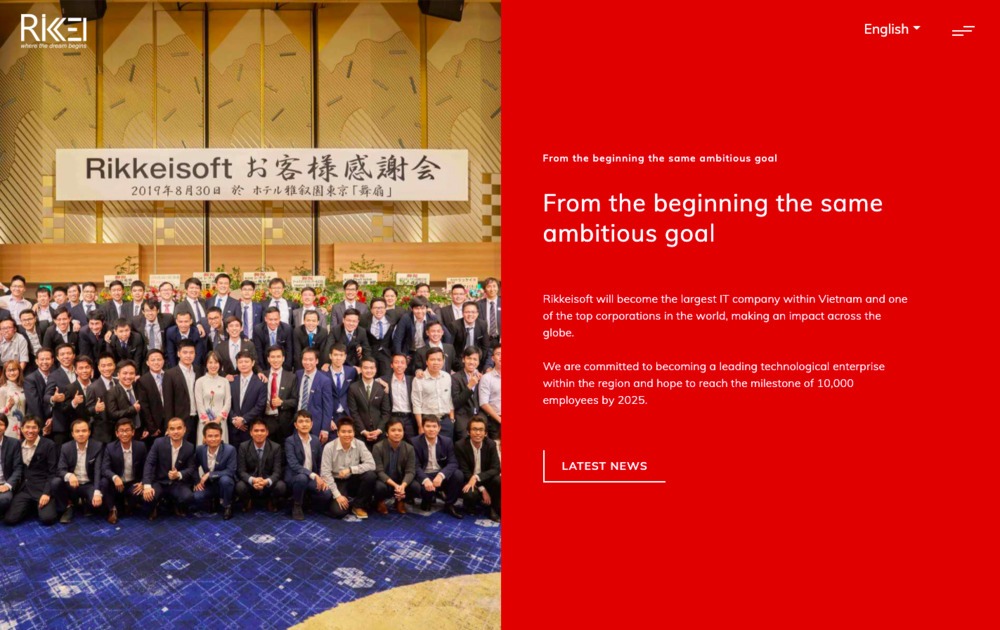 Over the last 9 years of working in the tech industry, Rikkeisoft has rapidly expanded to 5 offices in Vietnam and Japan. The company also offers high-quality outsourcing services to clients in numerous industries. Particularly, the IT service provider specializes in:
Business process systems;
Web systems;
Digital processing services;
Mobile app development;
Artificial intelligence (AI);
IoT/Embedded systems;
Full-packed quality assurance (QA);
E-commerce website development;
CAD.
In the mobile app development segment itself, Rikkeisoft's highly-skilled development team works dedicatedly and productively to digitize clients' ideas over assorted platforms (i.e. iOS, Android, and Windows). Native, web-based, and hybrid apps are hence customized by modern technologies like Objective-C, Java, Flutter, or even AR engines (Vuforia).
8. AgileTech Vietnam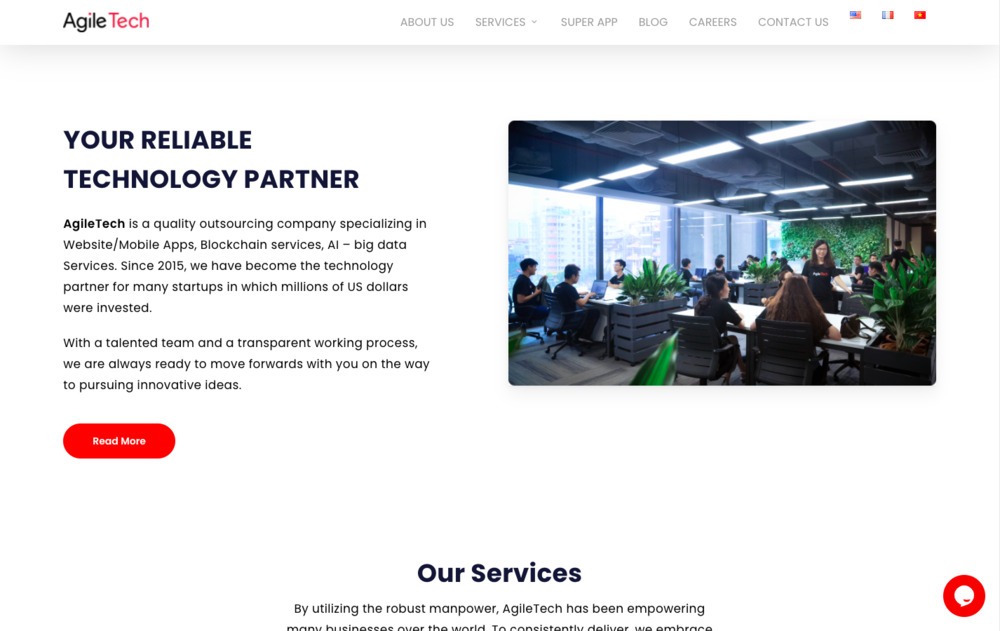 With the Ha Noi-based headquarters founded in 2015 and then another branch in the United States, AgileTech Vietnam has become a trustworthy partner for clients of all kinds, mainly all types of startups and small businesses.
Likewise, the company specializes in mobile development, website development, AI/Big Data, Blockchain, custom software development, and testing.
From scratch to deployment, the vendor commits to applying the advanced and latest programming languages (e.g. Swift or Kotlin), frameworks (e.g. Flutter or VueJS), and databases (e.g. FireBase or SQLite) to develop scalable and creative products. Continuous maintenance and improvements after the app launch are provided as a part of the company's full-packed development service. This helps clients not fall behind the market trend nor fail to meet the increased demands of end-users.
9. Sosene Software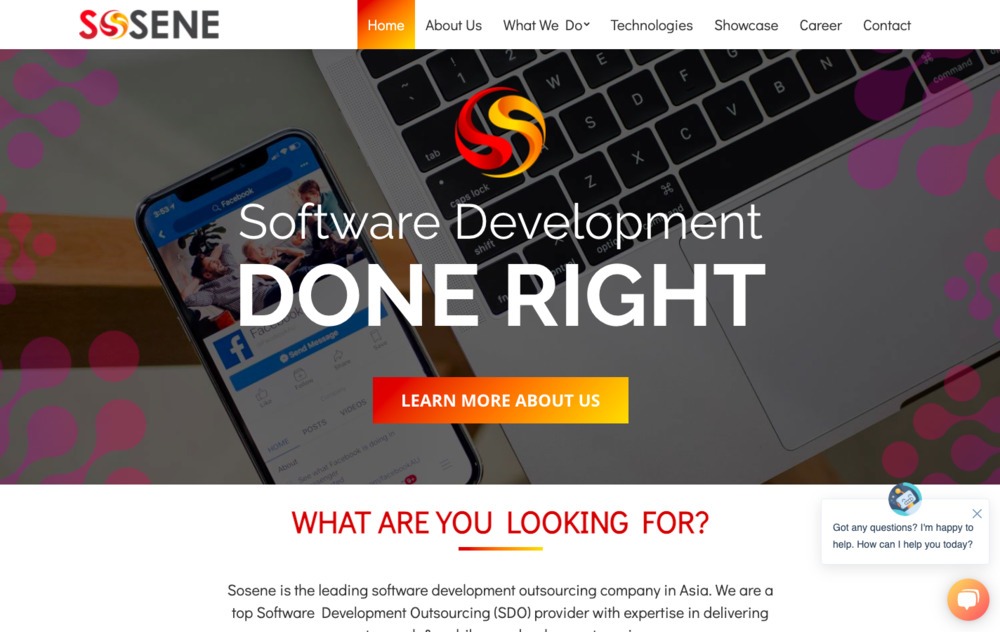 Among all the mentioned developers, Sosene Software is the fastest-growing software company. Despite its young age (in 2020), the vendor has obtained a wide range of achievements from Clutch, GoodFirms, and WadLine and become one of the leading app developers in Vietnam. Not to mention that the company quickly opened an additional office in the Czech Republic, apart from the main one in Ho Chi Minh City, Vietnam.
Their core services consist of web app development, mobile app development, enterprise app development, and custom software development. Accordingly, the institutional developer utilizes and incorporates different technologies to customize products for startups and established companies in eCommerce, manufacturing, financial services, and more. Such deliverables are evaluated to well handle business challenges and bring high-yielding outcomes.
10. Tesuji Vietnam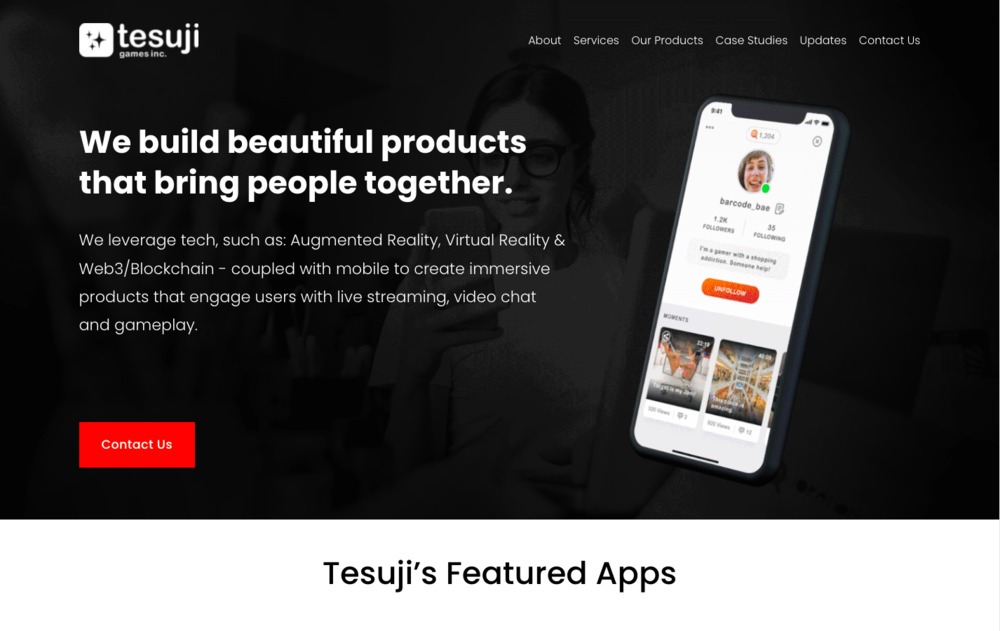 The final stellar flutter app development company in this article is Tesuji Vietnam. Unlike many other app developers, Tesuji Vietnam boosts mobile app development to the next level. Apart from universally used technologies like React Native or Flutter, the company applies AR/VR and Web3/Blockchain to mobile apps to keep end-users engaged and give them a unique experience.
What's more, the development studio also works on projects related to web development, custom software, and AR/VR solutions across devices. With its long experience in serving SMBs in telecommunications, automotive, and more, Tesuji Vietnam is highly appreciated for its decent understanding of clients' problems and deep tech knowledge.