Are you wondering which Android app development companies in USA you can partner up with to create the best product for your business? Let's read on to find our top 4 most appreciated firms! Starting with…
Best Android App Development Companies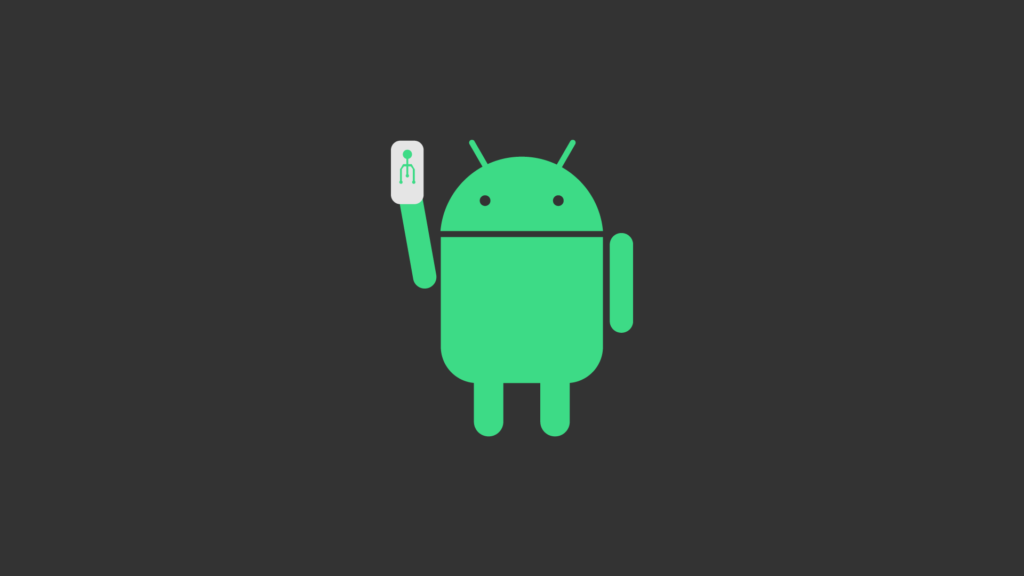 1. Consagous
Illinois is famous for a lot of things. Let's say, corn, Abraham Lincoln, the first McDonald's restaurant ever and… Consagous.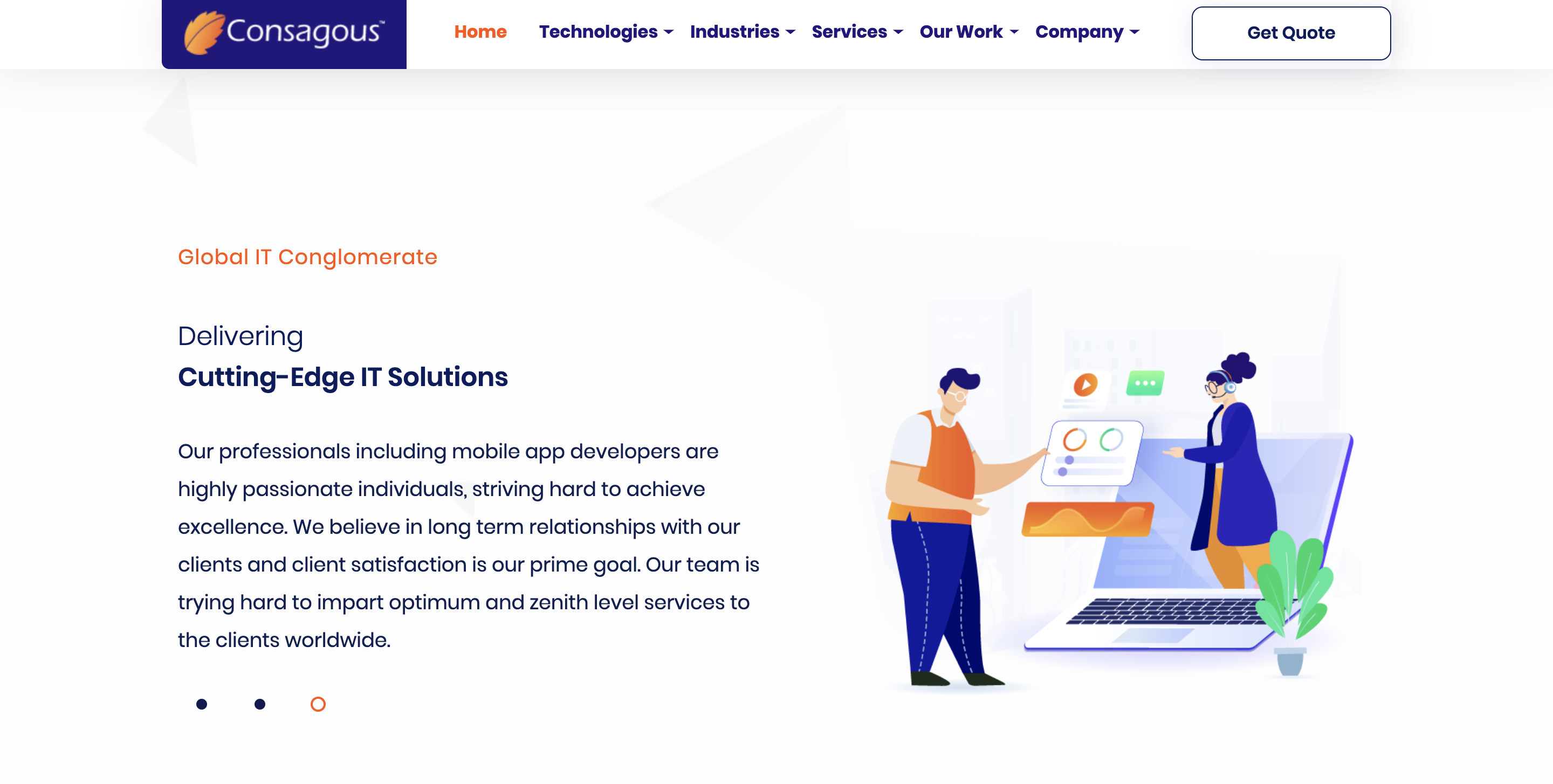 During its 12 years of operation, this software outsourcing company has completed more than 700 projects with about 200 employees.
To achieve this whooping number, basically, Consagous is one of the Android app development companies in the USA that focuses on clean codes, and classy solutions to deliver enticing and sophisticated products.
As for Android development, Consagous is using 3 main frameworks which are Android Studio, Java, and Kotlin. Besides Android development, this company also offers you several related services such as consulting, UI/UX design, test automation, maintenance, and optimization as well as modernization.
Founded: 2008.

Industries: healthcare, fintech, food industry, retail and eCommerce, logistics, etc.

Significant clients: Cheapeatz, Motus, Slump Breaker.

Featured projects: Cheapeatz, ONO 3D, Otboo, Vidy Intel Video.
2. Mercury Development
Just by judging its website, we can already learn that this software outsourcing firm is a stylish one!
With more than 300 employees, this Florida-based company has successfully delivered about 500 mobile apps and gathered around 40 million users all over the world.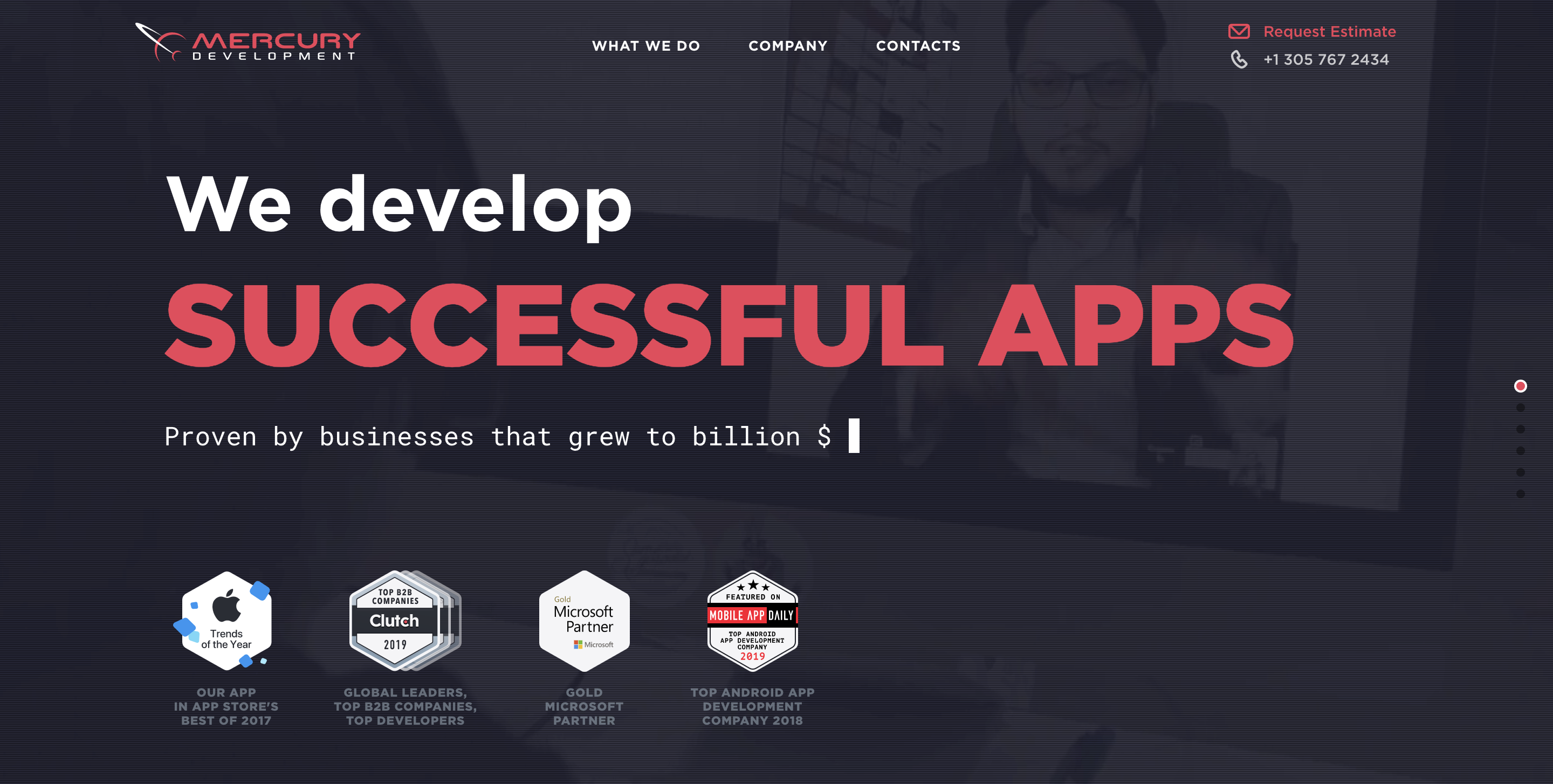 From a young Palm Pilot development company, it is now one of the fastest-growing software engineer service providers with international operations as well as one of the most productive Android app development companies in the USA.
At the moment, Mercury is concentrating on desktop, web and cloud, smart TV, smartwatch, iOS, and especially Android app development. Their Android development process includes scope definition, analysis and design, customer service, application development, quality assurance, and finally, deployment.
Founded: 1998.

Industries: Automotive, social, healthcare, multimedia, enterprise, fitness, finance.

Significant clients: Mercedes-Benz, Dow, Cisco, HSBC, Burger King, Sberbank, Nestle, Kia Motors, Sony, etc.

Featured projects: Grant, Greenlink, Mars, Origo.
3. Excellent Webworld
Excellent Webworld is an Indian-based software company that has several branches worldwide and three of them are located in the US (so, we do count it as a US company, right?)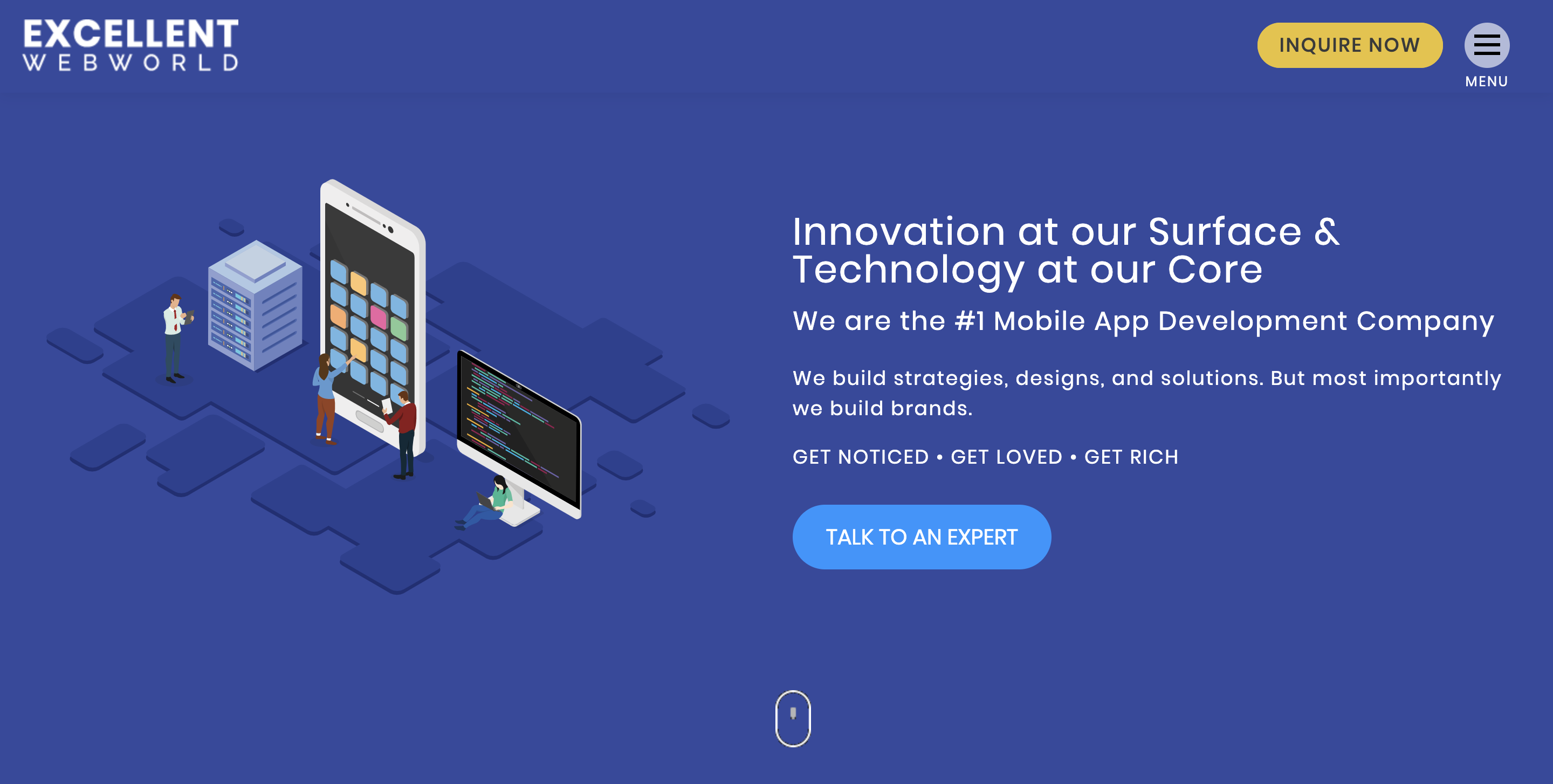 Their working philosophies are client-first approach, growth-centric working, satisfactory support service, expert professionals, transparent pricing, and policies.
Although this is a medium-sized software development company, Excellent Webworld still offers various services just like any other big firm: web, IoT, cloud, voice, AR/VR, and mobile. Besides, you can also hire developers from this company.
Regarding Android app development, their practices include consultation, UI/UX design, Android web-based apps, native/hybrid Android App Development, etc.
Founded: 2011

Industries: E-commerce, entertainment, finance, healthcare, hospitality, real estate, automotive, etc.

Significant clients: Sony, Ovia Health, Hitachi, Aromascense, Canary, France TV.

Featured projects: Aromascense, Gator lotto, Auton, Tesluxe, Foodiss, Xavax, Easy Nutrition.
4. Infinum
For the past 15 years, the software outsourcing development company located in the Big Apple has gained a lot of awards such as MIXX 2017/2018, Inc 5000 Euro, AWWWARD, Global Leader 2017 by Clutch, Mobile App Award by Somo Borac, and one of the best Android app development companies in the USA.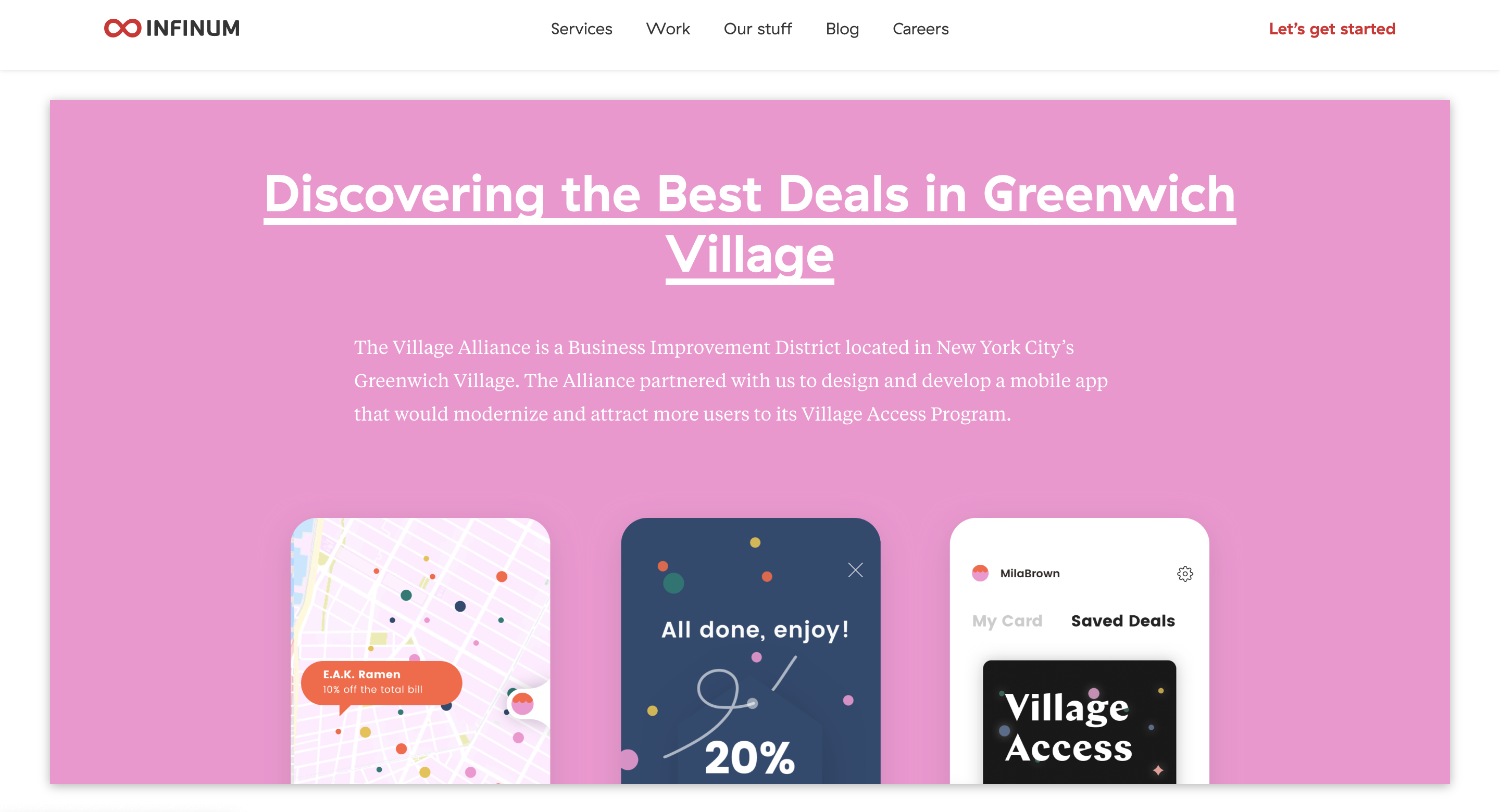 This happened all thanks to their high-quality code and the fact that they always stay up-to-date and apply best practices.
Its workforce of 226 people offers a wide range of services, for example, research and discovery, product design, mobile development, web development, IoT, Infrastructure, Blockchain, and QA.
Just like the above company, this one has a standard process when it comes to Android app development. The process goes through writing code/test cases, continuous integrations, code review, and release.
Founded: 2005

Industries: Finance, automotive, healthcare and medical, hospitality, transportation, etc.

Significant clients: Universal, Bayer, P&G, Samsung, Coca-Cola, Nike, T-Mobile, Novartis, etc.

Featured projects: Broken Ship, Mr. Good Knight, Village Access, Tesla, Ultimate Drives.
Those are our list of the 4 most appreciated Android app development companies in the USA. However,…
Of course, Designveloper is not a US-based software company, however, if you want to build an Android app at an affordable price but still want it to be perfect, we've got your back!
Designveloper offers a lot of demanding services like web development, mobile development (iOS and Android), UI/UX design, business consulting, etc.
With more than 40 talented developers, we created various outstanding products.
Talk to us now if you have some ideas to build an Android app. And don't forget to follow our Facebook, Twitter, and LinkedIn for more articles like this!