As more and more people use their phones to surf the internet, mobile app development is rising. But with new apps coming out every day, it's hard to know where to start. This type of website design helps you provide customers with an interactive experience that they can enjoy at their leisure. Luckily, our list of top mobile app development companies in Vietnam has compiled the best resources for finding your next app developer.
So before you start designing your next app from scratch, check out this list first! From understanding what you need to find in a developer to knowing how much it will cost, this list will help you find the perfect match for your idea.
List of Mobile App Development Companies In Vietnam
Designveloper
PowerGate Software
InApps Technology
KMS Solutions, Inc.
Savvycom Software
Golden Owl Consulting Ltd
PYCOGroup
AgileTech Vietnam
Ventuso LLC
Team4Solution
Wizeline
Siclo
Co-well Asia
QSoft Vietnam
LinxHQ
DigiFutura
Relia Software
Elinext
Quodisys
Sioux.asia
The world of app development is a competitive one. With so many apps being released every day, it can be hard to stand out from the crowd. However, that's where a mobile app developer comes in handy! These talented individuals can create the app you've always wanted.
We have compiled a list of some of the top mobile app development companies in Vietnam. From startups to established companies, these names are ones to remember as you start your search for your next developer.
1. Designveloper
Address: 144 Nguyen Thai Binh street, District 1, Ho Chi Minh City
Website: https://www.designveloper.com/
Review on Clutch: 5/5
"… Designveloper really stands out. They led the development of a very complex Javascript app, meeting deadlines, and delivering excellent results. Designveloper ability to handle all aspects of the development process, from conceptual design to deployment of large-scale production apps makes them an attractive option for both small and large projects."

Max Ferguson, Founder (NitroLabs Limited)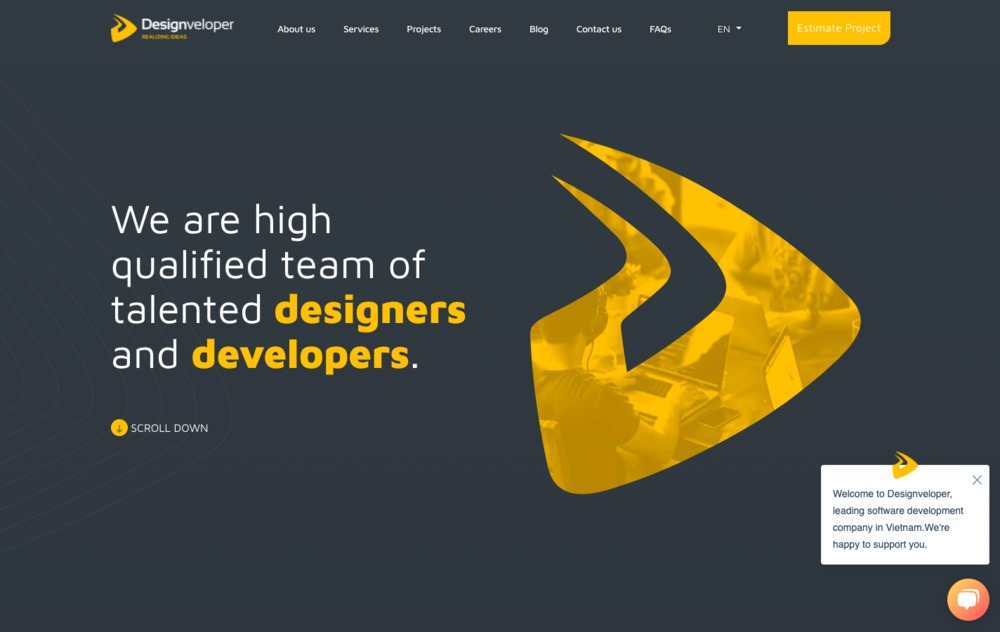 Founded in 2013, Designveloper, over a short time, has grown into the leading software development company in Ho Chi Minh city. With a team of passionate and professional developers and designers, Designveloper is determined to build the best software solutions to maximize the growth of clients (e.g. LuminPDF, Walrus Education, Swell & Switchboard, Joyn'it or Bonux).
Most projects are on Consumer products, IT, Business services, or Finance. Of which, they chiefly develop websites (20%), mobile applications (20%), UX/UI Design, and VOIP.
Further, Designveloper is a leading software development company in Vietnam that will work with you from the ground up to help you create the perfect app. Their skilled in-house designers and developers have so far used the latest, innovative technology to create a truly remarkable app for your business.
Dubbed as the one-stop shop for app development in Vietnam, Designveloper has been responsible for app development projects for several of the country's biggest brands. The company also prides itself on its team of skilled designers and developers. Beyond that, their work provides a seamless experience that users are guaranteed to love.
Their dedicated team works with you to get the best results from every design or coding project.
Not all developers can claim to have built a hugely popular app in the same way Designveloper has. Having built a number of successful apps, the company has a proven track record. They also are the prime partner of Meteor, which is well-known as the best javascript framework for developing fully customized real-time, single-page, and responsive apps.
Portfolio:
Procalltrack – Build and manage marketing campaign, tracking reply on call and SMS
Joyn'it – Offers community-specific services to create events easily and keep members informed at all times
Meteor
CV Simply – Online tool to edit update CV, support many beautiful CV templates
Longtailpro – Searching engine ranking tool, support Google Search Engine
Boon – Gamify apps, motivate team members
Key clients: LuminPDF, and Swell and Switchboard.
Rating
Project size: $5,000+
Avg Hourly rate: $25 – $49 / hr
Employees: 50 – 249
Location: Ho Chi Minh, Vietnam
2. PowerGate Software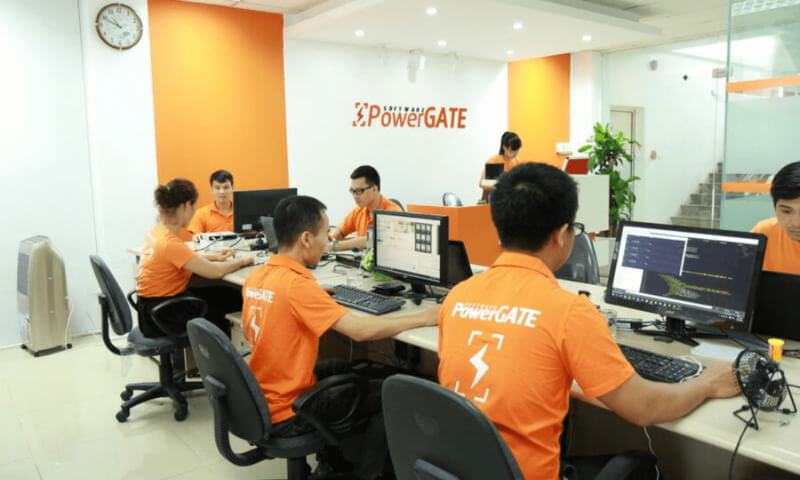 Headquarters: 2nd floor, Trung Yen Plaza, No 01 Trung Hoa, Ha Noi.
Website: https://powergatesoftware.com/
Review on Clutch: 5/5
"Power Gate Software's team was able to offer excellent communication skills, industry expertise, and valuable insights, all of which contributed to a very successful project."

Julie Steward, Senior Office Manager (AstraZeneca)
Over a decade of development, Powergate has become a well-known IT outsourcing company in Vietnam. They particularly work on many projects of Mobile apps and Websites for Fintech systems, Healthcare, Marketing, and eCommerce. Such achievements and experience hence enable them to be globally trustworthy and professional with projects from Macau, the US, or Saudi Arabia.
Moreover, PowerGate Software Company is dedicated to helping its clients to discover the best solutions for their mobile app development. To this end, they provide comprehensive reviews of companies that can help with all stages of mobile app development.
These reviews generally include pricing information, project details, developer history, reviews, testimonials, and blog content.
Portfolio:
Robust Career Orientation Mobile App
Complete Digital Marketing Solution System
Online Tourism Portal
Indie Music Marketplace and Streaming Platform
Scooter Tracking App
Career Orientation App
Rating
Project size: $10,000+
Avg Hourly rate: Undisclosed
Employees: 50 – 249
Location: Hanoi, Vietnam
3. InApps Technology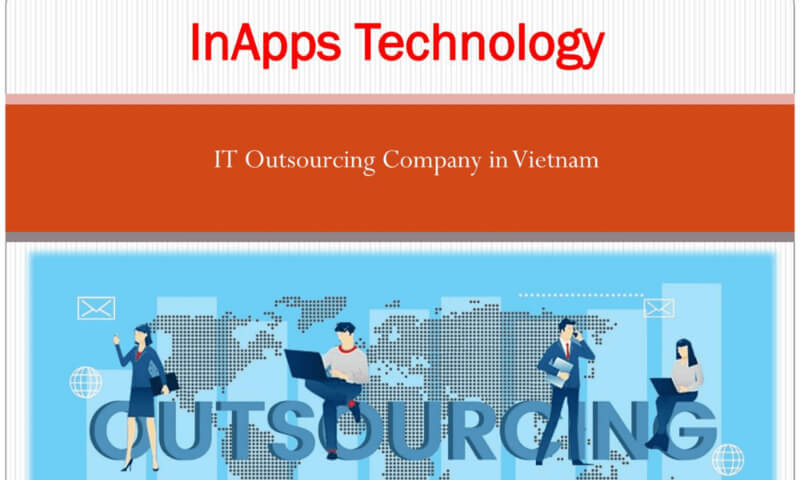 Address: 288 Pham Van Hai street, Ho Chi Minh city
Website: https://www.inapps.net/
Review on Clutch: 4.6/5
"I have been really impressed with the team at Inapps. They are professional, work ahead of schedule and are technically strong across a range of fields."

David Liem, CEO (Ripples)
Founded in 2016, InApps then has evolved to be a leading software development company in Vietnam, awarded by Good Firms, Clutch or Software World. The company has also become a major partner of Aeon Mall, MacDonald, and Techcombank.
They chiefly provide services for Mobile application development (65%) and Web development (15%). They also focus on other services like UI/UX Design, Offshore development, IT Staff Augmentation, QA, and QC (20%). Further, their projects vary in many industries, from E-commerce, Games, and Healthcare to Education.
The team at InApps Technology is not only highly skilled, but they're also ready to work quickly when you need them to. It's tough to meet deadlines while you're creating a mobile app, which is why they've put together a great team. Particularly, they've managed to set up a project team and work out which are the best developers to work with.
With their best-in-class team, you'll be able to hit deadlines and thus deliver the best mobile app. They've already delivered many apps for their clients, so you can be assured that they're the best mobile app development company in Vietnam.
Portfolio:
Blockchain technology platform
HRM Onboarding & Engagement
Digital Asset Platform with Blockchain
Custom dating App Development
Tour Excursion Travel App
Pharmacy Ecommerce Platform
Rating
Project size: $25,000+
Avg Hourly rate: $25 – $49 / hr
Employees: 50 – 249
Location: Ho Chi Minh, Vietnam
4. KMS Solutions, Inc.
KMS Solutions is a mobile app development company based in Vietnam that can help you work on your next app design project, regardless of your location. The company particularly works with clients all over the world to create software solutions for the Asian market.
Also, its engineers create award-winning apps for the likes of Samsung, Apple, and other major tech companies. So they've got the know-how to make your next app a success.
Portfolio:
Software Testing
Digital Team Services
Digital Apps
Utilize the power of Data and transform actionable insight into revenue
Rating
Project size: $25,000+
Avg Hourly rate: Undisclosed
Employees: 250 – 999
Location: Ho Chi Minh, Vietnam
Recommended reading: Custom Mobile App Development Process: A Detailed Guide
5. Savvycom Software
Headquarters: Level 12, Viet A Tower, Duy Tan street, Ha Noi
Website: https://savvycomsoftware.com/
Review on Clutch: 4.9/5
"When it comes to meeting deadlines, Savvycom is extremely good. They know how to maximize their time and resources."

Niels Delater, CEO (Spectos GmbH)
"There's a genuine professionalism and pride in what they do, and they're very responsive."

Founder, InsuRebel.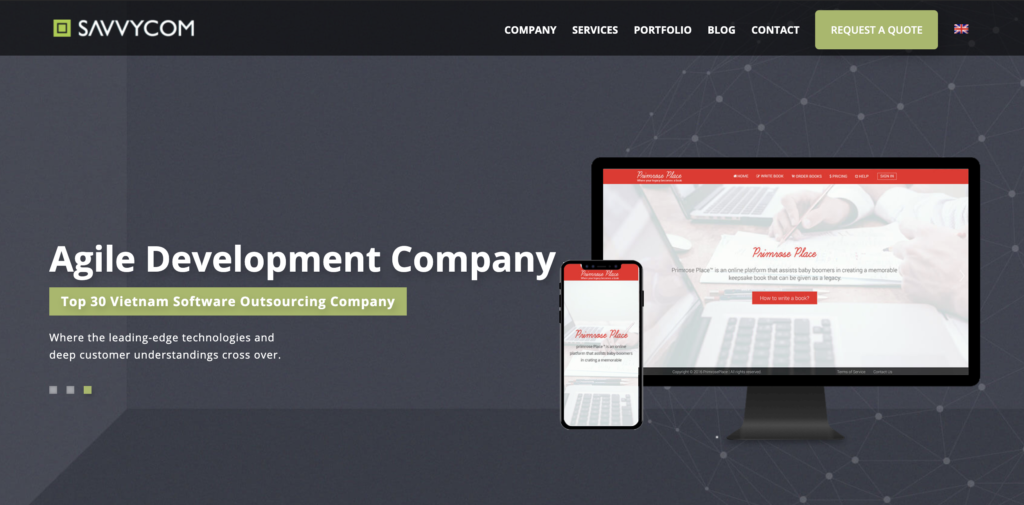 Ever since it was founded in 2009, Savvycom is considered one of the leading app development companies in Vietnam. They accordingly provide various tech solutions to their clients from web app development and mobile app development to DevOps and Cloud services. Up until now, Savvycom has completed more than 300 projects and it is estimated that 92% of its clients have come back for more collaboration.
It's no secret that mobile apps are taking the internet by storm. The team at Savvy has been working with web design and development for many years now. The company has thus helped many businesses create their websites in Vietnamese and provides a host of services in regard to mobile app development.
So if your website needs mobile interaction, Review Savvy is the perfect company for you. Their goal is to provide clients with high-quality web design that won't break the bank.
As the top 30 Global App Developers in Vietnam, Savvycom Software offers a full range of services. That is, they provide specialized support for their clients in everything from website design to app development.
To clarify, their main services include Mobile application development (50%), Full stack service of the website (20%), IT solutions for enterprise management, and Cloud and DevOps services (30%). Most projects are run on Healthcare, Medicine, Financial services, or IT, for key clients such as Nielsen Norman Group, TaylorMade, Automattic, etc.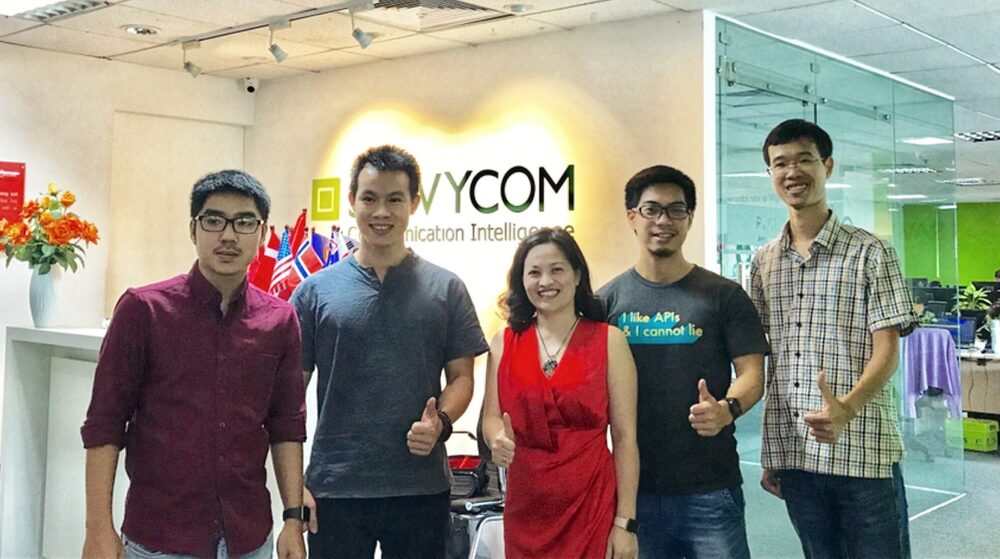 Portfolio:
Kokkiri – Meditation App
Wanna Train – Premier Fitness Platform
Jio Health – Telemedicine App
Skythanks – Digital Time Capsule App
Featured On FORBES 2017
Rating
Project size: $50,000+
Avg Hourly rate: Undisclosed
Employees: 50 – 249
Location: Hanoi, Vietnam
6. Golden Owl Consulting Ltd
If you are looking for a mobile app development company in Ho Chi Minh city, there are a few more important things to look for. To name a few, the company should have a reliable website, working hours, and a solid development team. As the biggest and most reputable mobile app development company in Vietnam, Golden Owl Consulting Ltd. has both of these qualities, allowing them to serve the Vietnamese market as well as its clients worldwide.
With ten years of experience, Golden Owl Consulting Ltd is a market leader that has worked with clients such as Marks & Spencer and Tesco. The team behind this company also has a lot of experience in building apps, with their core skill being integrating Google Play and Apple App Store.
Portfolio:
Collabs – An influencer platform that helps brands choose from thousands of KOLs and manage campaigns effectively
Get Assured – an employee benefits packages platform.
Delegate Connect – A platform to host both hybrid and online events
Open The App – a place to find colleagues and learn through video chat and voice calls between computers and mobile devices via the Internet.
Glife – a distributor for products like fresh vegetables, fruits, and vegetarian food, an eCommerce web app for B2B
GIG – connects job seeker and job provider by posting jobs and applying to the job
Rating
Project size: $1,000+
Avg Hourly rate: Undisclosed
Employees: 50 – 249
Location: Ho Chi Minh City, Vietnam
7. PYCOGroup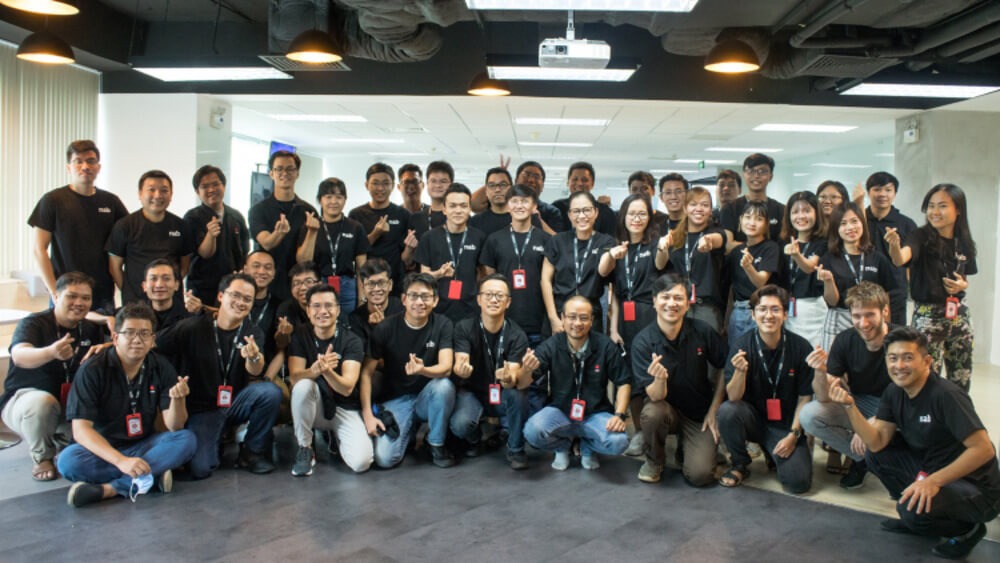 Like others, PYCOGroup is also a mobile application development company in Vietnam. It is particularly known for its top-notch mobile app development capabilities.
The company has developed and delivered various apps, including apps for domestic and international clients such as leading investment institutions, logistics companies, and telecommunications providers.
Clients and clients of the company can rely on PYCOGroup for its outstanding performance, creativity, as well as business acumen in designing and delivering top-notch apps to meet a wide range of goals.
Likewise, the company ensures that all of its apps are beautifully designed and that the working process of the app developer is extremely fast and straightforward.
Portfolio:
Bootstrap Your Development Center in Vietnam
Expand Your Development Team in Vietnam
Microsoft China Online
Volkswagen – China's first connected car
American Express global corporate payment portal
Rating
Project size: $100,000+
Avg Hourly rate: $25 – $49 / hr
Employees: 250 – 999
Location: Ho Chi Minh City, Vietnam
8. AgileTech Vietnam
AgileTech Vietnam is a digital solutions and business development service company that has helped more than 2,000 people start their online businesses through web development services.
The company also provides the means for businesses to promote their services. Agiletech has helped people find ways to market themselves on social media and boost their business with this practical yet highly cost-effective means for more than a decade.
With offices in Ha Noi, Agiletech is committed to helping the people of Vietnam make their online businesses succeed.
Portfolio:
MCBooks – E-Book & Education App
AI News – News Compilation App
Luxstay – Homestay Booking Platform
Clingme – Online Payment Gateway App
Drivadz – Brand Moving Ads Management App
JupViec – Cleaning Service Platform App
Rating
Project size: $25,000+
Avg Hourly rate: $25 – $49 / hr
Employees: 50 – 249
Location: Ha Noi, Vietnam
9. Ventuso LLC
Headquarter: 154/30/25 Pham Van Hai street, Ho Chi Minh city
Website: https://www.ventuso.net/
Review on Clutch: 4.8/5
"They increased efficiency by helping us adapt current technological trends in the customer service industry." – CFO (Uncruise)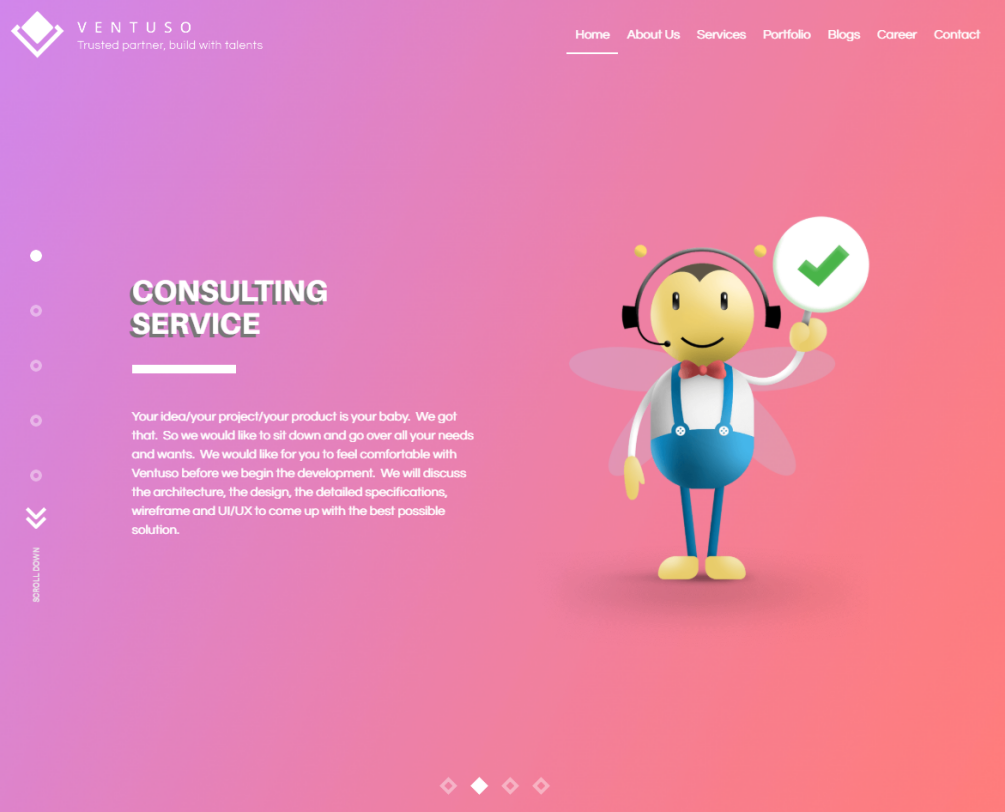 Ventuso was founded in 2010 to convey a message of making the world different. Led by a group of highly motivated engineers, Ventuso desires to become the best mobile application development company in both Vietnam and South East Asia.
Overall, they mainly offer Mobile application development (60%), Customized software development (20%), UX/UI Design (10%), Technical Consulting service, and Supplying engineering teams (10%), with most projects on IT. Some of their major partners are MVP Finance, Uncruise, and Ztrip.
10. Team4Solution
Address (Vietnam): Floor 6th, TechnoSoft Tower, Ha Noi
Website: https://team4solution.com/
Review on Clutch: 5/5
"Their team delivered a high-quality product in a very short time period. Team4solution's project management was effective and their developers were highly skilled." – Ashish Chawla, Hospitality Manager (India)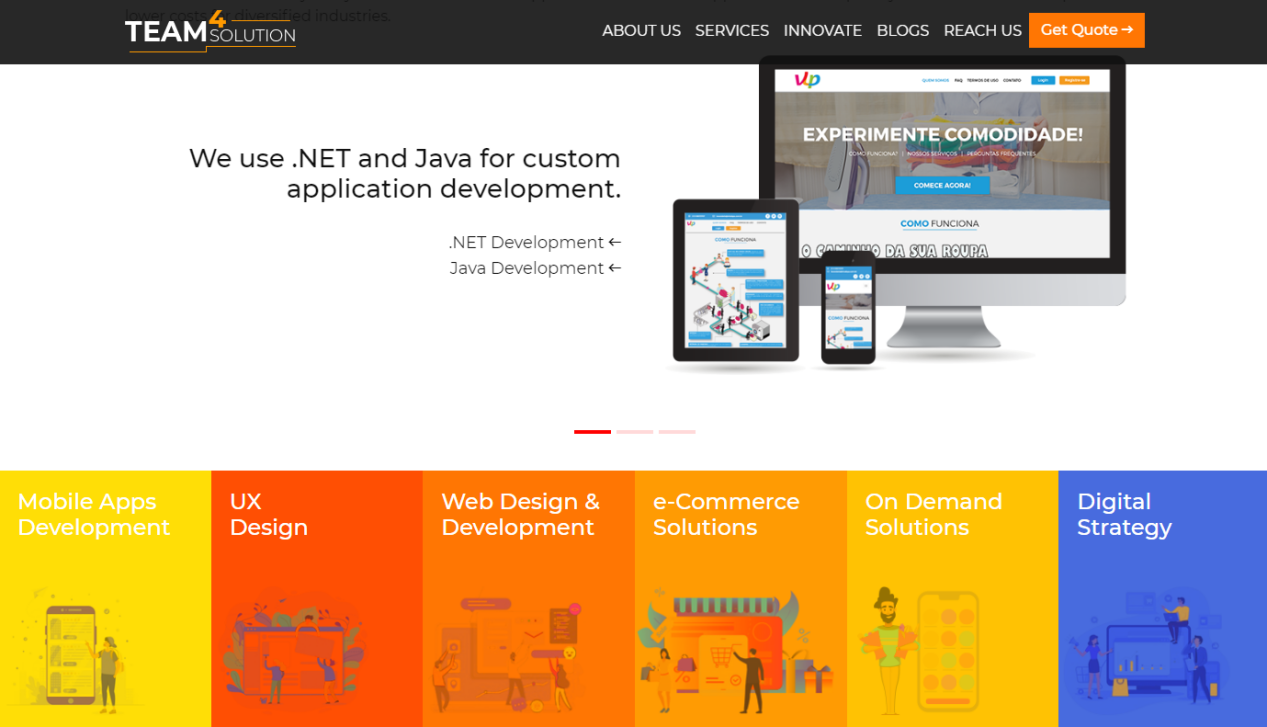 Despite being founded in 2017, Team4Solution has developed to become a multinational company with headquarters in Malaysia and different branches in Vietnam or India.
70% of their services are regarding Mobile application development. They also run projects on Web development, Cross-platform application, or Javascript, in a wide range of fields like Real estate, Automobile and Transportation, Government, Online shopping, E-learning, Insurance, and Warehouse.
11. Wizeline
Address (Vietnam): 195 Dien Bien Phu street, Ward 15, Ho Chi Minh city
Website: https://www.wizeline.com/
Review on Clutch: 4.9/5
"Wizeline delivered a product to specifications and in a timely manner. Their speed supplemented an efficient workflow. Their flexibility is also noteworthy."

Garrett Wymore, Head of Product and Marketing at Whistle Labs
"One of the biggest benefits of working with them was their hands-on approach."

VP of Regional Partnerships, USA Rugby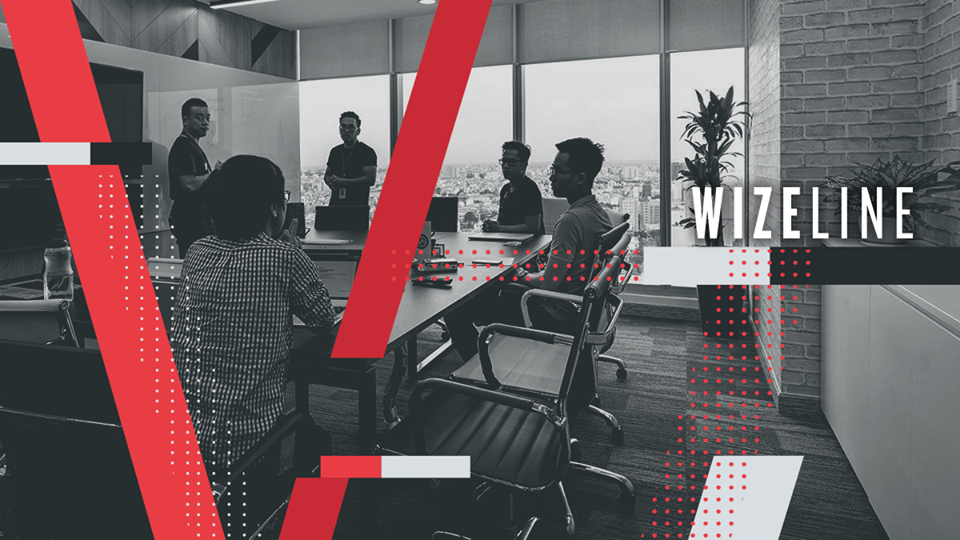 Wizeline is a global software development company, founded in 2014 in the US. Until now, it has around 10 offices in different locations in the world, aiming at delivering innovative products to clients (e.g. Digital Arts Network or Dover Corporation). They specifically offer services on Web (20%) and Mobile application development (20%), Customized Software (50%), and UX/UI Design (10%).
Just by taking a glance through their beautiful website, we can already sense the professionalism around here. In fact, Wizelne has just been founded 6 years yet they successfully solved many challenges for various Fortune 500 companies with design and technology.
Their missions are to deliver high-quality products, help businesses capture their new market, innovate business models, and leverage data.
In short, their services include web and mobile development, product strategy and UX design, data science, etc.
Domains:
Real estate
Finance
Retail
Education
Key clients: Fitz, US Rugby, USC, Imbera, Jitterbit, etc.
12. Siclo
Headquarters: 25 Hoang Hoa Tham, Ward 6, Ho Chi Minh City
Website: https://www.siclo-mobile.com/
Review on Clutch: 4.6/5
"Siclo met expectations, delivering quality creative work. Initial reactions regarding the mobile application seem promising. Their team is full of patient and respectful workers that are dedicated to their clients. Customers can expect a skilled team while working with Siclo." – Elodie Bottine, CEO at MyNabes
Founded by two enthusiastic engineers in 2015, Siclo now has two offices in Vietnam and France. Like other agencies, they also offer main services such as Web development (40%), Mobile application development (40%), and UX/UI Design (20%). Markedly, their clients come from startups, small and medium businesses, and even large corporates in different industries like IT, Finance, Healthcare and Medicine, Advertising and Marketing, Business Services and Transportation.
13. Co-well Asia
Headquarters: 1st Floor, 3D Creative Center Building, 3 Duy Tan Street, Ha Noi
Website: https://co-well.vn/en/
Review on Clutch: 4.6/5
"CO-WELL ASIA collaborated efficiently and provided comprehensive support. Their industry knowledge was quite apparent." – Anh Vi, Digital PR Specialist (Bitexco Group)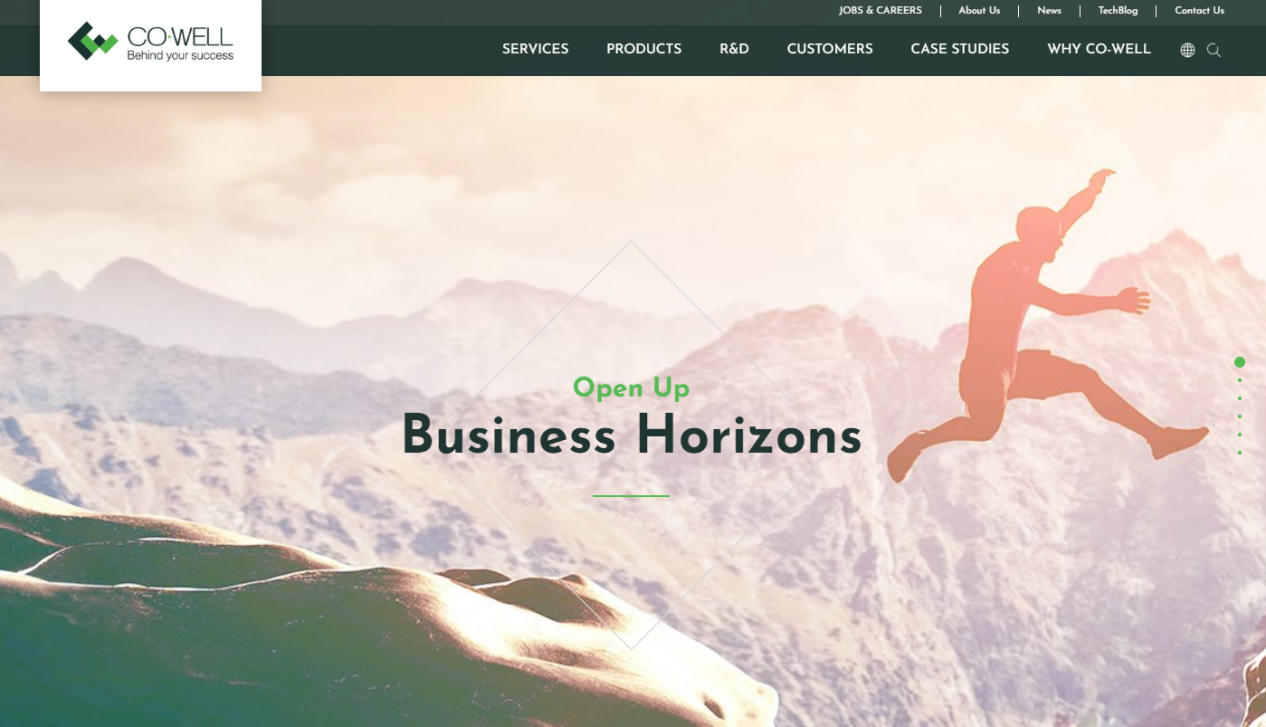 As a subsidiary of Co-well Japan, Co-well Asia was founded in Ha Noi in 2011. Over nearly 10 years of operation, it has conducted over 250 software projects for international clients; 80% of which are offered to large corporations (e.g. Heineken, IDOM Inc, or Will Group). They run most projects on Business solutions (Mobile/ Web/ Custom software), AR-VR, and software testing for different fields (e.g. Healthcare, Telecommunications, E-commerce, or Manufacturing).
14. QSoft Vietnam
Address: No.47, Number 23 street, Cau Giay District, Ha Noi
Website: https://www.qsoftvietnam.com/
Review on Clutch: 4.5/5
"The app has just launched, but feedback so far has been positive, praising the improvements and overall functionality. This success has proven that QSoft understands the complex healthcare industry, though their QA leaves something to be desired." – Alvin Vo, Co-founder (MDKINECT)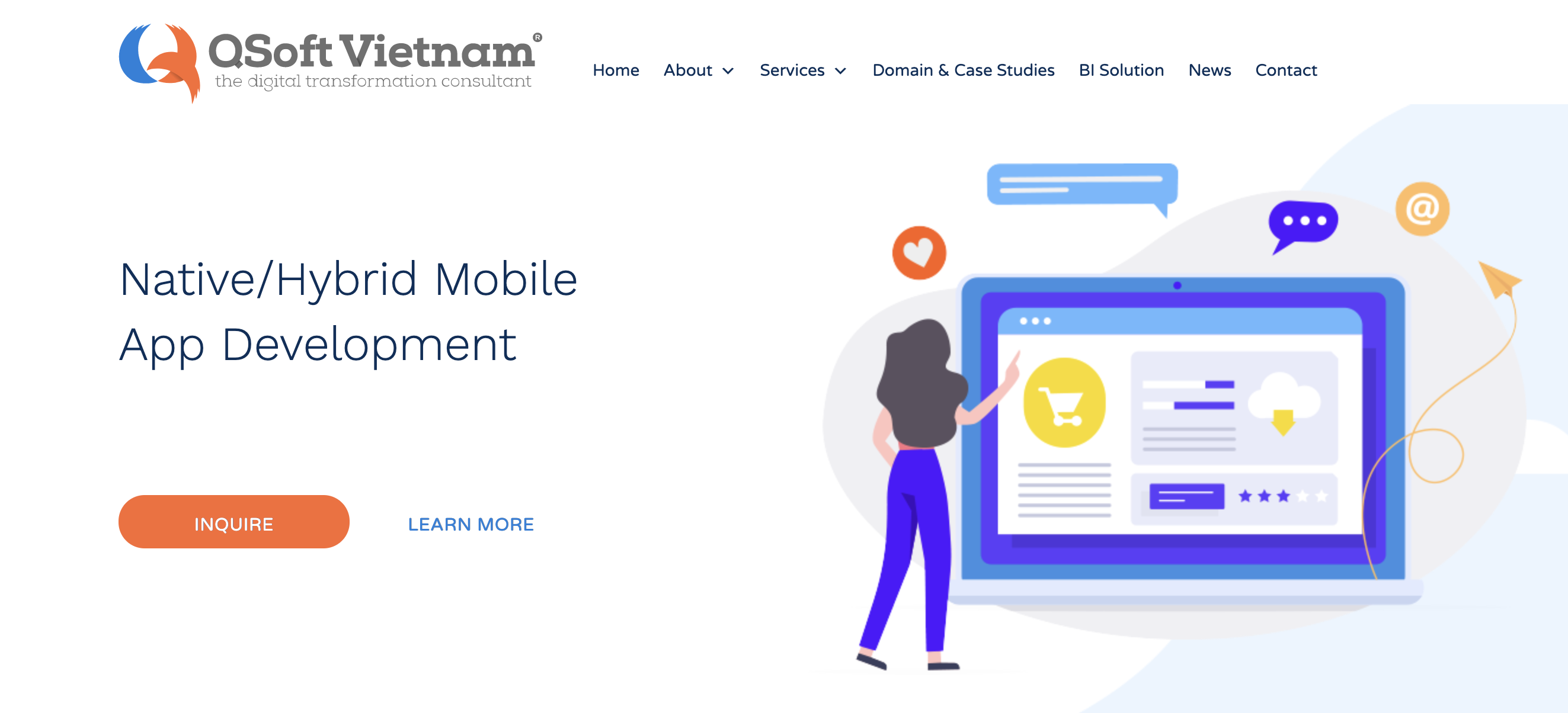 Since its foundation (2005), QSoft Vietnam has been defined as one of the leading software development in Vietnam, and then successfully expanded to the global market. As a CMMI Maturity Level 3 company, Qsoft has provided many outstanding projects on Mobile application development (60%), Websites, Blockchain, and so on. Their clients are mostly from Banking and Finance, Education, Healthcare, and Media. Domestically and globally awarded, Qsoft has become a reliable partner of Panasonic, AT&T, and the Australian Government.
15. LinxHQ
(linxhq.com)
LinxHQ was founded in 2008. They have 2 branches, one in Singapore and one in Ha Noi, Vietnam. At the moment, they dedicate themselves to developing custom software (40%), web (30%), and mobile app development (30%). To do so, people at LinxHQ will help you with the requirements, design (UI/UX), development, deployment, and ongoing maintenance. With more than 100 projects completed, they are one of the top app development companies in Vietnam right now.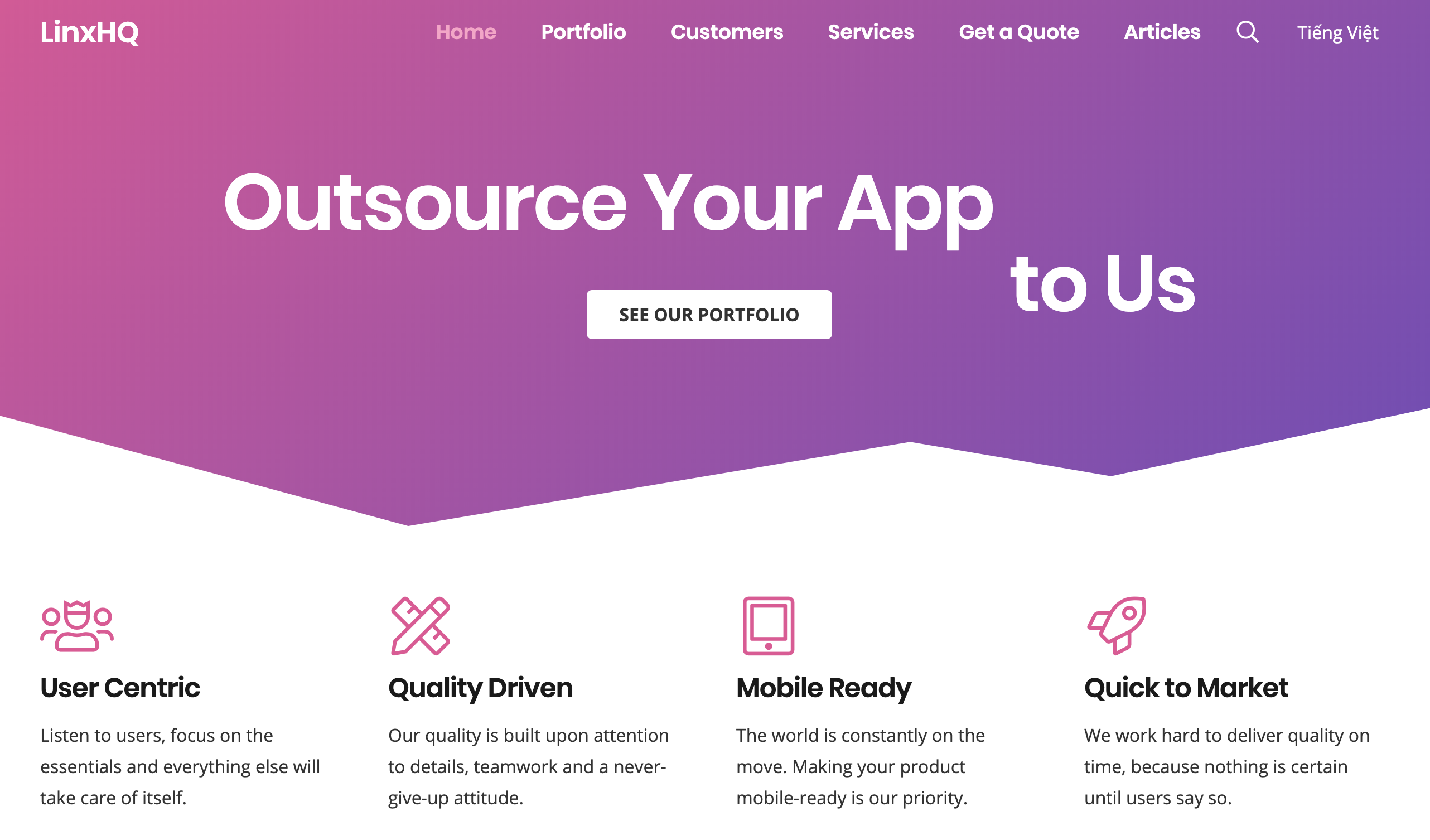 Domain:
Finance
Productivity
Education
Key clients: VP Bank, Singapore Management University, Wesly Methodist Church.
Client's review: "LinxHQ team is committed, professional and responsive. And that's what we look for in a software vendor when it comes to developing, maintaining, and supporting our enterprise system." – Administrator of the Church Ministry Database System, Hamlyn Quek.
16. DigiFutura
(digifutura.com)
Do you know that in 2019, this 3-branch software outsourcing company was ranked as one of the top-rated B2B firms in Asia and the Middle East by Clutch? To achieve such a title, they always care about creating a good user experience as well as building highly scalable websites and mobile apps for various types of business.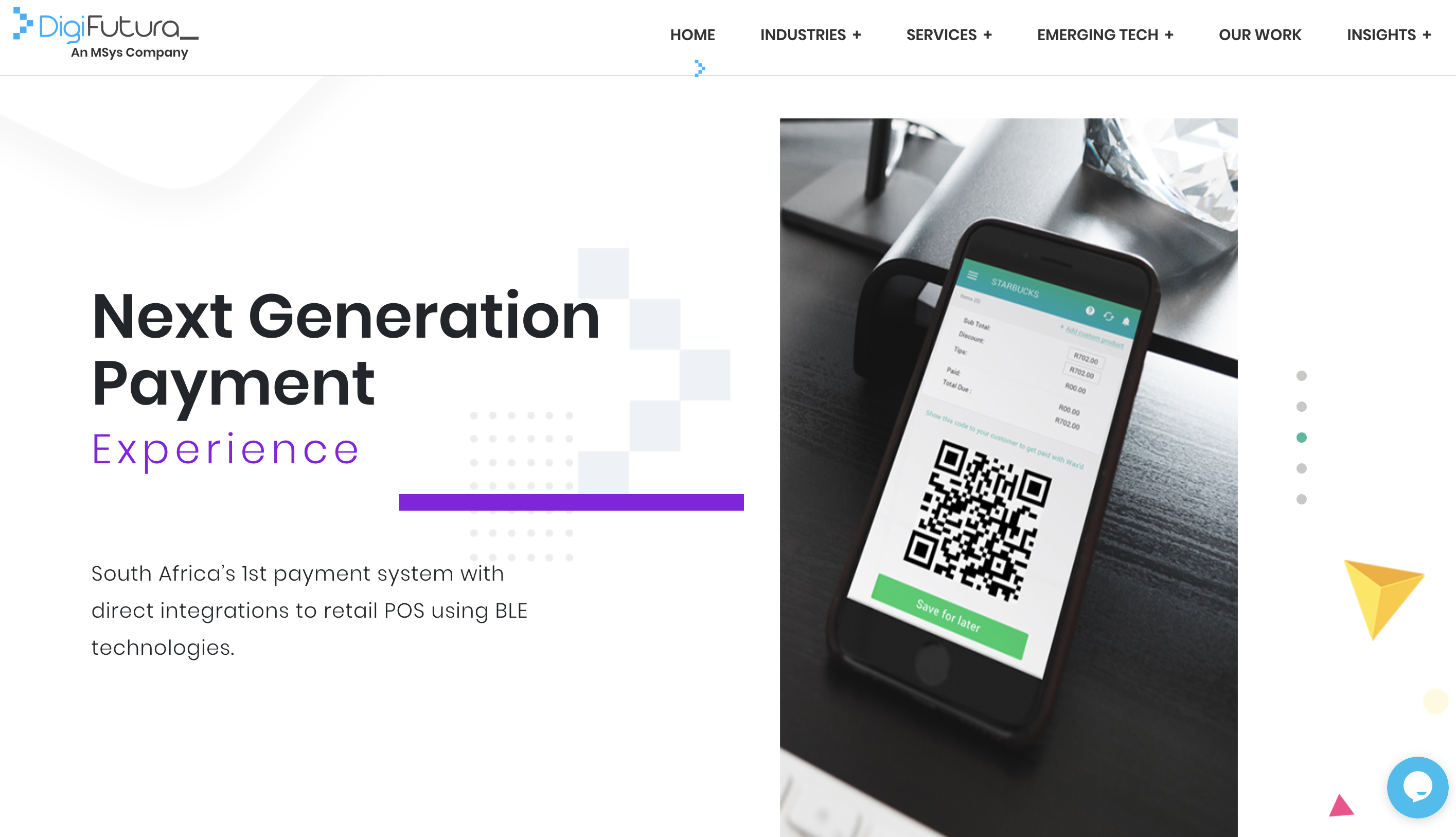 They were also awarded as one of the top 10 best mobile app development companies in 2016. At the same time, thanks to the hard work, dedication, and enthusiasm, they get some other important rewards as well.
Domains:
Healthcare
Travel
Retail and eCommerce
Key clients: Toshiba, Infraware, aCubeNow, AppAchhi, Zoomcar, Goomo.
"The management team was incredibly supportive and helped us accomplish tasks according to our timeline."

Director, Spa
17. Relia Software
(reliasoftware.com)
Ever since it was established in 2011, Relia Software has successfully developed more than 300 products. People here pay close attention to UX-driven engineering as well as scalable software architecture. These efforts help them smoothly work on many services such as mobile app design, web app development, UI/UX design, custom software development, etc. That's why it is on our 9 most appreciated app development companies in Vietnam list.
"They've done excellent work and have been easy to work with."

Founder, CareSpotter.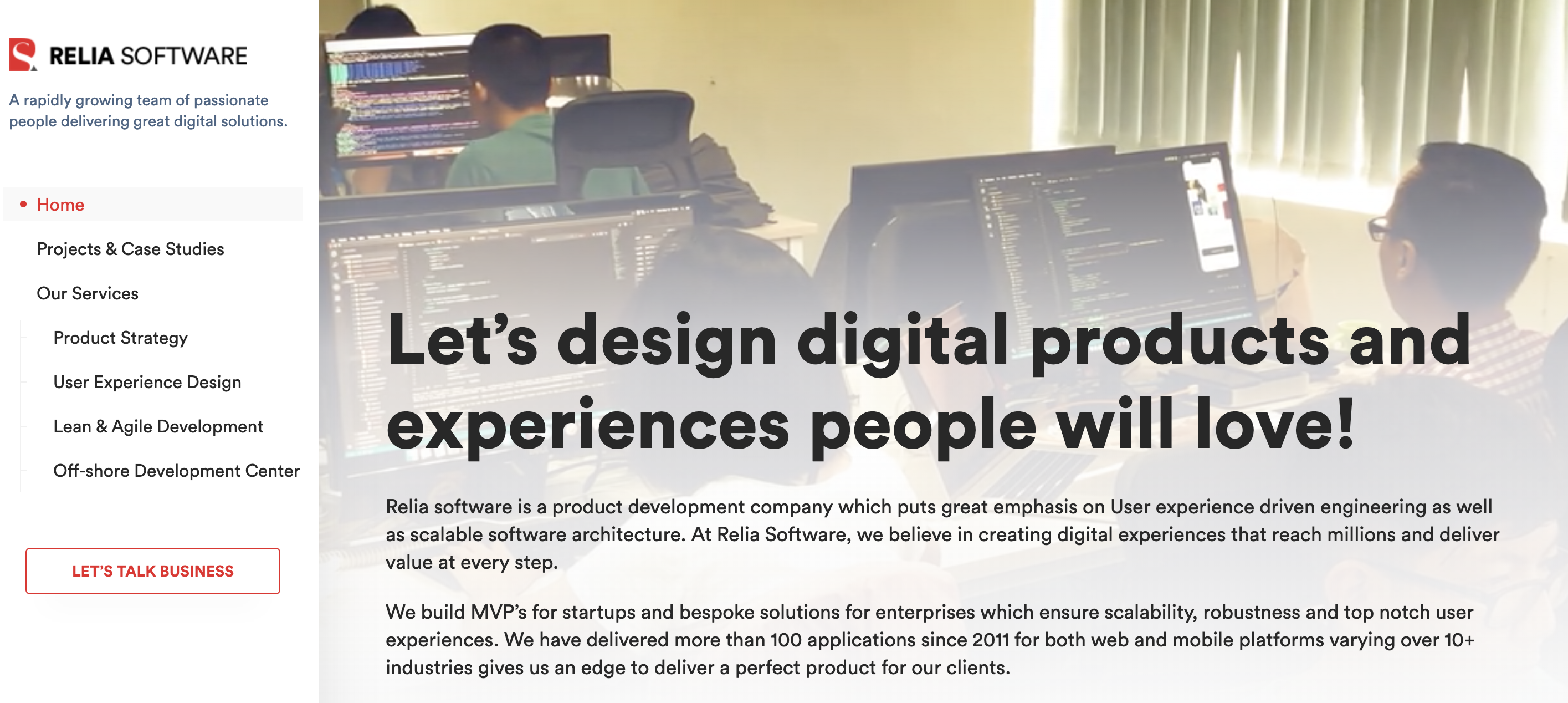 Domains:
Healthcare
Bank
eCommerce
Travel and leisure
Key clients: Runcaster, Skooc, Shareconomy, Toshiba, Table Runner, Carespotter.
Recommended reading: 5 Best Mobile App Development Companies in Germany: An Expert Guide
18. Elinext
(elinext.com)
With more than 23 years of experience in this important industry, Elinext now has 8 offices all over the world and one of them is located in Ho Chi Minh City, Vietnam.
Its mission is generally to focus on developing high-quality products. For this reason, they want to help their clients be more competitive, and innovation through technology.
Elinext's services chiefly include app development (e.g. iOS, Android, and hybrid), web development (e.g. Java, PHP, and .NET), Internet of Things, QA and testing, and more.
Domain:
Blockchain
Healthcare
Finance
eCommerce
Payment
Key clients: SIEMENS, P&G, AIG, Adsovo, etc.
Client reviews: "We've been especially impressed with their communications and project management skills." – Project Manager, Information Technology Startup
19. Quodisys
(quodisys.com)
Even though it has been just 7-year-old, Quodisys has become one of the most appreciated development teams in HCMC.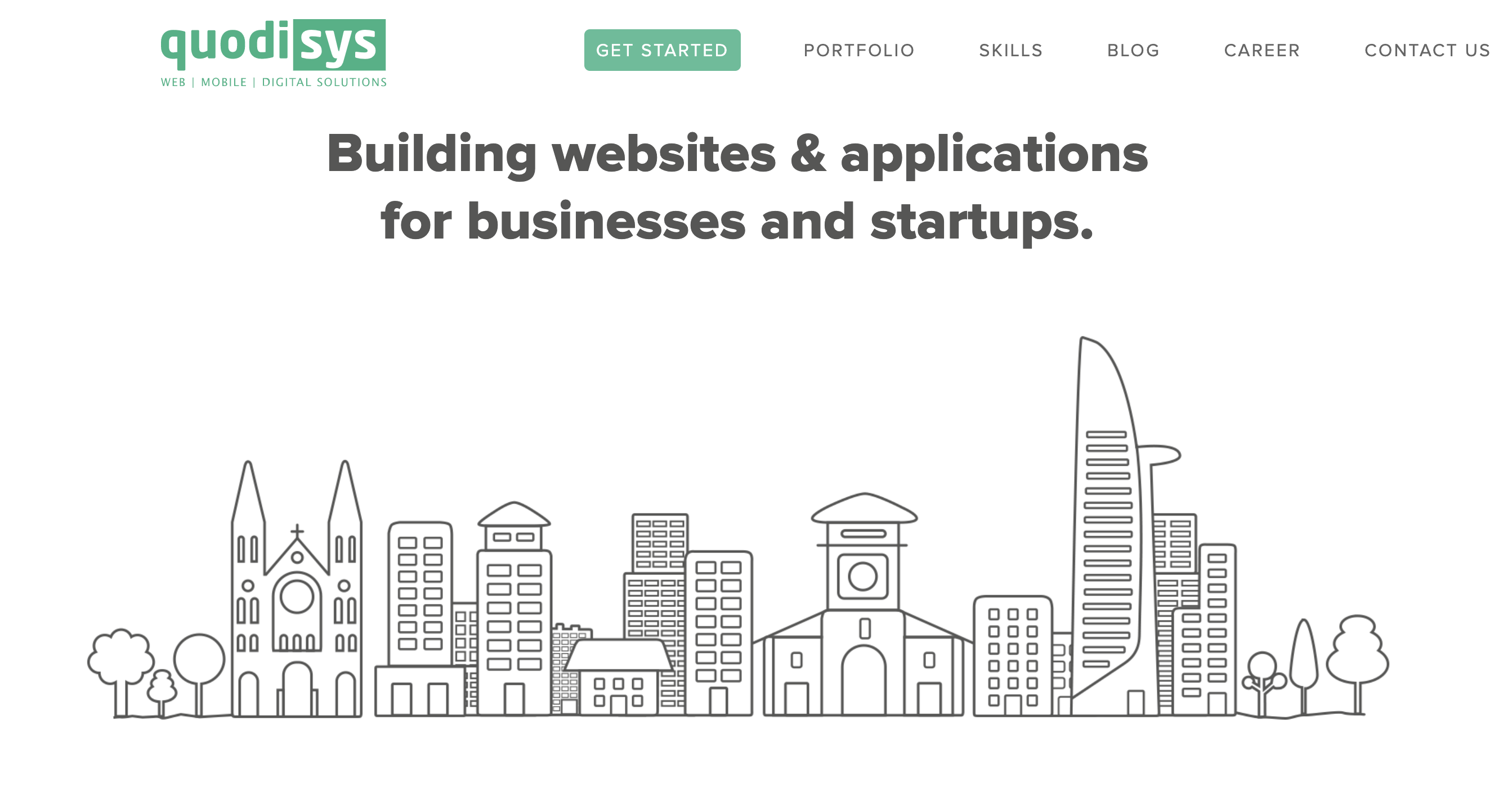 They also offer a wide range of services from web development (including web design, responsive design, etc,) to app development.
Further, the team has considerable experience in AI, NLP, data mining, and even blockchain.
At the moment, they have successfully delivered more than 500 projects for clients in 11 countries all over the world.
Domain:
Key clients: Real Happy Living, Victoria's Secret Singapore, UNICEF, Boxgofer.
"The Quodisys team was very proactive in sharing ideas … they always found a way to bring my ideas to life."

Founder, Real Happy Living.
Recommended reading: 5 Best Mobile App Development Companies in Australia
20. Sioux.asia
With 15 branches in 7 countries and one of them is based in Da Nang, Vietnam, Sioux is aiming for creating success and value for its clients through technological innovation. They focus on the quality, integrity, functionality, and scalability of the final products.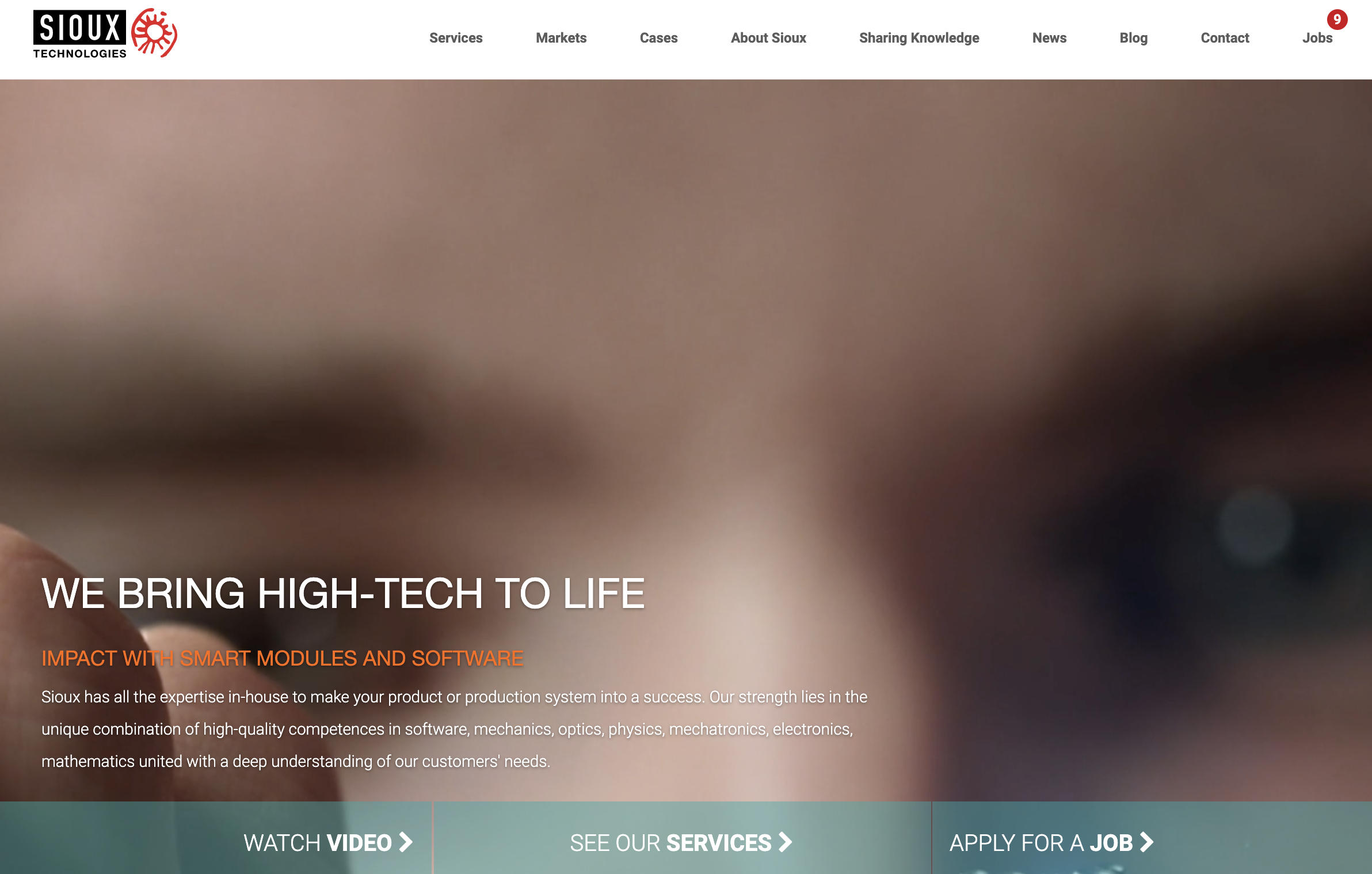 After 8 years of hard-working, Sioux is now experienced with different collaborative models. And its main service is to build software applications on multiple platforms such as Windows, Android, iOS, etc. for the high-tech industry.
Domain:
Education
Healthcare
IoT
Cloud-based software
Transportation
Key clients: Cisxo, Philips, ASML, BOSCH, Canon, etc.
Take Advantage of Outsourcing the Mobile App Development Team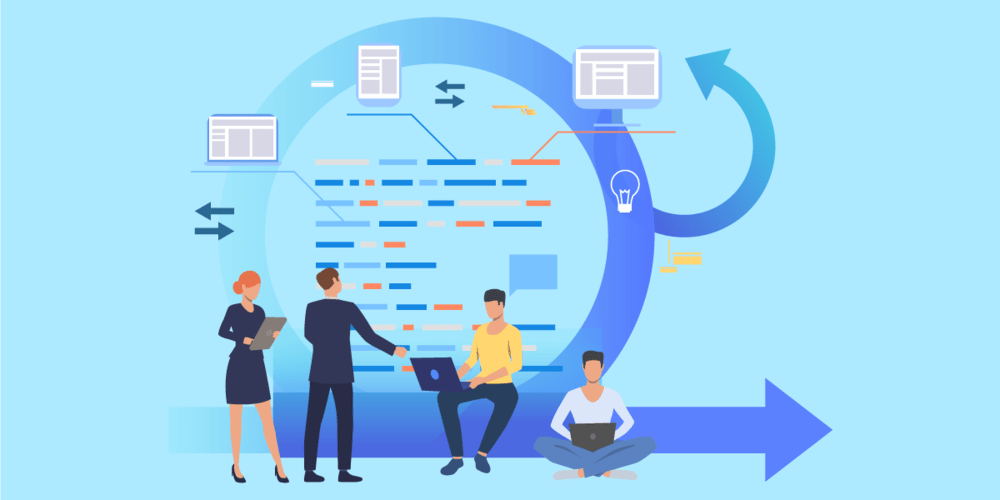 The best benefits of outsourcing are the competitive prices from budget and ease of complete mobile app development. You don't have to risk investing too much in a company that you don't know well. But you can get reliable service at a reasonable price with a highly experienced team in mobile app development.
Recommended reading: 30 Amazing Mobile App Design Software Tools
Having an experienced team and skilled developers on board will reduce the risks you run for mobile app development. Moreover, you can benefit from flexible payment options, keeping your costs low. This will make you a lot more comfortable when designing your app, as you don't have to worry about operating at a loss, and also when it comes to recovering your investments.
In short, no matter which industry you work in, the demand for mobile apps is always inevitable in this era. So to optimize your requirements, you should consider thoroughly finding the best outsourcing IT company.
That's why we've created this list of top mobile app development companies in Vietnam that are multilingual so that you can easily reach out to them and get started with your next app project.
We know it isn't easy to make the right choice, but we at Designveloper are here to help you. We offer a wide range of services from web and mobile app development to business consulting. Tell us now for free estimations! Don't hesitate to contact us directly if you want to upgrade your business with this latest technology.