The web application development cost question is common but hard to answer. There may be more than one answer to it, and all of them will make sense somehow. The best approach to figuring out how much a web application will cost is to get to know the queries surrounding the subject and what affects the cost estimation.
With that in mind, we move into the first section by addressing the conception of a web application. For more specific examples, you can revisit this previous post about web application examples by Designveloper.
A Market Overview of Current Web Application Developments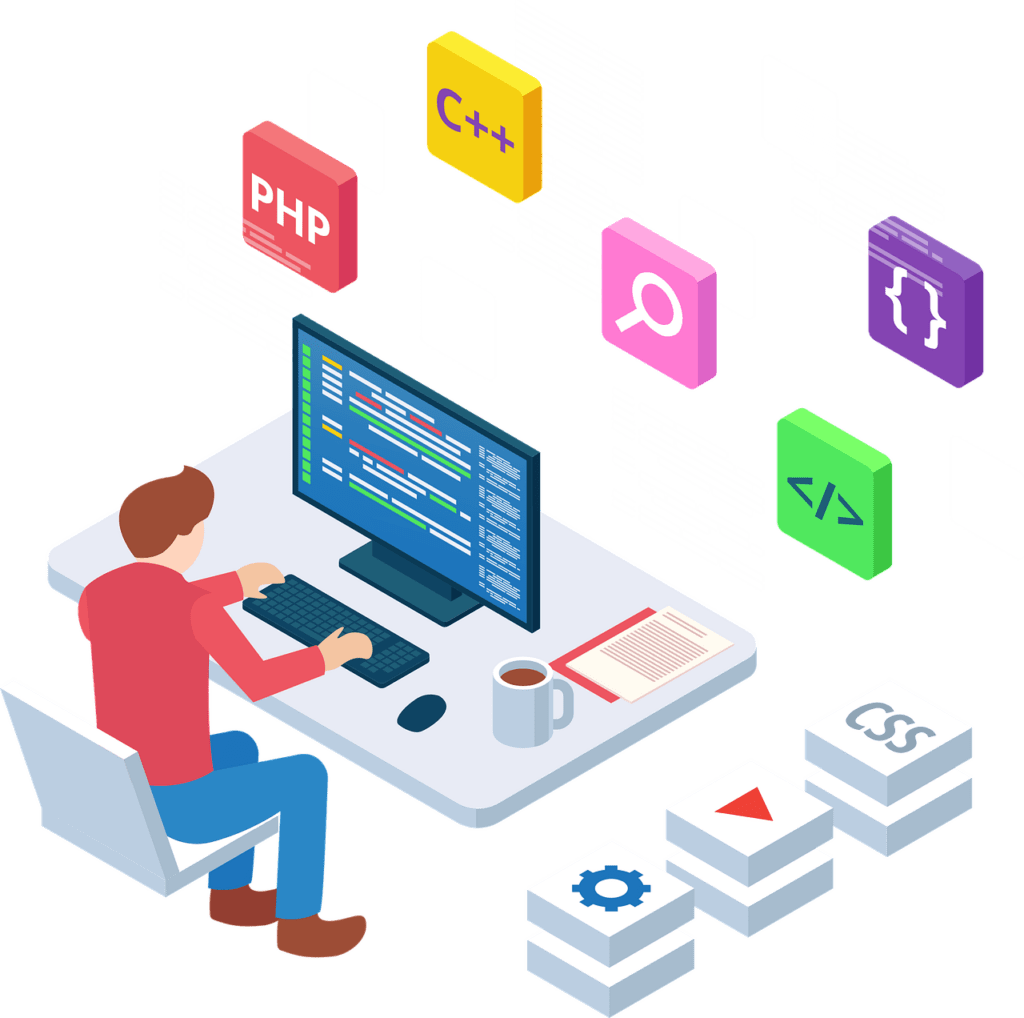 When buying digital goods and services, customers care most about usability and convenience. There can't be any more clicks or options to make something easy. You want to start using the item as soon as possible. Web apps can save users a lot of time, which is an advantage over mobile apps. Because of this, the market for web applications is getting more and more competitive, and all relevant studies show that this trend is likely to keep going.
The continued use of Internet of Things (IoT) devices and wearable technology will only push us in that direction. Most of the money made in the web application market comes from eCommerce, media and entertainment, retail, travel, healthcare, and education. Retailers also bring in a large amount of money. Let's look at the different things we can do for and with web applications in the coming periods.
Web apps have tremendous potential, which is plain to see. According to a report by Statista, the enterprise application software market will bring in $324.5 billion by 2024, up from $224.8 billion in 2021. Let's delve further into some stats.
Recommended reading: Choosing Web App Development Services: 5 Essential Tips
The numbers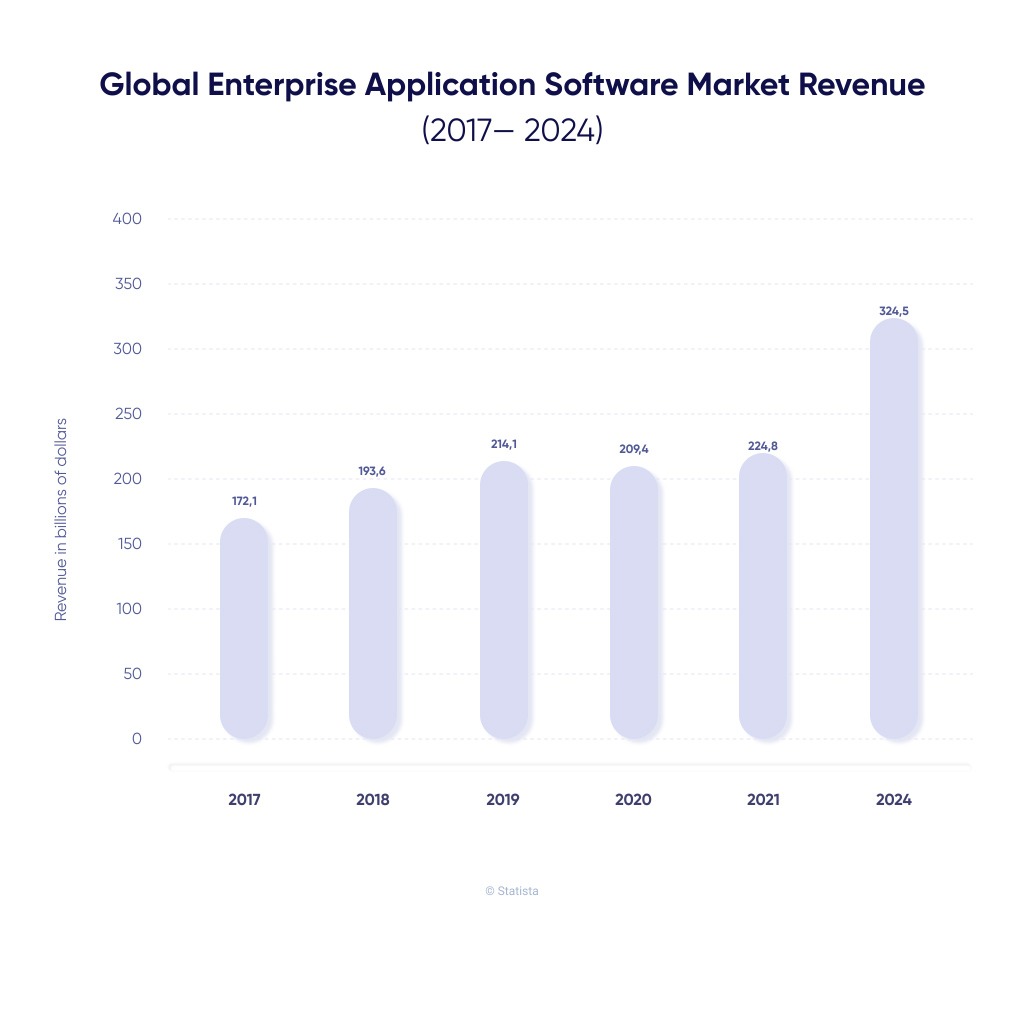 Below are some of the most exciting numbers that can give you a closer look at current trends and changes in the web application scene:
Web Application Development Cost Based on the Complexity of the Project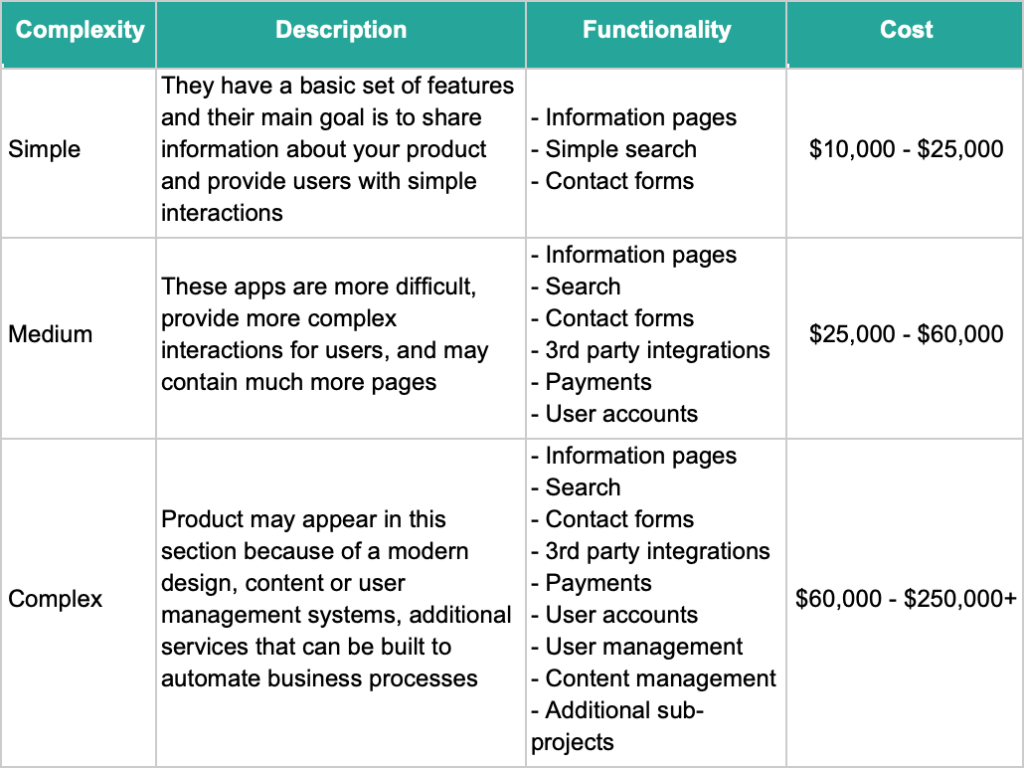 Here is a breakdown of the approximate cost range for web application development based on the complexity of the project:
Simple Web Application: A basic web application with limited features and functionalities can cost anywhere between $10,000 to $25,000.
Medium-Sized Web Application: A web application with moderate complexity, custom features, and more advanced functionalities may range from $25,000 to $60,000.
Complex Web Application: High-end web applications with advanced features, intricate designs, and complex functionalities can cost anywhere from $60,000 to $250,000 or more.
Please note that these figures are rough estimates and can vary significantly depending on the factors mentioned earlier. Additionally, hourly rates for development services can vary based on the location and experience level of the development team. Rates can range from $25 to $200 per hour.
It's crucial to thoroughly discuss your project requirements with a development team or agency to get a more accurate and detailed cost estimate for your specific web application development project.
Web Application Development Cost: The 7 Factors Influencing
Practically speaking, it often costs somewhere between $15,000-$25,000 to build a simple app (with a single functionality), and it might reach up to $250,000 to build a big app with complex functionalities.
Now if we pay close attention to how our money will be spent, we will see that the cost of web app development services depends on several factors including:
Factor 1: What features does your web app offer?
1. Platforms
Normally, when you build a native app for both operating systems Android and iOS, the price almost doubles that of a progressive web app. For example, it takes 160 hours and $9600 to develop an Android app that could run on Samsung, HTC, and LG devices. The same goes for iOS, which is used on iPhone, iPad, and other Apple products. A WPA might cost about $1200, but it could run across multiple devices.
2. Features
If it's a content platform, it often goes with features like Event Calendar (where users can see time, place, and event), Map & Location (which displays a map, and allows location pinning, together with basic calculation of distance), Host documents (which allows you to manage, organize, and share documents, images, videos with your users), Task/Checklist Management (track and manage to-do list for individuals and teams), and Scheduled Content (which allows you to schedule your posts by time and date).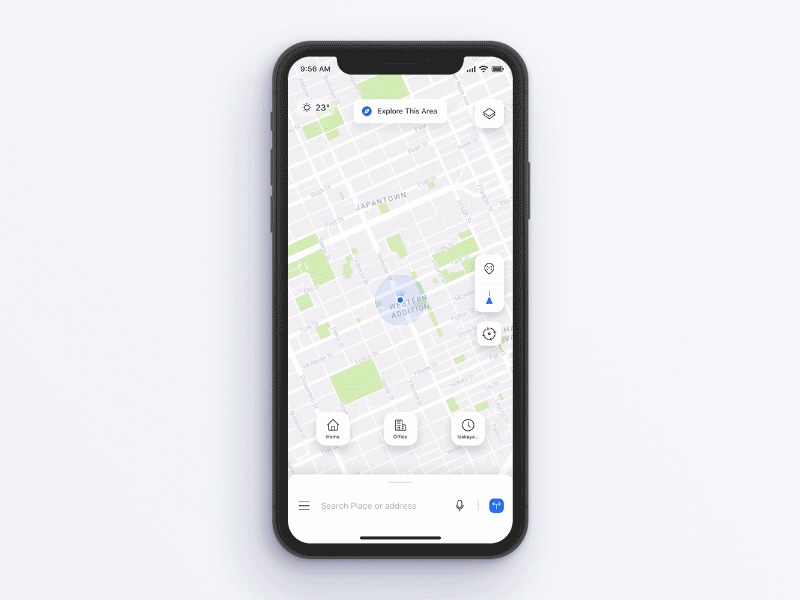 If it's a social networking platform, it often involves Chat and messaging boards and supports links to other social pages like Facebook or Twitter.
Similarly, a media app should have video and audio streaming, and an image gallery. An eCommerce app should contain an item list, shopping cart, payment, QR code scanning, and coupons. A loyalty app is supposed to have loyalty points and a section for customer feedback.
Sometimes you want to have custom features, and it depends on how big they are to estimate the cost. If it's a small one, meaning it's straightforward and only 1-2 screen deeps, it might take 240 hours and accordingly around $15000 to build. However, if it's a whole section that leverages a custom backend or incorporates your current backend, it might reach up to 960 hours and $58000 to build.
To get a clearer picture of custom mobile app development, check this out: 5 Benefits of Custom Application Development for your Business
3. Users
Is it an email login or a social login (using an existing social media account like Facebook and Twitter)? What information do you require your users to provide (name, email, bio)? What kinds of activities can your users do with the app? How do you engage your users: through push notifications, newsletter subscriptions, or chatbots?
4. Integrations
How do you want your app to access the device-specific resources: camera, GPS, Bluetooth, gyroscope, accelerometer, or all?
5. Monetization
How do you make money with your app? In-app purchases (users must pay for premium features), up-front cost (users must pay a monthly subscription fee), or free (probably you get money from ads).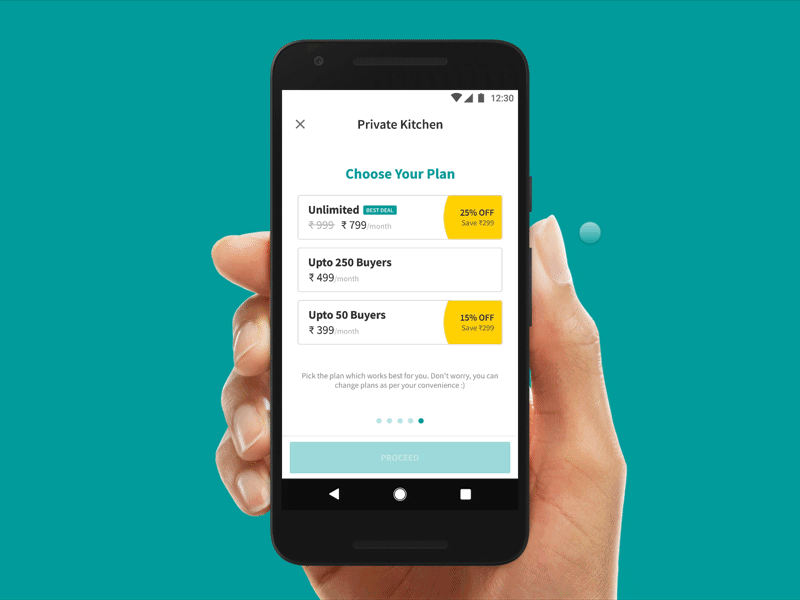 6. Maintenance and hosting
This is the amount of money you must pay each month to sustain and scale your app. It is used for databases, servers, firewalls, content delivery networks, load balancers, and sometimes for an engineering team or freelancer that maintains your apps through email or call support 24/7.
Above is just the breakdown of app functionalities. To determine the cost of web app development, we must also take into account the development team, the target industry, and contingencies throughout the development process.
Recommended reading: Best Progressive Web Apps Examples over the Past Decade
Factor 2: Who do you hire to develop the web app?
One individual mobile app developer cannot build a large project. So most of the time you need to hire a whole team including a project manager, programmer, UX/UI designer, and QA specialist. They could be a group of freelancers, an in-house team, or an outsourcing web app development company.
1. In-house team
This option brings about two major benefits. Firstly, in-house team members often possess a good understanding of your business. And because they are part of the company, they tend to be accountable for the outcome of the project. Secondly, by hiring an in-house team, you can diminish miscommunication thanks to direct communication.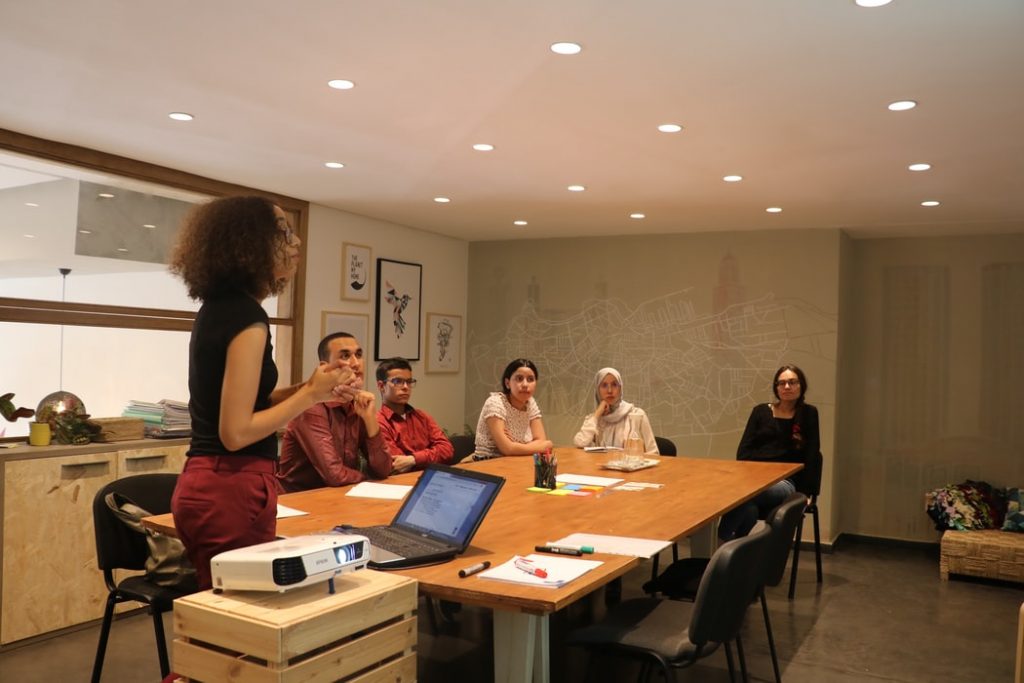 However, this is not an economical choice since you must invest much more money compared with hiring freelancers or outsourcing. To make it clearer, your money will be spent on recruitment and employee retention. You must offer your developers attractive benefits and incentives so that they will stay with you.
2. Freelance developers
With this option, you may save up to 30-50% of the budget you would have to spend on an in-house team. Hiring freelancers is also usually quick and painless, but the quality of their work is unpredictable.
3. Outsourcing mobile app development companies
This is by far a viable option for various companies. By hiring a software development company, you can get access to expert skills, and take full control over the project scope and budget. These agencies also have their own development and project management platforms, so you don't have to worry about frameworks, languages, and such.
Recommended reading: Top 20 Mobile Application Development Companies In Vietnam
4. Where your developers are based
The location of your working team also matters. Below is the average hourly rate of mobile app developers in some parts of the world, according to PayScale, Glassdoor, and other resources:
In the US: $70 – $100/hour for mid-level developers; $120 – $200/hour for senior developers.
In Central Europe: $35-$60/hour for mid-level and senior developers
The numbers are much lower in Africa or Southeast Asia, which is why many businesses turn to these regions for outsourcing. If you are among them, the following articles are for you: Why Should You Develop Mobile Applications in Vietnam?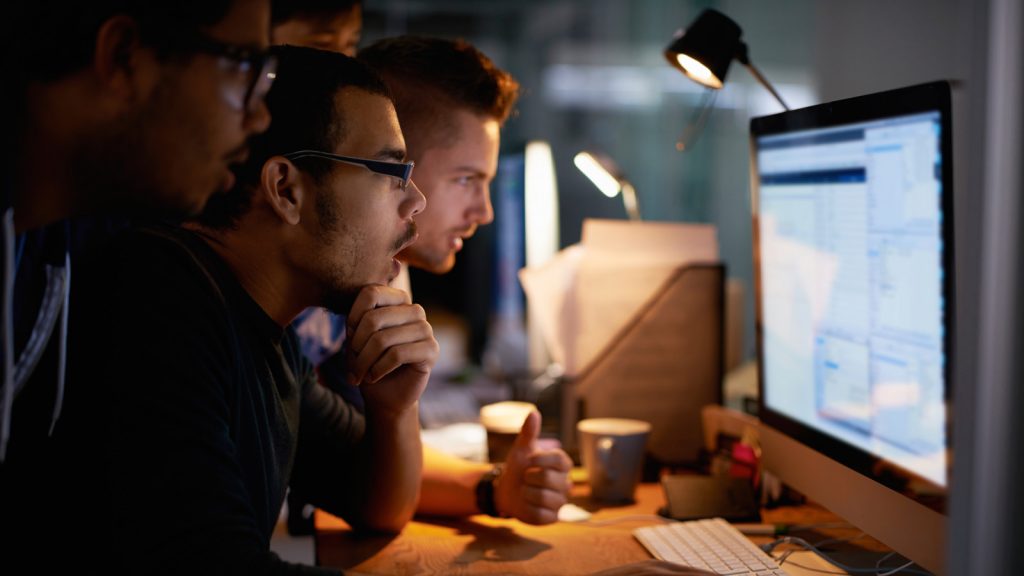 All in all, the cost estimation of web app development is not much different from that of native app development. However, due to the uniqueness of each business model, there is no single rule that applies to all. And if you want to receive a more accurate estimated price for your web app development as well as practical advice, it is necessary to contact the software companies and ask for a detailed estimation. People at Designveloper with more than 10 years in the industry are willing to give you in-depth consultancy. By leaving your contact information in this form, we will reach out to you within 24 hours.
Factor 3: Scope of Work
The total cost of making a web app depends directly on the scope of the work required for the development. If you start from scratch, you will have to go through all of the typical software development lifecycle stages.
To cut down on the cost, you should only have the essential features to build an MVP (Minimum Viable Product). Proofs of concept are the starting point for many successful products, like Uber and Dropbox. To know how much it costs to make a product like Uber, you can take a glance at this previous article from us: How Much Does it Cost to Build Apps like Uber, Tinder, and Instagram?
Factor 4: Desired Features
You also need to ask yourself, what will the web application be able to do? Depending on how you answer the question, you'll make a simple app with standard features (like payment systems, inventory management, etc.) or make a very complicated and expensive app (banking apps, stock trading apps, etc.).
The complexity of the app is related to the web application development cost. The cost of a web app goes up the more features you want it to have. Adding robust functionality takes time and a skilled workforce, both expensive.
There are generally four types of web apps, from the simplest to the most complex:
Basic web apps: development time usually takes around 3 to 4 weeks, with development costs ranging from $5000 to $17,000
Custom web apps: development time usually takes around 12 weeks, with development costs ranging from $17,000 to $55,000
Complex web apps: development time usually takes around 24 weeks, with development costs ranging from $55,000 to $250,000
Enterprise-grade web apps: development time usually takes around 24 weeks, with development costs ranging from $250,000 or more
Factor 5: The Web Application Development Team's Location
The web app development cost can be different depending on the location of the team. This is the case because the pay for web app developers can be very different from one country to the next. Software developers who work for companies with headquarters in developed countries with high living costs tend to make more money. For Designveloper, situated in Vietnam, our developers provide the same or better quality services at only a fraction of the price.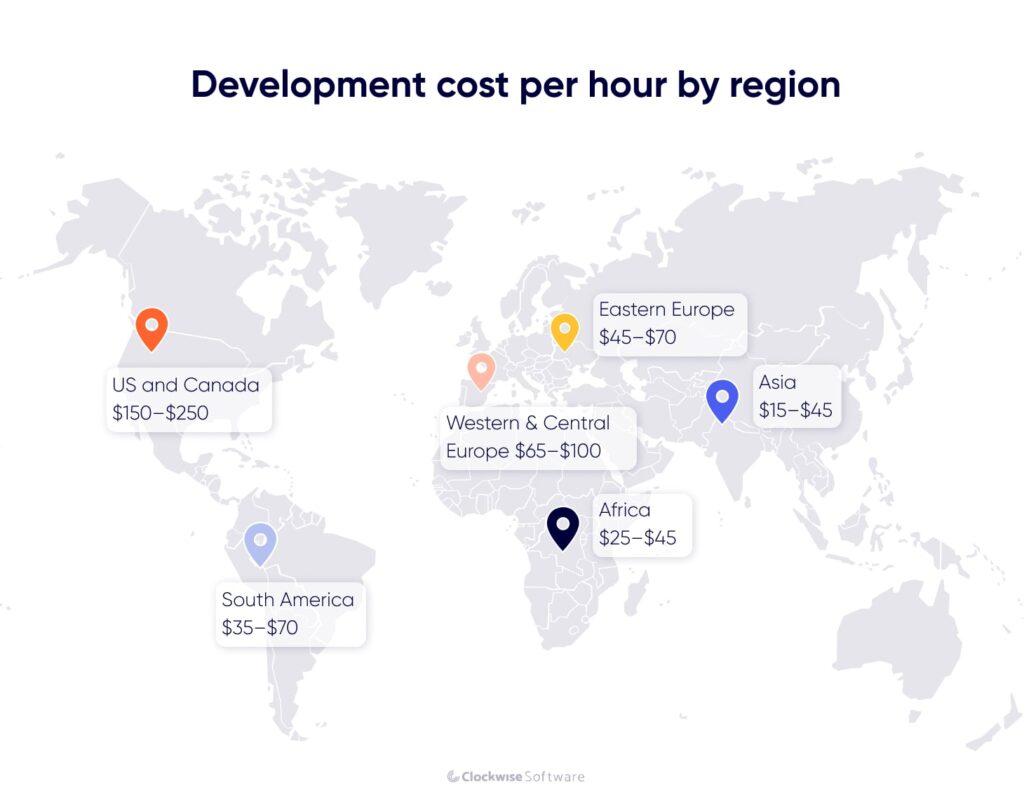 Factor 6: Third-Party Services
Do you want to make an app that can run independently, or use technology from a third party? The number of integrations your software needs will affect the web application development cost. But you shouldn't worry because the functionality you need is often already available in application programming interfaces (APIs) (Application Programming Interfaces). You can move forward as soon as you add those APIs to the product. If you use this plan, you won't have to waste time or money trying to reinvent the wheel.
Factor 7: UI/UX Design
For someone who wants to make a web app, the design part can be both a way to save money and a considerable cost. The "design problem" can be fixed for the least money by choosing a basic kit with built-in themes or templates. But this can be seen as lazy, especially if your target consumers are experienced.
The other option, which is more expensive but still relatively cheap, is to make small UI/UX design changes to the web app to make it more personal. The cost of a web app will go up the more changes you want to make to a standard template.
If you want your business to stand out, your app needs to be unique, easy to use, and pleasant to look at. The final price will depend on how complex the project is, its extra features, and other factors we've listed above.
Recommended reading: The 6 Factors to Choose a UI UX Design Company
Other factors that influence the web app development cost
Which industry you are working in also plays a decisive role in determining the cost. Healthcare or accounting are the industries that impose strict regulatory requirements on software development. The regulators want to make sure that the users' data is protected. And because of this, the cost of implementation can be higher.
Also, the contingencies during the production process might add to extra costs. Even though the company you hire provides a detailed estimation of cost based on the number of working hours of developers, there are always changes waiting down the line. And any complications could lead to an additional price. So be ready for it.
Conclusion
Many things affect the web application development cost, and trying to save money could be risky. Still, we hope you're more knowledgeable about what it takes to estimate a project with our brief guide. For that matter, Designveloper might be your best option if you want to keep costs down without sacrificing quality.