If you are an entrepreneur, and you want to have a web app for your business but do not know where to start, this article is for you. First off, the appropriate question to ask is not "which company to hire for web app development". Rather, you should consider "do I really need an app" and "if so, what type of app should I go for". The answers to them could be found in this article: Mobile web app development: 2 things you must first take into account.
It should be noted that by using the term "web app" in this writing, we want to refer to web-based apps for mobile devices, as opposed to web-based apps for stationary desktop computers. To see why there's this differentiation, check this out: Web application examples and definition for beginners.
Now that you already make up your mind and decide to build a mobile web app, there are two aspects of web application development you should know about:
(1) How much does it cost to develop a web app?
(2) What is the typical process of web app development?
We will discuss these three questions with the simplest language possible that all non-expert business people can still easily grasp.
How much does it cost to develop a web app?
Practically speaking, it often costs somewhere between $15,000-$25,000 to build a simple app (with a single functionality), and it might reach up to $250,000 to build a big app with complex functionalities.
Now if we pay close attention to how our money will be spent, we will see that the cost for web app development services depends on several factors including:
Factor 1: What features does your web app offer?
Platforms
Normally, when you build a native app for both operating systems Android and iOS, the price almost doubles that of a progressive web app. For example, it takes 160 hours and $9600 to develop an Android app that could run on Samsung, HTC and LG devices. The same goes for iOS, which is used in iPhone, iPad, and other Apple products. A WPA might cost about $1200, but it could run across multiple devices.
Features
If it's a content platform, it often goes with features like Event Calendar (where users can see time, place, and event), Map & Location (which displays a map, allows location pinning, together with basic calculation of distance), Host documents (which allows you to manage, organize, and share documents, images, videos with your users), Task/Checklist Management (track and manage to-do list for individuals and teams), and Scheduled Content (which allows you to schedule your posts by time and date).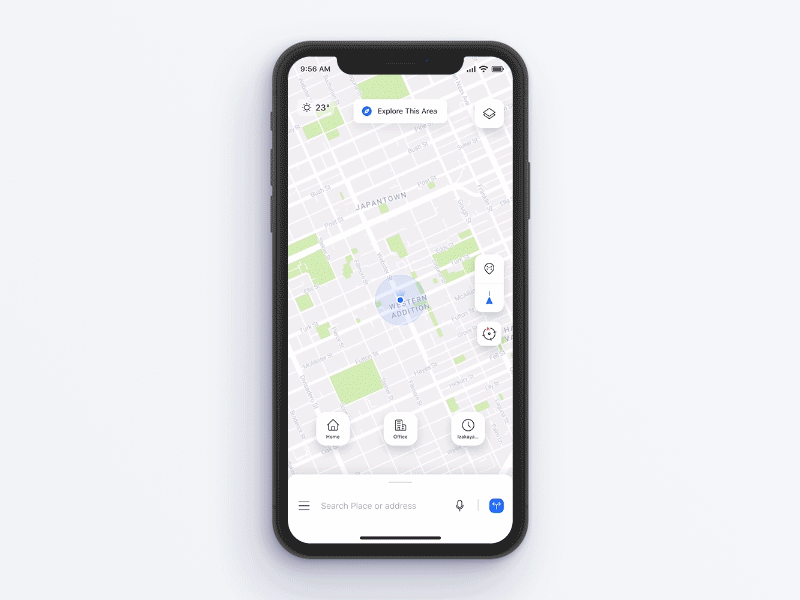 If it's a social networking platform, it often involves Chat and messaging boards and supports links to other social pages like Facebook or Twitter.
Similarly, a media app should have video and audio streaming, and image gallery. An eCommerce app should contain an item list, shopping cart, payment, QR code scanning, coupons. A loyalty app is supposed to have loyalty points and a section for customer feedback.
Sometimes you want to have custom features, and it depends on how big they are to estimate the cost. If it's a small one, meaning it's straightforward and only 1-2 screen deeps, it might take 240 hours and accordingly around $15000 to build. However, if it's a whole section that leverages a custom backend or incorporates your current backend, it might reach up to 960 hours and $58000 to build.
To get a clearer picture of custom mobile app development, check this out: 5 Benefits of Custom Application Development for your Business
Users
Is it an email login or a social login (using an existing social media account like Facebook and Twitter)? What information do you require your users to provide (name, email, bio)? What kinds of activities can your users do with the app? How do you engage your users: through push notifications, newsletter subscription, or chatbot?
Integrations
How do you want your app to access the device-specific resources: camera, GPS, Bluetooth, gyroscope, accelerometer, or all?
Monetization
How do you make money with your app? In-app purchases (users must pay for premium features), up-front cost (users must pay a monthly subscription fee), or free (probably you get money from ads).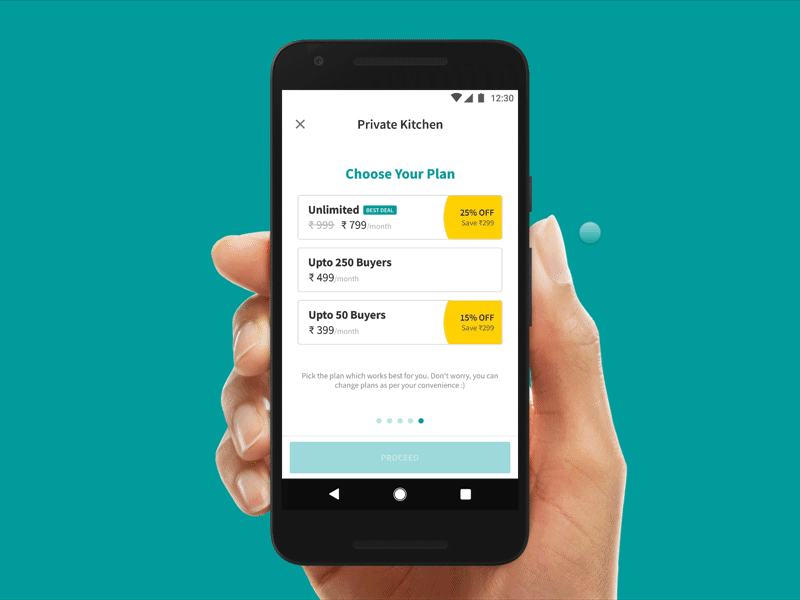 Maintenance and hosting
This is the amount of money you must pay each month to sustain and scale your app. It is used for database, servers, firewalls, content delivery network, load balancer, and sometimes for an engineering team or freelancer that maintains your apps through email or call support 24/7.
Above is just the breakdown of app functionalities. To determine the cost of web app development, we must also take into account the development team, the target industry, and contingencies throughout the development process.
See also: Best Progressive Web Apps Examples over the Past Decade
Factor 2: Who do you hire to develop the web app?
One individual mobile app developer cannot build a large project. So most of the time you need to hire a whole team including a project manager, programmer, UX/UI designer, and QA specialist. They could be a group of freelancers, an in-house team, or an outsourcing web app development company.
In-house team
This option brings about two major benefits. Firstly, in-house team members often possess a good understanding of your business. And because they are part of the company, they tend to be accountable for the outcome of the project. Secondly, hiring an in-house team, you can diminish miscommunication thanks to direct communication.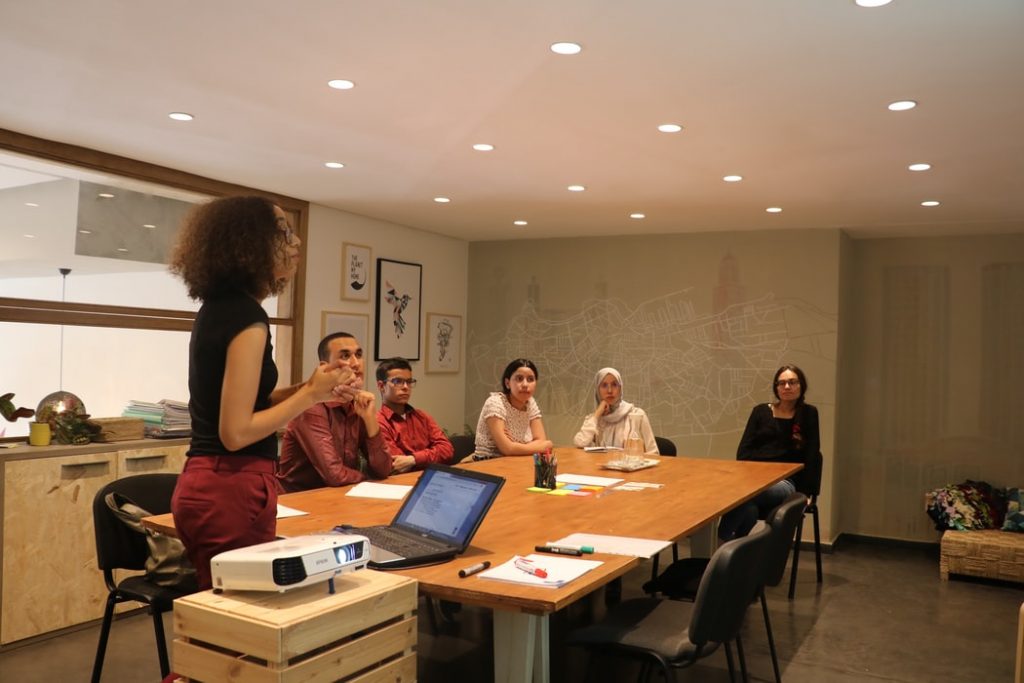 However, this is not an economical choice since you must invest much more money compared with hiring freelancers or outsourcing. To make it clearer, your money will be spent on recruitment and employee retention. You must offer your developers attractive benefits and incentives so that they will stay with you.
Freelance developers
With this option, you may save up to 30-50% of the budget you would have to spend on an in-house team. Hiring freelancers is also usually quick and painless, but the quality of their work is unpredictable.
Outsourcing mobile app development companies
This is by far a viable option for various companies. By hiring a software development company, you can get access to expert skills, and take full control over the project scope and budget. These agencies also have their own development and project management platforms, so you don't have to worry about frameworks, languages, and suchlike.
See also: Top 10 Mobile Application Development Companies In Vietnam As Of 2021
Where your developers are based
The location of your working team also matters. Below is the average hourly rate of mobile app developers in some parts of the world, according to PayScale, Glassdoor, and other resources:
In the US: $70 – $100/hour for mid-level developers; $120 – $200/hour for senior developers.
In Central Europe: $35-$60/hour for mid-level and senior developers
The numbers are much lower in Africa or Southeast Asia, which is why many businesses turn to these regions for outsourcing. If you are among them, the following articles are for you: Why Should You Develop Mobile Applications in Vietnam?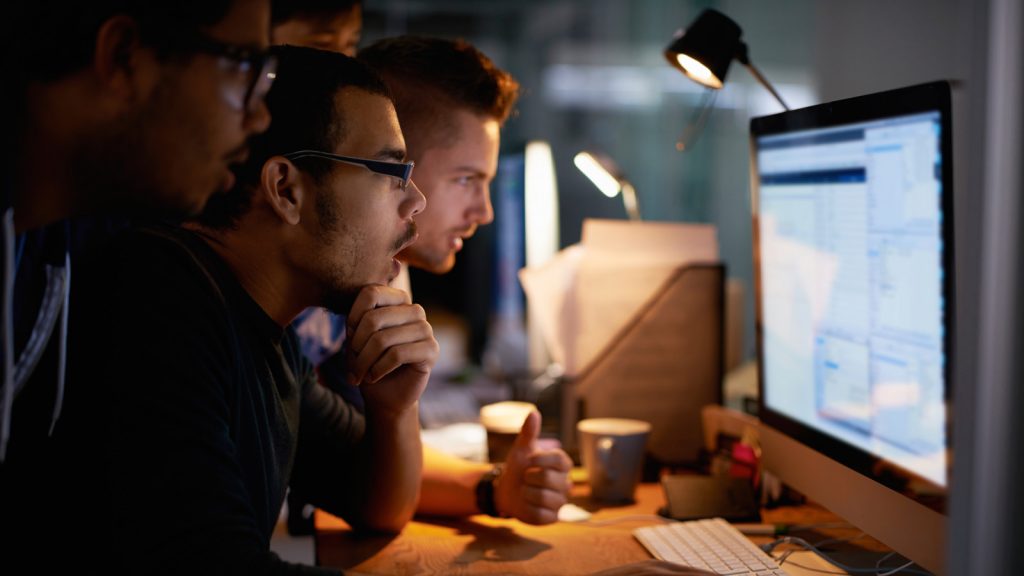 All in all, the cost estimation of web app development is not much different from that of native app development. However, due to the uniqueness of each business model, there is no single rule that applies to all. And if you want to receive a more accurate estimated price for your web app development as well as practical advice, it is necessary to contact the software companies and ask for detailed estimation. People at Designveloper with more than 10 years in the industry are willing to give you in-depth consultancy. By leaving your contact information in this form, we will reach out to you within 24 hours.
Other factors that influence the web app development cost
Which industry you are working in also plays a decisive role in determining the cost. Healthcare or accounting are the industries that impose strict regulatory requirements on software development. The regulators want to make sure that the users' data is protected. And because of this, the cost of implementation can be higher.
Also, the contingencies during the production process might add up extra costs. Even though the company you hire provides a detailed estimation of cost based on the number of working hours of developers, there are always changes waiting down the line. And any complications could lead to an additional price. So be ready for it.
Now, in order to more about the cost of mobile app development, you can check out the following articles:
Typical web app development process
As a business person, obviously, the first thing you need is not a web app, but a plan that entails market research, financing, product development, business goals, marketing, and so forth. Regarding this, we have put forward some ideas for you in this article: How To Build A Mobile App For Your Business
Now, provided that you already have a solid plan and start to implement it, it's time to move on to the process of web app development. Although there are variants in practice, the process typically involves the following stages: (1) Discovery, (2) Design and prototyping, (3) Development, (4) Testing and Deployment, and (5) Operation and Maintenance.
You may also read: 5 Most Profitable Web App Ideas
Stage 1: Discovery
A web app development project often starts with a kick-off meeting where people who are involved in the project (team members, stakeholders) introduce themselves and their roles. There will be some discussion sessions on the project management methodologies (like whether it should be Agile or Scrum or Waterfall) and the "firepowers", the web app development languages, web app development platform, web app development software, web app development framework, or libraries for development (like "let's use Slack as a to-do app, Jira for project management, Confluence for communication, Figma for prototyping, and something like that). This kick-off meeting is to make sure that everybody is on the same page.
Then there will be a period of requirement elicitation where specialists will gather requirements from people who will manage and use the app and analyze them. They may also conduct further researches in order to:
Estimate the scope, timeline, and cost
Uncover in-depth needs, wants, and risks
Define the project backlog, the prioritized list of tasks that the development team will work on in each stage of the project life cycle.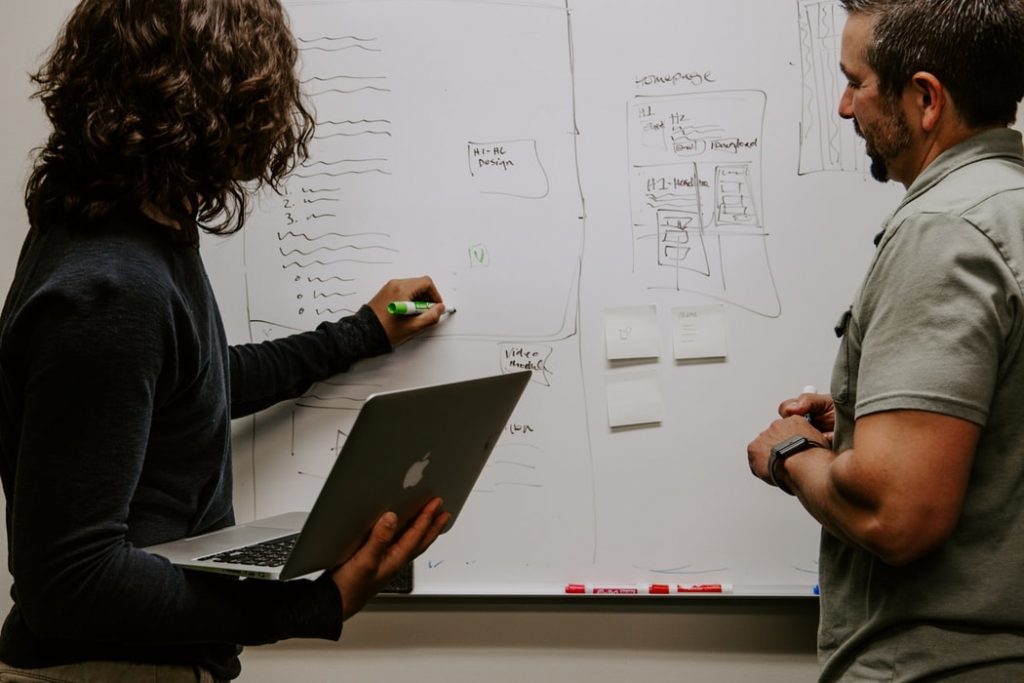 Everything will then be put into a document that includes all the technical specifications and the features of the apps. And once this document is agreed on, the team moves to the next stage.
Stage 2: Prototyping
This is when we develop a prototype for the web app, a working model of the app that helps the development team communicate their solution to the stakeholders and test the feasibility of the initial vision. It's not really a full-fledged interface, but rather a wireframe that illustrates the workflow of the web app.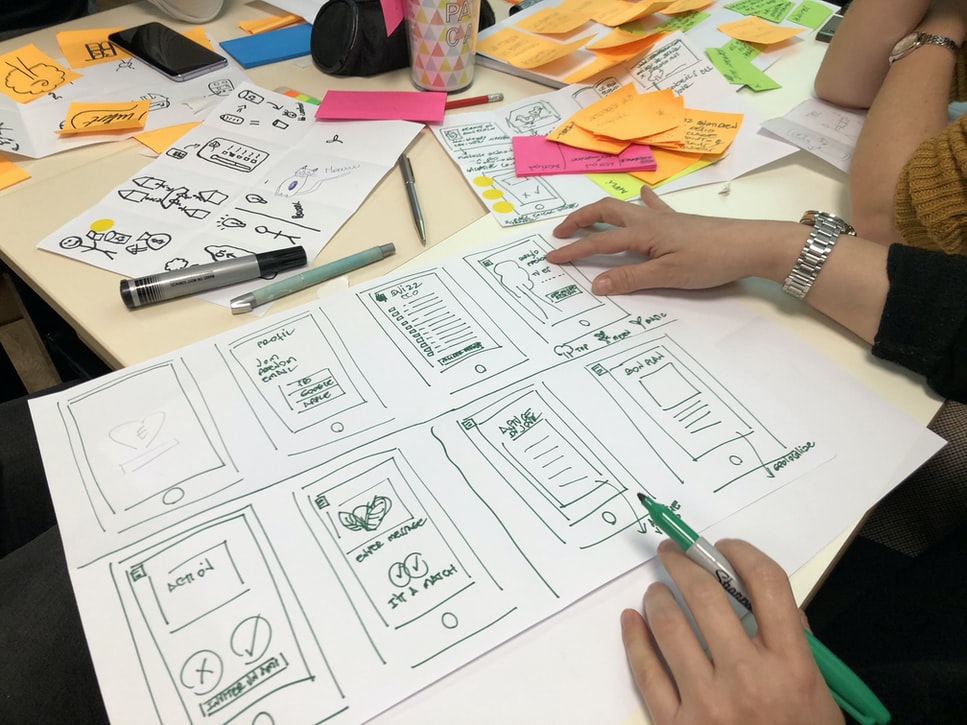 Talking about mobile app's user interface, it's necessary to mention the tools for design. Check out the following posts:
Stage 3: Development
This is the stage that occupies the largest part of project time. In this stage, the development team will sit down and develop the database, front-end, and back-end of the app. A conventional development team includes a project manager, a project architect, web developers, UI/UX designers, and QA/testing specialists.
It might be important to mention the common frameworks in web app development. Simply put it, with frameworks, developers do not have to code from scratch, and thus the development phase will be easier and faster. To develop a web app, people can use Rails written in Ruby, Django written in Python (web development with Python), or Laravel written in PHP as back-end frameworks. React, Vue, and Svelte, albeit not really frameworks, could be referred to as front-end frameworks for the sake of simplicity.
If you are a developer who wants to shift to mobile app development using React Native, check this post: 10 React Native Tutorials And Courses For Beginners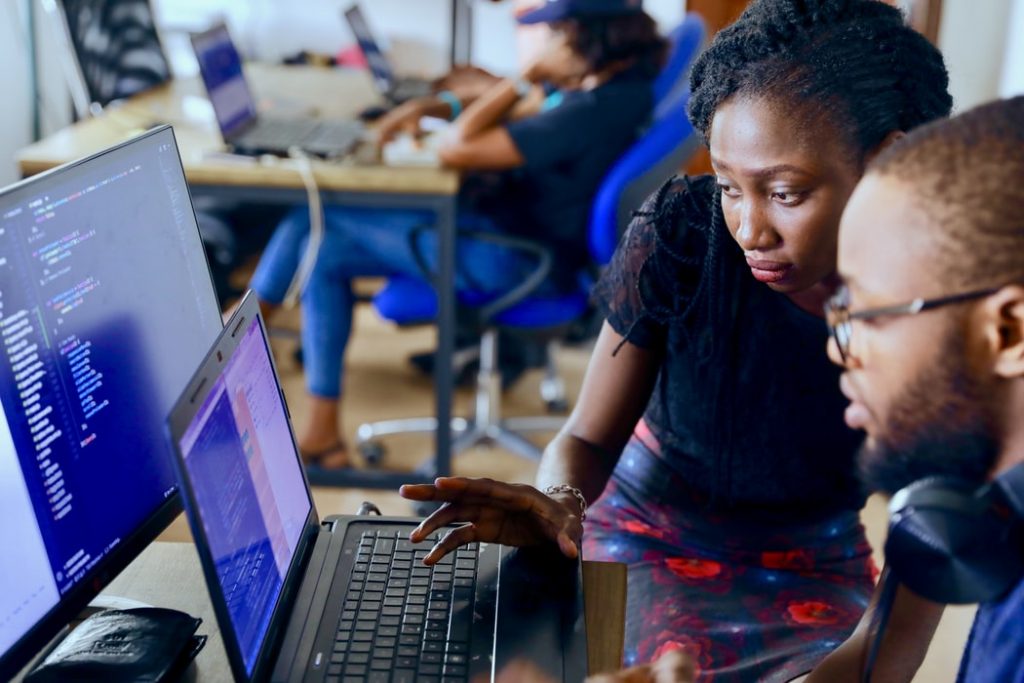 Apart from frameworks, there are also platforms which provide a super-fast and easier way to build web applications. You can read the following article to know more about web app development platforms: Mobile App Development Platforms: 10 Best Choices
Stage 4: Testing & Deployment
Testing your web application is an ongoing process and usually happens during and after the building phase. You can automate testing or do it manually. During the testing phase, you should try to cover functionality, usability, compatibility, security, and performance testing.
And a cautionary tale: What Will Make Your App Development Project Fail?
It's finally time for hosting and deployment. Hosting involves running your web app on a server, so you need to buy a domain and choose a cloud hosting provider.
Stage 5: Operation and maintenance
Now even after the official launch, it is vital to get ready for the upcoming tasks: fix bugs, optimize the product performance, renew licenses, add new features according to the product roadmap, and introduce changes based on customer feedback.
Most of the time, you might need to hire a team that helps you operate the website and even enhance it if necessary. You also need to pay monthly or annual fee for maintaining the site. If you work with a good web design and development company, these are all anticipated at the very beginning of the project.
Key takeaway
Ultimately, when you decide to go for a web app, other than native or hybrid apps, you know that the cost is relatively lower. And it depends on several factors including what app features you want to have, who you hire for web app development, and which industry you are stepping into. Moreover, so as to work effectively with a mobile app development agency, it's necessary to bear in mind the 5-stage process of web app development. Hopefully, this read offers everything you need to know, and you can start to work on your own project.
If you want to read more about web app development, check out the following articles on DSV blog: