Outsourcing, or hiring someone else to build a website, is becoming more and more common. Businesses that don't have the necessary skills in-house may find it helpful to outsource web development services. But how to outsource web development that can help your business?
Before we answer that question, let's figure out what it means to hire a company like Designveloper to do web development work.
What is Outsourcing?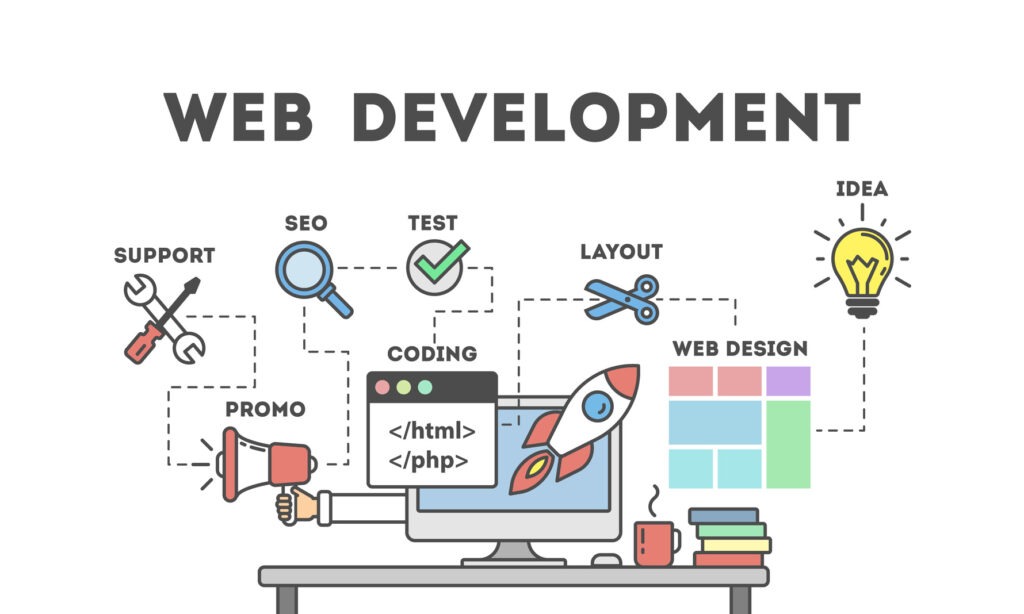 Outsourcing is when a business hires a third party to take care of a few of its operations. This third-party group has another name which is the "service provider". The service provider makes sure they have all the resources they need to do their jobs.
This kind of outside hiring is done for a variety of IT-related reasons. Finance, manufacturing, human resources, and a lot of other fields also benefit from outsourcing.
Recommended reading: It's Time to give your Website an Overhaul
The 3 Benefits of Outsourcing Web Development
A little more than a year ago, the British company Technavio used its many technologies to do an in-depth analysis. By 2024, the market for outsourcing IT will have grown by about $100 billion, according to the prediction. The growth rate is expected to be close to 5 percent per year, and the highest point will be in 2024.
So far, Technavio's predictions have been right. In 2019, the index for these contracts in the United States reached $92.5 billion. By 2020, it was worth $92.7 billion. If we add up all the money spent on outsourcing contracts around the world, we'll have spent more than 486 billion dollars by 2024. In 2019, the same was worth $388.6 billion USD. There is no doubt that the global coronavirus pandemic is one of the reasons why small, medium and large businesses have all increased their investment spending this year.
Let's look at three of the most important advantages of outsourcing web development.
1. Reduce the Cost
When a company decides on an outsourced web development firm, it is often because they want to save money. When compared to the cost of hiring a team of developers to work in-house, outsourcing can save your business money in a number of ways.
Most of the time, it costs a lot and takes a lot of work to set up the infrastructure for building these kinds of teams. This includes the costs of hiring and keeping staff, as well as the costs of health insurance, payroll taxes, benefits, and the software and technology needed for the job.
It takes a lot of time and money to find and keep a skilled software developer on your in-house team. By paying an outsourced development company an hourly rate or a retainer, your company may be able to get more work done for less cost. This frees up time for your organization to work on other things.
Recommended reading: A Detailed Guide for Web Development Cost in 2022
2. When You Outsource Web Development, You Get Access to a Larger Pool of Talents

Outsourcing web development companies try to stay competitive by putting together teams of skilled and experienced experts. If you do a thorough analysis of the company's testimonials, letters of reference, and case studies, there is a good chance that you will be able to hire a group of real experts in the field.
When you outsource web development services, you're not just trying to save money; you're also looking for the most qualified experts for your project. When you work on a project in-house, you usually hire the most skilled people your budget will allow.
When you outsource web development services to a country other than your own, you will have a much larger pool of skilled specialists from which to choose.
3. Enhanced Security and Risk Management
Working with an outsourced web development company that has a good name and a lot of experience may help you feel better about security. In the world of technology we live in today, the security of your website is important not only for your business but also for the people you serve.
If your website is attacked in any way, it will almost certainly hurt your business a lot. So, a group of experts can look at the safety measures you've put in place on your website. It also checks your website's security and tells you what steps you need to take to keep it safe.
How to Outsource Web Development Effectively?
There is always a chance of making mistakes, which is one of the many reasons why you should work with a skilled website building company that offers to outsource. And it's not just one case. There are a number of situations where even small mistakes can have big effects on the whole operation. To get you started, we'll show you a few ways to make your web development outsourcing more effective.
Recommended reading: How to Choose a Web Design Company That Fit Your Business?
1. Assess What You Need
What do you want to build, exactly? Do you need a full-stack outsourced web development team to help you create a website or web app from scratch? Maybe your project isn't as hard as that; maybe you're just cleaning up a page.
You should know what you need from a web developer before you start looking for one. It's possible that what you're looking for isn't as detailed and hard as you thought it would be. A lower-cost usually means a lower level of complexity. Spend some time thinking about your goals and priorities.
2. Calculate Budget and Time Frame
The scope of the project, the time frame, the number of features that need to be built, the level of experience of the outsourced web development team you choose, and the testing and quality assurance process are the main things that determine how long the project will take. It means that with a good web development process and web design process, we can save time and cost!
Location and cash come hand in hand. After choosing the country or region where you want to hire the developers, the next step is to find out how much they charge per hour so you can make a budget.
3. Pay Attention to Communication With The Outsourced Web Development Company
To avoid disappointment, you should make sure you can talk to the outsourced web development company well and that you agree on everything in advance. The IT professionals who will help you must be able to speak English well. Every company wants and should make sure that its web developers can communicate well.
People who don't speak English won't be able to use the new code databases. If so, they should keep up with the latest news about IT and other forms of technology. The outsourced company should provide you with a business analyst who communicates well.
Conclusion
We at Designveloper hope that this article helped you find out how to outsource web development that can help you outsource some of your work. Make a smart choice, because only the company that built your website can make changes or additions with the same speed, quality, and efficiency.