In this increasingly competitive world, a well-designed, user-friendly, and helpful website could help every company or business gain an edge in bringing their products and services to a broader range of customers. However, it's not straightforward to select a web development company that offers what matches your business vision.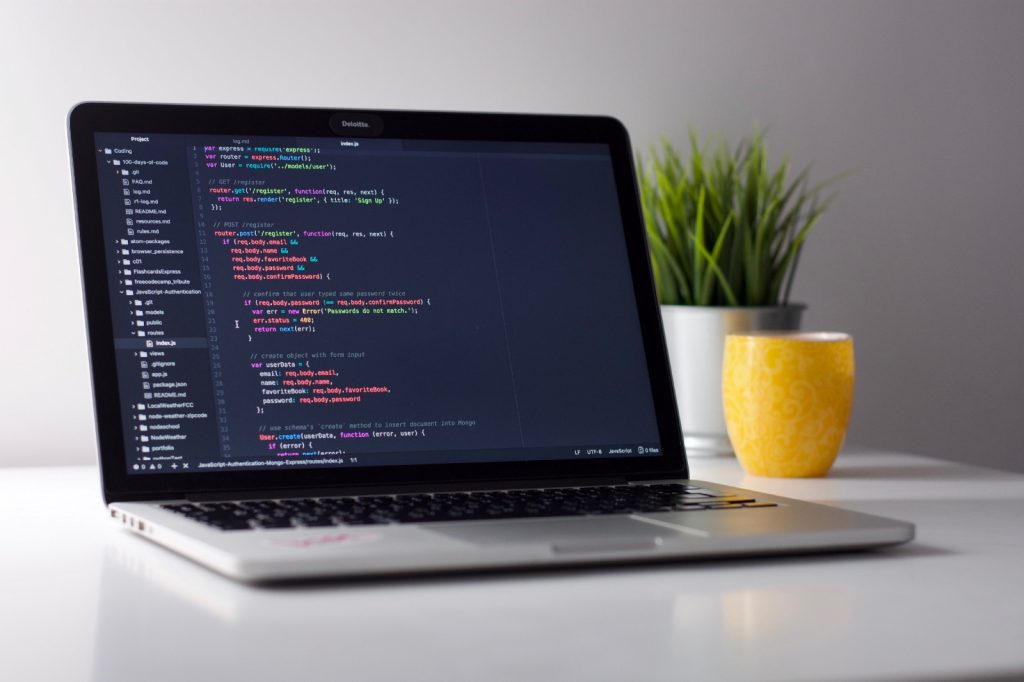 Therefore, we're here to provide you with reviews of the top 7 web development companies in 2022 and some essential tips for selecting the most suitable web development agency.
Best Web Development Company Reviews
Founded in early 2013, Designveloper quickly established a reputation itself as the leading web design and development company in Vietnam. With a team of web developers, mobile app developers, and UI/UX designers, it delivers the best digital experiences for clients. Designveloper's optimal software solutions and services have helped many startups and businesses transform their ideas into real and powerful products, achieving rapid business growth.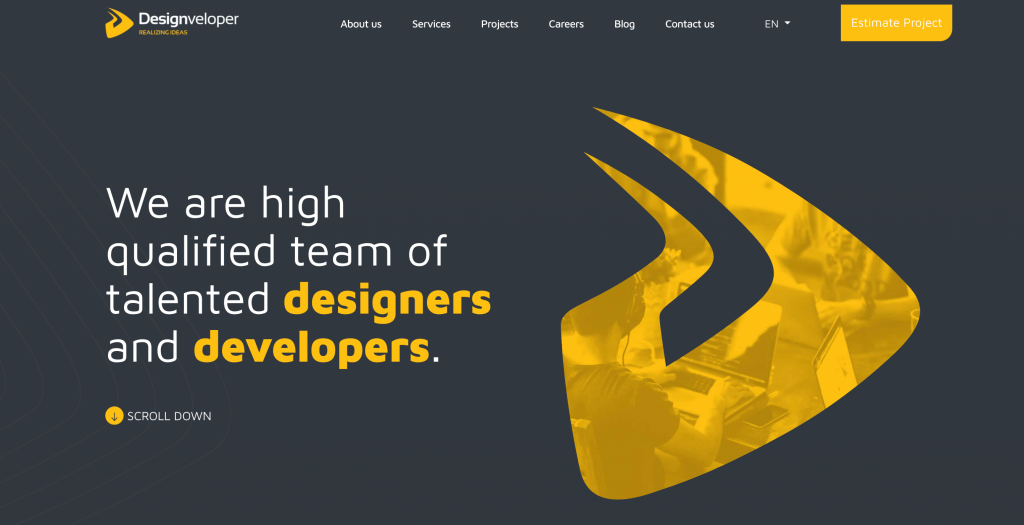 Services: Responsive web & Mobile app design, Graphic design, Web development, Mobile application, VOIP, Brand identity, etc.
Clients: Lumin, Bliss, Swell, CVMarvel, OneGoal, Gentley, Switchboard, Radioactive, TalentWasabi, etc.

Media Search Group is a globally renowned web design & development company with complete digital marketing solutions that empower businesses to succeed in the digital realm. Founded in 2009, it has become a trusted partner for companies worldwide, providing comprehensive web technology development & marketing services in the USA, UAE and India. With their expertise, customized approach, transparent communication, and commitment to client success, Media Search Group enhances their online presence, drives targeted traffic, and improves seamless user experience.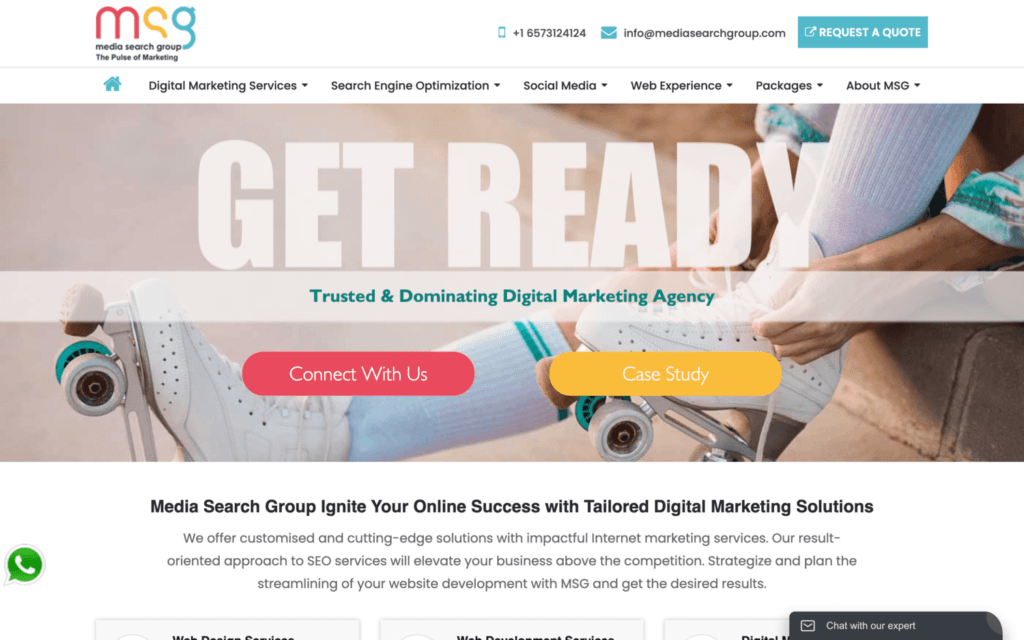 Services: Web Design & Development, CMS Development, PHP Development, eCommerce Development, AJAX Development, ASP.NET Development, SEO, Digital Marketing, Social Media Marketing, PPC, Content Writing, etc.
Clients: Apollo Munich, XpertLearning, Dublin Metro Dental, Prime Healthcare Group, Brands Lock, Enurga Inc, Malaysian Export Academy, etc.
AndPlus is one of the pioneer web design and development companies in the US. The company's experts, project managers, designers, and web developers have been working side-by-side with many customers, taking on new challenges and making constant efforts to accomplish them with perfection. Consequently, the clients are fully satisfied with innovative digital services that create competitive differentiation and stable business development.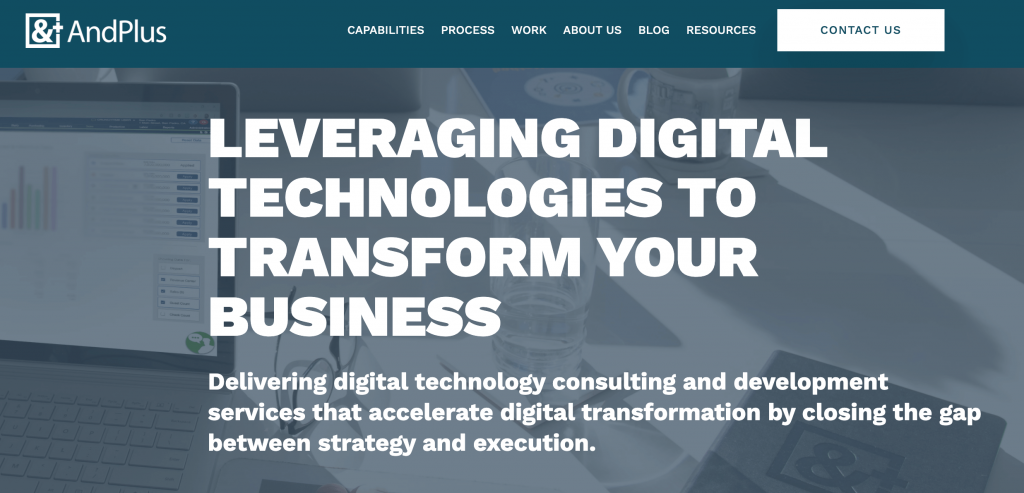 Services: UI/UX Design, Web and mobile development, digital project management, Artificial intelligence, machine learning and big data development, Software support & maintenance, etc.
Clients: Bloomberg, Crossref, NexRev, Honeywell, Heatable, Onset, CureSearch, Cognex, Arthromeda, Phoenix Controls, etc.
NCode Technologies Inc., founded in 2006, is regarded as the leading web design and web app development company in India. With a wide diversity of software products and web technology-related services, it has created old-aging records of successful performances for many globally renowned SMEs and enterprises. It has been making constant efforts to diversify its services to cater to customers' diverse needs.
Services: Software & Mobile application development, Web & CMS development, eCommerce development, SEO and Digital marketing, etc.
Clients: Reewire, TotalCar, ASAS, Heberi, LGISTIK, Prasaadi, Pazoga, Artwork, POTU, etc.
Infoleven is a web and mobile app development company founded in 2015 in Bulgaria. With all young, passionate, professional software engineers, and website designers, it offers long-term services for a wide range of clients and project-based support for SME. The company, which is up-to-date with the latest technologies, is committed to delivering precise and top-tier services that suit the clients' needs.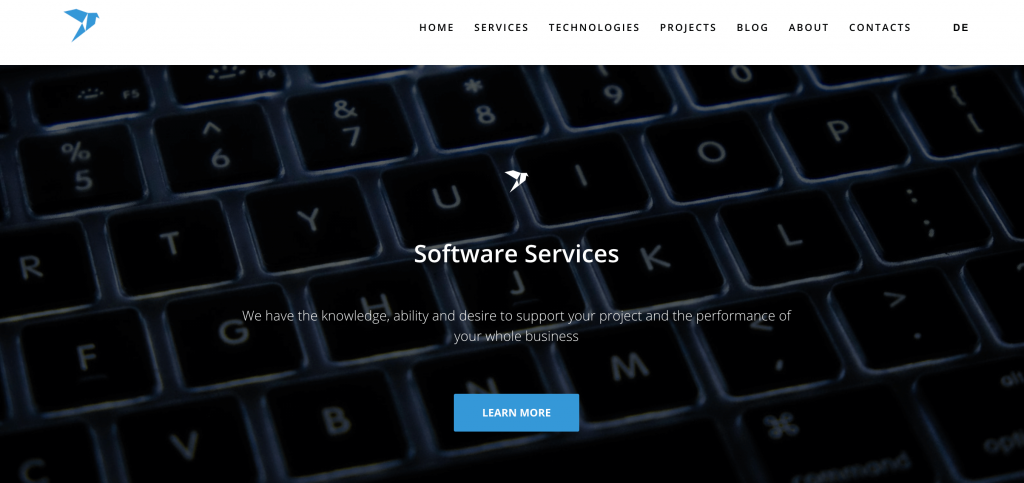 Services: UI/UX design, Front-end/Back-end development, Mobile development, Quality assurance, Project management, etc.
Clients: Hubert Burda Media, Auto 1 Group, United Digital Group, Melita Ltd., Calvendo, Cowork, Melita, etc.
Blue Fountain Media is one of the most well-known digital marketing agencies in Newyork, USA. It provides website design and development services, digital marketing solutions, and branding strategies to both B2B and B2C businesses. With enthusiastic and well-qualified designers and developers, this company can promote your brand's growth by combining imagination and technology in an age of digital transformation.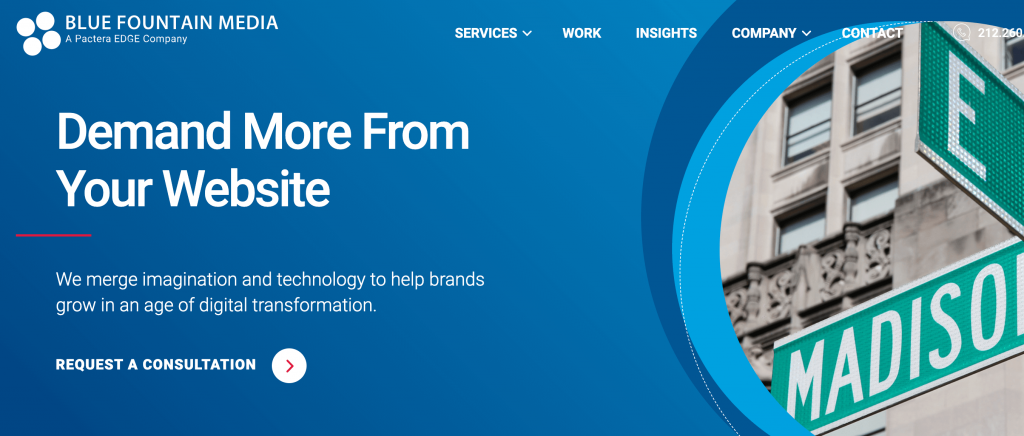 Services: Web design & development, digital strategy & marketing solutions, Branding, Logo designing, Video production, etc.
Clients: CDK Global, HarperCollins Publishers, Peterbilt, Nike, Service King, the United Nations, the National Football League, etc.
In 2019, three independent marketing and technology companies WebbyMonks, EmailMonks, and Octos merged into a company called Uppers. This company is reputed as an outsourcing agency that empowers businesses worldwide to establish an effective digital ecosystem. Today, it has offices in America, the United Kingdom, Australia, and India, and a staff of more than 500 professionals, delivering outstanding results and fantastic user experiences for each of your projects.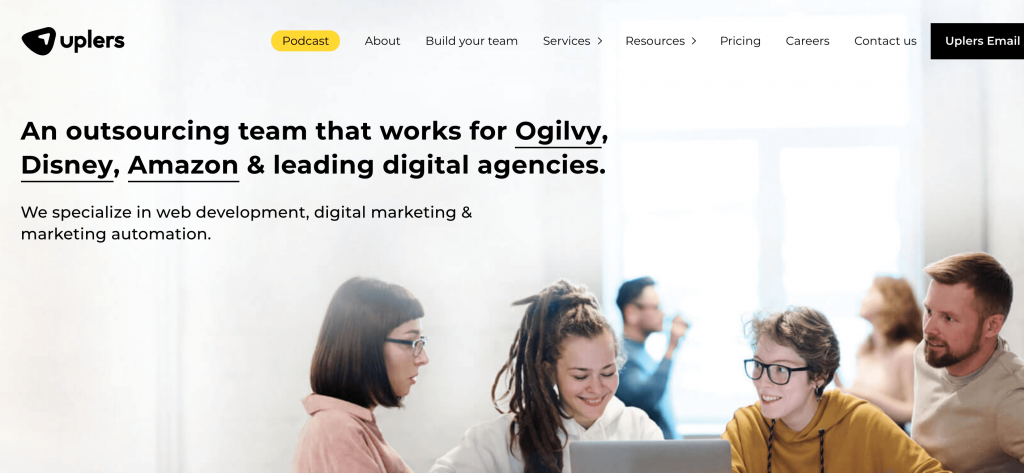 Services: Website development, App design, digital marketing strategies, SEO & Content Outreach, Branding consulting & solutions, etc.
Clients: Facebook, National Geographic, Amazon, Ogilvy, Disney, 21st Century Fox, etc.
With many years of rich enterprise-level engineering expertise and a deep background in product development, the Gnar Company could provide you with great digital experiences. This web app development company could create user-friendly, attractive, and cost-effective websites to meet clients' forever-changing needs. This allows you to stay competitive, convey your objectives better to customers, and receive a rapid return on investment.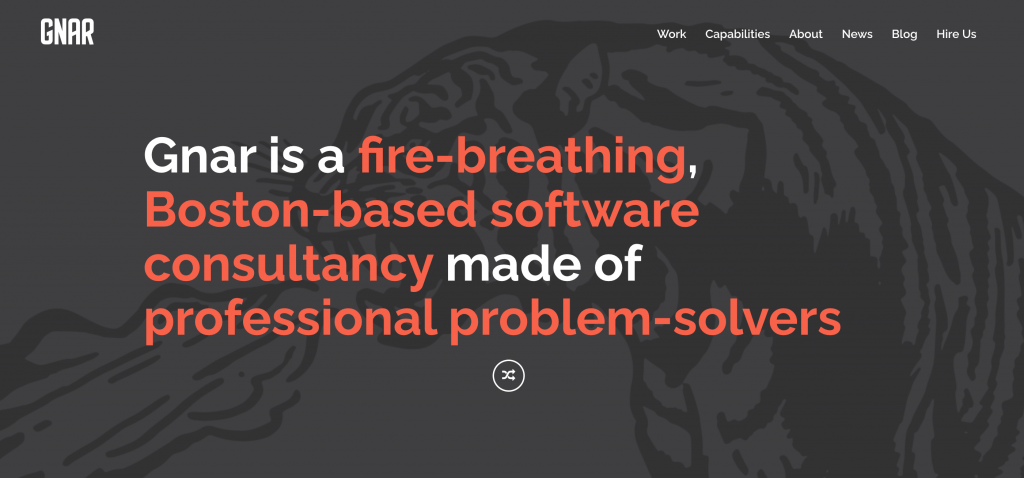 Services: Website design, Web & Mobile Application development, eCommerce development, Enterprise software development, Healthcare software development, etc.
Clients: Laborocity, Qeepsake, LevelUp, Torq Interface, Conformis, State of Massachusetts, Valor Performance, Salsify, Zaius, Follain, etc.
The 4 Benefits of Hiring a Web Development Company
Typically, you could count on professional web development companies to transform your ideas into cost-effective and useful websites. You can reap many benefits when leaving your website development to professionals.
1. Time and cost-saving
You can save a great deal of time developing a website with a top web development company's assistance because it possesses a more in-depth insight into the structure of HTML, CSS, and other web development languages. Hence, it can meet your project specifications and implement projects in a quicker and more appropriate procedure. Furthermore, hiring web developers instead of building an in-house team is more cost-effective because it allows you to reduce additional infrastructure and staff expenses.
2. Website compatibility
There's no doubt that a website that is user-friendly and compatible with a diversity of web browsers and devices could help you attract more traffic and scale your business growth. The web development agency with an expert team can apply different advanced technologies and tools to deliver cross-browser compatibility on your sites.
3. Great competitiveness
A professional web development team could keep up with the constantly changing trends and technologies to build a platform that allows your business to remain competitive in the market. The top-tier web development companies can make your website more engaging to the viewers with a well-organized design and easy-to-use functionality. Besides, it offers extra services such as SEO consulting and content marketing to enhance your competitiveness.
4. Additional support
There are times when you need to change the design of your web pages or their structure. And your website might suffer from unavoidable breaking or crashing issues. Most web development companies could address these problems with ease. Because they provide you with additional support during and after your website is created.
The 4 Tips for Selecting the Best Web Development Company
A hasty choice of a top web design and development company might result in a website's fault, which subsequently may cause material losses due to deal failure, so you can refer to the following tips.
1. Determine the services you need
The very first step you should do is to determine precisely the services you need. For example, if you want to develop a website to sell products online. You should choose an agency with rich experience in eCommerce and offer extra digital marketing services.
2. Examine the company's portfolio
The professional portfolio of the website development company. When you intend to work with will give you a greater understanding of its web developer team, services, and previous clients. A company working with similar types of clients to your business. In this way, it could better understand your needs and challenges you encounter to help you tackle them promptly.
3. Read the previous clients' reviews
A smart way to know about an IT company's competence is to look at reviews from its previous clients. These reviews help you gain an insight into the suitability of your future agency for your project. Moreover, you should check out whether your prospective agency is well-recognized by its peers to have an idea of its rank among others in the industry.
4. Take the expenses into account
In addition to the initial web design and development costs. You should consider some charges before signing the contract with any agency. Web development companies might charge you for hosting plans, ongoing support services, or even future changes to your website. Therefore, it's essential to understand and plan for these expenses on the front side.
FAQs About Web Development Companies
1. What is a web development company?
A web development company is an agency that specializes in websites, web software, and web application development. And as such services as web engineering, web design, web content development, network security configuration, etc.
2. What services do web development companies offer?
Nowadays, web development companies are trying to diversify their services to cater to customers' diverse needs. Generally, they provide you with such services as front-end/back-end development, and UX/UI design. QA testing, mobile development, eCommerce solutions, digital marketing services, etc.
3. How long does it take to develop a website?
The answer is that it varies depending on your website specifications as well as your specific requirements. Some websites might take a few months of design and development, while others take a few weeks. Hence, you can have a meeting and discussion with your prospective web development company to obtain a cost and time estimation.
4. Do web development companies SEO for my website?
Typically, most web development agencies offer SEO services that help your business start you off and flourish. However, it's better for you to figure out whether web companies support SEO by visiting their websites.
5. Is it possible for me to update my website?
Of course, yes. Because most companies will provide you with all the training. And some necessary tools so that you can make changes to your website. Hence, you can easily add, edit, and remove your website content, even without understanding how to code.
10 Additional Best Web Development Companies
In fact, you can build an in-house team to develop a website for your own business, but it'll take a lot of time and effort to find the right people. So our recommendation is to look for a software outsourcing company!
However, it's easy to notice that there are thousands of web development companies in the pool to pick up, what now? Understand your worry, people at Designveloper conduct a list below to help you find the best partner!
To have this list, we've considered several factors such as clients, achievements, etc.
Unleashed Technologies

WillowTree®

Rightpoint

Bootstrap

thoughtbot

WDG – Web Development Group

ImageX

Crafton

Iflexion
A Conclusion About Web Development Companies
In a nutshell, a top web development company with a team of professional web developers and specialists could help you create an engaging website to promote your brand and achieve stable business growth. Hopefully, our reviews of the top 7 web development companies and the tips to select the best agency is of great help to you.