Vietnam was widely known as a country of war and agriculture for a long. However, at the moment, many foreign businesses are looking for outsourcing software development to Vietnam companies. This happens thanks to the fact that Vietnam is continuously growing to be one of the most prominent ones in the software development industry, especially the outsourcing business.
So how good is the progress of the Vietnam software outsourcing market right now? And what are the reasons that could make you partner with one of the tech-savvy companies in Vietnam? Let's read on to find the answer to those questions.
How is the Industry Growth of Outsourcing Software Development to Vietnam?
When it comes to the age of a software outsourcing company that comes from Vietnam, it's often younger than India and China. This factor, nevertheless, does not affect the rapid growth of the industry in both the Asia Pacific region and worldwide.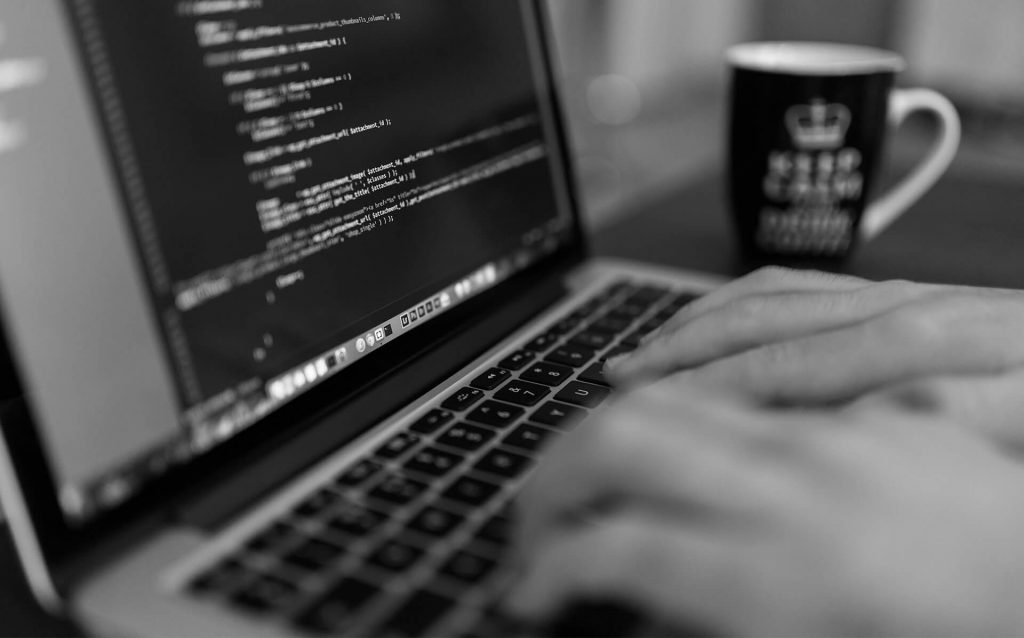 In general, according to Vietnam Economic News, Vietnam's software exports reached the amount of VND 58 trillion in 2017. In the first half of 2018, it kept going forward and hit an estimated amount of VND 34.2 trillion.
Furthermore, the number of tech giants choosing to partner up with a software outsourcing company in Vietnam is increasing rapidly. Some of them are Intel, Samsung, Alcatel-Lucent, Amdocs, etc. Two of the most important achievements of Vietnam Business Process Outsourcing recently are:
1. To become Japan's second-largest partner in software and outsourcing services since 2014
The news was announced at the Vietnam IT Day 2018 in Japan by FPT Software CEO Hoang Nam Tien. More from him, the value of software and hardware outsourcing work that came from Japan to Vietnam in 2017 was estimated at US$400 million.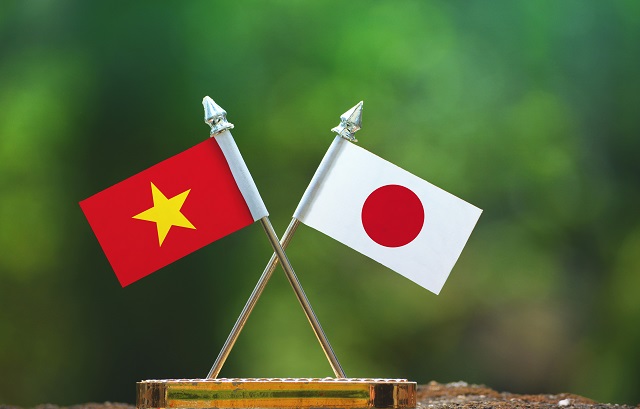 The subjective reason for this was the shortage of the IT workforce in Japan. According to statistics from Japan's Ministry of Economy, there are approximately 100.000 white-collar workings as and engineers in this country for various fields such as information security, cloud computing, mobile technology, etc. However, since the technology industry is growing more rapidly than ever, the need for IT human resources is wildly increasing too. It is estimated that Japan will lack more than 600.000 engineers by 2030.
And this issue led to the fact that a software development company must spend more to hire software engineers, of course, this costs a huge amount of money. That's why Japanese businesses came up with two ideas that are 1) to go beyond the border and look for talents from other countries like Vietnam, Thailand, Malaysia, etc.; and 2) to partner with an outsourcing development company.
There was a survey conducted by the Information Technology Promotion Agency Japan showed that one third or 31.5% of 1100 IT companies are likely to choose outsourcing services from Vietnam over those countries like India (20.6%), China (16.7%), Thailand (9.7%), Philippines (7.4%).
Another research states that Japanese companies are using 20,000 Vietnamese employees in ITO (Information Technology Outsourcing) and BPO (Business Process Outsourcing).
Recommended reading: Top 3 Best Countries for Software Outsourcing Asia Pacific Region
2. To be in the top 6 most attractive software outsourcing service providers in AT Kearney's 2017 Global Services Location Index
The research was conducted based on 3 main factors that are: financial attractiveness, people's skills and availability, and business environment.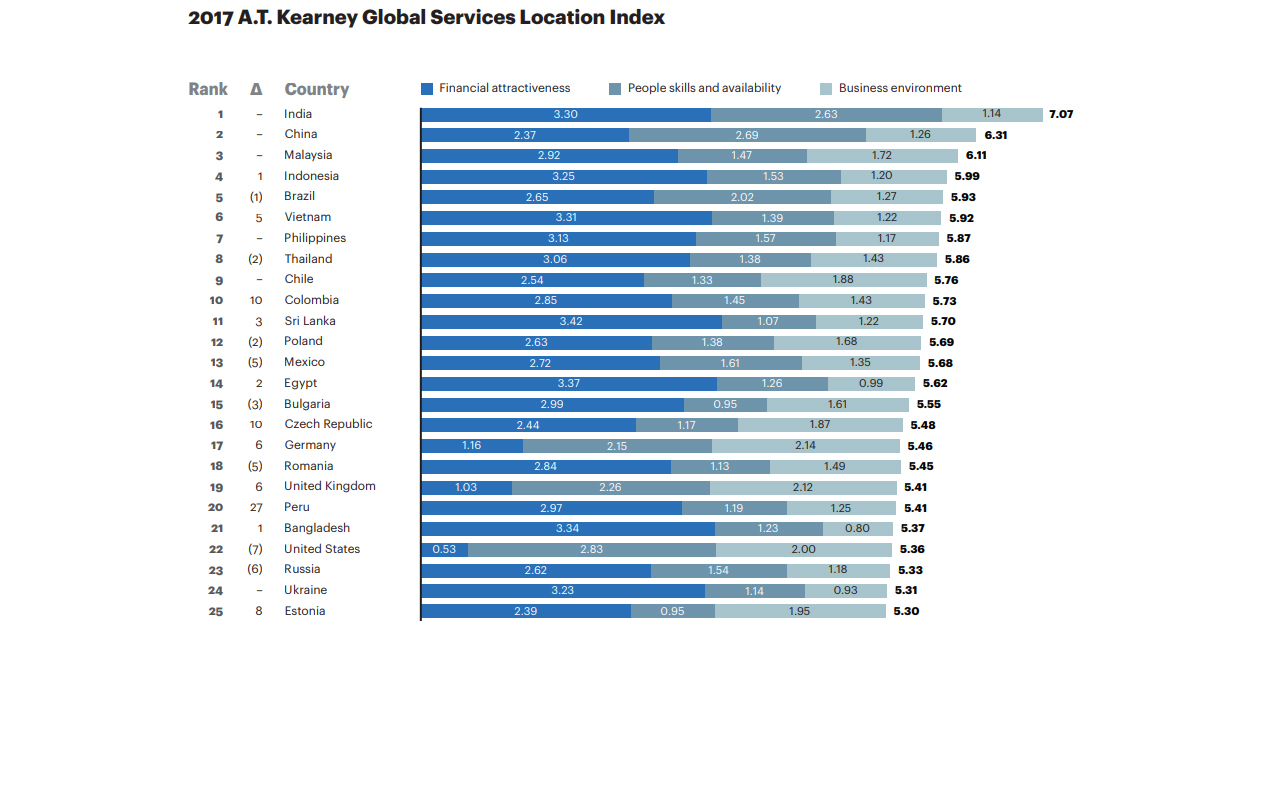 Moving from 11th place in 2016, Vietnam finally became the 6th fastest-growing software outsourcing country in 2017 GSLI, passing Thailand and the Philippines on the list. It is worth noticing that this has been the first time Vietnam has made it into the top 10 since 2013. This index also stated that in 2015, Vietnam's outsourcing industry reached $2 billion and has been developing at a rate of 20 – 25% annually for the past 10 years.
In the top ten, Vietnam's software outsourcing industry had the highest rank for financial attractiveness, stood at 8th place for people's skills and availability, and also 8th for business environments.
Three reasons listed for this jump are the inexpensive cost of labor, the increasing number of young Vietnamese fluent in English, and rising investments in this industry from foreign countries.
Why You Should Work With a Vietnamese Software Outsourcing Company?
1. Cost-effective
As stated above, Japan and many other countries have seen Vietnam as a cheap yet powerful IT hub. This happens due to the fact that the cost of operating businesses, especially in the IT field, is low compared to other countries in the same region.
For more detail, let's take a look at how cost-effective Vietnamese human resource in the IT industry is compared to those in the same region: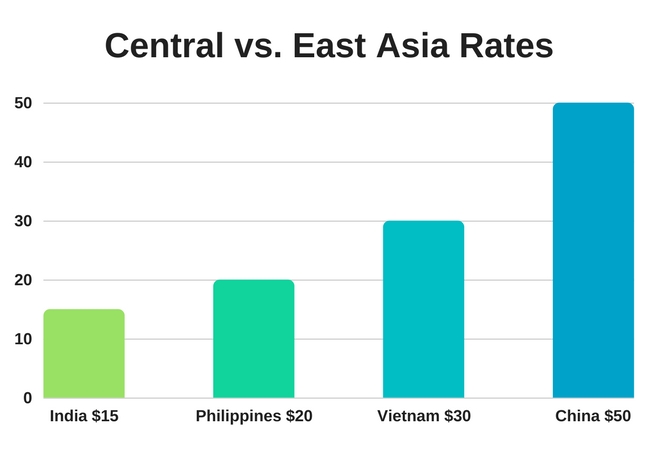 The same applies to India A few years ago, engineers in India were considered skillful, and of course, their rate was way higher than Vietnam software workers. Recently, however, due to the fact that Indian people see the potential of this career, they rush to study software development.
Consequently, there are too many people in the IT talent pool in India now, so they started to decrease their prices to attract the clients. That's why at the moment, the hourly rate of Indian software engineers is really low.
2. A skilled labor force comes with greater productivity
There are 3 main factors that make Vietnamese employees become one of the most skillful workforces.
First, after many years of living, studying, and working in developed countries like the U.S., Canada, Japan, etc., Vietnamese ex-pats have finally returned home to establish startups and help the technology industry in Vietnam grow. Most of them brought not only money, but also knowledge, experience, and enthusiasm back to Vietnam. Mr. Hung Vo – CEO of Designveloper is one of them. At the moment, Designveloper has worked with more than 50 clients after 6 years of operation.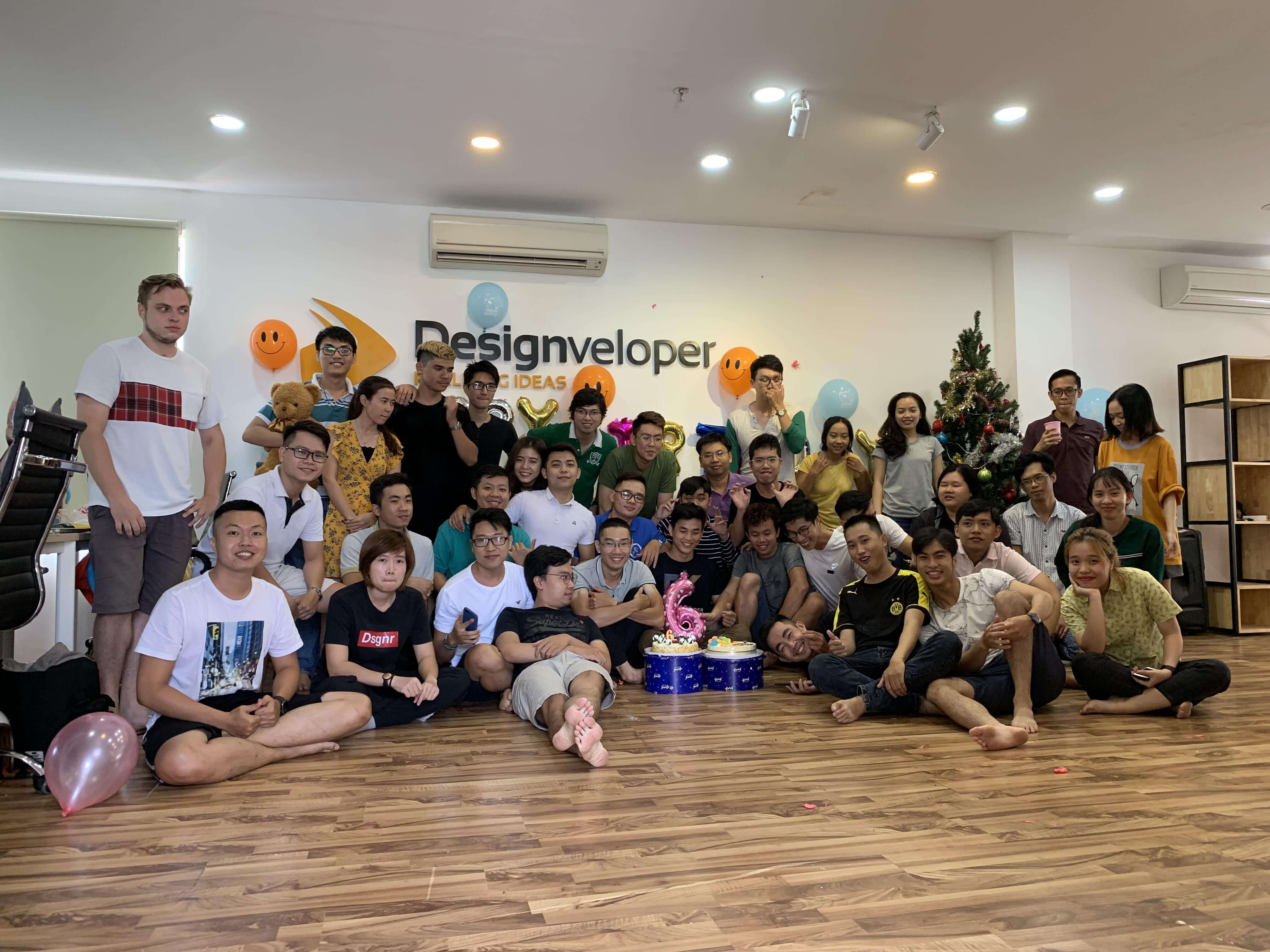 Second, due to the need for high-skilled labor, the government and a lot of companies spend more money than ever to invest in human resources. Training and educating newly recruited employees have become a necessary strategy to attract talent. A software outsourcing company like Designveloper willingly opens its arms to take on freshers and spread knowledge of technology to them. At the same time, the government has taken steps to increase vocational and technical training in order to meet the requirements of the labor market.
Last but not least, Vietnamese are widely known as hard-working and loyal workers. According to Vietnam Outsourcing, "A perfect phrase to describe the workforce of the Vietnam software industry and its outsourcing industry, in general, is "keen on learning". Vietnam has an estimated 25,000 university and college graduates majoring in various technology fields who are more than capable of keeping up with the demand for professionals in the Vietnam software outsourcing industry. What's more is that Vietnam has a low turnover rate of less than 5%, as compared to other Asian countries whose turnover rate ranges from 10% to 20%.
And these 3 factors help labor productivity in Vietnam increase by 22.5% in the last 10 years.
If you are searching for a Vietnamese software outsourcing company with highly skilled employees, look no further than Designveloper. With more than 50 professionals working days and nights to develop the best of the best software products, Designveloper can help you realize your initial idea and make it a big bang! Who knows.