In 2023, finding the top custom software development companies is crucial for businesses seeking tailored solutions. These companies possess the expertise to craft software that aligns precisely with unique needs. With a plethora of options available, selecting the right partner can be daunting. This article narrows down the search, presenting the top 5 custom software development companies that stand out. From innovative solutions to impressive client reviews, these companies have earned their positions. Let's delve into their strengths, explore their successes, and guide you toward the ideal development partner for your venture.
An Overview
As technology continues to advance, the demand for top custom software development companies has surged. Businesses are seeking partners that can not only code but also understand their vision.
Why you need a custom software development company
Hiring a top custom software development company is a strategic move that can greatly benefit your business. These companies bring specialized expertise and experience to the table, making them essential partners in your software development journey.
1. Tailored Solutions: Top custom software development companies are adept at creating solutions tailored to your specific needs. They take the time to understand your business processes, objectives, and challenges, ensuring that the software they develop aligns perfectly with your goals.
2. Expertise: These companies have a team of skilled professionals with deep knowledge in software development. They stay updated with the latest industry trends and technologies, ensuring that your software is built using the most cutting-edge methods.
3. Efficiency: Custom software development companies can streamline the development process, saving you time and resources. Their experience allows them to work efficiently, meeting deadlines and delivering high-quality software.
4. Cost-Effectiveness: While it might seem like an initial investment, custom software development can ultimately save you money. Off-the-shelf software often requires costly customizations and may not fully meet your needs. Custom solutions are designed from the ground up to suit your requirements, reducing the need for expensive alterations.
5. Support and Maintenance: After the software is developed, these companies provide ongoing support and maintenance. This ensures that your software remains up-to-date, secure, and fully functional.
6. Scalability: As your business grows, your software needs may evolve. Top custom software development companies can design scalable solutions that can adapt to your changing requirements.
7. Competitive Advantage: Having custom software that perfectly aligns with your business processes can provide a significant competitive advantage. It can streamline operations, improve customer experiences, and differentiate your business in the market.
8. Focus on Core Competencies: By outsourcing your software development needs to experts, you can free up your internal resources to focus on core business activities, enhancing overall productivity.
The growing importance of custom software development in various industries
Custom software development is experiencing a surge in importance across diverse industries. Top custom software development companies are driving this trend by providing tailored solutions that meet unique business needs.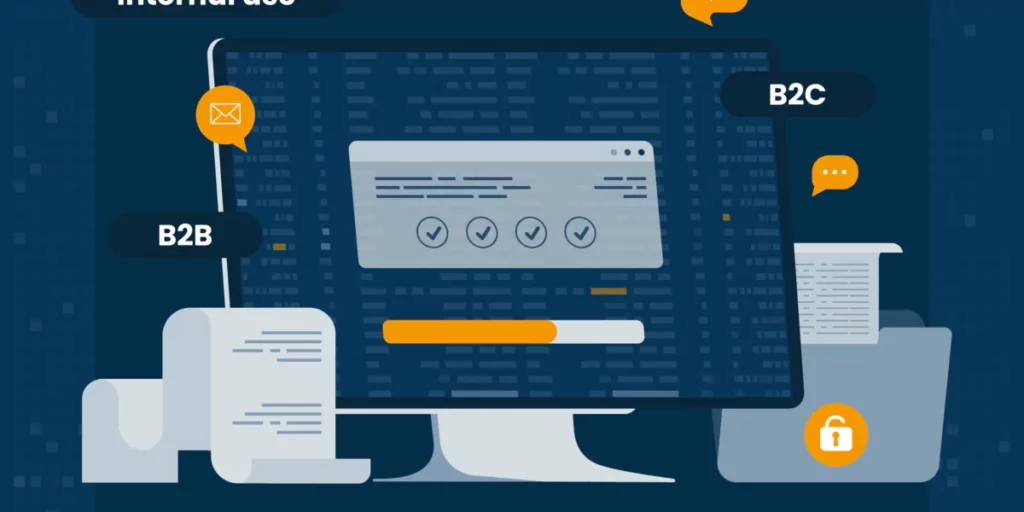 A report by Grand View Research highlights the global significance of this trend. In 2021, the custom software development market in particular reached a value of USD 24.46 billion, with projections of a remarkable growth rate of 22.3% from 2022 to 2030. This growth is attributed to several factors. The demand for industry-specific applications for real-time data analysis is on the rise. Moreover, the need for adaptable workspaces to enhance productivity and the adoption of low code development platforms (LCDPs) for simplified software creation contribute to this momentum. Emerging technologies, like AI-driven Chatbots and robotic automation, further fuel the market's expansion.
The ongoing influence of analytics in custom software development is also important Incorporating analytical tools such as business intelligence (BI), machine learning, and artificial intelligence facilitates communication across departments, identifies market trends, and automates processes. This integration empowers companies to gain profound insights into customer behavior, guiding strategic decision-making.
Cloud technology stands also as a cornerstone in modern custom software development. Its incorporation significantly enhances agility and performance during the software creation process. By embracing cloud-based development, companies can additionally release high-quality software, meeting evolving demands efficiently.
The adoption of custom software is a strategic move due to the array of benefits it brings. As revealed by custom software development statistics, the market anticipates a substantial growth rate of 11.7% between 2022 and 2030. This further underscores the continued relevance and potential of custom software in shaping the future of industries.
Recommended reading: Top 5 Custom Application Development Companies Revolutionizing Businesses
Factors to Consider Before Choosing Custom Software Development Companies
When it comes to selecting top custom software development companies, careful consideration is paramount. Making the right choice can significantly impact the success of your project and business. Several essential factors must be weighed before entrusting your custom software development journey to a particular company.
Project requirements and scalability
When assessing top custom software development companies, project requirements and scalability should be at the forefront of your considerations. These factors determine how well the company can meet your current needs and adapt to future changes.
The company's ability to grasp your project's requirements is also crucial. Look for companies that invest time in understanding your business goals and challenges. Clear communication at this stage will also set the foundation for a successful project.
Equally important is the company's approach to scalability. As your business grows, so will your software needs. Ensure the company has a track record of developing software that can expand seamlessly as your operations evolve.
Furthermore, a well-structured development process that aligns with scalability is a positive sign. It indicates the company's ability to foresee future demands and design solutions that can accommodate them.
When discussing your project's scalability, consider asking the following questions:
How easily can the software accommodate increased user loads?
Can new features be added without extensive reworking?
Is the underlying architecture designed to support growth?
Top custom software development companies will have answers to these questions and a proven track record of delivering scalable solutions. Keep in mind that scalability doesn't just mean handling more users; it's also about adapting to changing functionalities and technological advancements.
Budget and cost-effectiveness
When it comes to selecting top custom software development companies, budget and cost-effectiveness play a pivotal role. Creating custom software is an investment, and understanding the financial aspects is essential for a successful partnership.
Begin by inquiring about the company's pricing structure. Transparent pricing helps you understand what you're paying for and avoids surprises down the line. Trustworthy companies provide detailed cost breakdowns.
While opting for the lowest price might be tempting, remember that quality holds value. Sometimes, a slightly higher upfront cost can lead to more reliable and efficient software in the long run. The focus should be on value for money, not just the cheapest option.
Cost-effectiveness goes beyond the initial expenditure. Consider the long-term benefits of your choice. A well-crafted custom software solution might have a higher upfront cost but could lead to substantial savings over time due to improved productivity and reduced manual effort.
When discussing the budget, make sure to ask about:
Development expenses: What's included and what's not?
Ongoing maintenance and updates: Are these covered in the initial cost?
Any potential additional charges: Are there hidden costs?
Top custom software development companies will provide clear answers to these questions, offering transparent cost estimates.
Communication and collaboration capabilities
Effective communication and collaboration are paramount when considering top custom software development companies. The success of your project hinges on how well the company interacts with you and other team members.
Look for companies that prioritize clear and open communication channels. Regular updates and frequent feedback sessions additionally ensure that you're well-informed about the progress of your project and can address any concerns promptly.
Furthermore, consider the company's ability to collaborate. A willingness to work closely with your team and understand your unique needs is a sign of a valuable partnership. Companies that encourage active involvement from your end tend to produce software that aligns more closely with your vision.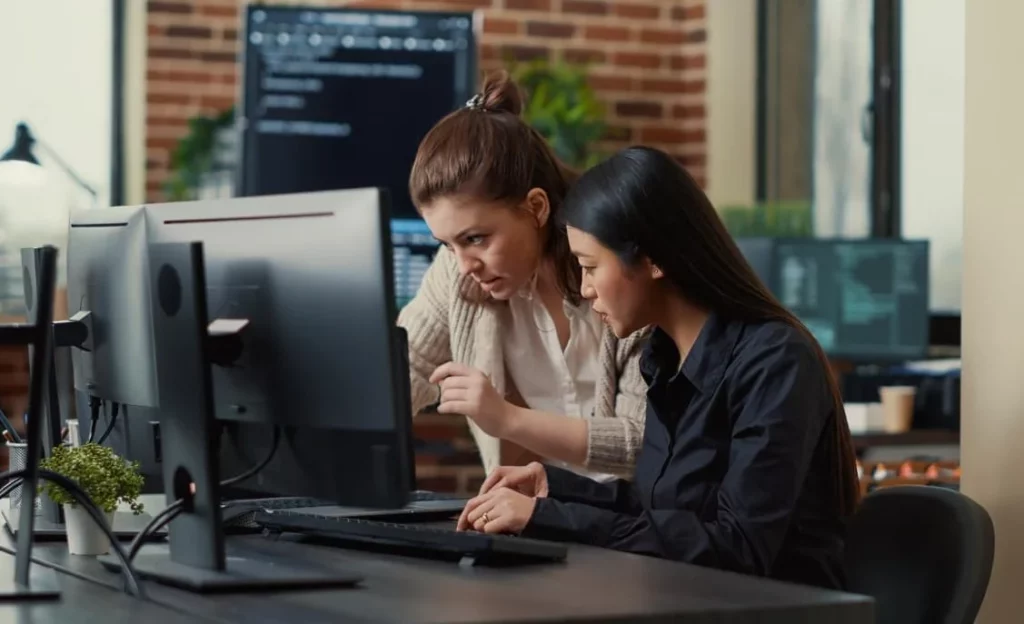 Transparent documentation is also crucial. Contracts, project plans, and timelines should be clear. This avoids any misunderstandings and sets the stage for a smooth collaboration.
When discussing communication and collaboration, ask about:
Points of contact: Who will be your main communication link?
Feedback process: How often will you be updated, and how can you provide feedback?
Collaboration tools: What platforms will be used for communication and project management?
Top custom software development companies will showcase their effective communication strategies, demonstrating their commitment to working closely with you to create a successful software solution.
Support and maintenance services
When evaluating top custom software development companies, don't overlook the importance of support and maintenance services. These services ensure the continued success and functionality of your software solution after it's been developed and deployed.
Reliable support is also vital. The company should offer a responsive system for addressing issues or questions that may arise. Additionally, quick response times and timely solutions are indicative of a company's commitment to your project's ongoing success.
Look for companies that provide ongoing maintenance services also. Software needs updates, bug fixes, and improvements over time. A company that offers regular maintenance packages saves you from potential disruptions and ensures your software remains up-to-date.
Consider asking about:
Support channels: How can you reach out in case of issues?
Response times: How quickly can you expect a response?
Maintenance plans: What kind of post-development services are offered?
Top custom software development companies will have a clear strategy in place for ongoing support and maintenance. This level of commitment shows that they view their work as a long-term partnership.
Recommended reading: 7 Steps of Custom eCommerce Website Development
Top 5 Custom Software Development Companies in 2023
In the fast-paced world of technology, the role of top custom software development companies has never been more crucial. As businesses strive to leverage digital solutions for competitive advantage, the search for the right software development partner becomes paramount.
One of the standout contenders among the top custom software development companies in 2023 is Hyperlink InfoSystem. This ISO 9001:2008 certified organization, headquartered in Ahmedabad, India, has been making waves in the IT software solutions domain.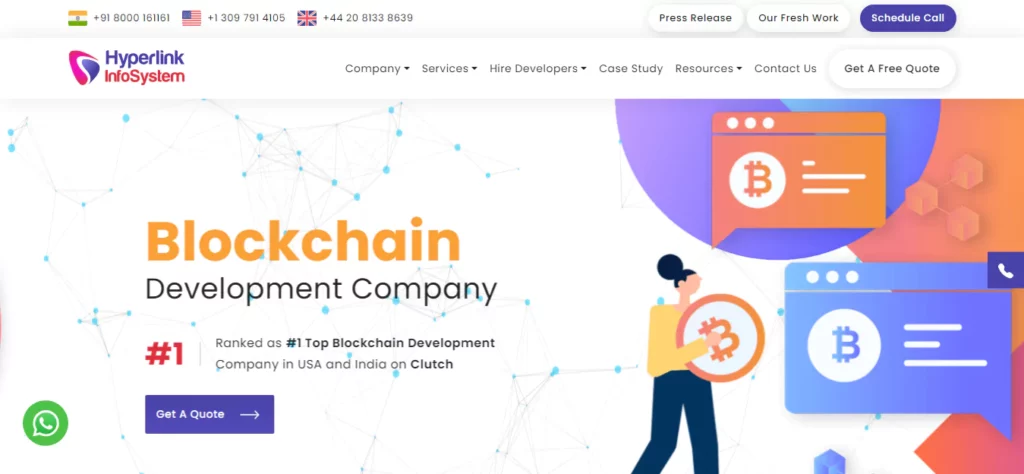 Since its establishment in 2011, Hyperlink InfoSystem has garnered a reputation for crafting dynamic and cost-effective solutions for clients spanning the USA, UK, Japan, Canada, and beyond. Their commitment to timely delivery and uncompromising quality sets them apart.
This professional company also boasts a structured approach that yields acquirable results and solutions for diverse businesses grappling with IT challenges. Their ability to bridge the gap between internal company dynamics and external IT landscapes enables them to thrive.
Driven by dedication and hard work, Hyperlink InfoSystem has rapidly evolved into a powerhouse mobile app development service provider, extending its reach across the globe, including India. Additionally, their prowess is validated by their membership in the esteemed GESIA.
Software development solutions are at the heart of their offerings, encompassing Android, iPhone, and Windows app development, as well as website development. The depth of their expertise, particularly in mobile app development, positions them as a go-to partner for businesses seeking innovative solutions.
Min. project size: $25,000+
Avg. hourly rate: $25 – $49 / hr
Employees: 250 – 999
Founded: 2011
In the realm of top custom software development companies for 2023, Altar.io emerges as a notable player. This award-winning product and software development company is dedicated to delivering comprehensive IT services across web, mobile, and cloud platforms.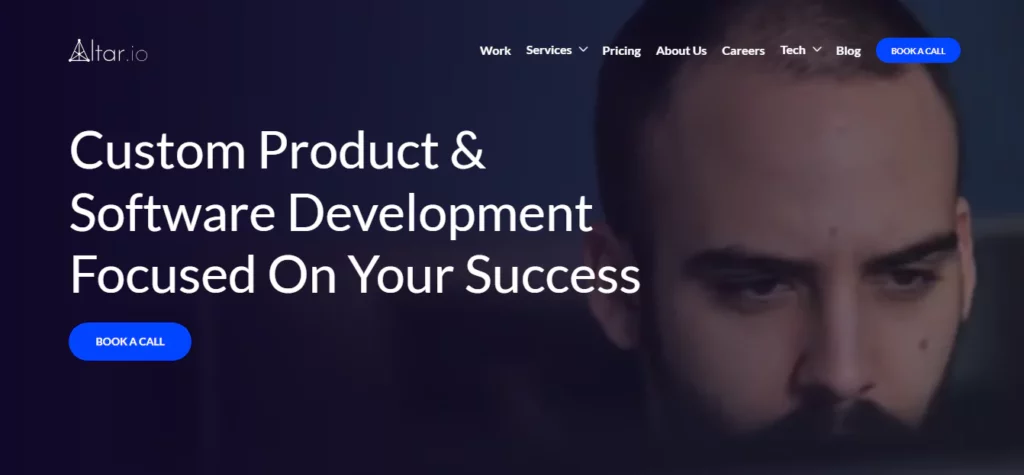 Altar.io's commitment extends from the inception of ideas and UX/UI design to the culmination of software deployment. They also offer an end-to-end approach that covers every aspect of a project's lifecycle, ensuring a seamless and efficient journey from concept to implementation.
The company's impact is also felt on a global scale, as they've assisted entrepreneurs and business leaders across the world in disrupting their industries. Through innovative solutions, Altar.io empowers clients to revolutionize traditional business models and embrace cutting-edge technologies.
Furthermore, Altar.io's reputation as an award-winning entity speaks volumes about their dedication to excellence. Their ability to help clients disrupt industries showcases their commitment to delivering transformative solutions that drive growth and success.
Min. project size: $25,000+
Avg. hourly rate: $50 – $99 / hr
Employees: 10 – 49
Founded: 2015
As one of the leading players among the top custom software development companies in 2023, Simform stands out as a digital product engineering and IT talent solutions powerhouse. Their core mission revolves around tackling intricate software engineering challenges and providing innovative solutions.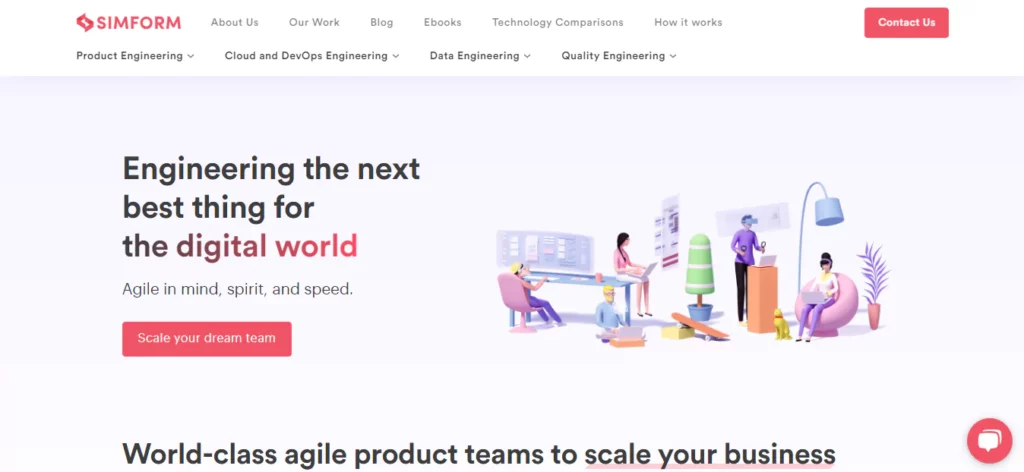 Since their inception in 2010, Simform has gathered a team of over 1000 experts dedicated to helping businesses enhance their value through comprehensive development services. Their global delivery center offers flexible solutions that transform engineering bottlenecks into growth drivers.
Simform's prowess extends to a wide array of services, including:
Digital Product Engineering: Covering everything from product and performance engineering to application modernization and software development, Simform's expertise ensures comprehensive solutions for businesses.
Cloud Native Engineering: Their cloud native development and DevOps engineering services pave the way for efficient and agile practices, complemented by data engineering solutions.
Technology Practices: Simform goes beyond development to provide project strategy, process management, technology partnerships, and software testing, creating a holistic approach to software solutions.
Lastly, this dynamic company's commitment is reinforced by accolades, being an AWS Advanced Consulting Partner and a Microsoft Partner.
Min. project size: $25,000+
Avg. hourly rate: $25 – $49 / hr
Employees: 1000 – 9999
Founded: 2010
Distinguished as one of the top custom software development companies in 2023, MentorMate seamlessly combines strategic insights, thoughtful design, and brilliant engineering to craft robust technical solutions that facilitate large-scale digital transformation.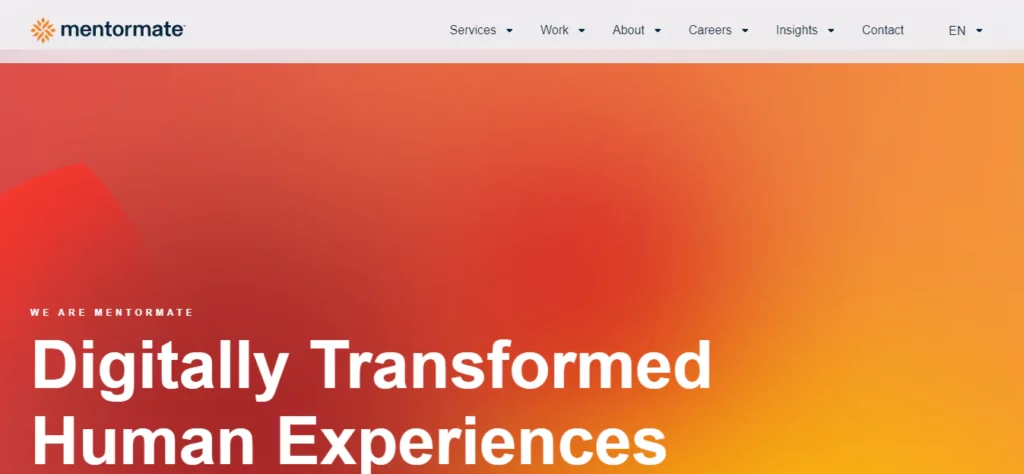 Since their establishment in 2001, MentorMate has earned the trust of countless global companies, harnessing the expertise of their 1000+ strong team to shape visions, create innovative products, and deliver secure solutions. With an extensive array of capabilities ranging from strategic consulting and human-centered design to engineering, cloud, DevOps, and data analytics, MentorMate is also well-equipped to tackle complex business challenges across industries and scales.
The company's origins trace back to Bulgaria, where they initially collaborated with local developers to leverage the country's abundant technical expertise. Over time, they expanded their footprint, growing to five offices in Bulgaria and subsequently establishing a more global presence to better serve their clients. Today, MentorMate operates across 25 countries and nine time zones, with delivery centers in Bulgaria, Paraguay, and their headquarters in Minneapolis, MN.
MentorMate's multifaceted approach, global reach, and extensive expertise firmly position them among the top custom software development companies of 2023. Their commitment to providing comprehensive solutions that drive digital transformation showcases their role as a pivotal partner in today's ever-evolving technological landscape.
Min. project size: $50,000+
Avg. hourly rate: $50 – $99 / hr
Employees: 1000 – 9999
Founded: 2001
Among the esteemed top custom software development companies in 2023, Designveloper emerges as a leading player in the software development landscape of Vietnam. With a skilled team of over 50 developers and designers, our specialization spans web, mobile applications, design, and VOIP systems.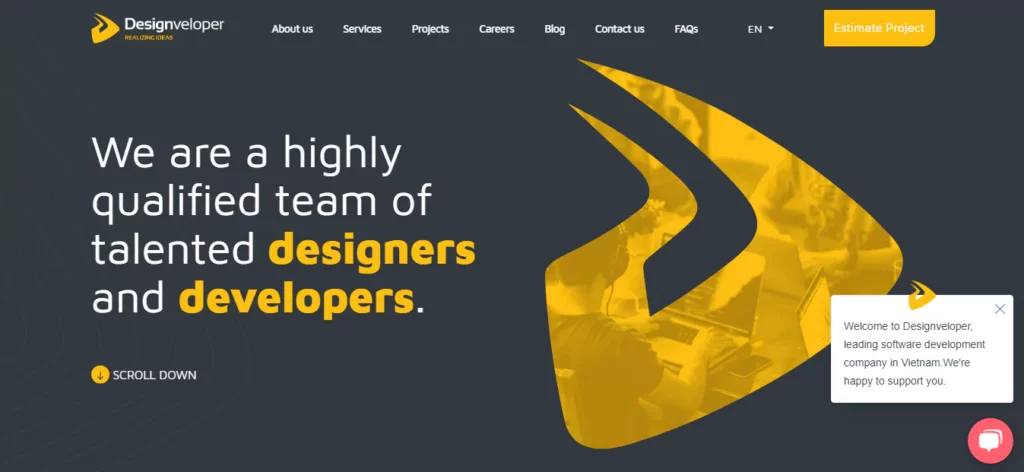 Designveloper also holds the distinction of being a prime partner of Meteor, renowned as the best JavaScript framework for developing fully customized real-time, single-page, and responsive applications. Our recognition as a top partner on Meteor's official partners page underscores our expertise.
When you choose to collaborate with us, you can expect a unique product tailored specifically to your needs, distinguishing it from anything available on the internet. Our commitment to customization and innovation ensures that even if there are no existing solutions that fit your requirements, Designveloper has the expertise to create one.
Min. project size: $5,000+
Avg. hourly rate: $25 – $49 / hr
Employees: 50 – 249
Founded: 2013
Conclusion
In the rapidly evolving landscape of technology, finding the top custom software development companies of 2023 is crucial for businesses seeking to innovate and thrive. Each of the companies featured in this list has demonstrated their exceptional capabilities, commitment to excellence, and a track record of delivering solutions that drive success.
Whether your business needs cutting-edge mobile applications, responsive web solutions, cloud-native engineering, or strategic consulting, these top players have you covered. Their dedication to delivering tailor-made solutions that address unique challenges is evident in their portfolios and client testimonials.