(Strong Bear – CEO of Designveloper) Berklee College of Music is one of the top four leading musical academies in the world. Many students from this school became the world's most famous artists. There were also Vietnamese artists studying music in this college too.
And soon Berklee will welcome a new student with a background in the technology industry – Mr. Hung Vo, Designveloper's CEO. The talk with Mr. Hung today is to find out why he had decided to enroll in such a school after successfully establishing a startup and the difficulties he had gone through.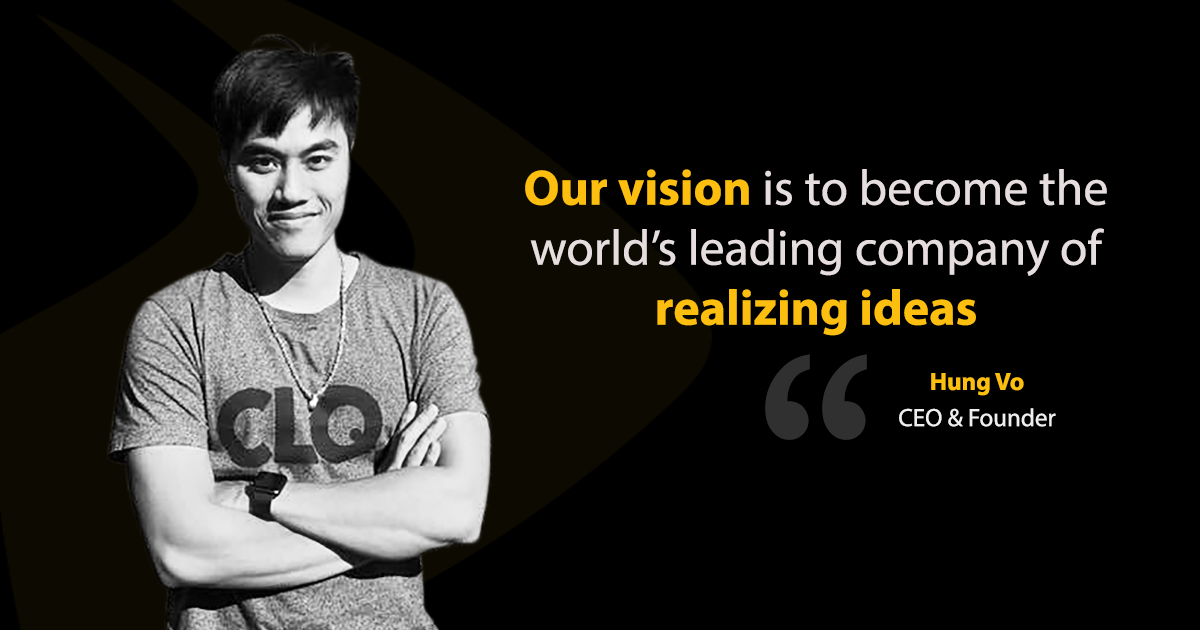 Hi Hung, first of all, congratulations on the 6th birthday of Designveloper and also on your successful entrance test taken at Berklee College of Music. So now, could you introduce yourself to the audience?
Thank you. At the moment, I am running a business named Designveloper in Vietnam. My company is a Saigon-based software development company. HCM. Most of the developed products are web apps and mobile apps.
Back in the day, I got a direct offer to study Electronics and Telecommunications at the Posts and Telecommunications Institute of Technology. After that, I received a VEF scholarship which gave me a chance to study for a Ph.D. in America.
After finishing the first semester, I decided to change the program to learn Master's in Computer Science. At that time, the university offered me to study a Ph.D. in this major as well but I turned it down. Right now, I begin my student life once again, but my choice is not technology or business, it's music.
It's not easy to gain such a scholarship and you must prepare a lot for this but why did you change the plan into studying a Master's degree program in another major?
At the moment, my family, friends, and I heard of the Ph.D. stuff, everyone was so proud because it is the highest university degree. Another thing was that all of my family members have a strong passion for studying, that was the reason why my parents wanted their son to get this kind of degree so bad.
While studying there, I also did some online business as well. At the time, there were 2 choices to pick, one was to achieve the Master's degree and start my own business, and the other was to spend 2 more years to get a Ph.D. degree. When realizing that my passion for running a startup was greater than doing research, I decided to use that time in building a startup.
While living in the U.S., I found out what I really wanted rather than achieving the degree and that everything we do should be based on reality.
What I thought at that time was our youth only be with us one time in life.
I was afraid that I would not have enough passion for doing business later because as we grow up, the desire for stability gets bigger. When we are young, one fall cannot prevent us from coming back for more. However, at the age of 50, for example, one small mistake could stop us at once. And a Ph.D. degree? We can do it anytime we want, right?
Recommended reading: How to Create Startup Funding Pitch Deck?
This is such a difficult and important decision, isn't it? So what was the next move?
After 2 years of studying in America, I came back to Vietnam and was going to start the business right away. However, there was a friend offered me to work at an American firm, which had a branch in Ho Chi Minh City. I spent 6 months working there. The purpose was to gain knowledge of how to structure a business and to earn some bucks.
At that time, Some of my friends and I were preparing for the upcoming startup. After 6 months, I decided to quit the job and established Designveloper.
What kinds of obstacles did you and your partner go through at the beginning?
There are a lot, actually. I remember the time when asking my friends to join the capital in the business. They knew nothing of technology, you know, they all studied telecommunication with me back in the day.
So I assigned positions to them as they wanted whether they had any experience. For example, Mr. A loved designing and doing HR tasks, let him be, Mr. B wanted to work in the technology field, then "the technical manager you go!". This was to fill in the standard structure of a company.
In the beginning, we took on any work, no matter how much the client would pay. We worked all day, all night, and even on weekends. Later on, when we acquired some reputation, that was when we could choose who would be our client and what time to work.
After 6 years of hard-working, what are Designveloper's biggest achievements?
As for me, the most successful is that Designveloper now has about 50 skillful employees. At the same time, I am so proud that we have the chance to collaborate with more than 50 happy clients from the U.S. And Europe.
So tell me, what is the core value that you have shaped for Designveloper?
Working with morals is the core value that the company has been following. Nevertheless, an additional value that I want to give to myself, my employees, and society is freedom.
In terms of the moral value, each employee who worked at Designveloper was encouraged to read Inamori Kazuo's "Ikikata", or "Life" in English. On the wall of our office, each member wrote a moral value that he/she is following. When people have understood the moral value, trust will exist. When clients trust our company, and members trust each other, things will go smoothly.
In terms of freedom, there are many types of freedom: Financial freedom, time freedom, freedom of space, etc. However, we all need a balance in life. If we make a lot of money but don't have time for ourselves or for our family, then that's not a good thing.
The same goes for the company.
I started my career as a technical guy, so at the moment I began to establish a business, there were many obstacles. For example, when you are too good at a certain field, you go to the company, observe how your employees work, and when an employee got stuck somewhere, you will feel annoyed and then jump in and help them fix it.
However, doing so only solves the current problem, not the long-term one when your employees cannot work on their own to find out the solution.
Therefore, I had to turn my attention from the way employees work, to the outcomes that employees achieved. It was this key transformation that helped me and Designveloper a lot. Thanks to the strategy, I just need to think about what the goal is and assign those goals to my colleagues and let them of solutions alone.
In fact, everyone wants his/her work to be accomplished with the best results, and no one wants to be lazy and affect the outcomes. When leaders put all their trust in employees, the staff can develop their potential in full swing. In Designveloper, I and my staff often use the word "ownership" to call this.
Actually, counting on your employees thoroughly is a brave decision. Your process for interviewing candidates must be really careful. And of course, you probably know the staff, in terms of their characters and abilities, very well that let them work on their own. Did you learn these when studying in America?
It is true that Designveloper's recruitment processes are very tough. You need to have good technical skills, soft skills, and attitudes. When doing business, Hung was instructed by a very experienced mentor, Mr. Ted Nguyen, from the SME Mentoring program 1-on-1. In general, if you are intending to run a startup or any other business, you should find at least one good mentor so that you can ask for their opinions and gain experience from them.
Recommended reading: 4 Convertible Notes Startup Funding that You Should Know
So why music and more specifically, why Berklee now?
There are many famous graduates from Berklee, they are Psy (Gangnam Style), and Jason Mraz (I'm Yours). In terms of guitar, we've got Steve Vai and Joe Satriani. There was also Vietnamese study music in this college too: Duc Tri, Lam Truong, Thu Minh, and Doan Trang are a few of them. 124 graduates from Berklee received 294 grammy prizes.
Thanks to studying at a great school, I will have many opportunities to meet the best of the best. Plus, the good facilities and the reputation of the school will give me many advantages.
A great school and great people also mean that there is much pressure waiting ahead. I became mature and developed the capability of concentrating, thanks to the time that I attended many provincial, national, regional, and international competitions since I was so young.
The desire to go to a music school and work as a professional in this industry has been there for a long time. However, it was not until about a year ago, that I first heard of Berklee via a Berklee alumni's online course. He introduced how to test Berklee, Hung saw the possibility of Hung being able to test, so he took a closer look.
The more I knew about this school, my desire to study at Berklee grew bigger. At the end of September last year, during a European business trip with Ha, he is the COO and co-founder of Designveloper, we discussed and assured that this would be a great opportunity and a turning point for me and for Designveloper as well. So I decided to do it.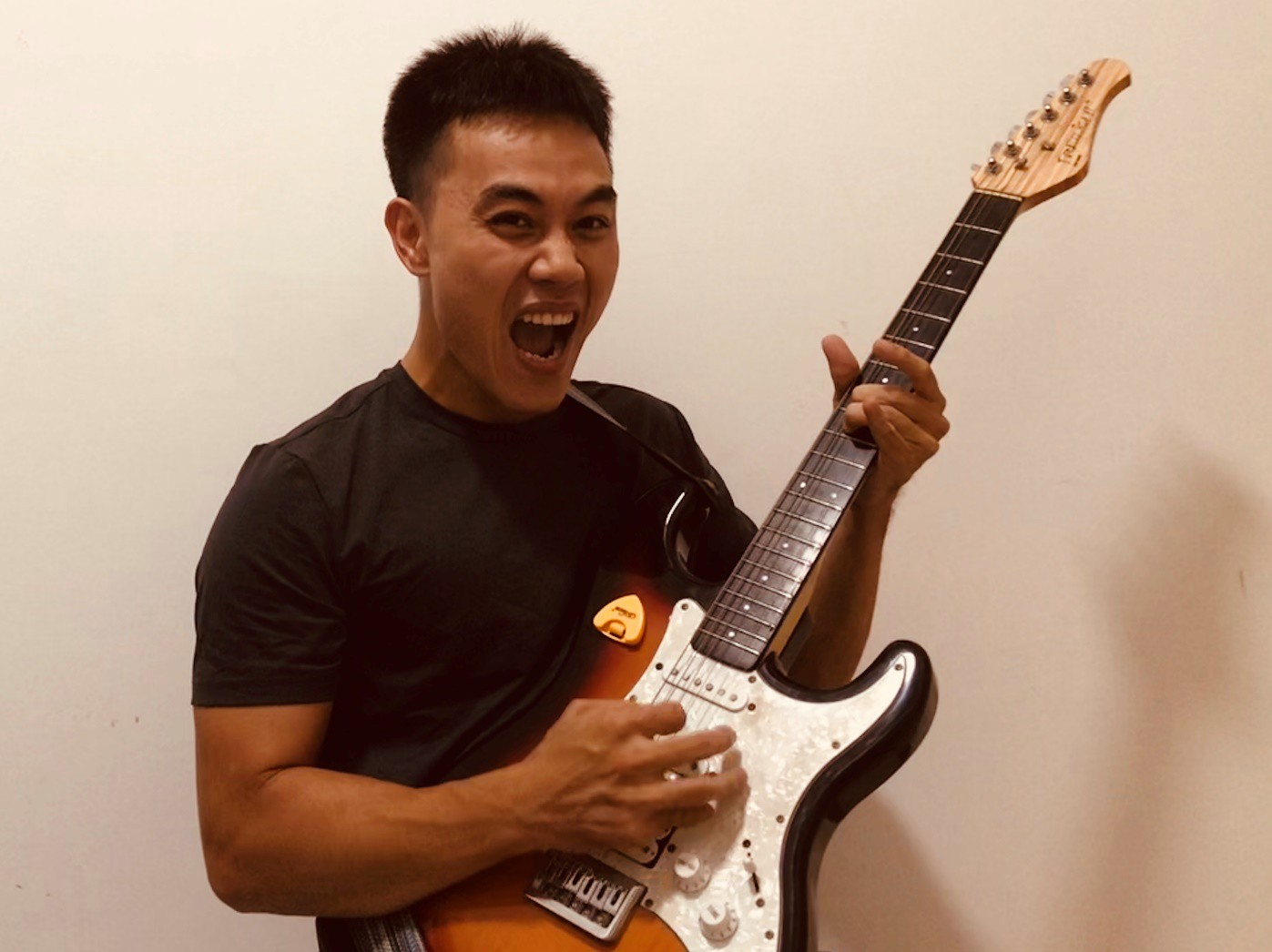 What obstacles did you meet while preparing and taking the exam?
I prepared for and took the examination all alone. At that time, if I lacked determination, I could have given up anytime. The test took place on the 5th of the Lunar New Year, so I and my family stayed in Saigon, only to practice and cannot enjoy Tet like others. On the afternoon of the 4th, I flew to Singapore to take the exam, on the afternoon of the 5th, he returned home after the exam. When I took the exam, I was alone.
On that day, Hung was the only Vietnamese examinee
And I was probably the oldest person, almost twice the age of the other examinees. I have never performed in front of an audience, in my application, I have no experience in music at all. On the examination day, Hung had a chance to talk to other examinees, they are really good, they did many professional performances and won a lot of prestigious awards. My starting point is really low and late compared to other friends. The key points were to show my ability, passion, and determination, as well as my differences.
It was a blessing that I received a lot of support from my family, friends, colleagues, and especially my two talented teachers. My mother was also a former singer in the military. So I had a chance to learn the basic knowledge of music since childhood. When entering the exam, I felt comfortable, rather than that. Meeting skillful international friends made me feel excited and that helped me perform better than I thought.
When deciding to take the exam, I only enroll at Berklee and took the examination once. My major is guitar performance. And one thing that I always remember is the interview. The examiners asked, "If you pass, what will you contribute to this school". My answer was: first, I can help the school improve its system and music-making software as well. Second, I can be a motivation for other students. And help the school attract more talent as well as increase the graduation rate.
At the moment, the graduation rate of Berklee is only about 50-60%. Others have the advantage of being young but they lack life experience, career orientation, and consistency.
How will Designveloper be when you go abroad for studying?
Actually, my purpose for studying here was also to help Designveloper go overseas. Music will be a factor that helps me build my personal brand and company brand. At the moment, no matter where I am, the company will continue to run as usual because nowadays, every task and issue can be handled online. Not to mention, living in the U.S. Means that I am closer to customers.
In addition, I believe that my colleagues can operate the company effectively. I will only lend a hand whenever it's urgent that needs me. As mentioned earlier, I care for the results rather than the process.
That's why recruitment processes are very important. Some people do business but cannot leave it developing itself because they lack trusty people. And they do not understand the importance of automation.
Fortunately, this is what the information technology industry knows very well. At Designveloper, everything that is repetitive will be included in a process and we will use software to work on it. Automation helps minimize errors due to human factors. At the same time, it frees people from boring, repetitive tasks in order that employees can create new things.
Back to your music passion, guitar, do you think that you will be able to make money from your career as a guitarist?
For me, investing in studying is the most profitable investment. We have a lot of things to learn which all help us one way or another. I want to be a person who is good at business, technology, and spiritual life at the same time. That's how our life balances.
Thank you for your interesting sharing of yourself and Designveloper. Before closing our talk, do you have any words for the young?
I think there are three most important elements that help develop ourselves. Finance, health, and education. Learn to balance these three and then you will be fully developed, and your life will be great.
Of all these three, education is the most important thing. At the moment you have enough money and time, let's invest in studying. If you do not have money to pour in, use the time to study by yourself. You can gain knowledge by learning it online, by books, or via YouTube,…
Talking about education, on May 11th, 2019, we will hold a Graphql workshop (at the company office – 144, Nguyen Thai Binh, District 1) for newbies to this language. We are looking forward to seeing you at the workshop this May.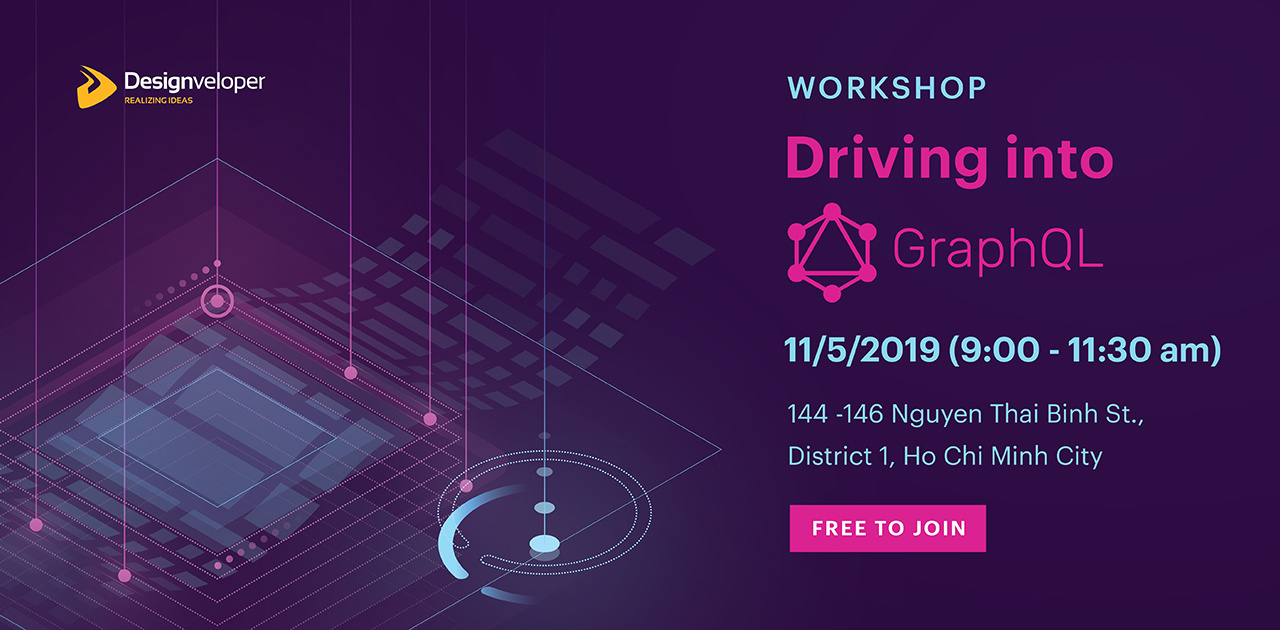 Thank you and hope that we will meet again!