In this article, you'll know a few factors determining a software product's cost and typical software development costs estimation steps. Besides, you can understand how the software development project's price is estimated at Designveloper for those interested in our services.
You are engaging in a software project, and you want to know the expense of developing a software product. Usually, it is not straightforward for you to be sure about the cost without grasping the exact requirements. However, you can consider some factors to have a rough cost estimation.
The 5 Software Development Cost Factors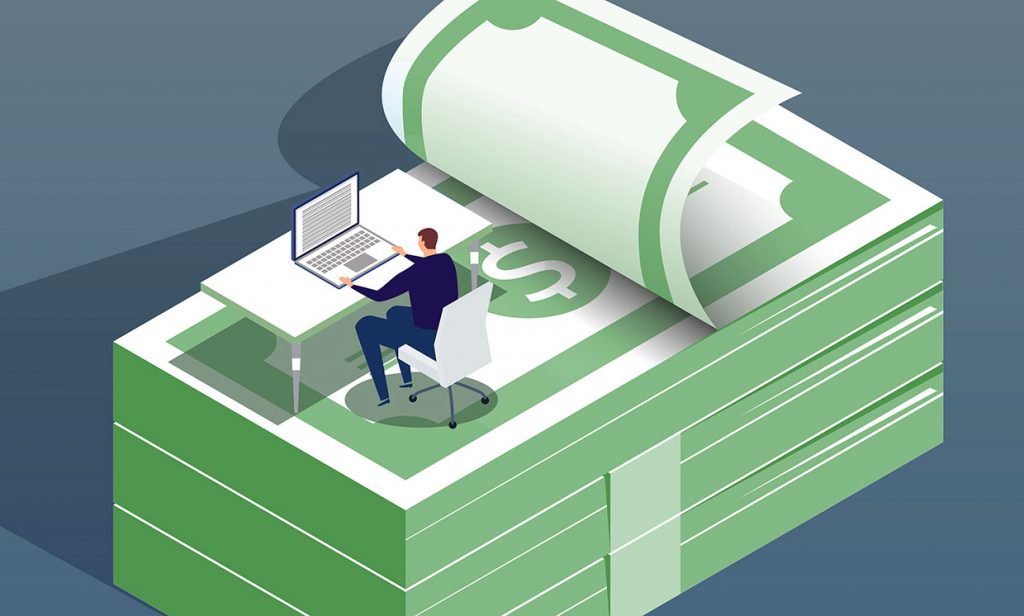 1. Software size
Software size plays an essential part in defining software development costs. It typically refers to the number of screens, pages, or modules that software has. In general, a small-sized application has no more than 20 feature pages, a medium-sized one ranges from 21 to 40 pages, and a large-sized one features more than 40 pages.
There is no doubt that the optimizing and testing processes of an application with approximately 40 pages and multiple complicated functionalities are more time-consuming and challenging than those of a small-sized app. Thus, the more screens/modules you want your software to have, the higher the cost you have to pay. 
2. Complexity
Complexity is one of the main determinants of the cost of a software product. It refers to the complexity level of the logic behind the software. Below are three elements that constitute complex software logic.
The feature set complexity: the software requires a set of complicated features conditioned for complicated business rules.
Technological complexity: the software is technologically sophisticated and might not be developed with traditional technologies.
Design complexity: the software needs to have custom fonts, icons, images, etc. for a user-friendly design.
In fact, the higher the complexity of a software product is, the more challenging the development, testing, and deployment will be. Accordingly, you also have to allocate a higher software development budget.
3. Deployment platform
The cost of software development can vary depending on the software deployment platforms. Since each of the deployment platforms has a different number of devices for which a software product will be deployed, the expenses you have to invest in each will also be varied.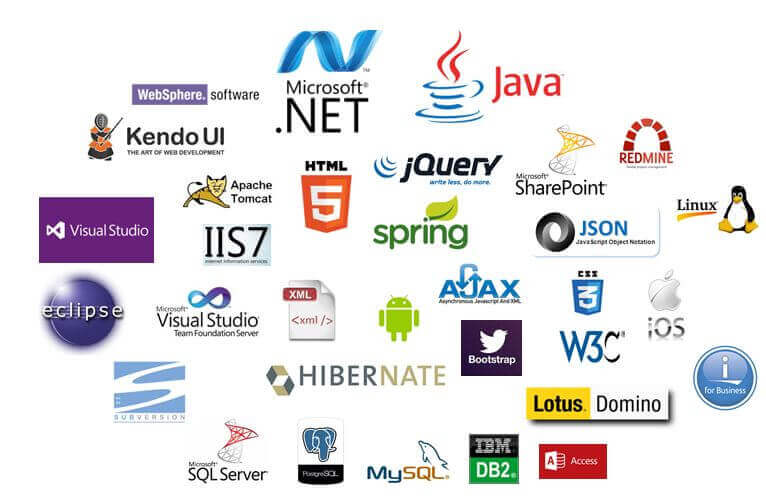 For example, the cost of developing an app that can run on Android is higher than that of iOS or Blackberry platforms. It's because your apps have to be compatible with various versions of the Android operating system and different screen resolutions.
4. System Integration
The integration and data migration requirements also determine the expense of software development. Nowadays, most apps have integration features to connect with third-party systems, including maps, ERP/CRM, payment gateway, etc., which are not always straightforward to develop. Therefore, software development costs are likely to ascend.
Likewise, some software products or apps require data migration features to transfer information. It can be time-consuming and demanding to meet this requirement, especially when it involves integrating a large volume of existing data into a new system or making some significant adjustments.
5. Development team
The software development cost is also impacted by the number of people who are working on your project. It's easy to understand that the time and efforts of every project manager, developer, UI/UX designer, and other members involved all cost money.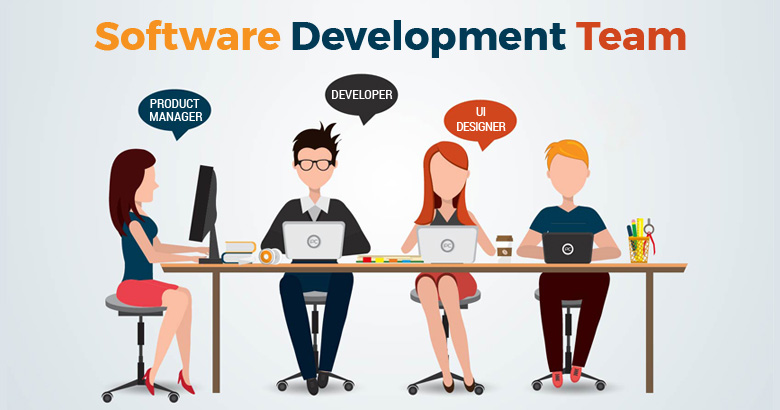 When it comes to the cost of software development, the type of your team should also be taken into account. Consequently, whether you choose in-house, offshoring, or outsourcing software development methods will influence the project expense. For example, outsourcing may be more expensive, but it ensures the software product quality.
Tips to Estimate Software Development Cost
After figuring out some factors that impact a software product's price, you should know how to estimate it. For this, we will provide you with some tips to have an accurate estimation of the cost of software development. 
To start, you could hold a face-to-face meeting where all those accountable, including the customers, have to discuss the software's purpose and its essential features at a high level. Afterward, your team can decode these high-level requirements from customers and divide them into basic features. 
The next step is to give your client an implementation plan for their verification. When he/she agrees, you could break the requirements into smaller milestones, each of which has a list of specific features and deadlines. As a result of this detailed analysis, you can supply your customer with a fixed time and cost estimate.
You should remember that you should make sure that your team should meet the deadlines, and that the software development cost doesn't exceed what you've calculated too much. Also, your customer has to keep track of the project stage and know the way their software product will be delivered, and the features it'll possess.
Template for Software Development Cost Estimation
With a lot of hands-on experience in software development projects, we believe that it may be easier for you to refer to software development cost estimation templates if you're not sure about what cost factors to consider. Let's take a close look at our pie chart below.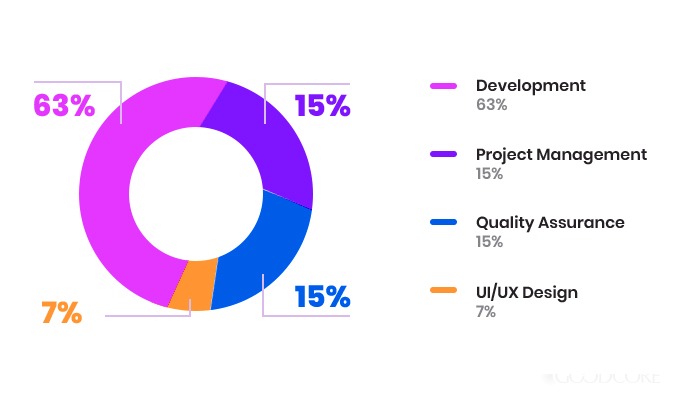 As can be seen from the chart, there are four main cost components in software development projects. Each of them is critical to any software project's success but accounts for different percentages of the total costs. Here is a rough cost distribution of these factors:
Total Software Development Cost = 63% Development +15% Project Management + 15% Quality Assurance + 7% UI/UX Design
Now, you should keep in mind that these mere estimates are not invariably correct in every project. A software development project's actual cost can be much different from this cost division depending on each project's nature and its specific requirements.
FAQs for Cost of Software Development
1. Does custom software development cost me a lot?
A: In general, it's not cheap when it comes to a custom software development project. The cost of custom software development is impacted by many factors, such as its platforms, required features, time spent, complexity, etc.
2. Can I pay for a software development project at one time?
A: Yes, of course. But concerning payment terms, you can usually pay according to certain phases of your project, such as an upfront payment, further payments during the product development cycle, etc. For a medium-sized software development project, you have to pay for 4-5 phases.
3. What company should I choose for software development?
A: If you're having an original software development project on your mind, you can contact Designveloper. As one of the reputed software development companies in Vietnam with passionate and experienced developers and specialists, we are highly committed to providing high-end software services to customers.
4. How much does an ERP software development project cost?
A: When it comes to an ERP software development project, you can expect to pay somewhere between £10,000 to £70,000, depending on specific requirements. However, this is only our rough estimation, so if you intend to develop ERP software, you can reach out to us for free cost estimation.
5. How much does software development cost at your company?
A: It depends on many factors, so our specialists must conduct thorough research on your requirements and your project's scope before providing you with the most possible software development cost estimation. You can drop us a message for any further information.
The Bottom Line About Software Development Cost
In a nutshell, you could consider factors, namely software type, complexity level, hiring options, etc., refer to our tips above, or contact us for free support in determining how much it costs to develop software more accurately. Designveloper hopes that this post will help you estimate the software development costs more correctly to make your project work smoothly.