Speaking of eCommerce, most people often associate this economic term with the ubiquitous B2C companies (business-to-customer) such as Amazon, Walmart, or Alibaba. However, have you known that in reality, the global B2B eCommerce (business-to-business) market size is projected to outweigh its B2C counterpart? This statement is proven by the 2017 report of Frost and Sullivan, particularly records $6.6 trillion versus $3.2 trillion in 2020 respectively. To improve your understanding of B2B eCommerce, this article will reveal all basic concepts regarding this terminology.
What Is B2B eCommerce?
B2B eCommerce is the abbreviation for business-to-business electronic commerce. With that said, this term refers to the trading of products and services between business parties via online channels.
In partial replacement of traditional B2B sales reps who employ outbound sales techniques (e.g. cold calls or social selling), companies now use Internet-based portals to make deals with other organizational clients. Moving forward, they apply inbound sales methods such as optimized websites, online catalogs, and digital marketing, which help automatically conduct much of the vending process.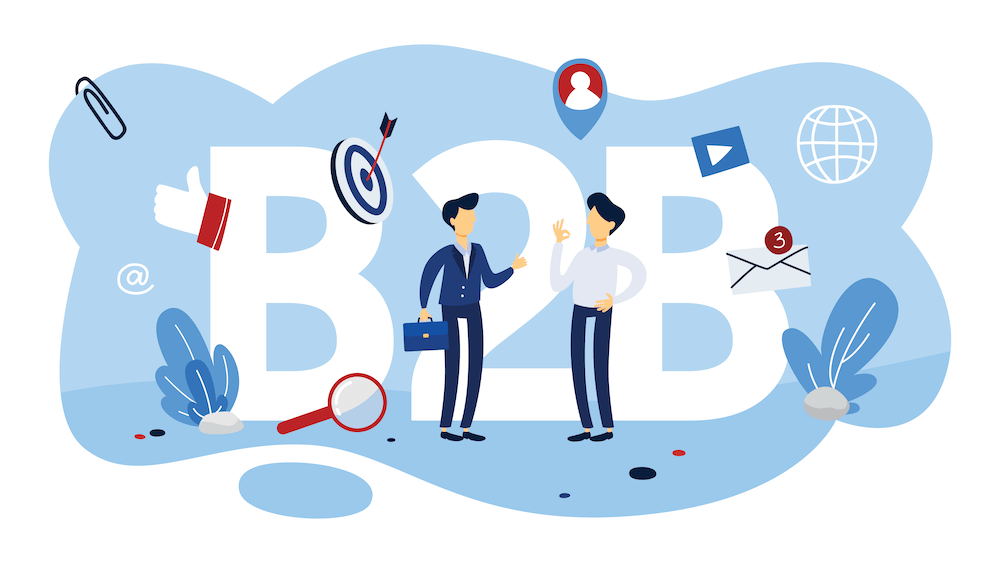 Benefits of B2B eCommerce
According to Grand View Research, the global B2B eCommerce revenue is predicted to increase at an annual growth rate of 17.5% between 2020 and 2027. This upward tendency results from the movement of consumers from brick-and-mortar stores to online platforms in recent years. Some obvious incentives behind this act include:
1. Rapid changes in business trends
Indeed, technological advances profoundly affect the traditional way in which companies operate. Both multinational corporations and SMEs (Small and Medium-sized Enterprises) now make themselves present online to reach more potential segments and concurrently retain existing customers.
2. The popularity of mobile devices
Altogether with the fast-paced life, people tend to perform business activities via portable gadgets (smartphones or tablets) on the ground of their convenience. This shortens the time of placing, managing, and processing orders.
3. Reduction in overhead costs
When operating the business, heads always factor in assorted expenses and payables. Admittedly, the outbreak of the Covid-19 epidemic in 2020 compounds the financial problems of various companies when they have to face exorbitant rents or labor costs. Therefore, their online presence will eliminate much of their expenditure.
What Is the Difference Between B2B and B2C Ecommerce?
The major difference between B2B eCommerce and B2C eCommerce platforms lies in who they primarily target. Inevitably, the main audience of B2B eCommerce platforms is always businesses, whereas B2C companies aim at serving individual purchasers. Two customer groups differ from each other in terms of buying decisions, pricing, or order size. Let's look at several core comparisons to see how different they are.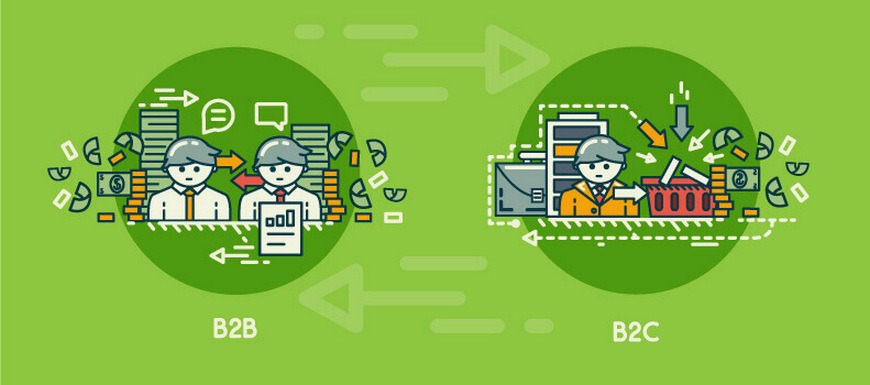 Recommended reading: B2C Ecommerce Model: Definition, Case Study and Compare With Other Models
#1. Impulsive and Sensible Purchases
B2C transactions are considered one-off and infrequent. This means individual customers may usually change their buying decisions and show preferences towards any given brand that gives them some incentives like attractive discounts, free shipping, or entertaining commercials. Meanwhile, B2B customers place orders in accordance with their periodical needs, hence purchases are often well-planned and recurring.
#2. Single and Multiple Decision Makers
Normally, B2C customers opt for something favorite or whatever fulfills certain needs, such as fixings for daily meals. This decision is independently made and insignificantly influenced by others.
By contrast, with B2B eCommerce, purchasers are involved in a more complicated purchase procedure that either requires the approval of numerous stakeholders or relates to different divisions. Enterprises now have either multiple purchasers from distinct departments or the buying center, which is also known as the decision-making unit (DMU). Their duty is to seek proper merchandise and make a good deal with the right suppliers. Unlike their B2C counterpart, purchasing is regarded as a compulsory part of their job, so they strive to look for products at the most reasonable value. Nice packaging may not be the top priority.
#3. Short-term and Long-standing Relationships with Sellers
The given accounts infer that B2C consumers don't surely establish permanent relations with providers. This is in stark contrast with B2B clients who are interested in building a close association with suppliers or distributors. For example, provided the US-based cosmetics company wants to find some eye-catching packages for skincare products, they will tend to sign win-win long-term agreements with the trustworthy packaging provider (e.g. Berlin Packaging) rather than making spontaneous deals.
#4. Non-negotiable and Negotiable Prices
B2C buyers often buy products at fixed prices. The same doesn't apply to B2B customers. Prices may change as per negotiations, quantities, the B2B client's location, and partnership. Accordingly, the company's buying center endeavors to reach the best deal yet ensure the high quality of products.
#5. Payment time
In the B2C eCommerce scenario, individual purchasers may choose from standard payment solutions such as credit/debit cards or digital wallets before the delivery. Having said that, some distributors still allow post-delivery payments if their customers stay in the same neighborhood. For clients of B2B eCommerce, their remittance is completed based on prescribed provisions and normally within 30 days after the shipping of goods.
#6. Supply chains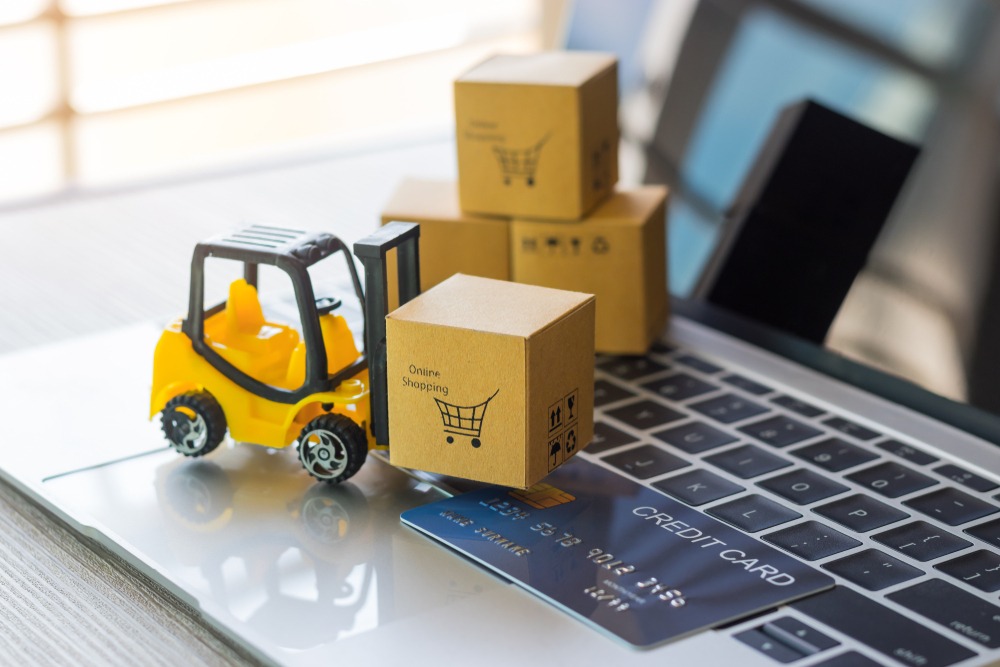 In a B2B supply chain, manufacturers may import raw materials from other vendors to make products which are then sold to wholesalers, distributors, and more. Thereby, the B2B chain seems shorter than that of B2C which engages more manufacturers, wholesalers, and retailers before sending finished products to end consumers.
Common Types of B2B Ecommerce
B2B eCommerce can be classified into various groups in many ways. Based on the final clients your company aims at, there are five common types of B2B eCommerce as follows:
1. B2B2B
The simple B2B chain often includes a producer and a retailer. Meanwhile, B2B2B – the expanded version of B2B – involves more organizational customers (a producer, distributor, wholesaler, retailer, and so forth).
2. B2B2C
This B2B eCommerce model adds B2C to the B2B chain, accordingly guaranteeing finished products will be delivered to the right users by either cooperating with the B2B partner or directly selling products to final consumers on virtual stores of the company's branches. To illustrate, the dietary supplement brand would like to apply the B2B2C model to advertise their new line. The company may partner with gymnastics across the country to reach end-users of their products.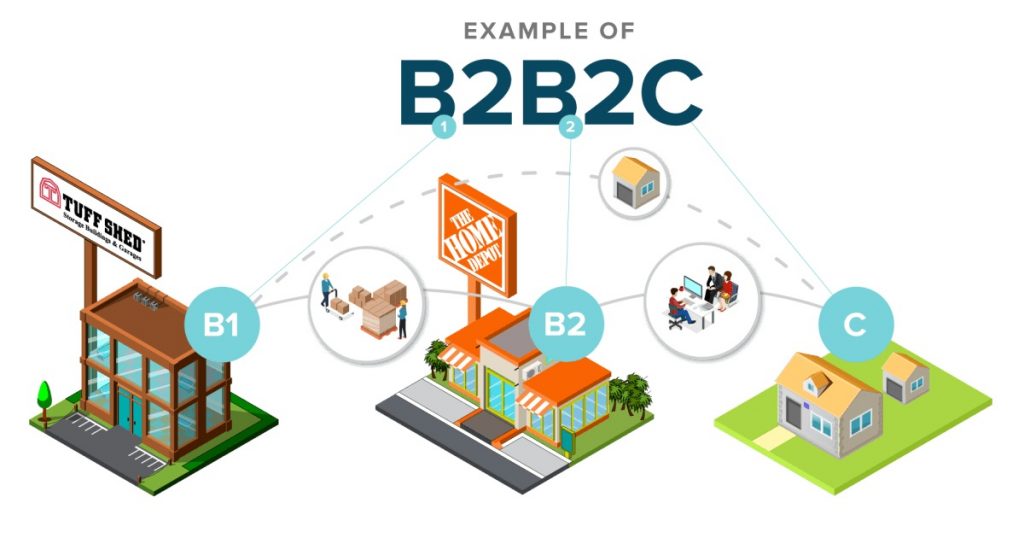 3. B2M
Firms adopting the B2M (business-to-many) marketing tend to serve both enterprises and consumers via online sales portals. This benefits companies by facilitating the advertisement of their products to multiple target segments.
4. B2E
The B2E (business-to-employee) eCommerce strategy is used to provide employees with products and services. Particularly, companies will employ internal B2E portals to keep their workers engaged in jobs and concurrently help reduce the turnover of staff.
5. B2G
The B2G (business-to-government) eCommerce model is widely adopted by firms that offer governmental bodies products and services. For example, the outsourcing IT agency might develop web apps or databases for local and federal authorities.
Recommended reading: What is Cloud eCommerce Solutions?
Advantages and Disadvantages of B2B Ecommerce
B2B eCommerce solutions have grabbed much attention because of their potential benefits. However, it also induces some unexpected problems.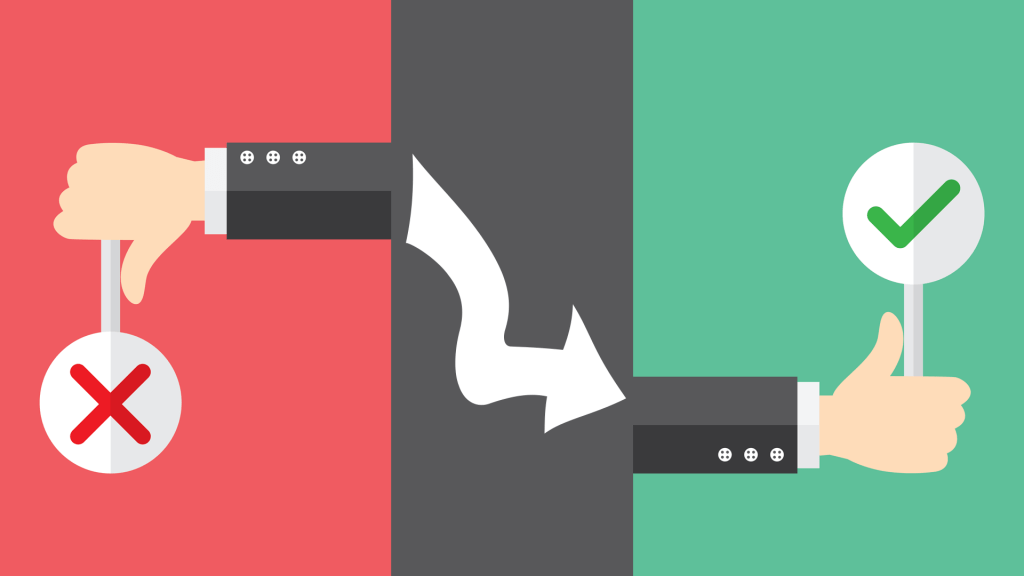 B2B Ecommerce's Pros
As already mentioned, using online platforms to undertake B2B transactions may diminish operation-related costs such as employee salary or spendings on traditional marketing.
Ecommerce trades also result in decreased customer costs. In other words, business clients may buy large orders at lower prices.
Regardless of B2B eCommerce types to choose from, they also help build a powerful channel for companies to boost sales, make brands better-known, and develop businesses.
Inbound sales strategies (e.g digital marketing) are used to enhance the B2B website's traffic. It then opens more avenues to approach new target customers.
Online portals are great channels to administer supplier and consumer data. From collected user experience and feedback, companies can make more prudent decisions and improve their products. Also, they support firms to control inventory and distribution effectively, which seems convenient for businesses that often handle bulk orders.
Recommended reading: 6 Best eCommerce App Development Companies
B2B Ecommerce's Cons
The B2B-oriented websites or B2B eCommerce software product may require handsome investments to build adequately large databases with high security.
Switching from traditional sales solutions to eCommerce, the business and employees need a long time and even training to manage online sales or ordering well. Otherwise, the company must hire a full-stack marketing team, albeit outsourcing or in-house, to monitor online portals. Either solution costs companies considerable amounts to run online sales portals.
Web-based sales may be vulnerable to cybercrime such as data stealing, illegal invasion, or lagging.
There is no denying that B2B eCommerce trends are changing fast and gradually replacing traditional sales channels of companies. Despite some drawbacks, this trend will shape the future business sphere thanks to substantial benefits.