All the fundamentals of the eCommerce business go back a long way to the emergence of the Internet in the 60s, followed by the World Wide Web in 1989 and WiFi in 1997. Together, they have disrupted how we do business for the past couple of decades. The once prevalent communication channels, television, and newspaper are now overthrown by search engines and social networks. The static HTML pages have now transformed into sophisticated web apps that accommodate rich media such as online videos and interactive user experiences. The number of mobile devices outweighs stationary computers.
Because how people get information and communicate has changed, if businesses want to stay relevant, they must have an online presence. And more generally speaking, they must transform themselves into an e-commerce business.
So What Is an eCommerce Business?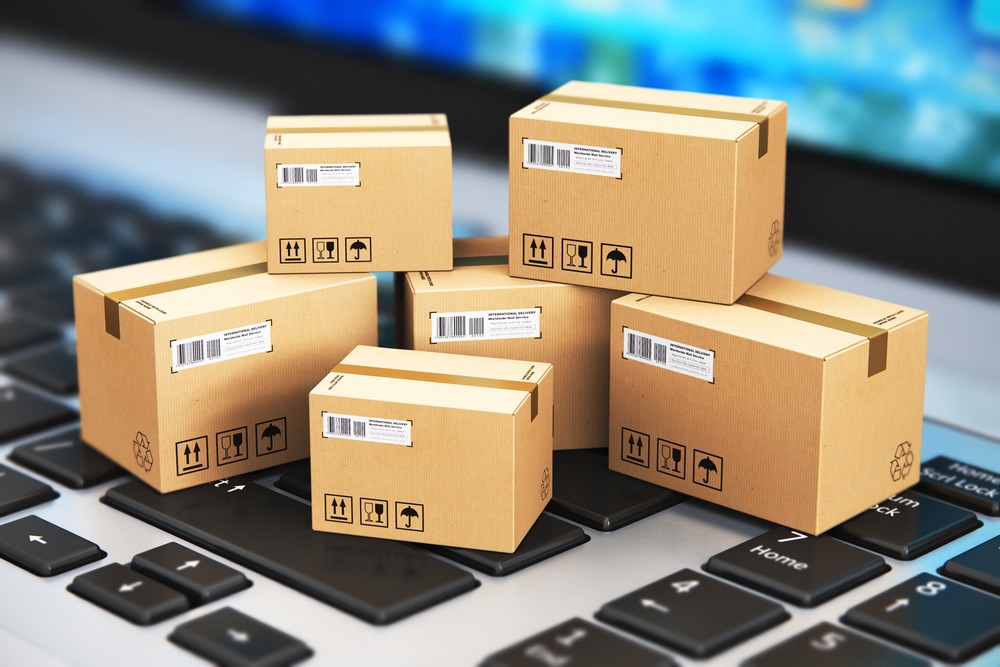 People often think of eCommerce as websites for buying and selling products like Amazon. However, a broader definition of eCommerce involves much more than that. The UK government, for example, defines eCommerce as below:
"E-commerce is the exchange of information across electronic networks, at any stage in the supply chain, whether within an organization, between businesses, between businesses and consumers, or between the public and private sector, whether paid or unpaid" (Cabinet Office, 1999)
By this definition, we can see that eCommerce business is not only about financial transactions but also about non-financial transactions, together with pre-sale and post-sale activities. Kalakota and Whinston (1997) attempted to list different perspectives on eCommerce:
A communications perspective: the delivery of information, products or services, or payment by electronic means. I.e., Forbes, albeit a website for news, is actually an eCommerce company.
A business process perspective: the application of technology towards the automation of business transactions and workflows. I.e., The emergence of food delivery services like Uber Eats provides a solution to the transportation problem of many restaurants.
A service perspective: Enabling cost-cutting at the same time as increasing the speed and quality of service delivery. I.e., with emails, we no longer rely too much on postal services.
An online perspective: the buying and selling of products and information online. This is too obvious in the case of Amazon or eBay.
Recommended reading: The Future of Shopping is Here: AI-Powered eCommerce Mobile Apps
Buy-side and Sell-side eCommerce
Moreover, eCommerce transactions are not only between an organization and its customers but also within an organization, and between an organization and its stakeholders, not limited to customers.
In fact, when people use the term eCommerce, they usually refer to the specific selling and buying activities between a company and its customers. This, however, is just one part of the whole picture. When you run an eCommerce business for sales, you can be both a seller and a buyer. You buy products and services from some suppliers; and at the same time, you sell your own products and services to some consumers. This is why when people evaluate the strategic impact of eCommerce on an organization, they often distinguish between buy-side eCommerce, the transactions to procure resources needed from suppliers, and sell-side eCommerce, the transactions to sell products to customers. You can take a look at the following figure to have a clearer picture: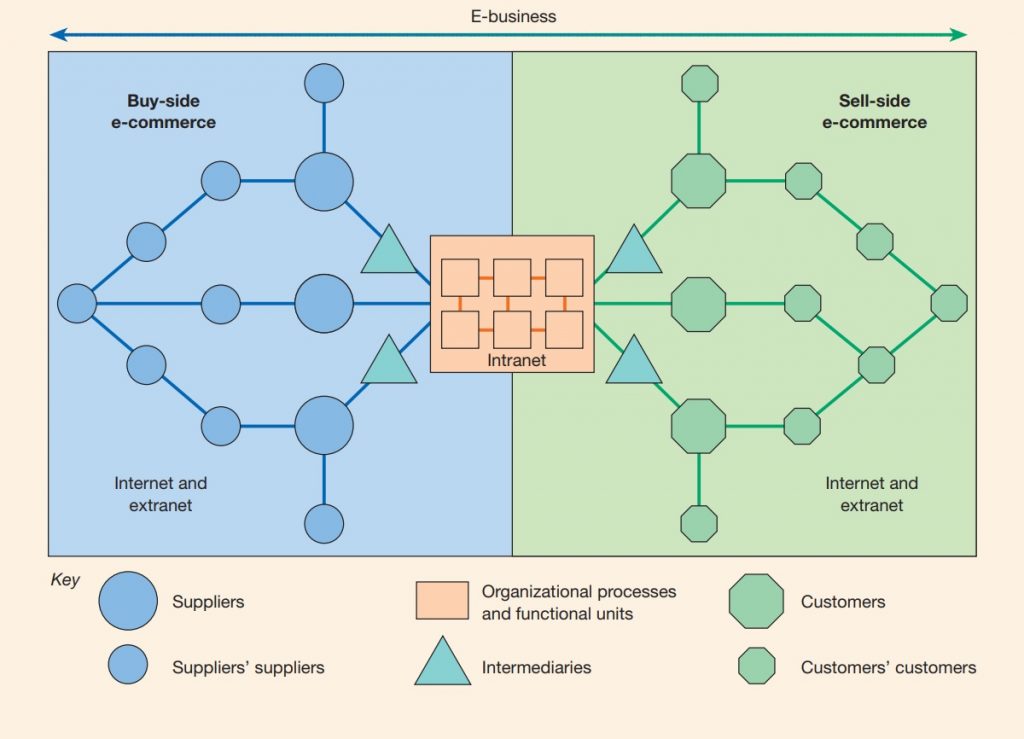 Difference Between eCommerce and eBusiness
You may have come across the term eBusiness. Sometimes people use it interchangeably with eCommerce. However, these are different concepts. eCommerce refers only to the electronically mediated information exchanges between an organization and its external stakeholders supporting the range of business processes. eBusiness, on the other hand, includes not only external transactions but also the transactions within that organization.
eBusiness is therefore closely related to digital transformation, which is the process of integrating new information and communications technologies (ICTs) into operations and reinventing business models to improve business performance.
Recommended reading: What is Cloud eCommerce Solutions?
Different Types of Sell-side eCommerce
Sell-side eCommerce often involves using Internet technologies to market products or services. The products are not necessarily physical ones like books or clothes. Spotify, for example, does not sell concrete music CDs but music streaming services.
Also, in many cases, the websites are not for the sake of financial transactions but for branding and other marketing activities. It is thus possible to classify the online presence of sell-side eCommerce, or eCommerce websites, into 4 main types:
Transactional eCommerce sites: The main contribution of these sites is through online purchases of products. They can be retail sites (Amazon), travel sites (Air BnB), and online banking services (www.hsbc.com).
Services-oriented relationship-building websites: These sites mainly serve as the place where people come to get information about the business. They stimulate offline sales and general inquiries or leads from potential customers.
Brand-building sites: Products are not typically available for online purchase on these sites. They support branding, and they are typically suitable for low-value, high-volume fast-moving consumer goods (FMCG brands). Some examples of this type are Tango (www.tango.com), (www.guinness.com).
Portal, publisher, or media sites: NYTimes, Forbes, The Guardian, and similar websites for news and entertainment are also regarded as eCommerce sites. These sites generate revenue through advertising, commission-based sales, or the sale of customer data.
Recommended reading: What is B2B Ecommerce? All You Need to Know about B2B Ecommerce
The Role of Digital Marketing in eCommerce Business
Since all business transactions are now electronically mediated, a new type of marketing also came into existence: digital marketing. It involves the management and execution of marketing using electronic media such as the web, e-mail, and wireless media in conjunction with digital data about customers' characteristics and behavior.
To put it simply, digital marketing shifts the focus of communications away from traditional means such as newspapers, radio, and television into blogs, podcasts, social networks, SMS, and such-like. But still, all the traditional marketing channels are not necessarily abandoned. Both offline and online channels are important to gaining new customers and maintaining relationships with existing customers. A successful eCommerce business would know how its target customers communicate and put the emphasis on the right channels. That's the basic principle of marketing.

Recommended reading: Top 5 Best eCommerce Website Development Companies in 2023
Business or Consumer Models of eCommerce Transactions
We may have heard of B2C (business-to-consumer) or B2B (business-to-business) several times before. They are actually the eCommerce business models that describe the eCommerce transactions between an organization and its stakeholders.
In every commercial transaction, there must be at least one supplier and one consumer of content/services. Both suppliers and consumers fall under three main categories: individuals or citizens, businesses or organizations, and government. Accordingly, there are 9 models of transactions: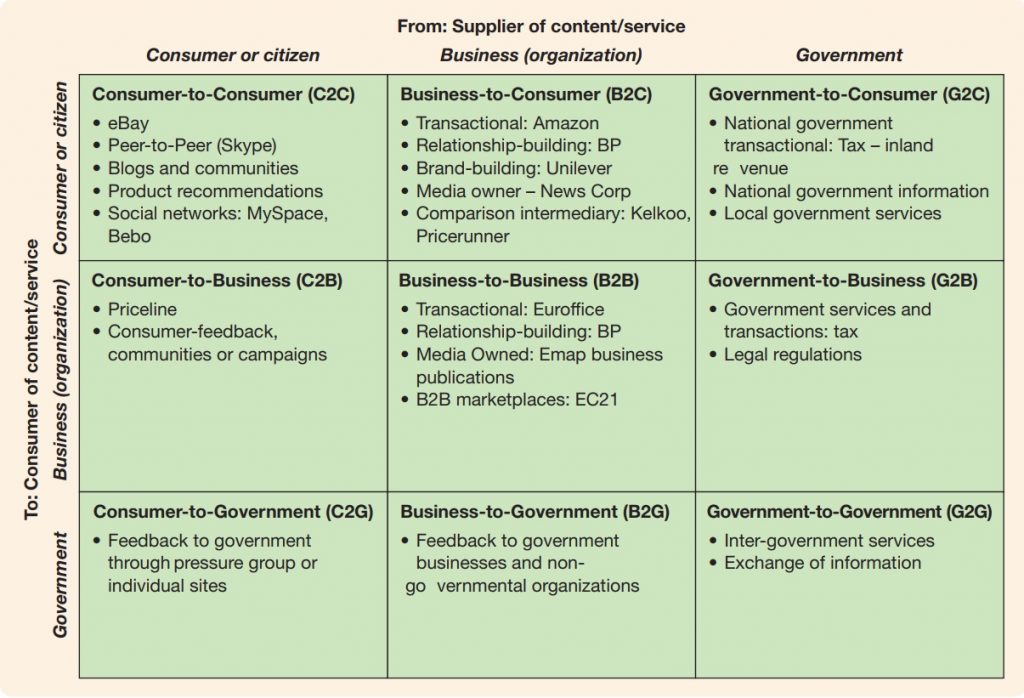 But a company's eCommerce transactions are not limited to any single business model. Dell Computer, for example, offers products that attract both businesses and consumers. Therefore, on their website, there are different sections for different types of audiences.
Amazon (retailer founded in 1994), Google (search engine founded in 1998), Skype (founded in 2003), Facebook (social network founded in 2004), and YouTube (video sharing and rating founded in 2005) are some well-known examples of eCommerce business. And you can see their main focus is on B2C markets. However, B2B communications are still important because they drive revenue. That's why we have Google My Business and Facebook Business Manager.
Apart from B2B and B2C, there are also other business models such as C2C or G2G. To know more about these concepts, you can check out the following articles:
Recommended reading: B2C Ecommerce Model: Definition, Case Study and Compare With Other Models
Drivers, Risks, and Barriers of eCommerce Businesses
The Internet provides significant opportunities for many businesses to build closer relationships with their existing customers and suppliers to help achieve customer retention. In particular, there are a variety of benefits that drive the adoption of eCommerce business models.
1. Competitiveness drivers:
With new communication channels, businesses can reach a larger customer base. They can also encourage loyalty and repeat purchases among existing customers in order not to lose market shares to businesses that already use eCommerce.
2. Cost/Efficiency drivers:
Delivering services electronically helps reduce staff costs, transport costs, operating costs, and costs of printing materials. The speed with which supplies can be obtained and goods can be dispatched will be increased.
But opportunities have to be balanced against the risks of introducing e-business services which vary from strategic risks to practical risks.
Recommended reading: Ecommerce Website Image: 10 Tips to Optimize
3. Strategic risks:
Making the wrong decision about e-business investments, for example, is one of the main strategic risks. You may have lavished your capital on e-business but did not achieve the hoped-for returns, either because the execution of the plan was flawed, or because the planned approaches used for your market were inappropriate.
It is important to know that the impact of the Internet and technology varies by industry. Sometimes, it works like a typhoon force, a ten times force. Sometimes, it is just a bit of wind. Asking yourself whether your business needs Internet adoption is a must before making any decision on e-business investment.
4. Practical risks:
Apart from strategic risks, there are also a couple of practical risks you should know:
Web sites may fail if they cannot handle a spike in visitor traffic.
Hackers may penetrate the system's security and steal credit card details.
Cold emails may disturb some customers if sent out without their permission. This might sometimes break the privacy and data protection laws.
Customer orders might go missing or be delayed, and disappointed customers will never return.
There are also certain barriers to the development of online technologies, such as the costs for set-up and maintenance, the lack of time/resources, the lack of skills and knowledge (staff), difficulties in integrating IT systems, or difficulties in changing processes. These might as well hinder your business from getting the most out of ICT adoption.
Recommended reading: Top 18 Web Development Companies in Vietnam
The eCommerce Environment
With the rise of eCommerce businesses, not only business models but also the structures of the industry and the marketplace have changed. For example, previously, B2B companies sold their products through a network of distributors. But now with the advent of e-commerce, they can bypass distributors and trade directly with customers via a website. And a new "force" arises and plays certain roles in marketing, which is online intermediaries, specifically search engines, review sites, price comparison sites, social networks, blogs, and other publisher sites.
So to evaluate all the opportunities and threats that an eCommerce business is facing and accordingly make an appropriate strategy, it is important to continually monitor the environment in which the business operates, which includes micro-environment and macro-environment: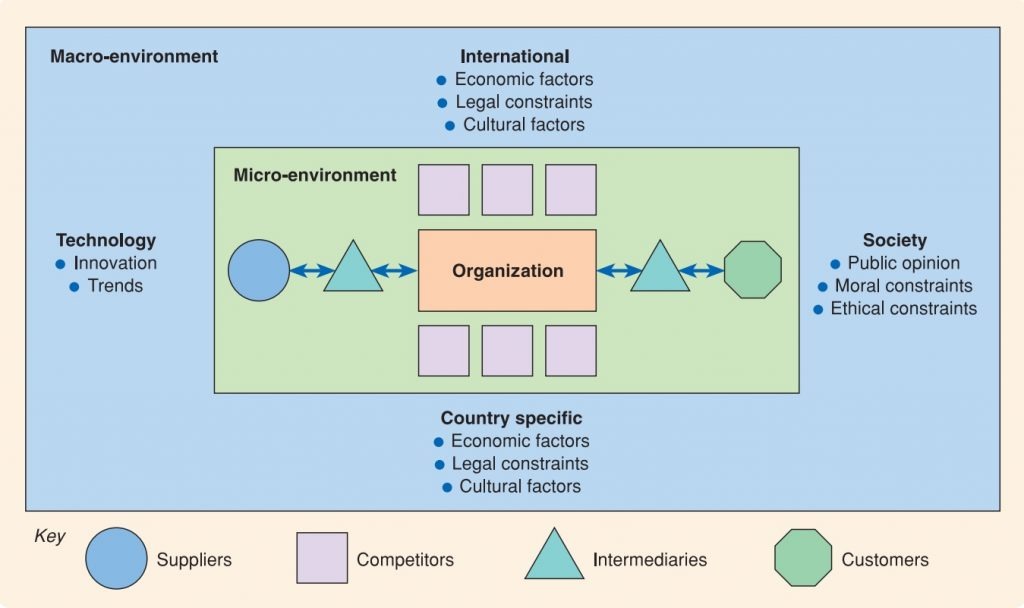 1. Strategic agility
In this regard, there is at least 1 concept that every business owner must know: strategic agility. It is the capability to innovate and so gain a competitive advantage within a marketplace by monitoring changes within an organization's marketplace, evaluating alternative strategies, and then selecting, reviewing, and implementing appropriate candidate strategies. To put it simply, this concept is somewhat similar to Eric Ries' "lean startup" and the philosophy of Agile project management methodology.
It prioritizes adapting to changes, rather than sticking to an initially projected action plan
It is important to find anomalies in the marketplace where it doesn't appear as expected and these may represent learnings or opportunities. Detailed customer insights and business performance are necessary to identify these anomalies. By paying close attention to all the changes of the micro and macro environment and adjusting the business plans accordingly, business owners can act rapidly and bring about the best outcomes possible.
Dell Computer, for example, has spent relatively little on research and development but has instead been constantly probing the marketplace, trialing new eCommerce business ideas with multiple probes into the approach. They are an exemplar of a company with strategic agility.
2. Online marketplace analysis
Whenever you want to develop a long-term business plan or create a short-term digital marketing campaign, it is necessary to analyze the marketplace. Right below is a sample map that helps you quickly grasp the linkages between online businesses and traffic flows.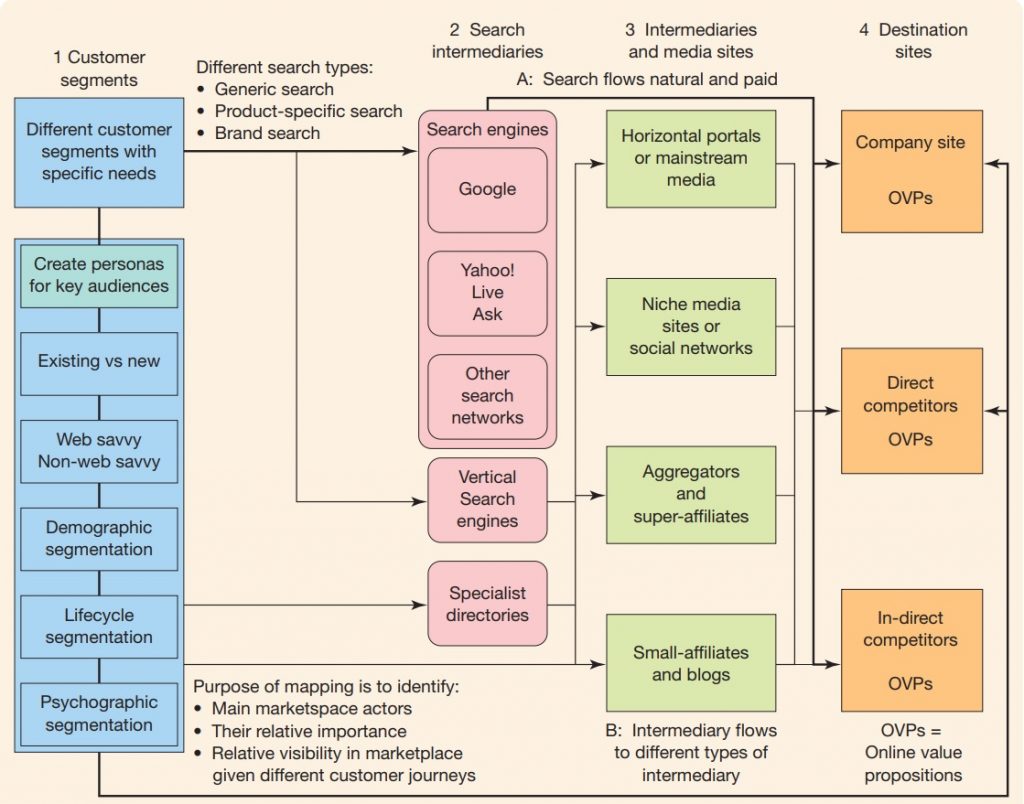 There are four main elements in the above map:
Customer segments:
Knowing how your audiences consume online media, how they buy goods online, and the type of content they often search for from the intermediaries will help you target your marketing campaign in the right direction.
Search intermediaries:
Search engines like Google, Baidu (China), Yandex (Russia), or Naver (South Korea) are the intermediaries where audiences come to look for the content they want. These intermediaries, therefore, provide every eCommerce business with useful data to create personas for key audiences and analyze the current popularity of your website and competitors' websites. Also, this is going to be a rich source of visitor traffic if you pay attention to SEM (search engine marketing).
Intermediaries and media sites:
These sites attract visitors via search or direct (if they are mainstream brands); thus, it is great if your eCommerce business can assess the potentiality of these sites.
Destination sites:
These eCommerce platforms also have another name, landing pages, where you want your customers to visit and carry out the expected actions (filling in a form, buying a product, and so on).