eCommerce development could mean the fundamentals of eCommerce infrastructure, such as the Internet, extranets, and the World Wide Web, the standards used for electronic communications (TCP/IP, EDI), and publishing (HTML, XML), the hosting services offered by third parties, the potential of the best eCommerce platforms (mobile phones, interactive digital TV, etc.), and so on.
What Are the Fundamentals of eCommerce?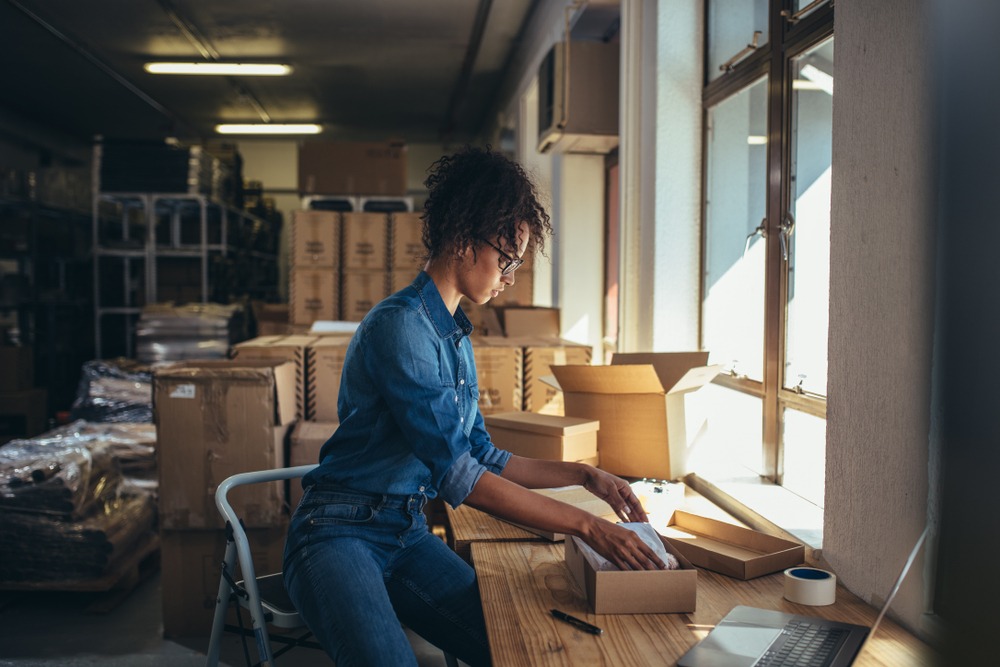 From the management's point of view, when we talk about the fundamentals of eCommerce development, we can't help but ask very high-level questions like, "What kind of e-commerce applications do we need to build (supply chain management, e-procurement, secure online ordering, or customer relationship management)?" Email, Web-based ordering, or Electronic Data Interchange (EDI)? Accordingly, we have to ask, where do we host eCommerce applications? Which access methods do we support (mobile access, digital TV with interactive features)? What tools and standards do we use for development? How do we publish content and data and keep track of their quality? How do we keep data safe? What is the creation process for an eCommerce site?
Such questions are relevant to experts in eCommerce development from an eCommerce development agency. We will only talk about the most important parts of a good e-commerce infrastructure in this article. Consequently, you should be able to talk to a third-party provider of hardware, software, and services using simple technical terms and ideas.
Ecommerce Infrastructure Components
The hardware, software, content, and data used to provide e-business services to customers and business partners are all fundamental part of the eCommerce infrastructure. It has a direct effect on the speed and responsiveness of the service your customers get from you. We need to think of eCommerce infrastructure components as layers of infrastructure with clear points of connection between each layer. So, they should be thought about in terms of a typical task that a user of an e-business system would do.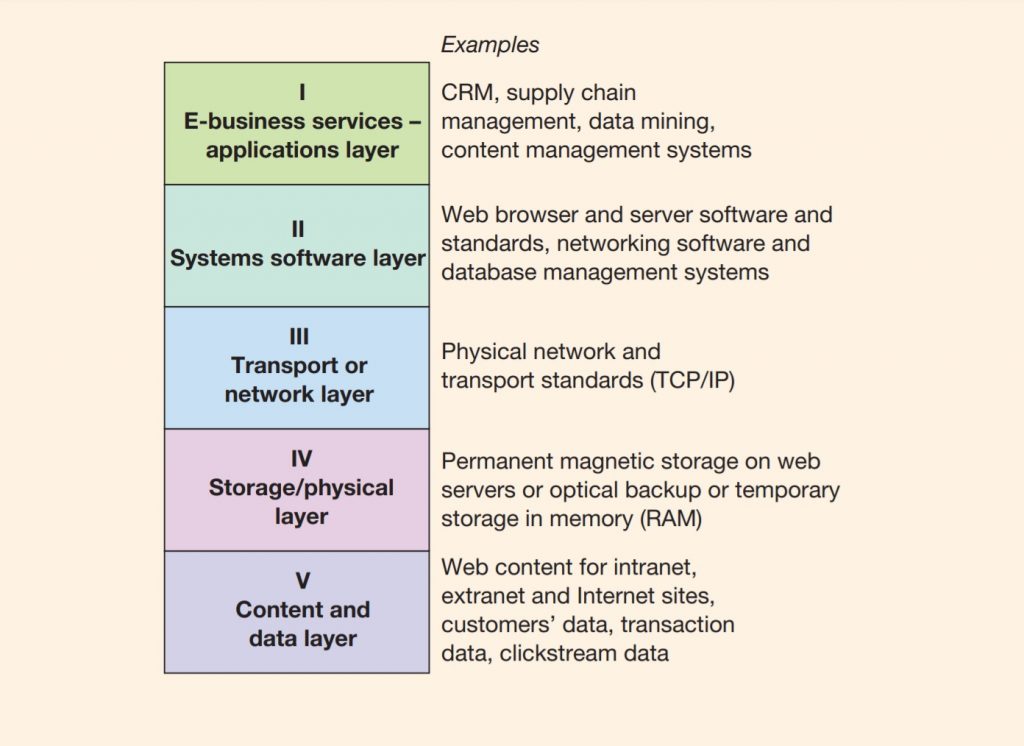 The above graph presents the five fundamental layers of eCommerce infrastructure:
E-business services – applications layer (i.e., CRM, supply chain management, data mining, content management systems)
Systems software layer (Web browser and server software and standards, networking software and database management systems)
Transport or network layer (Physical network and transport standards – TCP/IP).
Storage/physical layer (permanent magnetic storage on web servers or optical backup or temporary storage in memory – RAM)
Content and data layer (web content for extranet and Internet sites, customers' data, transaction data, clickstream data)
In the following sections, we will go through the technologies that are popular in eCommerce development.
1. Internet Technology
Millions of computers around the world can talk to each other through the Internet. And because all data transfers on the Internet work through the request-response system between client computers or mobile devices and server computers, we can say that the Internet is a large-scale client/server system.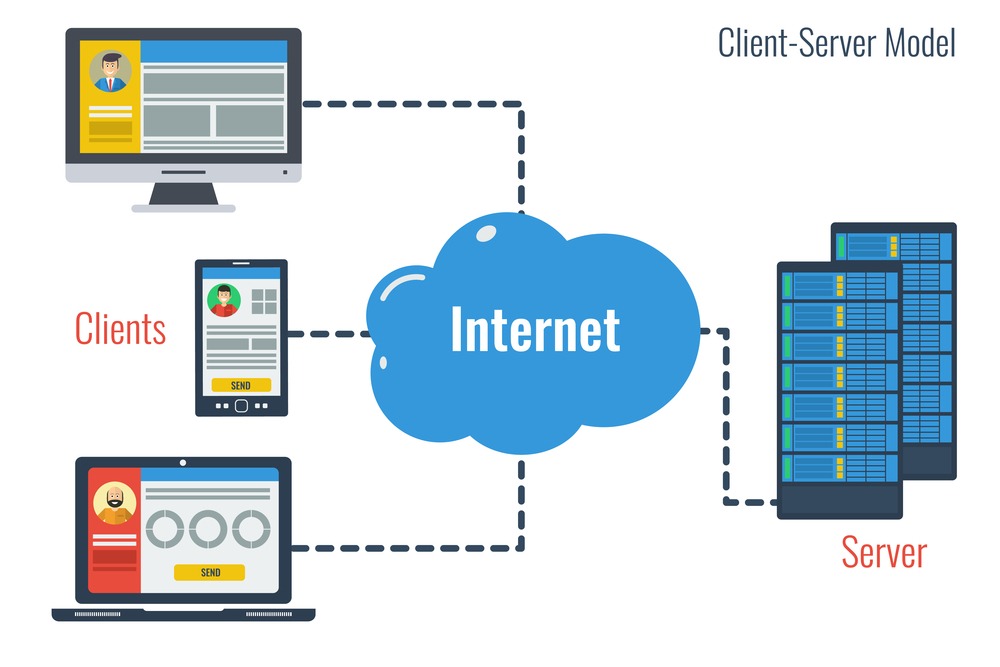 Most of the time, your customers' computers connect to the Internet through local Internet service providers (ISPs). These ISPs are linked to larger ISPs, which are connected to the major national and international backbones, which are run by companies like AT&T, UUNET, and Verizon.
1. Hosting of eCommerce websites
If you have an online business, you can set up a web server on your own and keep it in your office. But a lot of people hire a hosting service to handle this service for them. Indeed, a hosting provider is in charge of an organization's website server and how it connects to the Internet. Rackspace is a well-known web hosting company in Europe that has helped thousands of clients with hosting, e-mail servers, security, and storage.
2. Extranets
An intranet is a network of computers within an organization. An extranet, on the other hand, is a network of your business' server computer and the computers of your customers.
From the user's point of view, if you want to buy a book or CD online, you might go to a website and log in with a username and password. The internet is the system behind your account and how it handles your requests. That's an easy way to describe what an extranet is. Therefore, building a reliable extranet is a fundamental part of every eCommerce development project.
The extranet is a safe place where you and your customers can share information. It lets you cut down on the number of people who have to place orders, which lowers the costs of doing so. It can also link a retailer's point of sale terminals to a supplier's delivery system to reduce the number of sales that are lost because an item is out of stock. To conclude, these are just a few of the ways the extranet is helpful.
When building an extranet, you need to know about firewalls. On the whole, they will make sure that no one from the outside gets to see private information.
2. Web Technology
The most common way to share information on the Internet is through the World Wide Web, or "web". It can be reached through web browsers like Google Chrome, Mozilla Firefox, or Microsoft Edge that can show web pages with embedded graphics and text.
One of the best things about the Web is that it has links that make it easy to move from one website to another. This is "surfing". Also, HTML, which is the main standard document format for web pages, can be formatted in many different ways. As a result, this makes it easy to read documents on a variety of devices.
Web browsers, HTML, and other web technologies work together to help eCommerce businesses do fundamental things like have conversations on social networks, make financial transactions, add rich-media advertising content, make websites easy to use on different platforms and screen sizes, and so on.
3. An Example of an eCommerce Transaction Using the Web
A man wants to buy shoes one day. Therefore, he opens Google Chrome on his PC and types in search terms like "where to buy shoes" to see what comes up. In the same way as other search engines, Google acts as a middleman between you and the site you want to visit. It could be a web app, a blog, or just a page with contact information. In brief, this is where you meet your clients.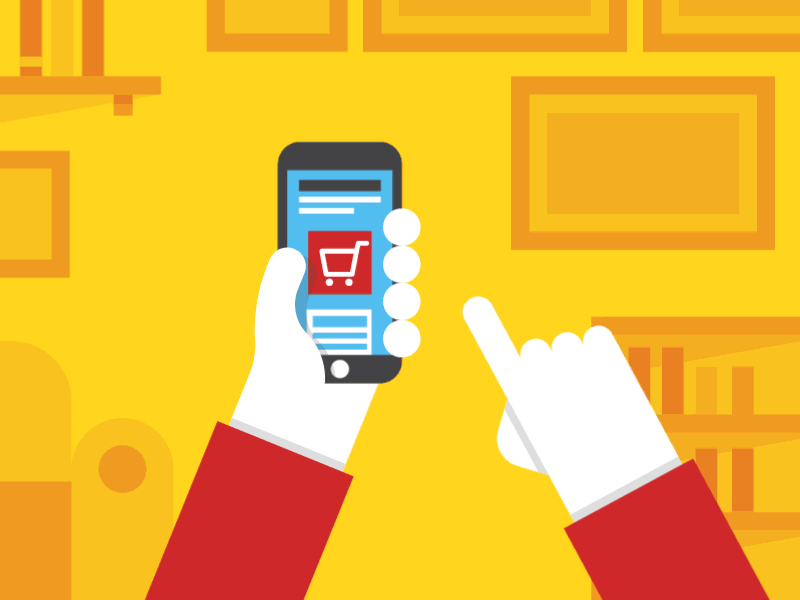 So if you want to run a website, you have to hire a company to make it and keep it up to date. In the same way, finding a place for your site's servers is part of making a website. This is often done through a hosting service provider. If you go with a reputable and reliable hosting service, it could add a lot to the cost of building a website. In a nutshell, that's how your eCommerce website is built and how it works.
4. VOIP, A Promising Cost-Reducing Application for eCommerce Businesses
Some fundamental examples of Internet-access software that can help your eCommerce business do well are Web 2.0, blogs, emails, and feeds.
Voice over IP is another application that deserves to be mentioned here (VoIP). This is a fairly new way to send voice over the Internet, and it is becoming more and more popular as a way for organizations to save money on phone calls between themselves and their stakeholders.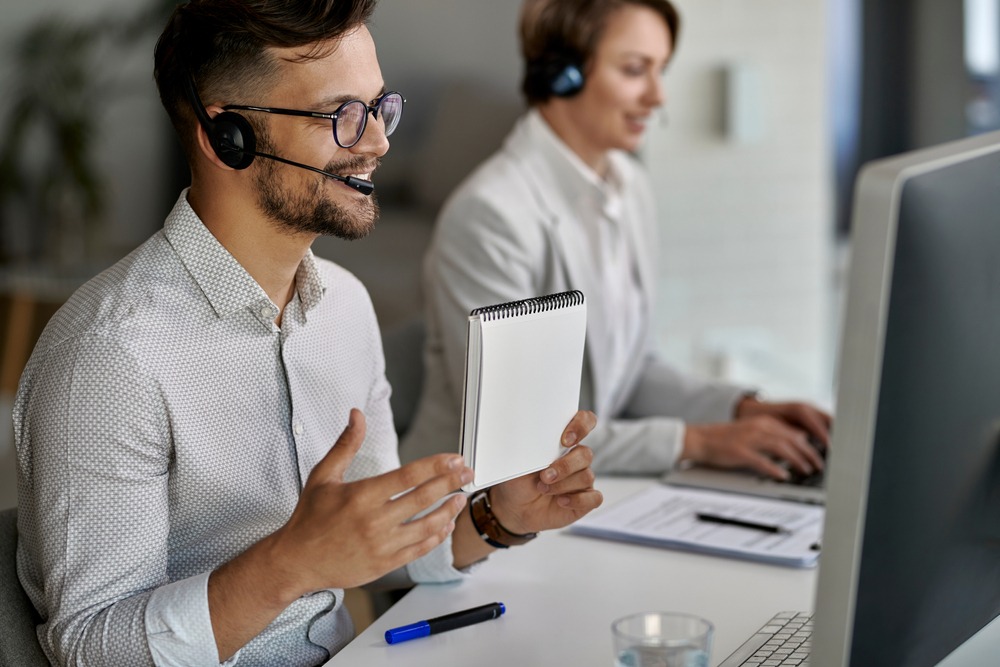 Apart from cost reduction, there are other benefits following the application of VoIP:
Click-to-call – users click the number they want from an on-screen directory to call.
Call forwarding and conferencing to people at other locations
Unified messaging. E-mails, voicemails, and faxes are all integrated into a single inbox.
Hot-desking – calls are routed to staff wherever they log in – on-site or off-site.
Cost control – review and allocation of costs between different businesses is more transparent.
Designveloper's VoIP development is also one of its most important services. Don't be afraid to leave your information at this link if you want in-depth advice on this application. We'll get in touch with you as soon as we can.
The ideas above are just a few that you should know about if you want to work well with any third-party providers of eCommerce solutions.