Prepare to be blown away by the top 5 sports website designs of 2023! These designs will blow your head with their eye-catching graphics and seamless functioning. Whether you're a sports fan or a website design aficionado, this article will take you on a tour of the most innovative and interesting sports websites available. So, let's dig in and uncover the winning combinations of aesthetic and usefulness that distinguish these sports website designs.
The Significance of Web Design for the Sports Industry
Web design is critical in the realm of sports for engaging audiences and improving user experiences. As we look at the top 5 sports website designs for 2023, it becomes clear that a well-designed website is more than just a pretty face; it's a strong tool for engaging with fans, promoting teams, and increasing engagement.
In this first section, let us investigate the context of the sport industry in 2023, as well as the significance of web design in the sports market.
The sports industry in 2023
The sport industry has expanded dramatically in recent years, and this expansion has had a substantial impact on many sectors of the global economy. Professional sports, which encompasses areas like broadcasting, licensing, and sponsorship, is an important subcategory within the sports market. These submarkets have a significant impact on the broader sports business. Aside from professional sports, the market for athletic goods is strongly reliant on brand marketing and frequently overlaps with professional sports via athlete sponsorships and affiliations.
Food and nutrition, particularly the protein sector, and the global gambling market are two other large markets strongly related with the global sports economy. These industries coexist with professional sports and contribute to the overall expansion of the sports industry. The eSports market has also received a lot of attention in recent years. During an August 2020 survey among sports industry leaders worldwide, some 86.3 percent identified simulated eSports as an industry with a very high potential to grow revenues. Its growing popularity also might be due to technical developments and economic similarities to professional sports.
Sporting goods retail sales in the United States alone reached a stunning $53 billion in 2020, highlighting the market's breadth and significance. The United States is a major player in the sports apparel and footwear sector, with a sizable market share. Furthermore, simulated eSports were regarded as having a high potential for revenue growth in a poll done among sports industry experts globally.
The sports industry's expansion and transformation are driving firms to embrace more sophisticated tactics. The sector aspires to attract investors, deliver immersive experiences for fans, and effectively support athletes. As a result, sports website design has become critical in improving user experiences and catching fans' attention.
What web design means for the sports industry
Web design is important in the sports sector because it influences how people interact with their favorite teams and sportsmen. To begin with, web design in the sports business entails designing visually appealing websites that capture visitors' interest from the moment they land on the page. Aesthetics are important in establishing a good first impression and attracting users to explore more. Clean layouts, high-quality images, and the strategic use of colors and font all contribute to a sports website's overall visual appeal.
Aside from aesthetics, user-friendliness is an important aspect of web design in the sports business. Sports fans go to websites to get information, buy tickets, or interact with content. As a result, it's critical to make sure the navigation is simple and straightforward. Users should be able to access the information they need quickly and easily, improving their overall experience.

In addition, smartphone responsiveness is critical in sports website design. Because mobile devices are used by the vast majority of internet users, it is critical to optimize sports websites for various screen sizes and resolutions. Responsive design guarantees that the website adapts to smartphones and tablets easily, resulting in a consistent and engaging user experience across platforms.
In order to engage fans, web design must have interactive aspects. Live score updates, real-time statistics, interactive polls, and fan forums, among other interactive elements, can be found on sports websites. These components not only inspire fan participation, but also foster a sense of community and deeper bonds with the club or sport.
Furthermore, site design helps sports groups with their branding and marketing activities. A well-designed website complements the brand's identity by using consistent colors, logos, and messaging. This aids in the development of brand recognition and the establishment of a strong presence in the competitive sports business.
Recommended reading: UX Design Careers: What You Need to Focus On?
5 Trending Design Elements in Sports Websites
Staying ahead of the curve when it comes to sports website designs in 2023 is critical. Sports fans have high expectations for entertaining and visually appealing websites in an ever-changing digital landscape. We've selected five trendy design elements that will make waves in 2023 to help you construct an excellent sports website that captivates viewers. These features mix aesthetics and functionality to provide a unified and immersive user experience. Let's take a look at the top design trends that will set your sports website out from the crowd.
Responsive and mobile-friendly layouts
The use of adaptable and mobile-friendly layouts will be one of the important design features emerging in sports websites in 2023. Because the majority of internet users access websites via smartphones and tablets, it is critical to optimize sports websites for various screen sizes and resolutions.
Responsive design guarantees that your website adapts to different devices easily, resulting in a consistent and engaging user experience. Fans should be able to easily access your website whether they are surfing on their cellphones during a game or checking updates on their tablets.
You may construct a website that automatically adjusts its design elements, such as photos, text, and buttons, to fit different screen sizes by using responsive and mobile-friendly layouts. Users are no longer required to zoom in or scroll horizontally, which improves their entire experience.
Furthermore, a responsive and mobile-friendly layout expands the accessibility and reach of your website. Fans can visit your website at any time and from any location, and interact with your content on the go. This adaptability is essential in today's fast-paced digital environment, when convenience is paramount.
It is critical to focus speed and load times while creating responsive and mobile-friendly layouts. Because mobile visitors have shorter attention spans, a slow-loading website can cause dissatisfaction and high bounce rates. Some tactics for ensuring your website loads quickly on mobile devices include optimizing pictures, reducing code, and utilizing caching techniques.
High-quality images and videos
Incorporating high-quality photographs and videos into sports websites in 2023 is a current design feature that provides a fascinating touch. Visual content is important in engaging sports fans and creating an immersive experience.
High-quality photographs and films allow you to capture the excitement, energy, and passion that sports elicit. These graphics, which range from action pictures of athletes in motion to behind-the-scenes film, bring your website to life and elicit emotions in your readers.
You can rapidly capture the attention of visitors and make a great impression by using vivid and exciting photos. Eye-catching pictures serve to build excitement and anticipation, entice fans to explore your website further.
The incorporation of movies offers viewers with a dynamic and engaging experience. You can include recent match highlights, player interviews, or even live game streaming. Fans may interact with the sport on a deeper level with videos, immersing themselves in the action and keeping them coming back for more.
It is critical to invest in professional photography and videography to ensure high-quality photographs and movies. Hiring expert photographers and videographers who understand the complexities of shooting sports situations helps improve the quality of your visual content overall.
Slow-loading material can repel consumers, therefore optimizing images and videos for fast loading times is critical. Image compression and video optimization techniques can help to maintain a balance between visual quality and performance.
Bold typography and vibrant color schemes
In 2023, bold typeface and brilliant color schemes will be popular design features for sports websites. These features give your website a sense of vitality, enthusiasm, and personality while reflecting the essence of the sports world.
Bold font allows you to make a statement and attract visitors' attention. It lets you highlight key points, headlines, and calls to action, resulting in a visual hierarchy that directs people through your content. Large, striking typefaces with distinct styles may portray the passion of your club or sport in an instant.
Vibrant color palettes, when combined with bold font, increase aesthetic appeal and elicit emotions. Traditional team colors are no longer used on sports websites; instead, vibrant and unique color palettes are used. Colors that are bright and eye-catching create a lively and energetic atmosphere, reflecting the dynamic character of sports.
Color psychology and how colors resonate with your target audience should be considered while choosing color schemes. Warm colors, such as red and orange, can elicit thoughts of passion and excitement, whereas cool colors, such as blue and green, can express a sense of peace and dependability.
To maintain a visually pleasant balance, colors should be used strategically to avoid overpowering the consumer. Choose a primary color and complement it with secondary and accent colors that complement each other. Color consistency throughout your website aids in brand awareness and the creation of a unified visual identity.
Incorporating strong typefaces and lively color schemes not only improves the visual appeal, but also develops your brand presence and distinguishes your sports website from the competition. It provides fans with a memorable and engaging experience that leaves a lasting impact.
Interactive features and animations
In 2023, interactive features and animations will be increasingly common in sports website designs. These aspects provide a degree of interaction and engagement to your website, allowing fans to actively participate and explore it.
Live scoreboards, interactive game simulations, and polls provide real-time updates and allow spectators to stay engaged to the action. They generate enthusiasm and make fans feel involved even if they are unable to physically attend the game.
Animations lend movement and visual intrigue to your sports website. Animations improve the user experience and provide a more immersive environment, from minor hover effects to dynamic transitions. They can be used to bring attention to crucial aspects, emphasize significant content, and direct people through the page.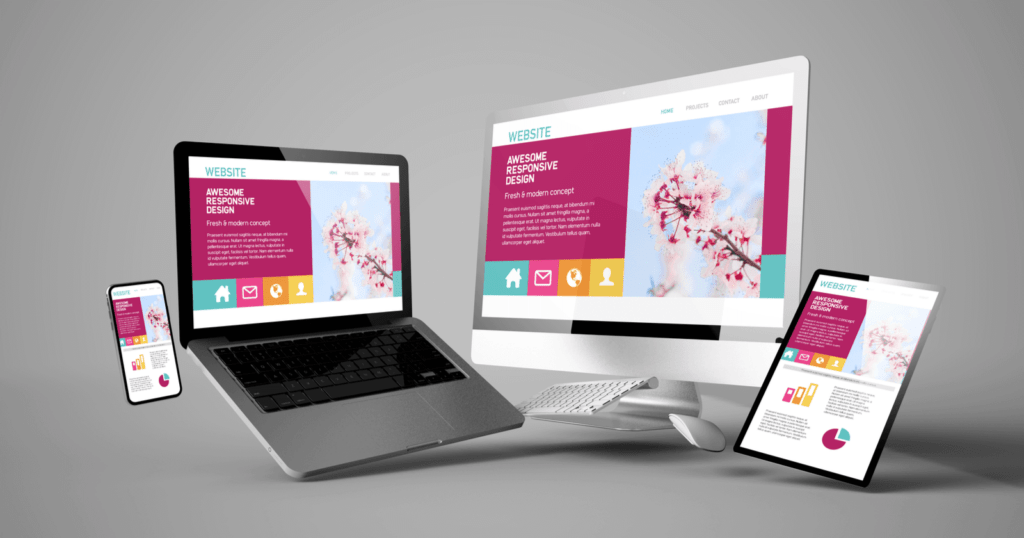 It is critical to achieve a balance between practicality and aesthetics when introducing interactive elements and animations. Ensure that interactive features are simple to use and straightforward, allowing people to navigate with ease. Animations should enhance rather than detract from the user experience, therefore avoid using too many or distracting animations that may slow down the website or confuse consumers.
In addition, consider the performance implications of interactive features and animations as well. Optimize the code and assets for fast loading and response times. This is critical since a slow website might irritate users and result in high bounce rates.
You may create a dynamic and engaging user experience by incorporating interactive features and animations into your sports website. Fans can actively interact with the content, vote in polls, and keep track of the newest scores. Animations offer visual appeal to the website and guide users through it, making it more engaging and memorable.
Minimalistic and clean design approach
In 2023, a minimalistic and clean design style will be prevalent in sports website designs. This design style prioritizes clarity, simplicity, and a focus on fundamental aspects. You may build a visually appealing and uncluttered interface by using a minimalistic design. This method allows users to easily traverse your website and obtain the information they need without being distracted. Fans may easily access game schedules, player biographies, and team news thanks to clear and succinct layouts.
A clean design style promotes content hierarchy, ensuring that critical information is visible. The use of white space strategically, well-defined typography, and deliberately positioned graphic components direct users' attention and improve readability. You can show information in a visually appealing and structured manner with a clean design.
A simple and clean design style lends itself well to responsive and mobile-friendly layouts. It guarantees that your website adapts to different screen sizes and devices effortlessly, offering an optimal user experience across platforms. With more people using mobile devices to access sports content, this design strategy is critical for reaching and engaging a larger audience.
Remember to find a balance between simplicity and visual appeal while establishing a minimalistic and clean design. To create depth and visual appeal without overwhelming the viewer, utilize contrasting colors, subtle gradients, and subtle textures. A polished and professional appearance is enhanced by consistency in design elements and a unified visual identity.
Recommended reading: UX Design Process: What You Need To Know
Top 5 Sports Website Designs in 2023
Are you prepared to investigate the best 5 sports website designs for 2023? In this final section, we'll look at the most inventive and visually attractive sports websites that are setting the standard. These websites not only display the most recent results, news, and player biographies, but they also provide an immersive and entertaining user experience. Whether you're a die-hard fan or a casual sports fan, these website designs will leave you speechless. So, let's get started and uncover the cutting-edge sports website designs that will be sweeping the sports market in 2023!
Nike stands out among sports website designers due to its remarkable and compelling online presence. Nike's 2023 website design is a real tribute to the brand's dedication to innovation and flair.
The Nike website greets you with a sleek and energetic look that immediately captures your attention. The combination of bright and bold colors produces an exciting and sporty atmosphere that reflects the brand's personality. The website is built with a mobile-first mindset, offering a consistent and responsive experience across devices.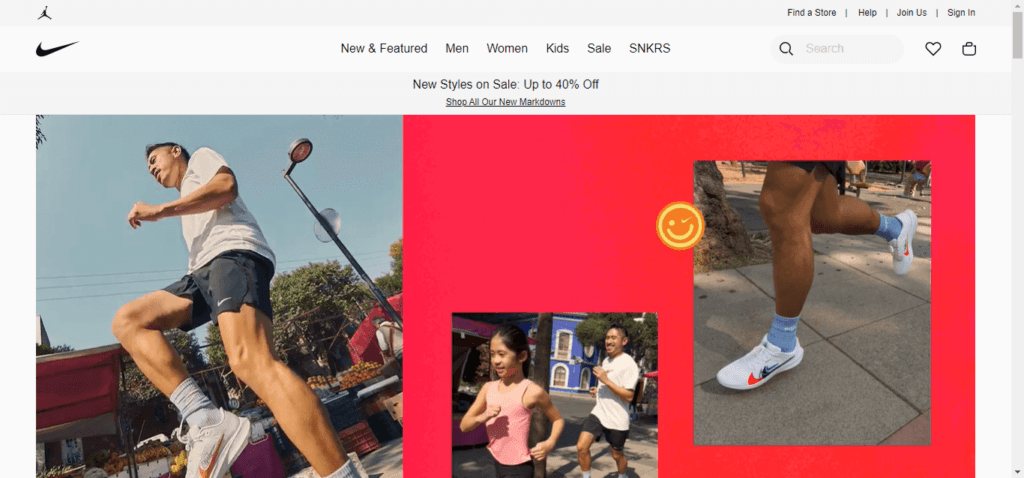 Nike's website shines in terms of user-friendliness, allowing you to simply navigate through several categories such as men's, women's, and children's sportswear, footwear, and accessories. The menu is well-organized, allowing you to quickly access certain products or collections. You can locate the perfect pair of sneakers or browse the latest athletic clothes with just a few clicks.
The product showcase on Nike's website is one of its most notable features. High-quality photographs and videos bring the products to life, allowing you to see every aspect and get a true sense of their performance and design. In addition, the website provides detailed product descriptions, sizing information, and user reviews to assist you in making informed purchasing selections.
Nike goes above and beyond by including interactive elements and animations across the website. These elements, which range from interactive product customization tools to immersive storytelling experiences, provide users with a compelling and dynamic trip. You can learn about Nike's athletes, take part in virtual events, and even build your own bespoke shoes.
Nike's website's checkout procedure is simple and safe, with several payment choices and a simplified design. The website also provides personalized recommendations based on your browsing history and interests, further improving your shopping experience.
Adidas is another prominent competitor in the area of sports website designs, and their 2023 website design emphasizes their devotion to innovation and athletic prowess. The sleek and visually appealing interface of the Adidas website quickly draws your attention. The design is clean, sleek, and simple, with a focus on the brand's trademark three stripes logo and a spotlight on their current goods and campaigns.
The Adidas website's navigation is simple and straightforward. The menu is well-organized, making it simple to navigate through several categories such as footwear, clothes, and accessories. You may easily browse their broad product selection and discover distinct collections targeted to various sports and lifestyles.
Adidas excels at displaying their products with high-quality photos and videos. Each product page offers a detailed view of the item, allowing you to zoom in, spin, and inspect every aspect. In addition, the website gives important product information, customer reviews, and sizing guides to help you make informed shopping selections.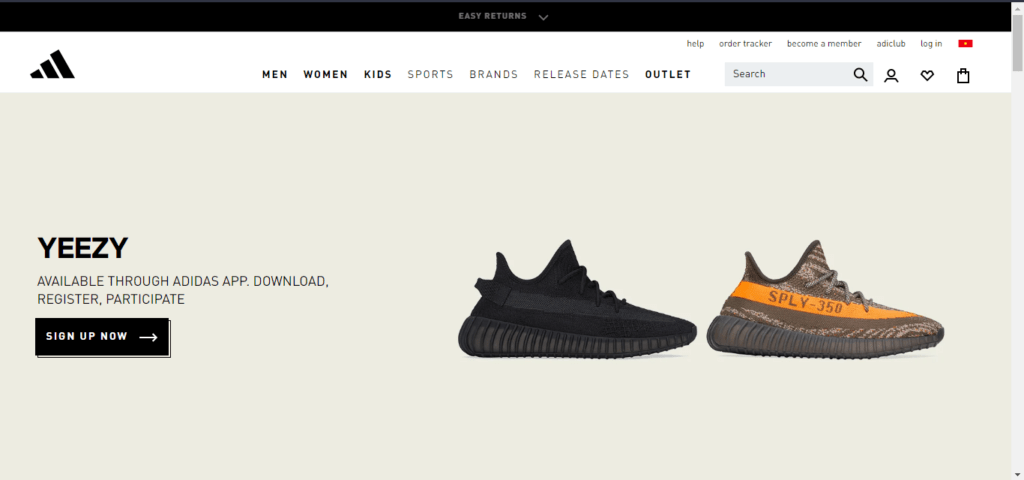 The Adidas website's emphasis on customisation is one of its most noticeable characteristics. You may obtain personalized recommendations based on your tastes, prior purchases, and browsing history by creating an account and logging in. This personalized touch improves the overall buying experience and makes it easier to find new products that match your preferences.
Adidas uses interactive features and immersive experiences to engage and excite their audience. You can go through their most recent commercials, watch footage of athletes, and even take part in interactive challenges or quizzes. These interactive features foster a sense of community and inspire active brand interaction.
The Adidas website's checkout process is simple and safe, delivering a pleasant shopping experience. A user-friendly layout, many payment choices, and clear delivery information make it simple to complete your transaction.
Under Armour is another standout in the field of sports website designs, with a website design in 2023 that shows their commitment to performance and innovation. When you visit the Under Armour website, you'll notice its vibrant and lively design that quickly catches your eye. The website has a slick and modern interface with bold images, brilliant colors, and eye-catching typography that complements the brand's identity.
The Under Armour website's navigation is simple and straightforward. The menu is well-organized, allowing you to quickly navigate through several categories such as men's, women's, and children's apparel, footwear, and accessories. You may easily browse their large product selection and filter possibilities based on your preferences.
Under Armour excels at displaying their products with high-quality photographs and videos. Each product page includes excellent visuals and complete product information, such as product characteristics, sizing, and user reviews. This allows you to make more educated purchasing selections and hastens your shopping experience.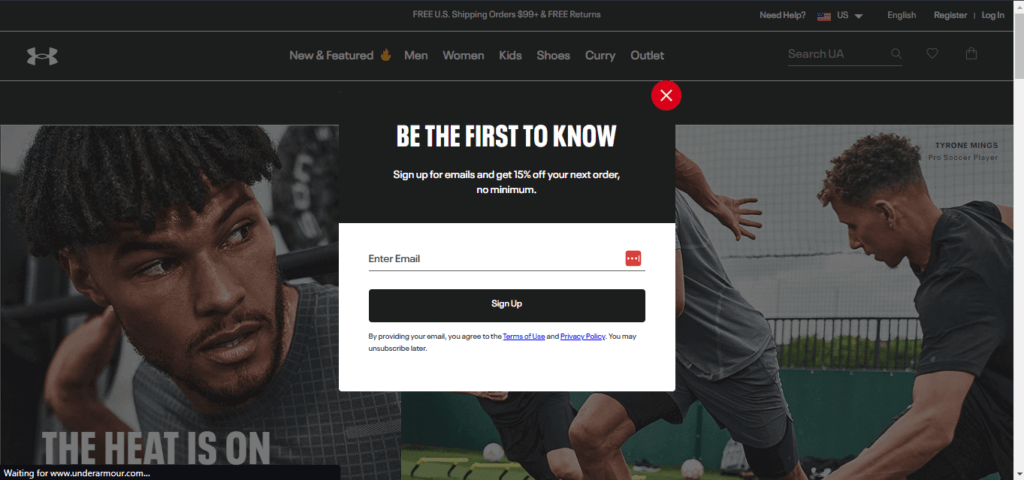 The emphasis on performance and technology is one of the most noticeable aspects of the Under Armour website. They tout their unique fabrics, technology, and athlete endorsements as evidence of their commitment to improving sports performance. Under Armour assists clients in making informed decisions by giving extensive information about the performance benefits of their goods.
Under Armour also prioritizes audience engagement through interactive aspects. To inspire and connect with their clients, they add athlete stories, training suggestions, and motivational content. Furthermore, the website provides a personalized experience by including elements such as tailored training routines and recommendations depending on your fitness goals.
The Under Armour website's payment process is simple and safe. It offers several payment choices, clear delivery information, and an easy-to-use design to ensure a quick and easy purchase.
In 2023, Puma, famed for its cutting-edge sports gear and footwear, made an impression with an amazing website design. The sleek and contemporary appearance of the Puma website quickly captivates visitors. The design emanates vitality and modernism, ideally complementing the brand's athletic and fashion-forward image.
The Puma website's navigation is simple and straightforward. The menu is well-organized, allowing users to simply navigate through several categories such as men's, women's, and children's collections, as well as specialized sports and collaborations. This makes it simple to find desired products and explore the website.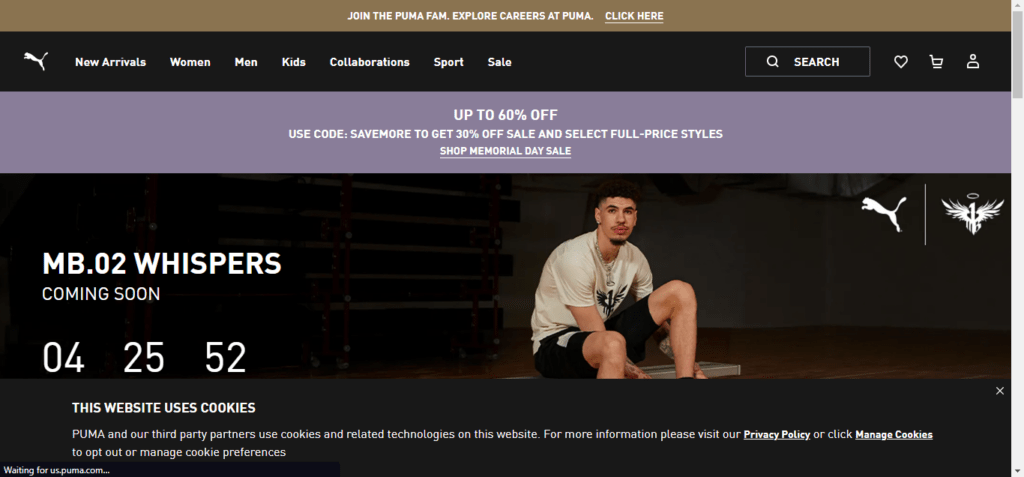 Puma excels at displaying their items with high-quality photos and engaging films. Customers can study the things in detail by using numerous views and zoom options on each product page. To ensure buyers have all the information they need to make informed purchasing decisions, the website includes thorough product descriptions, including materials, sizing options, and customer reviews.
The interactive aspects on the Puma website are also noteworthy. They employ interactive tools and features to improve the overall user experience. Visitors, for example, can personalize certain products, such as sneakers, by selecting alternative colors, patterns, or materials. Personalization provides a fun and engaging element to the buying experience, allowing customers to create one-of-a-kind and personalized products.
The emphasis on storytelling is another notable feature of the Puma website design. Puma effectively showcases their brand's ideals, collaborations, and the stories of athletes who promote their products through images and intriguing storylines. This strengthens the brand's authenticity and trust by establishing a stronger connection with the audience.
The Puma website's checkout process is simple and secure. Customers may effortlessly add products to their cart, examine their order, and confidently proceed to checkout. A seamless and convenient shopping experience is ensured with many payment choices and clear shipping information.
With its amazing online platform, Reebok has established itself as a forerunner in sports website designs in 2023. The lively and energetic style of Reebok's website quickly draws your attention. The structure is simple and well-organized, allowing users to easily navigate through the many sections and product categories.
The Reebok website is easy to navigate, with a well-structured menu that allows quick access to various collections, sports categories, and partnerships. Finding the appropriate products is simple, whether you're shopping for running shoes, gym apparel, or athleisure wear. The Reebok website's emphasis on immersive imagery is also one of its most notable characteristics. High-quality photos and videos are used to bring their items to life, allowing customers to imagine themselves wearing Reebok apparel in action. The website shows products from many angles, ensuring that customers grasp the design and functionality.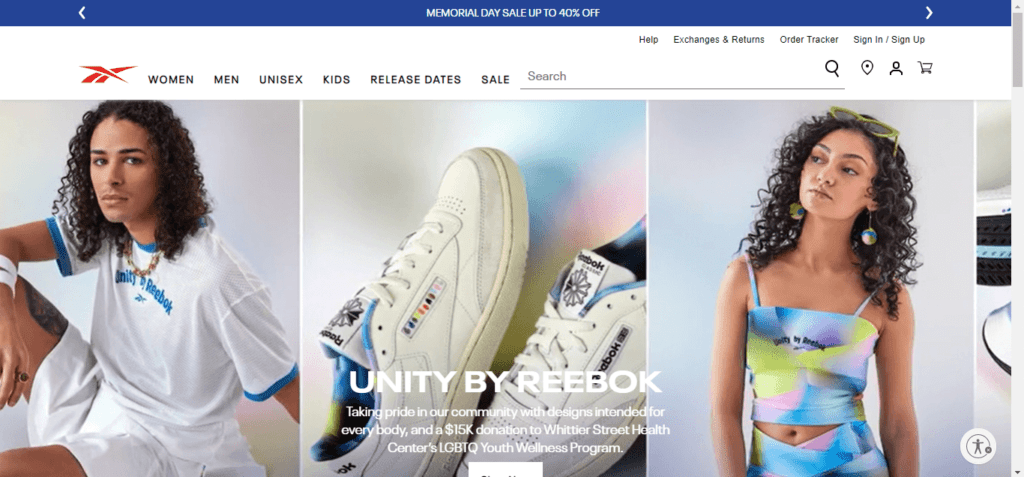 Reebok also provides thorough product information. Each product page contains detailed descriptions, sizing instructions, and customer reviews, allowing customers to make informed purchasing decisions.
Another important aspect of Reebok's website design is interactivity. The website includes interactive tools and features that improve the user experience. Visitors, for example, can utilize filters to refine their product search based on preferences such as size, color, and price range. Users can bookmark their favorite items and track their orders by creating a personalized account.
The design of Reebok's website also reflects the company's dedication to diversity and empowerment. The website shows a variety of models exhibiting their wares, establishing a sense of representation and inclusiveness. This appeals to their target audience and builds a positive brand image.
The Reebok website's checkout procedure is efficient and safe, with several payment methods and transparent delivery information. Customers can quickly add products to their cart, examine their order, and proceed to checkout.
How Designveloper Can Help
At Designveloper, we recognize the significance of a high-quality sports website design that captivates customers and improves their sports experience. Continue reading to learn how we can help you create a beautiful website like the ones listed previously.
Keeping Ahead of the Competition
Designveloper is always one step ahead of the competition when it comes to sports website design. We understand the sports industry's ever-changing landscape and the need to stay current on the newest trends and technologies. Our dedication to creating cutting-edge technology websites and web apps distinguishes us.
We remain on top of the latest advancements to ensure that your website or web app captures your brand identity, increases conversion rates, and enhances your online visibility. Our superior services are geared to assist your company in expanding and meeting its profit goals. Whether it's website design or web application development, we're committed to providing high-quality solutions that are suited to your individual requirements.
Excellence in Web Development
Web development services are critical in the development of web-based products and the enhancement of user experience. We offer a wide spectrum of web development services at Designveloper, including full-cycle development, design, and continuing maintenance. Our goal is to assist your company in increasing conversion and adoption rates by providing seamless user experiences.
In addition to website design, our company specializes in developing web apps for a variety of sports. Through intelligent automation, we improve operations and integrate corporate systems to ensure smooth operation. We can produce outstanding results for your sports website thanks to our considerable technical competence in tools and technologies such as HTML5, CSS, JavaScript, React.js, Angular, and others.
Our forte is UI & UX development
Designveloper is well-known for its competence in UI and UX design. We understand that the user interface (UI) and user experience (UX) design of a sports website is vital to its success. As a result, we use intelligent design thinking to overcome technological hurdles and create unique solutions with demonstrable outcomes.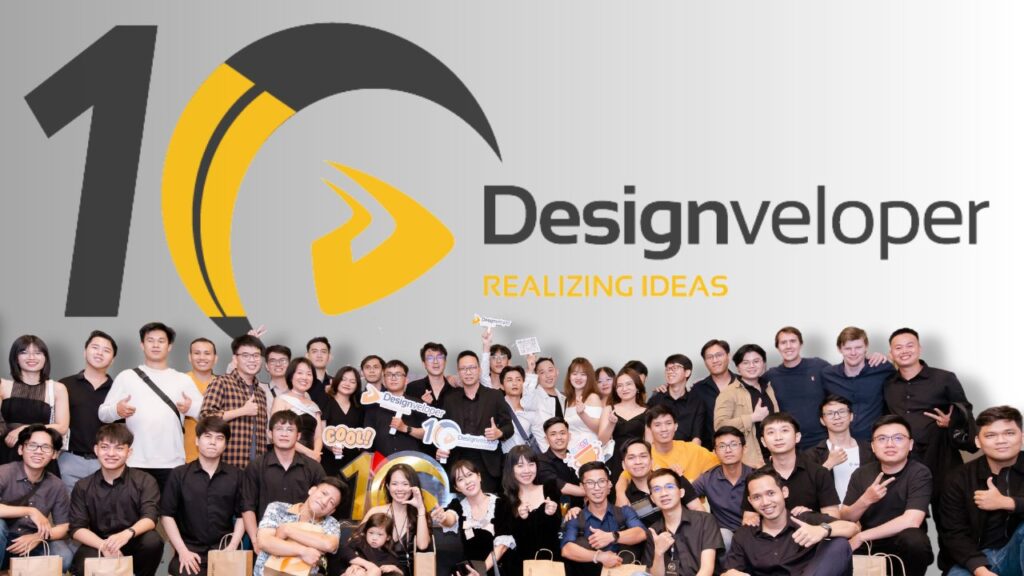 As the leading web development firm in Vietnam, Designveloper can bring your sports website idea to life with precision and efficiency because of a solid technical basis in technologies like Figma, Sketch, Adobe XD, Zeplin, and Adobe Photoshop. Our UI and UX design services may help you create a sports website that not only looks good but also provides a smooth and intuitive user experience.
When you work with Designveloper, you can rest assured that your sports website is constructed on good design concepts and industry best practices. We stress understanding your unique requirements and converting them into designs that exceed your expectations. Our ultimate goal is to build a website that not only engages consumers but also creates financial returns for your sports brand.
Don't accept substandard UI and UX. Choose Designveloper as your sports website design partner and let us help you create a digital experience that will leave an impression on your users.