Are you a wine enthusiast looking for ideas for a compelling website design? There is no need to look any further! In this piece, we'll look at five outstanding websites that blend the world of wine with beautiful web design. These websites will inspire you to create a great online presence for your winery, from visually appealing design to smooth user experiences. So pour yourself a bottle of your favorite wine and prepare to learn the secrets of wine web design!
The Significance of Web Design for Wine
In this first section, we'll look at the magic that occurs when wine and web design collide. So join us in the virtual vineyard as we uncork the secrets of wine web design and see how it may improve your winery's online visibility.
What web design means for wineries and wine enthusiasts
Web design is extremely important for both wineries and wine consumers. It's the virtual tasting room's façade for wineries, the initial impression that sets the tone for their business. A well-designed website may highlight their distinct offerings, vineyard vistas, and winemaking philosophy, enticing visitors to learn more. It's similar to the label on a bottle of wine, attracting attention with its visual attractiveness.
However, web design is more than just looks; it is also about functioning. For wine connoisseurs, a user-friendly website with easy navigation and a flawless browsing experience may make all the difference. Consider navigating a website that feels as smooth as pouring a glass of your favorite wine.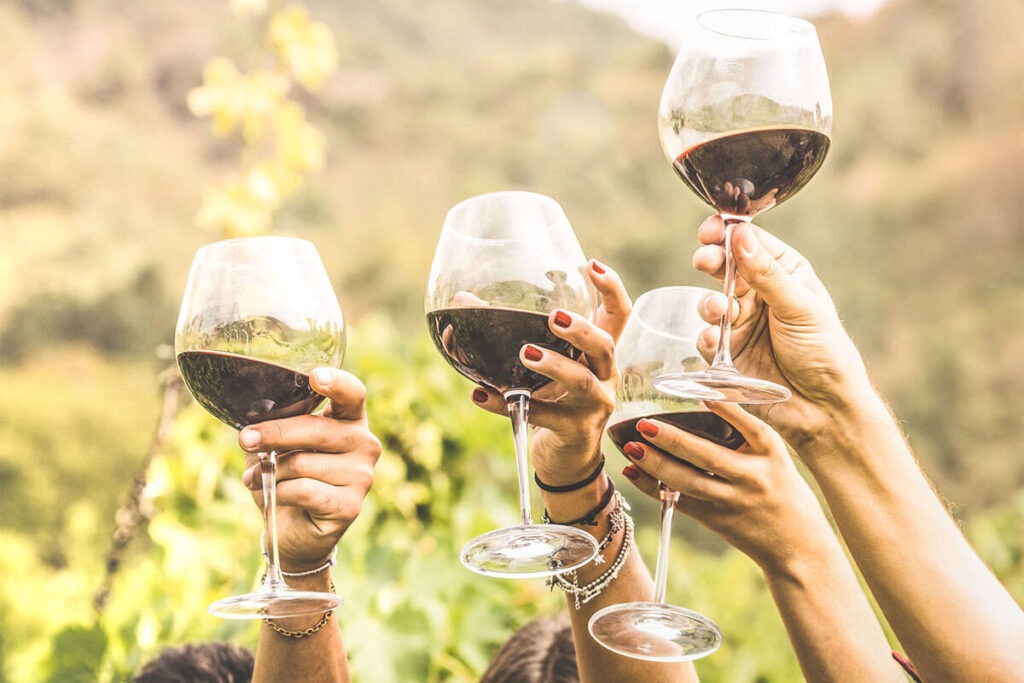 Furthermore, web design is critical in establishing an emotional connection. It enables wineries to communicate their distinct tales and passion for winemaking with the rest of the world. Websites can transport wine aficionados to vineyards, cellars, and tasting rooms through attractive imagery, engaging material, and interactive components, offering an immersive experience right from the comfort of their homes.
A well-designed website serves as a virtual ambassador for wineries in this digital age. It's like a superb wine bottle waiting to be found by wine connoisseurs all across the world. Wineries may use smart web design to broaden their reach, establish brand loyalty, and eventually enhance sales.
Statistics on web designs in 2023
Statistics show that web design has an unmistakable impact on user perceptions and website success. An astonishing 94% of first impressions are affected only by design, emphasizing the importance of design in attracting visitors' attention. People develop their first impression of a website in as little as 2.66 seconds, stressing the need of appealing design aspects that immediately captivate users.
Design is critical for e-commerce websites because 75% of shoppers make their decision exclusively on aesthetic attractiveness. Investing in excellent user experience (UX) design can be a game changer, potentially increasing website conversion rates by 400%. An unsightly layout or content, on the other hand, can easily turn away potential customers. In fact, 38% of people quit a website owing to its unappealing design.
An overwhelming 85% of individuals believe that a company's mobile website should match or outperform its desktop equivalent in terms of quality, demonstrating the growing importance of mobile-friendly design in today's digital ecosystem.
Another aspect worth considering is customer retention. Customer retention is directly affected by user experience. This is proven with 88% of online shoppers being less inclined to return to a website after a negative experience. This highlights the need of providing visitors with a seamless and delightful browsing experience. Even minor details matter, as a one-second delay in page load time can result in a 7% decrease in conversions.
The above data demonstrate more specifically the enormous impact of site design on user behavior and business outcomes. It is all the more evident why outstanding wine web design is important for both wineries and wine lovers.
Recommended reading: 5 Best Web De sign Companies in Japan
The Trends of Wine Web Designs
Staying up to date on the newest trends in the changing world of wine web design is critical. Web design trends grow in the same way that the flavors and smells of wine do. In this section, we'll look at the current trends shaping the wine web design environment. From immersive narrative to minimalist aesthetics, these trends present intriguing opportunities for both vineyards and wine enthusiasts. So, raise our virtual glasses and uncork the trends that are reviving wine web design!
The key elements of effective wine web design
When it comes to wine web design, some crucial factors can make or break the creation of a functional and visually appealing website.
Aesthetics
Aesthetics in wine web design are similar to the brilliant colors and elaborate patterns on a wine label. They serve to capture the eye and generate an emotional connection. A website's visual attractiveness sets the tone for an unforgettable online experience, capturing wine fans from the moment they arrive.
The utilization of striking pictures is an important part of aesthetics. High-quality photographs of vineyards, wineries, and wine bottles can convey the essence of wine. They can also excite the viewer's imagination in the same way as a stunning vineyard panorama does. These photographs exude genuineness and entice visitors to explore deeper.
Aside from images, the color pallet is very important. Whether it's a warm and inviting earth-toned palette or a vivid and energetic combination, carefully chosen colors may evoke the mood and personality of a winery. Colors can evoke emotions and provide a unified visual experience that is consistent with the winery's brand and offers.
Another significant aspect of aesthetics is typography. The correct fonts, whether classic and beautiful serif or modern and sleek sans-serif, can express the winery's identity. Consistency in font styles and sizes improves reading and increases visual attractiveness.
And finally, the website's layout and composition also contribute to its beauty. A well-organized and balanced layout guarantees that visitors may easily navigate through the pages and obtain the information they seek. The careful positioning of features like menus, graphics, and text results in a visually appealing and unified design.
Usability
Usability is crucial in wine web design—it's like a quality wine's smooth and seamless pour. A pleasant user experience requires visitors to be able to simply navigate and engage with a website.
An important part of usability is responsive design. A website, like a wine glass that flawlessly accepts many wine kinds, should adapt effortlessly to diverse devices and screen sizes. With the growing popularity of mobile devices, wineries must create a mobile-friendly experience that allows users to explore their goods while on the go.
Loading speed is also critical to usability. Website users anticipate fast-loading websites, just as we appreciate a wine that does not keep us waiting. Websites that take too long to load might cause frustration and high bounce rates. Some tactics for ensuring fast page loading include optimizing picture sizes, reducing code, and using caching techniques.
Forms and interactive features should also be user-friendly. Forms and interactive features on a website should be easy to fill out and participate with, much as a wine tasting experience should be fun and accessible. Clear instructions, validation messages, and user-friendly input fields all contribute to a smooth and painless user experience.
Another important part of usability is accessibility. A website, like a wine label that contains information in different languages, should be accessible to a wide range of users. This involves taking into account the needs of disabled users, such as providing alternative language for images and ensuring correct color contrast for people with vision problems.
Functionality
Functionality is the corkscrew of wine web design—it's what makes everything run smoothly and cleanly. The seamless integration of e-commerce elements is a critical aspect of functioning. A wine website, like a wine shop, should include powerful and user-friendly e-commerce functionality. Product listings, thorough descriptions, pricing, and a secure payment method are all included.
The presence of interactive components and compelling material is another critical aspect of functioning. A wine website, like a sommelier who gives tasting notes and food match suggestions, should include interactive features such as quizzes, blog articles, and videos that educate and entertain visitors. These aspects combine to produce a dynamic and immersive experience that engages users and encourages them to explore deeper.
A search option is also essential for a wine website. Visitors should be able to easily search for certain wine-related content, much as we rely on a search bar to locate the perfect bottle. Another important part of functionality is integration with social media networks. A wine website should have social sharing tools that allow users to effortlessly share wines, articles, or their experiences with their networks. This encourages participation, enhances brand visibility, and broadens the reach of the winery's goods.
Finally, for proper functionality, the website must be frequently updated and maintained. Regular updates, security patches, and bug fixes keep a website running smoothly. This helps to avoid issues like broken links, sluggish loading times, and security flaws.
Mobile responsiveness and user experience
In today's mobile-centric world, wine websites must be mobile-responsive and deliver a consistent user experience across devices.
Mobile responsiveness is like a perfectly balanced wine—it adjusts to diverse situations and pleases every user's palate. Because the majority of internet consumers visit websites via mobile devices, wine websites must be optimized for mobile viewing. This means that the layout, content, and functionality should seamlessly change to different screen sizes. This helps ensure that consumers have a consistent and engaging experience whether they're surfing on their smartphones or tablets.
Wine websites that are mobile responsive can appeal to the on-the-go nature of wine enthusiasts. A mobile-responsive website, like a well-crafted wine bottle opener, allows customers to effortlessly access wine information, browse items, and make purchases, all from the palm of their hand. It eliminates the frustration of zooming in, horizontal scrolling, or dealing with sluggish parts, resulting in a seamless and trouble-free experience.
A mobile-responsive website also improves the user experience. It's similar to a sommelier anticipating your preferences and recommending the ideal wine—users feel cherished and understood. On mobile devices, a responsive design ensures that content is easily legible, graphics are optimized, and navigation is simple. This results in a user-friendly environment in which visitors can easily explore wines, learn about wineries, and interact with the brand, establishing trust and connection.
Additionally, smartphone responsiveness is important in search engine optimization (SEO). A mobile-responsive website is valued by search engines such as Google, much as a well-known wine is. Websites that provide a seamless mobile experience are prioritized by search engines, resulting in improved ranks. This increases organic traffic and draws new wine lovers to the website.
Recommended reading: How Much Will a Website Design or Redesign Cost?
Top 5 Beautiful Wine Web Designs
Prepare to be visually astonished as we explore the top 5 stunning wine web designs! These magnificent websites below are a true testament to the union of wine and web design, enticing wine lovers with their elegant aesthetics and smooth user experiences.
Last Bottle is an outstanding wine web design that needs special recognition. This website elevates the thrill of discovering and enjoying fine wines to a whole new level.
With its sleek and modern layout, Last Bottle offers a daily variety of handpicked wines at fantastic discount. The homepage captures your attention right away with stunning photos of tantalizing wine bottles and vivid vineyards, setting the tone for a wonderful wine experience. The user-friendly structure of the website makes it simple to navigate and discover new wines as well.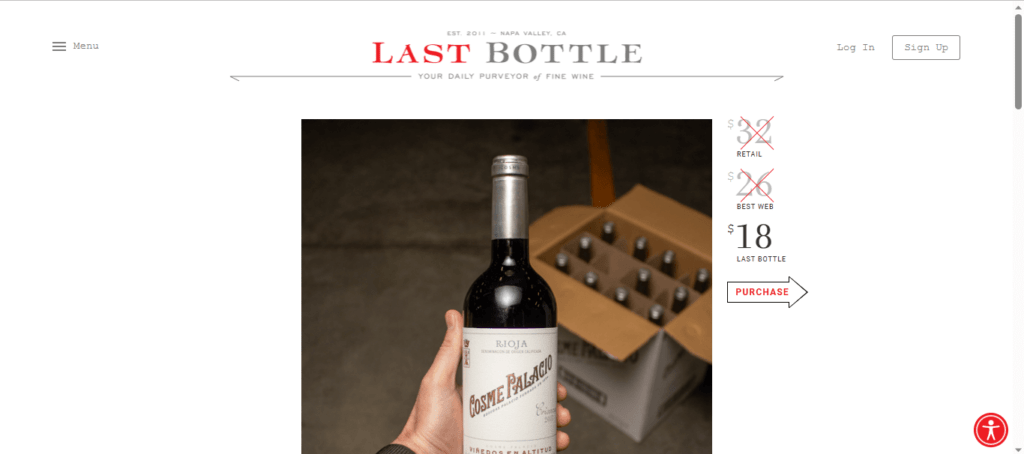 Each wine listing includes thorough descriptions, tasting notes, and customer reviews, allowing consumers to make educated purchases. Last Bottle ensures a smooth and delightful customer experience, from the simple checkout procedure to the seamless integration of social sharing options. Last Bottle's amazing web design will leave you wanting to uncork new and intriguing wine experiences.
Wine Folly is another amazing wine site design that deserves to be recognized. This website is a treasure resource of wine education and advice, appealing to both wine novices and specialists.
The Wine Folly homepage greets you with a visually appealing display of wine-related content that quickly piques your curiosity. The website's simple and straightforward design makes it simple to navigate through the enormous variety of articles, infographics, and videos covering a wide range of wine themes.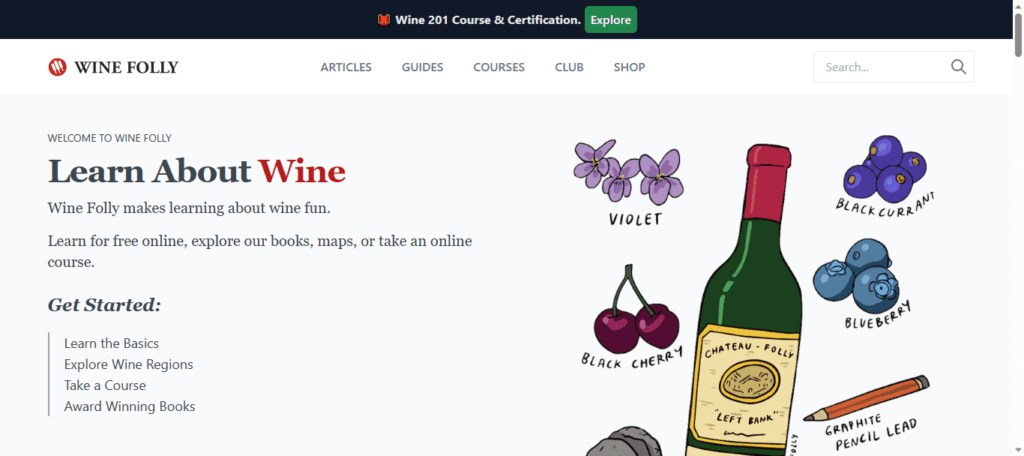 Wine Folly provides comprehensive and accessible resources that make wine education interesting and approachable. The combination of eye-catching imagery and compelling narration brings wine knowledge to life, providing visitors with an immersive experience. The website also includes interactive tools, such as flavor profiles and wine pairing guidelines.
Wine Folly is a remarkable example of how web design can raise wine education and inspire wine lovers of all levels.
Wine Spectator, a website that caters to wine fans looking for professional ratings, reviews, and tasting notes, is another top challenger in the area of wine web design. When you enter the Wine Spectator website, you're greeted with a sophisticated experience that's slick and polished. The design flawlessly blends elegance with functionality, allowing customers to easily navigate the huge wine database and get vital information.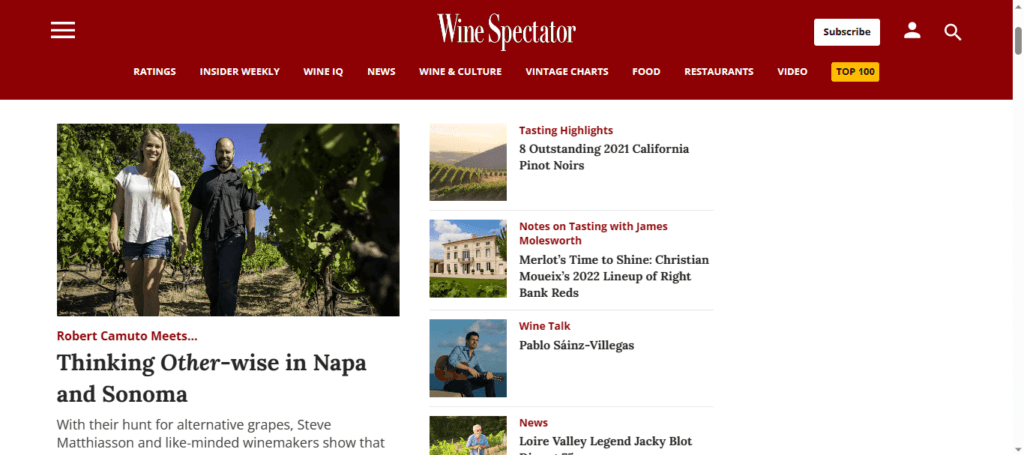 The style of the website is well-organized, making it easy to navigate through the many parts. The dedication of Wine Spectator to providing authoritative content is obvious in its comprehensive wine ratings, which are rigorously selected by a staff of expert wine critics. Users may quickly find specific wines, view top-rated options, and explore recommendations based on personal interests.
The inclusion of extensive tasting notes and reviews provides vital insights into the characteristics and quality of various wines, assisting wine enthusiasts in making informed judgments. Furthermore, Wine Spectator includes interactive features like wine quizzes and forums, which build a sense of community and participation among its consumers.
Wine Spectator showcases the power of outstanding web design in providing wine fans with a platform to explore, learn, and indulge in their passion for wine, thanks to its elegant design, rich content, and user-friendly interface.
Vivino, a platform dedicated to offering tailored wine suggestions based on your taste preferences, is another exceptional wine website that stands out for its design. It has an aesthetically beautiful and user-friendly design that draws wine enthusiasts right from the start. The website's clean and modern style makes browsing through the huge range of wines a pleasurable experience. It also has user-friendly tools that allow visitors to simply search for wines, read reviews, and explore recommendations tailored to their particular palate.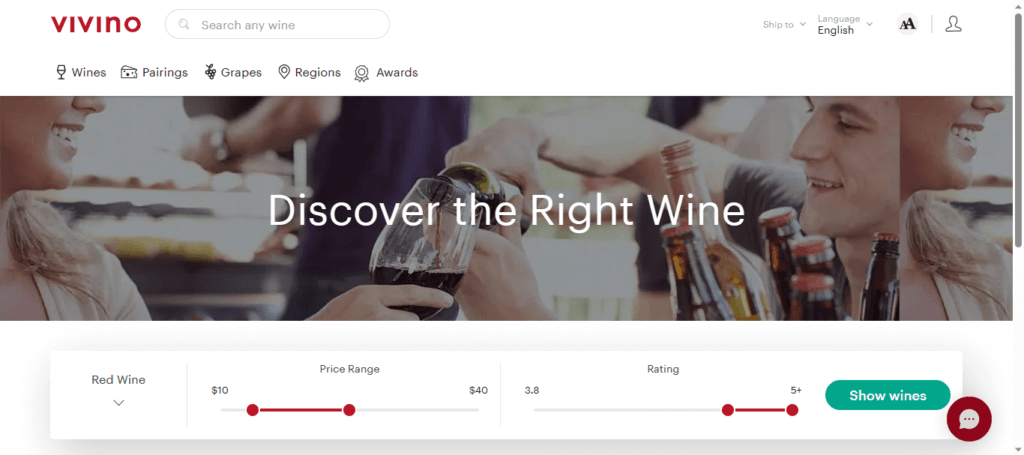 Vivino's dynamic design fosters user participation by allowing users to offer their own ratings and reviews. Vivino's novel wine scanning functionality, which allows users to take a photo of a wine label and quickly access full information, ratings, and reviews, is another of its notable features. This distinct feature distinguishes Vivino and improves the entire user experience. The website also provides tailored wine suggestions based on user preferences, assisting consumers in discovering new wines that match their taste profile.
Vivino's dedication to user-centric design can be seen in its seamless integration of technology, community involvement, and tailored recommendations, making it a go-to platform for wine fans looking for an interactive and informative experience.
Finally, Wine Enthusiast is a must-visit website for wine enthusiasts, thanks to its excellent web design and extensive collection of wine ratings, reviews, and shopping tips. When you first visit the website, you're greeted with a visually appealing layout that exudes sophistication and elegance. The website's design is both modern and user-friendly, allowing wine fans to easily navigate through the large database of wines and get the information they require.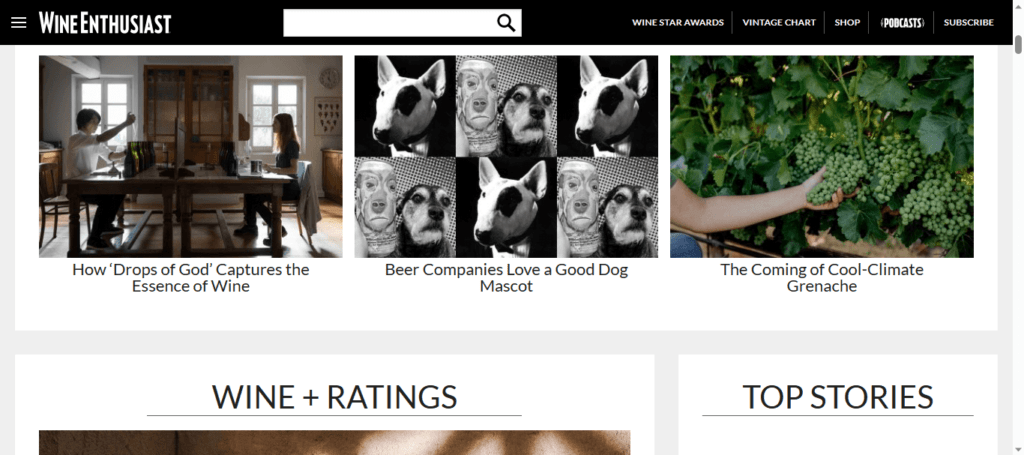 Wine Enthusiast includes user-friendly search options that enable users to rapidly filter and sort among wines. The website's focus on user engagement is obvious in its interactive features, which allow users to offer their own ratings and reviews, resulting in a dynamic community-driven platform.
Wine Enthusiast offers in-depth buying guides that provide essential insights and recommendations to help you make smart wine selections, whether you're a novice wine drinker or a seasoned connoisseur. The website's dedication to providing dependable and trustworthy content is evident in its skillfully curated wine ratings and reviews, which serve as a credible resource for wine fans looking for advice. This is truly a leading site for wine fans wishing to increase their knowledge and make informed wine choices, thanks to its visually beautiful design, user-friendly layout, and extensive wine resources.
Conclusion
When it comes to wine web design, the sites we've examined demonstrate the power of visually appealing and user-friendly interfaces. By combining visually appealing designs with simple navigation and thorough wine information, these websites have captured the essence of the wine world and provided users with crucial tools and insights.
Consider us if you need someone to assist you in creating a good website similar to the ones listed. Allow Designveloper to help you create a magnificent wine web design that will not only impress your visitors but will also increase your online presence in the ever-changing wine sector. Cheers to lovely web design and a great wine journey!