Numerous software engineering graduates are holding promising positions in tech giants straight out of university. Such big tech companies as Google are the most sought-after workplaces on the ground. Needless to say, thinking of working for Google, people would come up with a rosy picture of six-figure remuneration. But how much does Google pay its staff is still a question that requires certain research to answer.
Average Salaries at Google
Median annual incomes for Google's software engineering positions or relevant occupations depend on the level of seniority. At Google, there is a wide spectrum of levels where any engineers would land according to their competence and qualifications.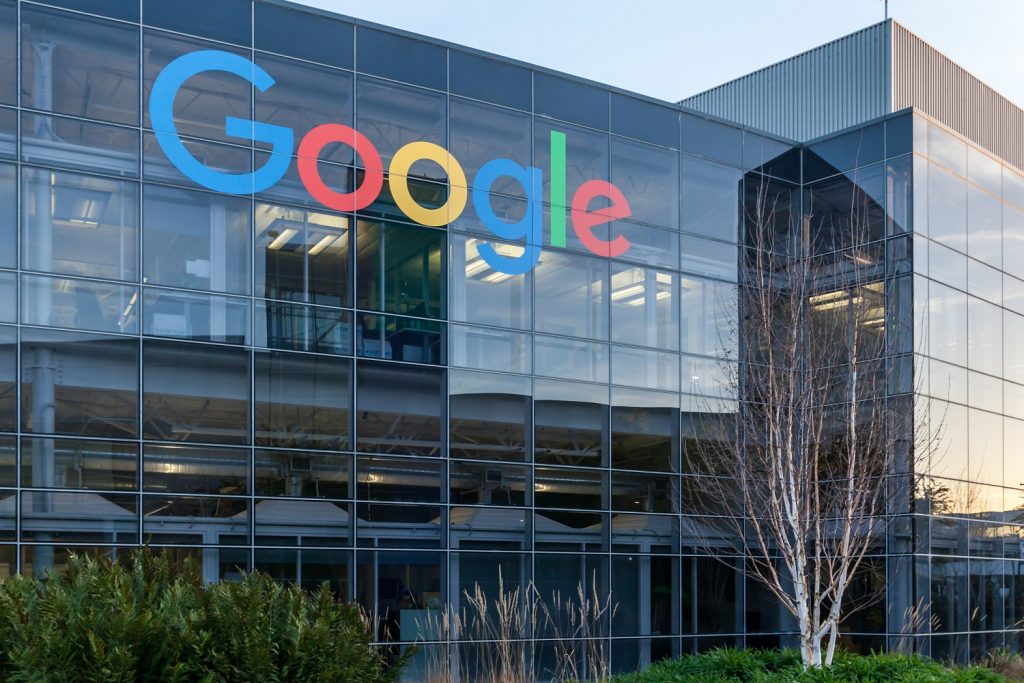 So, how much does Google pay, exactly?
As demonstrated by Levels.fyi, the largest data platform on remuneration of tech employees, rookie software engineers start at Level 3 with a base salary of US$129,000. Coupled with other perceived benefits such as the yearly stocks of US$38,000 worth and a US$20,000 bonus, the total compensation for the entry-level worker (commonly called SWE II, short for Software Engineer II) would reach US$187,000.
Those who are appointed to more important posts such as Principal Engineer at Google, anonymously shared the average annual salary of more than one million US dollars that includes the base pay of US$321,000 and additional compensation. The Levels.fyi's report has shown the highest position the software engineer may obtain currently at Google is Google Fellow at Level 10. Generally, the higher level any given engineer is promoted to, the larger income is generated:
Level Name

Total
Base
Stock (/yr)
Bonus
L3
SWE II
(Entry Level)
US$187k
US$129k
US$38k
US$20k
L4
SWE III
US$263k
US$155k
US$80k
US$27k
L5
Senior SWE
US$354k
US$189k
US$127k
US$37k
L6
Staff SWE
US$480k
US$222k
US$202k
US$54k
L7
Senior Staff SWE
US$719k
US$280k
US$351k
US$88k
L8
Principal Engineer
US$1.19m
US$321
US$724
US$122
L9
Distinguished Engineer
–
–
–
–
L10
Google Fellow
–
–
–
–
Other third parties such as Indeed or Glassdoor state that the software engineer intern at Google may receive the average monthly compensation of 7,700. Also, the wage rates for other engineering-related positions are varied. The median total remuneration, for example, ranges from approximately US$129,000 for Software Engineer in Test to US$169,219 for Software Research Engineer.
Recommended reading: What Does a Web Developer Do? Career, Salary, Reviews
How Much Does Google Pay, in Comparison With Tesla, Amazon, and Facebook?
Big names including Facebook, Amazon, and Tesla employ their own mechanisms to classify their software engineers by level and accordingly have different compensation bands for employees. Glancing at the following seniority spectrum of four tech giants, you can recognize these companies have pretty similar mechanisms despite different nomenclature of the level. Facebook's levels, for instance, are called "E", the abbreviation for Engineers.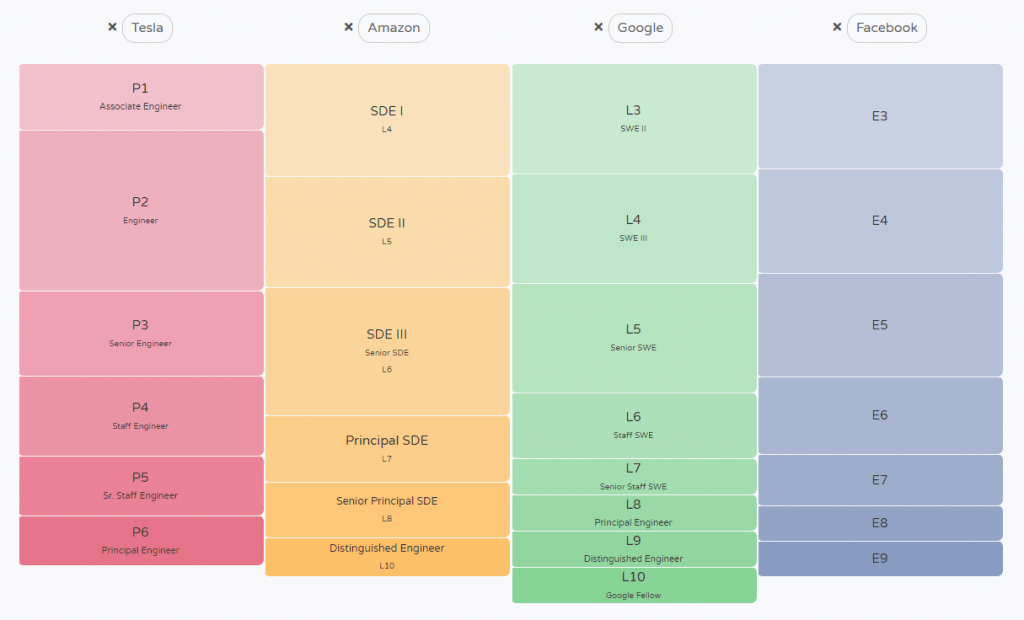 Compared with Google, Facebook has 7 levels for software engineers. Which, newcomers often start at E3 with a total compensation package of US$181,064 involves the base salary, the company's stocks, and additional pay. Meanwhile, Tesla's system begins from P1 for Associate Engineers who receive the total annual remuneration of just over US$136,000 to P6 for Principal Engineers.
At Amazon, levels are denominated in the same way as those of Google. However, novice workers are required to start at L4 for Software Development Engineer I with a higher compensation package of US$162,000. The company's system may go up to L10 for Distinguished Engineers.
But still, salaries are always negotiable.
Despite the mentioned salary range, outstanding candidates can negotiate with recruiters for higher incomes that are well-deserved for their proficiency at jobs. Except for the annual base salary, software engineers are granted shares and other non-cash perks which are variable based on the annual performance of those companies.
Additionally, university graduates also raise a common question of whether a Level 3 at Google is equivalent to other entry levels at three given large corporations. The job market has witnessed a fast labor turnover yearly. So if a Software Engineer I leaves Google and applies for Facebook, at which level is he considered? It is challenging to identify the precise answer. This depends on which positions he aims at and which experience or skills he owns. Therefore, it cannot be concluded that all entry levels at companies are the same.
Recommended reading: Web Developer Salaries in Vietnam 2022
Is It Difficult to Work at Google?
Now that you can answer the question "how much does Google pay their software engineers". How about all the difficulties you might face if you work for Google?
Well, it depends on different factors. All businesses, albeit small or large-scale, focus on seeking the most suitable applicants for given roles. They are not necessarily the most intelligent candidates. They must, however, possess professional knowledge, hands-on experience, and soft skills that match job requirements. The same also applies to Google or any tech giants. Several former workers at Google confirmed the statement in a thread on Quora. They claimed that the recruitment process in the company was not actually tricky nor easy; and that hiring decisions are profoundly influenced by various factors.
"The hardest part is getting an interview"
Numerous individuals regard getting into Google as an extremely difficult mission; They have to enter a fierce competition to win a slot and some hiring questions are too puzzling to address. Indeed, the Forbes report indicated that getting an offer in Google is much harder than being admitted to Havard; and merely 1 out of 130 candidates gets the chance. With Google software engineer salary rates plus other appealing benefits, it is unsurprising to see why.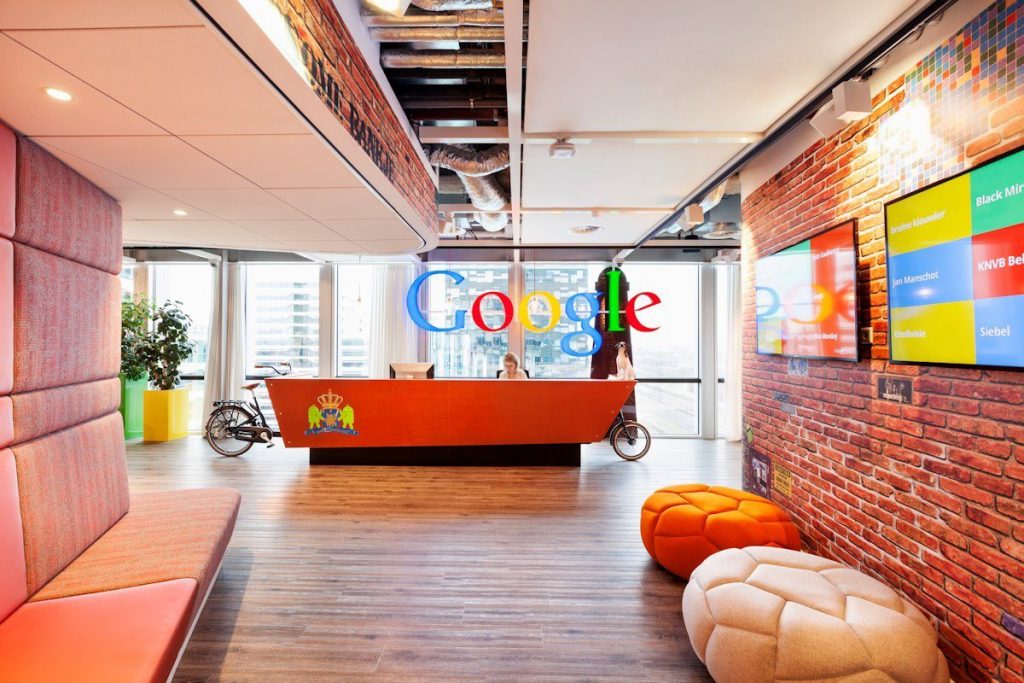 John L. Miller, a former recruiter at Google, said, "The hardest part is getting an interview". Accordingly, you may either participate in campus recruiting with the company if you are a university/college student; or you need to obtain a referral from those current employees at Google. The former is more feasible as not all people have a chance to get internal recommendations from Googlers. However, as shared by Do Hong Nhung, aka Hana Lexis, a famous Vietnamese YouTuber who is working in the US, you may proactively contact hiring managers of Google through Linkedin should you have something to impress them. If you successfully attract their attention, you will seize an opportunity to be interviewed by senior engineers.
Technical skills are important, but mindset counts in large part
Furthermore, the acceptance rate still depends on whether you understand Google's "type" which is described as "generalist" by Stephen Kurtzman, a former Director of Engineering at Google. Accordingly, recruiters do not intend to hire someone for a specific engineering position. Instead, they aim at interviewees with broad knowledge and the ability to solve problems. In other words, they prefer their new colleagues to think out of their box and outside their specialized domain to work out a wide range of solutions for posed issues. That you are not employed by Google does not mean you are a bad engineer, but rather you are inappropriate for the type of Google.
When it comes to the leading IT companies, big names such as Google, Tesla or Amazon usually dominate global news coverage. Apart from exceptional benefits, cash compensation always appeals to software engineering undergraduates. Thereby, Facebook or Google software engineer salary reaches six figures per year, especially various senior engineers can make millions of dollars. This turns tech giants into dream workplaces for university students.
Designveloper hopes that this article will help you know exactly how much does Google pay and the salary of the developer market.