To manage projects resourcefully, IT service providers adopt numerous hands-on approaches such as Agile or Waterfall methodologies. Why are these procedures important in software development management? This article will detail the most popular models in monitoring IT projects now to help answer the question.
What is a Software Development Project?
In a restrictive definition, software development is just a process of writing and maintaining codes. However, a real software development project covers much more tasks, from researching and conceptualizing ideas through to launching, maintaining and improving final deliverables.
Project Management for Software Development
Whether an outsourcing company is working on small-scale projects for startups or complex ones for large enterprises, project management is an integral factor of the software development process.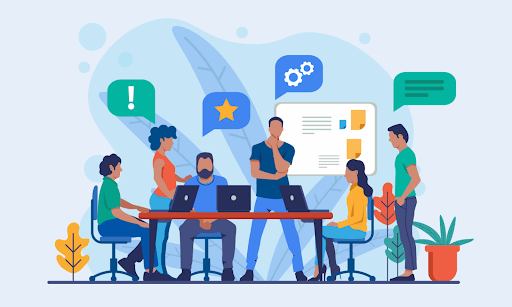 Software development is no longer the job of only software engineers, but rather involves many other stakeholders such as UI/UX designers or business analysts and therefore accompanies a higher level of complexity. Therefore, software development management is essential regardless of project scope.
This process entails various principles and practices, beginning with input parameters specified by clients and even pasting after software goes to the market.
Without project management, all people involved in the project hardly establish obvious goals and then fail to devise respective plans to meet the end on time and within budget.
Worse, the lack of project management translates to inefficient organization and supervision of the project, resulting in poorly functioning deliverables and crippling losses in terms of finance and reputation.
In this article, we'll deduce some common methodologies or models to monitor projects successfully as follows:
Waterfall;
Agile;
Gantt chart;
Scrum;
Kanban;
Lean software development.
Waterfall Method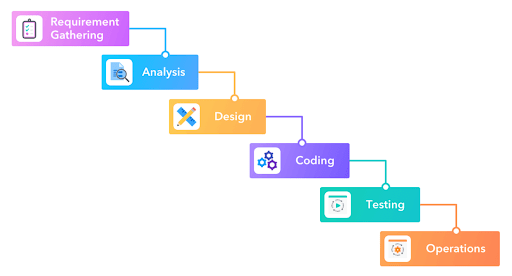 This methodology is a traditional development process that involves the execution of project activities in linear sequential order. There are six major phases in the Waterfall model including:
Software requirements: In the first stage, a project manager often works with a client to identify the latter's requirements related to a problem, costs, risks or project management metrics.
Analysis: This phase involves all stakeholders and team members to thoroughly analyzing the problem and establishing definite business principles and models to solve the problem.
Design: Here, software architects and developers work together to build a technical design for the problem, entailing layouts, scenarios and data models.
Coding: This stage involves implementing the technical solution by programming software and apps based on predetermined specifications.
Testing: Testing and debugging are necessarily done before the finished deliverable reaches end-users. These practices guarantee the software is defect-free and meet all requested demands of the clients.
Operations: This stage occurs after the product launch, including technical support, maintenance and improvements.
The key concept behind this methodology is each stage only commences once a prior phase wraps up and therefore relies on the outcome of the previous phase. That's why if the client makes any changes in the Coding stage, for example, the whole development has to come back to the Design phase. This is one noticeable downside of Waterfall. So this development model only suits those who have a clear insight into products from the beginning and hardly change their requirements once everything's in progress.
Conversely, stakeholders may easily detect faults in the Design stage, which benefits their programming tasks in the subsequent stage. Also, both the client and development team can estimate the total costs and timeline as well as evaluate how things work in each phase.
Agile Method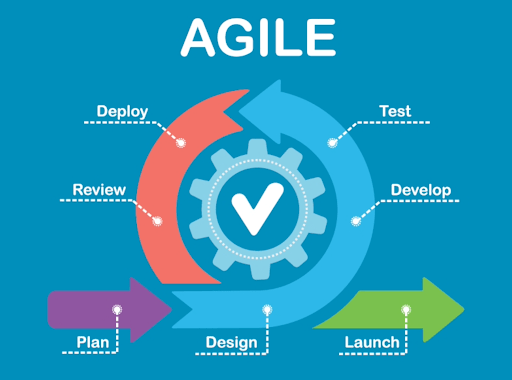 Among the most popular methods for software development management used by various modern-day companies. Accordingly, an IT service provider breaks a whole project down into smaller workflows done in short cycles called "iterations", each of which requires perpetual cooperation between project stakeholders and development team members. This hence encourages more efficient communications between both parties.
Also, team members can both code and test each part of the deliverable in the same iterations. This mitigates time and cost risks, helps stakeholders focus more on the product's quality and speeds up the time of releasing the product to the market.
Due to the mentioned characters, Agile is a tremendous methodology for projects experiencing constant changes or having ambiguous specifications from the onset.
Gantt Chart Method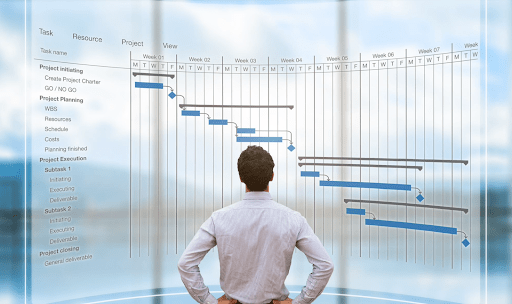 A Gantt chart is displayed in the form of a bar chart that demonstrates all events and tasks of a software development project. The left side of the chart shows a detailed list of activities performed in multiple phases such as planning or execution. Meanwhile, the top illustrates a determined time frame. A horizontal bar represents the duration, start date and end date of an activity.
The Gantt chart method accompanies various benefits including:
Monitor which task is assigned to whom;
Make project adjustments more convenient;
Examine and report how things work;
Help stakeholders clearly visualize how the project is conducted;
Detect and report issues during the software development life cycle, thus producing suitable actions with ease.
Yet using this method in software development management comes with some drawbacks, more noticeably the time-consuming creation, management and update of the chart.
Scrum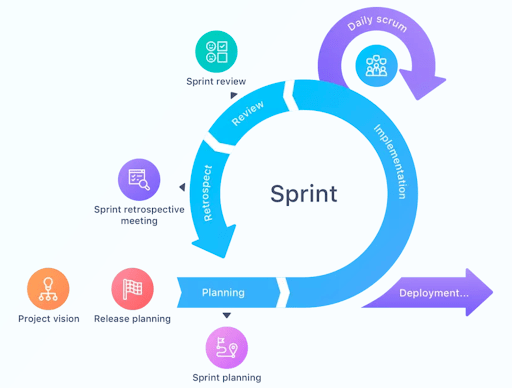 Scrum is considered the most widely used agile methodology framework, so this model still follows some fundamental agile principles such as fast responses to customer feedback and changes, focus on effective communication and collaborative efforts or short cycles.
However, Scrum itself has distinct properties. First, this management model is designed for the shortest iterations called "sprints", most frequently two weeks and no more than one month.
The scrum team often involves fewer members than the agile team, with no more than 10 people including a scrum master, software developers and a product owner. Of which, a scrum master doesn't act as a leader, but rather a team facilitator who educates both stakeholders and team members about scrum principles to ensure the high quality of deliverables, organizes daily meetings to examine progression, eliminates impediments to software development and more.
A scrum process operates according to the following steps:
Sprint planning: All people involved discuss the sprint goal and choose metrics that contribute to achieving the goal before building a sprint backlog.
Implementation: During the process of coding software, all members hold daily meetings to track progress.
Sprint review: This step occurs at the end of the scrum sprint. It's time for developers to present their work to a product owner and receive feedback.
Sprint retrospective: In this phase, members look back to what worked well in the past sprint and how to improve products.
Due to its length of time and main focus on quality, Scrum tallies with projects being implemented in fast-changing environments.
Kanban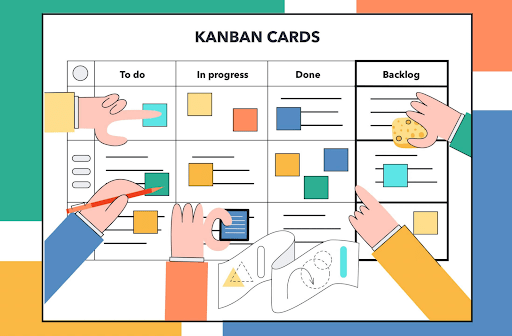 Another prevalent agile framework that development teams use to visualize their work. In particular, a Kanban board, albeit physical or virtual, consists of several columns that represent respective items such as In Progress, Testing or Done, whereas sticky notes that demonstrate specific tasks are attached to the board.
This design allows all project participants to visually monitor the overall workflow and the progression of individual tasks in one place. When existing tasks are completed or when new tasks come up, information on the board will change accordingly.
However, the Kanban model has some limitations such as no timeframe or confusion over whether the information is up-to-date. So those engaging in this methodology should prioritize information transparency and frequent communication so that team members may know exactly the project's progress and at what phase the process is.
Lean Software Development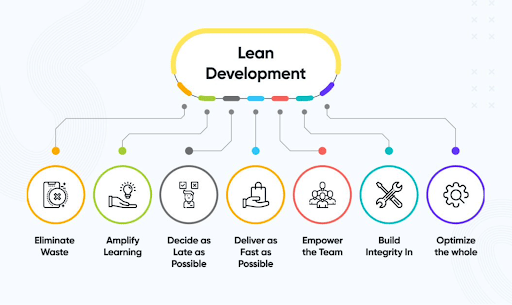 As the name states, lean software development works toward the idea of eliminating all redundant features, requirements and so forth out of the software development process. Although this model shares some pieces of philosophy with the agile methodology, there is some difference between them. Apart from waste elimination, lean software development encourages the product's fast delivery, adaptability to any dimension and more. These major principles enable risk and cost mitigation and boost a better decision-making process.
But whether the framework works well hinges on the development team's competence and the commitment to all Lean principles. Therefore, to guarantee the effective use of this model, development teams often use such tools and techniques as value stream mapping, options thinking, etc.
Conclusion
Whether your company uses internal staffing or outsourcing human resources to undertake software projects, systematic models for software development management are essential to ensure the smooth process from conception to after-release upgrades. Each method has its own pros and cons, so your business should ponder whether their usage matches your current project and may use hybrid models to execute projects effectively.
With this latest technology now available, it is a much better option for you to switch to Designveloper. We offer all of the services needed for any size business and more – from web development, mobile application design, and consulting. We are here waiting for your call! Give us a call today if you want an estimate or just some advice on how we can help your company with these new developments in technology!