The first launch in the online dating industry originated from the website kiss.com in 1994. Other follow-ups were then released, but all of which were website-based. Not until the first debut of Grindr specifically designed for the LGBTQ+ community in March 2019 that the era of dating apps began. However, those apps now are so abundant that new players are thought to win no slot in the industry. That's why we'll present a complete overview on the realm to help answer whether it's a good time for startups to make a dating app.
1. Is there still room for a new dating app?
Contrary to common belief that online dating isn't a fertile playground to jump in, Valuates Reports predicts that the worldwide online dating services market will expand its size to US$3.592 by 2025. Accompanying a CAGR of 8.26% from 2019 to 2025.
According to Statista, most revenue in the online dating and matchmaking segment comes from the United States. This isn't an astonishing finding because three out of ten Americans are reported to use a dating app or site to find a partner and gladly, 12% of users form a lasting relationship afterward. Beyond that, the 55 to 64 group is projected to have the fastest CAGR. Whereas those aged 18 to 24 dominate the online dating market.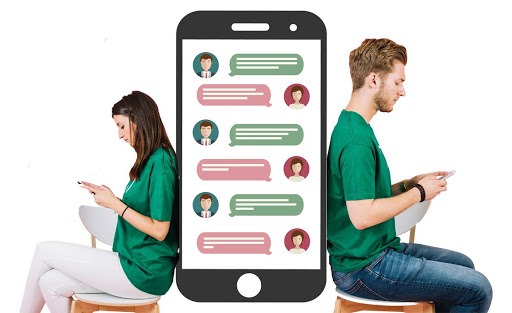 Common reasons behind those figures include a soaring in global internet users and their familiarity with stigma related to online dating. Moreover, that social distance has become an accepted norm since the coronavirus pandemic occurred in early 2020 stimulates more millennials and even boomers to go online in search of romance. Although various participants admit that they are also looking for fun and sex on dating apps. Such interesting proof indicates the online dating industry still gives developers golden opportunities to grow well provided they go on the track that fits their core business value.
Wandering around the market, you can see which business models are applied by successful developers and then become their competitive edge. For example, The League aims at qualified young professionals while Tinder simply pairs those suiting each other's criteria and liking each other's account. Newcomers who wish to pay off in this sphere should identify target customers and address their dating needs. They then can either function as offline dating agencies or develop niche dating apps for vegetarians.
See also: 11 Degrees for a Career in Software Development
However potential, the market has erected various obstacles for new players on their way to success. Indeed, the industry is primarily occupied by the Match Group making up 25% of the market share, followed by eHarmony with just under 12%. The former itself operates 45 brands, especially including Tinder. So it unsurprisingly exposes newcomers and smaller players to a desperate struggle. Noticeably, CEO Justin McLeod at Hinge said that Tinder's success was so spectacular that most newer apps hardly rivalled it.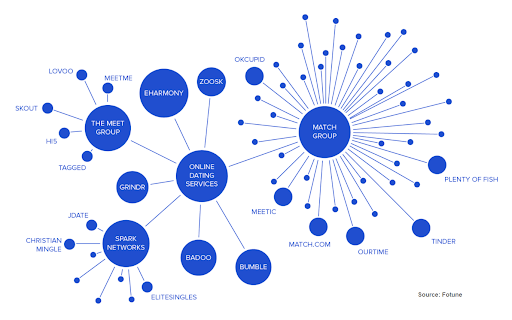 The main reason behind the massive failure of new players is the lack of venture capital (VC) investments required to garner enough users. McLeod himself claimed that only those backed by VC funding were capable of surviving and getting profits. Not to mention that many dating app owners and venture capitalists have different strategic perspectives from the start. Development teams pay more attention to user experience at first, whilst the latter targets monetization of dating apps. This consolidates the false idea of the unprofitable market among VCs.
Another cause lies in the limited number of users reaching those apps. Jimena Almendares, a chief product officer at OkCupid, indicated that dating apps were nothing short of social media, but confined to a narrower participation level. Positioning your business clearly to set it apart from other competitors and impress target customers is always a daunting task, making the market more difficult to conquer. Inevitably, many businesses fail to do it and then get kicked out of the game.
2. The cost of making a dating app
Dating apps are now classified into four basic categories: traditional dating apps (e.g. OkCupid), geolocation matching apps (e.g. Bumble), algorithm-based matching apps (e.g. Zoosk) and niche dating apps (e.g. SweetRing).
Depending on your business's initial goal and customer segmentation, the potential app will accompany distinct features, so being differently priced. Normally, the total expense used to make a dating app is mostly affected by the following factors:
Software development team
Team members' experience and hourly rate
Complexity level and number of features
Back-end and front-end infrastructure
UX/UI design
Development methodology (e.g. native or hybrid)
Development platforms (e.g. iOS, Android or website)
Servers and connected APIs
The average budget may range from around US$50,000 to US$80,000 for a single-platform app. Meanwhile, that of a multi-platform or hybrid dating app incorporated with advanced functionality can exceed US$100,000. Please keep in mind that those expenditures may exclude cloud hosting, Google Play or App store fees and so forth.
In addition, you should ponder other incurred costs after your product makes its first public appearance. They are associated with marketing campaigns to reach a wider audience, customer support and even legal support. What's more, such dating apps as Tinder introduce new add-ons to satisfy the increased demands of users with the ultimate goal of improving their loyalty and attracting new participants. So, little wonder that some amounts need to be allotted to frequent app updates and server maintenance.
3. Why hire Designveloper?
Prioritizing the satisfaction level of customers, Designveloper is well-known for the professional working process that commences with attempts to define clients' problems and suggest appropriate solutions before building apps. Not falling behind the current technology trends, the development team at Designveloper applies cutting-edge technologies to mint functional. And scalable software products that help clients increase traffic and stand out in the market.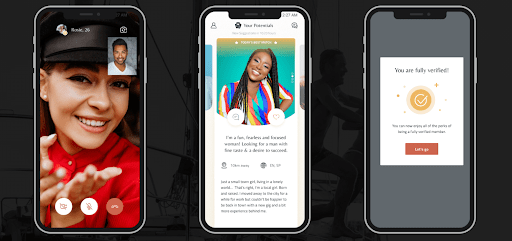 Another reason why you should consider hiring such an outsourcing agency as Designveloper is cost efficiency. Regularly, a freelancer in developed countries in Europe or North America charges roughly US$60 per working hour. But the figure can be up to US$100 for a professional office worker or decrease to less than US$25 for a newbie. By comparison, the developer hourly rates at Designveloper are committed to be reasonable and accordingly vary as per the project's scope and other factors already mentioned in the previous part.
Altogether with dedication and professionalism, the talented development team has hands-on experience in producing a dating mobile app called Gently on iOS and Android which promotes sugar relationships based on clarity and mutual respect. All of those things turn Designveloper into a reputable companion to work with.
Facing the normalization of finding a partner or friend online. The online dating industry has become more promising than ever before. However, the market is so intensely competitive that very few startups can make a dating app successfully. Let alone the necessary cost of building and maintaining the app. Therefore, there is a lot to consider before you venture in the business. Besides VC investments and business strategies to tempt target niches. It's equally important to find a reliable and accomplished partner to help digitize your proposition effectively.