Last week, I came across a really interesting video from CollegeHumor in which the comedian Brennan Lee Mulligan impersonates the CEO of Skype trying to control his temper during a promo shoot. The anger solely comes from the fact that Skype appeared to lose its users to Zoom in the Zoom vs Skype competition during the pandemic time.
This hilarious video in fact triggers a serious question: Why is it that such a long-standing brand name like Skype did not suffice to compete with Zoom, which was founded a decade later? Why is it that 'Zoom' was so popular that it even became a verb, as in the common saying "let's Zoom"? How did Zoom take the whole world by storm, even in the presence of giants like Microsoft with Skype and Teams, or Google with Hangouts?
Maybe to get a thorough understanding of this zoom vs skype race, we should go back in time to the date when the first videoconferencing tools were created.
A brief history of Zoom
Zoom was founded in 2013 by Eric Yuan. He is a Chinese software engineer who emigrated to the U.S. in 1997. His expertise and also career objective were to advance videotelephony software, make it more user-friendly and efficient.
At first, he landed a job in WebEx Communications, which was at the time just a web conferencing startup. Yuan was one of the key members of the development team who built up WebEx's video conference software. Because there was very little competition in the market, WebEx soon became one of the first options for video calls. But it seemed that WebEx was not supposed to be a scalable startup that aimed at taking over the world because, in 2007, the company was acquired by Cisco System for $3.2B. Yuan still worked there, and he climbed up the corporate ladder to become the Vice President of Engineering. Under his guidance, WebEx development team scaled up to the size of 750 engineers, and the company's annual revenue reached $800M.
However, WebEx has certain deficiencies that make the customers unhappy, such as unstable connectivity, lagging audio and video transmission, and a frustrating installation process. Moreover, competitors started to arise, and disruptive technologies came up. Facing this sort of challenge, Yuan attempted to convince the management to change the product. But the idea was rejected, so he decided to leave the company. And when he left, there were close to 40 engineers followed him to pursue his goal of developing a new video conferencing tool that surpasses WebEx. And of course, it is called Zoom.
Not only Yuan's colleagues at WebEx but also the investors believed in Yuan's vision. That's why he was able to raise $3M to start his idea in 2011. After two years of iteration, the product satisfied beta testers, and after finetuning some issues, Zoom was officially launched in January 2013.
From the start, it was massively successful. By May 2013, Zoom claimed they had reached 1 million users. With the launch, they clinched another round of funding, this time for $10M, with the company valuation of about $25M. And by late 2013, another round of funding secured them $6M more and doubled the company's valuation. Within the following year, Zoom claimed to have 10M users.
These numbers have shown that Zoom was a promising and unstoppable candidate to be a unicorn in Silicon Valley. Still, the question is, what makes Zoom so successful?
Zoom's recipe for success
During the time working for WebEx, Yuan had learned a lot of things. He talked with a great number of customers to get their pain points, and he formed such a philosophy that customers must be happy by all means. He indeed lives up to this philosophy most of the time, and he even directly commented on the tweets of unhappy users.
Features that make Zoom stand out
This 'customer first' philosophy governs the company's business decisions. It is evident in that zoom offers a 3-in-1 package: HD video conferencing, mobility, and web meetings, with a very economical pricing plan: only $9.99, cheaper than other options with only provided 1-2 of those features. Zoom was compatible with various browsers from Chrome to Firefox and Safari. It also detected the device instantly, so there was no need to have versions for Mac or PC, and its data use was low enough that it worked well even in slow and weak internet connections.
Zoom extended their market to not only individual users but also businesses. In order to make it easy for organizations to adopt Zoom. The installation process of Zoom is simplified.
And there's one thing about Zoom's video call quality that is referred to as the 150-millisecond rule. Oded Gal, Head of PM of Zoom, stated that in order to make a video call as smooth and natural as possible, the lag time must be smaller than 150 milliseconds. Zoom team is well aware of this, and they tried so hard to make this number never exceed 150 milliseconds. 
All the above features are in line with Eric Yuan's belief in prioritizing customer satisfaction. Compared with Cisco WebEx, Zoom understands what the customers want, and its technology and customer service satisfy them better than competitors do.
Zoom vs Skype
There are three things that provided Zoom with a solid foundation to defeat Skype in video conferencing:
From the beginning, Zoom was intended to be a video conferencing tool whereas Skype started out with audio support, and then adjusted to video, which proved to be costly.
Zoom offers several free features (i.e. Group video calls) which were previously charged by competitors like Skype. Recognizing this, Microsoft decided to change these paid features to free features.
Zoom's development team was well aware of the need for a universal app that works well on multiple devices and platforms (which is also one of the drivers of progressive web apps). That's why they prioritize enabling users to instantly use the service without sign-up or installation requirements. Only with an URL and a web browser, you can immediately join a video call. Maybe Skype failed because they did not pay enough attention to the customer's need for convenience.
And time has proved that Yuan was right. Every company wants to be profitable, but very few of them are able to get there. Zoom was made it. It became unstoppable. By 2017, in their Series D funding, Zoom received $100M and finally reached a $1B valuation to become a unicorn, even when they were not actively looking for funding. As Yuan said, it's the capitalists like Sequoia who came and knocked on the door to offer them money.
By April 2019, when Zoom went public, shares went up 72% from the original $36. And Zoom was valued at $16B.
Success in turbulent times: How Zoom vs Skype in the Pandemic
So you see Zoom outweighed Skype in video conferencing even before 2020. But it's the COVID-19 that accelerated the competition and enlarged the gap between Zoom vs Skype when people who had to work from home searched for webinars, video conferencing tools, and VPN in a matter of days, if not hours. Zoom, its competitors, and in fact everybody was not able to anticipate this.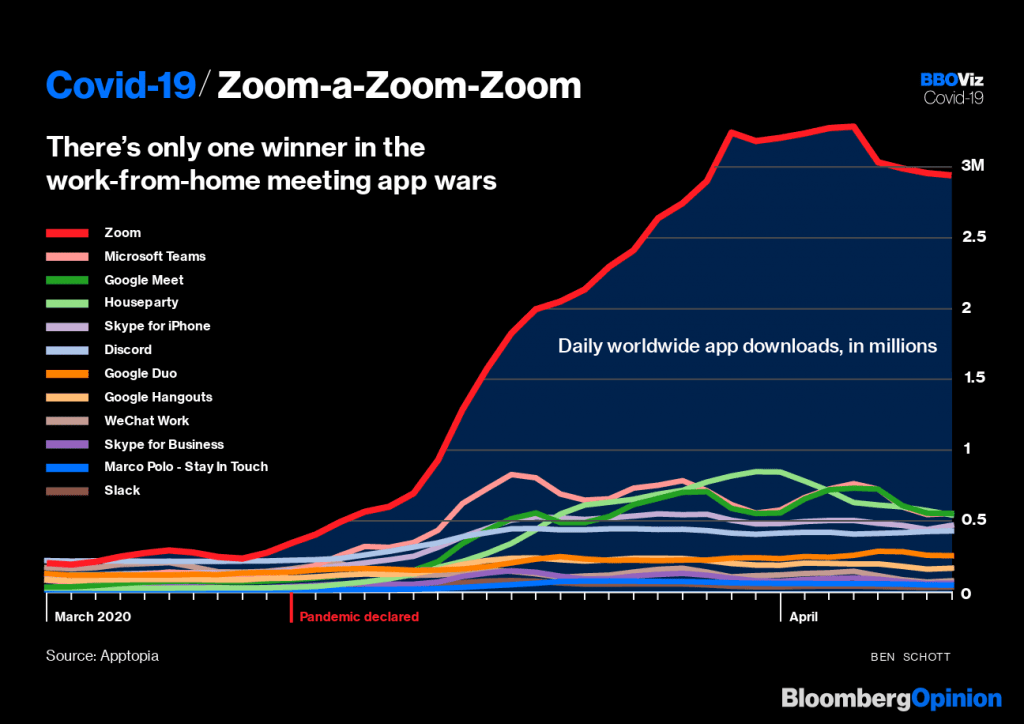 People choose Zoom instead of the products from Microsoft, Google, Cisco, or GoToMeeting because none of these tools provides the users with such a complete package as Zoom does.
Zoom gave users free 40-min meetings for up to 100 people! And it works even with an unreliable Internet connection.
Future risks that Zoom might face
There are, however, some risks that the company might face. Experts have highlighted that although Zoom's stock has spiked, its share value is volatile. Respectively, the company might come up with various cost-cutting solutions including turning all the existing free users into paying, loyal customers.
And an enduring issue: security. One of the biggest concerns of those who dive into an app for video calls is whether their confidential information is safe and secure, and many incidents in the past have shown that Zoom is still struggling to meet this demand. In 2018, a security vulnerability was raised as it was found that users were prone to message processing. Zoom worked on this issue, but it didn't stop there. 2019, Apple created an update to remove the Zoom server from its devices, after it was found that the server-rendered Mac computers vulnerable, even after uninstalling it. Again, Zoom created patches and upped its security. And, again, it didn't stop there. In the midst of this most recent crisis, reports came up of phishing scams, impersonating Zoom cloud meetings to retrieve information. If Zoom can survive the above challenges, it might be thriving as crazily as it has always been.
Bottom line
There's a mantra that keeps coming up lately over the Internet: Apps are dead. Or more specifically, there's no room for new players in the Tech world because people are already consumed by the popular apps of the giants. But Zoom, which emerged 10 years after Skype, did surpass this well-established brand of the tech giant Microsoft.
It's a real case study showing us that there's always a chance for newcomers to grow big as long as we do it right, just as Zoom did three right things: Worked hard at solving a big problem, aimed for a problem that affected many people, and all the while focused on the customer.