Although the term 'website design services' seems to be limited to the creation of user interfaces and usability, it in fact refers to the whole process of website design and development, not to mention branding and related digital marketing services.
Using website design services, many small and medium-sized businesses (SMEs) care about the following aspects:
Cost: How much does it cost to design a website?
Quality of service: How to know if the design firm is good enough to hire?
Procedure: What is the pathway that they are going to take to solve my problem? Or in other words, how to work with a web design company?
These aspects will be discussed in this article so as to give you a better understanding of this subject.
The cost of website design services
Typically, web design agencies do not display the pricing information on their website. But with just a few attempts, you can easily find out the typical budget needed for website design and development may vary from the moderate $5000 to the jaw-dropping $500,000. It depends on the functionalities and security level of your prospective website, the solidity of the website infrastructure, and the aesthetic aspect of the user interface. This has already been elaborated in the article: Difference Between a $5,000 and a $250,000 Website, you can check it out.
And it should be noted that deployment and the official launch are not the final stages of the website design services. After that, you need to pay a certain amount of monthly or annual fee for operation, maintenance, and enhancement. So, the total investment will be added up every year and may reach millions of dollars.
How outsourcing can help you reduce the cost of web design and development
However, there is also another factor that determines the cost of web design services, which is the designer's and developers' expected hourly wage. SalaryExpert reported that the average web developer hourly rate in the US is $44.05 (USD)/hr. This number might be higher in the UK and Europe, but lower in India and Southeast Asian countries like Vietnam, which is why a lot of SaaS companies choose to outsource to these developing areas, obviously with the condition that the quality of service is secured.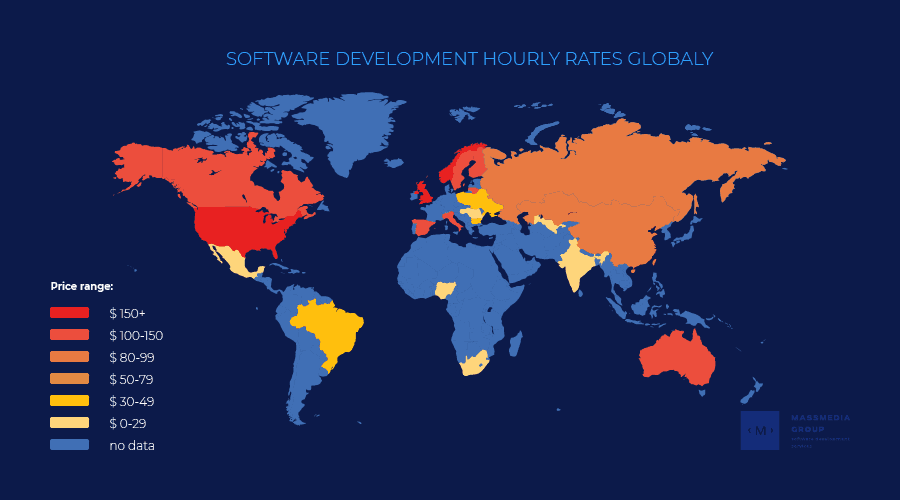 Some web design and development projects, due to their unique requirements, may involve different stakeholders in the development process. That is to say, you can totally hire an agency specialized in UI/UX to help you create the interface, and then find another firm to help you build the front-end and back-end code base as well as other components of web infrastructure. This practice is, however, quite rare in reality. Normally, people will find a company that offers both services of design and development, such as Designveloper, to help them build a website or web application.
After all, the only way to know how much exactly it costs to build your website is to initiate contact with a specific company and ask them for a rough and detailed estimation of cost and timeline. We at Designveloper are always willing to help you clarify all the specifications of the site of your dream and come up with an appropriate pricing plan for your business. Just leave your contact details in this form and our team will reach out to you as soon as possible.
Recommended reading: Web Design Business: How Difficult Is It to Start?
How to know if a design firm is good enough to hire?
In case you didn't know, this topic has already been discussed thoroughly in this article: How to Tell If a UI/UX Design Company is Good to Hire. To put it simply, there are several criteria to measure the quality of web design services:
Credibility
We can see whether a design company is trustworthy or not through its portfolio, which showcases the projects they have accomplished. It's great if they provide us with the links to those products so that we can check them out by ourselves.
Check out the projects that Designveloper has accomplished here.
But even the products can be fabricated, so it is necessary to check the references they provide and ask the company's former clients for their feedback on the services they received.
You should also take a look at the company's profile on review websites like Clutch or Trustpilot to see how other people talk about the firm.
Communication skills
This is important because one of the most common concerns of clients, especially in small business web design projects, is that the design and development team does not know how to "speak the language of business people". They often jam in the conversation with technical jargon, instead of explaining those terms in a simple way. A good design company knows how to let the clients understand the technical concepts quickly and also elaborates on how those concepts affect the business.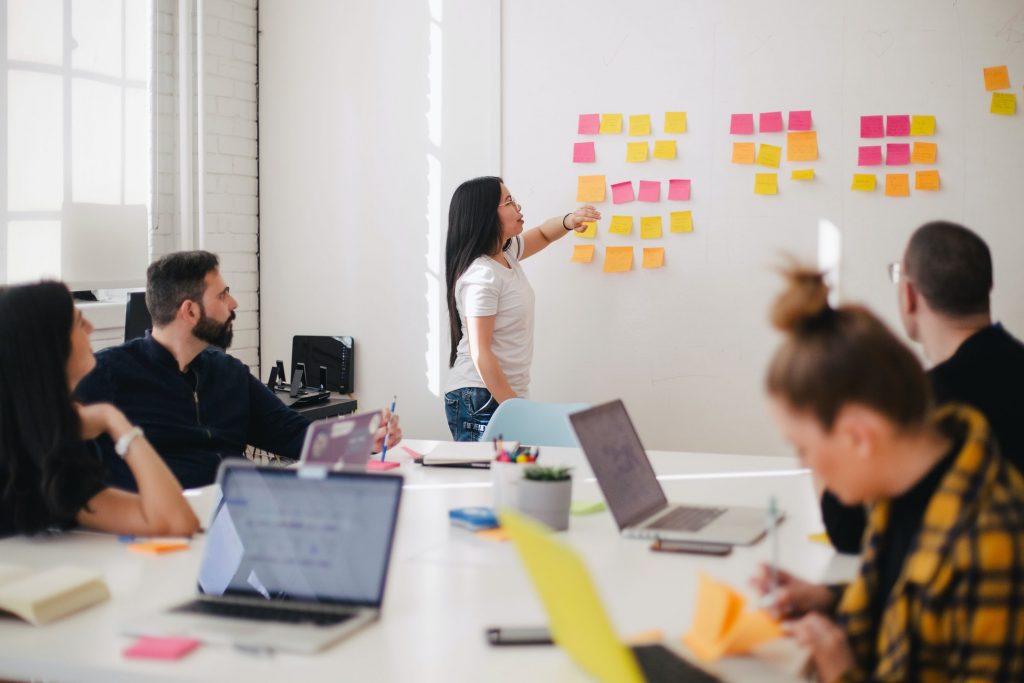 Another criterion needed to evaluate a design firm's communication skills is responsiveness, whether the firm shows up immediately to resolve your queries or problems.
Recommended reading: Top 20 Best IT Outsourcing Companies in 2022
Professionalism
This has a lot to do with a standardized procedure, which we will discuss in the next section. A good web design company provides you with a full package of services from consultancy and business analysis to post-deployment support. They never over-promise or miss deadlines, always are on a budget, on time and on-scope; and if there are anything contingencies that let them off the track, they will at once inform you of it.
Just ask for a Zoom meeting, and see how they set the schedule, how they listen to your concerns, whether they are taking notes, whether their proposed solutions are on-point, and you will know how professional they are.
Competence, the key selling point of web design services
This is about the technologies, specifically the frameworks, the languages, and the web design software they use to solve your problems. And it's also about how mindful they are in terms of different aspects of business, other than the technical ones, such as branding, content marketing, or SEO. A good web design firm is well aware of the need for SEO, and they will tailor the site in a way that makes it search-engine friendly.
Above are just some factors that you should take into consideration when hiring a company for website design services.
Recommended reading: Top 5 Best UX/UI Design Companies 2021
The five phases of website design services
In practice, the term 'web design' is contrasted with 'web development' in that while web design deals with user interface and usability, web development tackles the underlying infrastructure (the servers, the protocols, the firewall, and so on) that serves as the foundation for the web site's functionality, although they are intrinsic parts of the process of building a website.
Right below is a common process of building a web, which includes 5 main phases: discovery, design, development, testing and deployment, and maintenance. These five phases have already been discussed in detail in the ABC of Web App Development for Entrepreneurs, you may want to take a look at that article. And this illustration from Preface Studio is really helpful to grasp the overall process of building a web.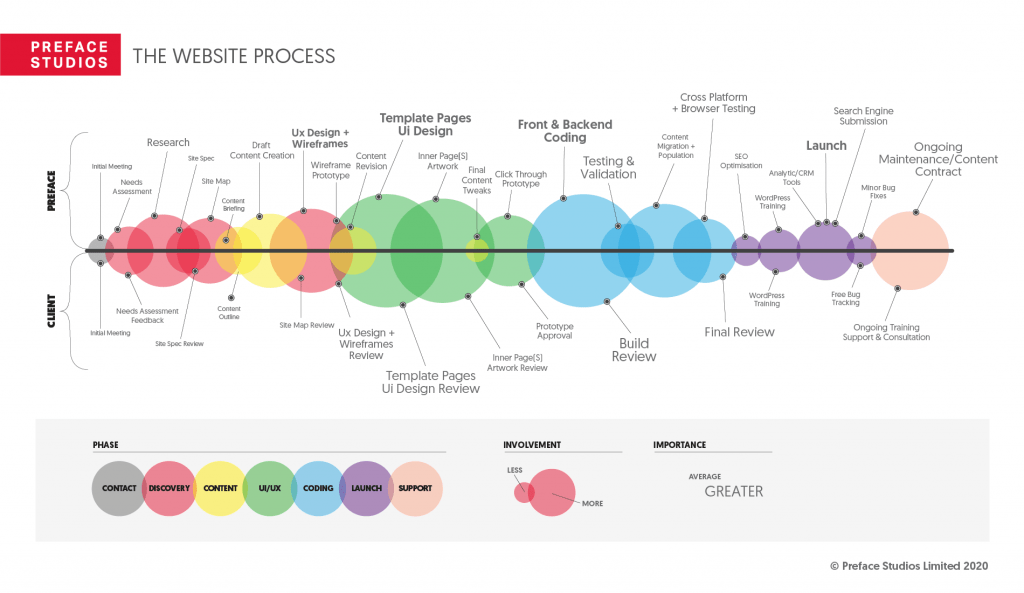 Discovery
After the initial meeting, where how the project basically works is agreed upon, the business analysts will elicit and collect requirements from all stakeholders, analyze them, do some research and finish a document of specifications on the product.
If it's a web redesign project, the specs might include the site goals review (what customer and business need the website must address, and what functionality is required to achieve this), the analytics review (using Google Analytics to study the current site performance, the user flow, pages that users 'drop off', average time on page, and bounce rate), and the conversion review (examining the efficiency of call-back requests, contact form completion, offers redeemed, online sales, phone calls recorded from the site or download content requests).
In the discovering phase, the development team might need to create the user persona. This involves developing typical user profiles and informs the design process. By learning about each type of user's needs and creating a user flow chart, we can enhance the experience of each user. They also need to define the sitemap or identify the pages that the site has, as well as the hierarchy of the pages. 
Then, there must be low-fidelity wireframes as a starting point for the visual design and structure of the website. It helps illustrate how the content and functionality will be laid out on a page, as well as considering user needs and journeys.
The flow/process diagrams, which map out the users' flow through the site from the first hit to the end goal, will be sketched. And the specific functional and non-functional requirements will be elicited and assessed. The content creators and SEO specialists might be consulted to help develop the content of the site.
Once the specs and content are approved, the project will move on to the second phase: Design, or Prototyping.
Design
This phase is supposed to fulfill the 'look and feel' for the site and make sure that it serves the purpose of attracting visitors and generating sales.
It starts with high-fidelity wireframes, which outline the realistic content, fonts, image dimensions, or button styles that help visualize how the site works before adding colors and imagery.
Then, the design team will rely on the brand guidelines to create the website user interface (UI) with full-fledged content including photography and copy. With the flow diagrams, they begin to optimize the user experience (UX) to make it engaging and efficient.
When the UI and UX are ready, the design team will make a prototype that enables you to interact with the design as if you are using the real website. Tools like InVision or Figma might be needed in this stage.
Development of website design services
This is the phase when web developers step in and often the most technical part of the process. There are some instruments that need to be mentioned:
GitHub is a common tool used in this phase. Basically, it's a digital repository where developers can work on the code base, track changes, revert back if there's anything wrong, and collaborate with other developers.
Google Cloud Platform is often used for website hosting, and Lavarel or WordPress are commonly used for setting up the Content Management System (CMS). And in order to store and interact with content, there should be a database and custom fields.
A common requirement from clients is that the website should be compatible with different devices and screen sizes. In this case, a responsive web design approach is adopted in front-end development.
Plugins, third-party Customer Relationship Management (CRM) tools, and marketing automation tools such as SharpSpring, Salesforce, or Hubspot, will be installed on the website. Content will be populated. After the websites are fundamentally complete, developers will optimize the codebase to improve site performance. This is very important for SEO.
The site will be tested on various browsers (Chrome, Safari, Edge, Firefox) and devices (desktop, tablet, mobile, both iOS and Android) to make sure that it works universally. Then a small group of users will be invited to test the site and leave some feedback for bug fixing and amendments. If everything works well, the design will be finalized and ready to be launched.
Testing and Deployment
There will be final checks on the website before launching. The checklists might include the aspects of SEO and tracking tools (Google Analytics, Webmaster, Audience Tracker, etc). Some client training sections will follow so that the company can know how to use the CMS properly. After launching, there will be a period of time to fix any post-launch defects.
Recommended reading: Key SAAS Metrics Every Tech Startup Must Know
Operation and Maintenance
Typically, if you have a website with CMS, it is advisable to have a support and maintenance plan. This is to help you update CMS and plugins without exposing yourself to security issues.
But as mentioned earlier, web design services do not end at the deployment stage. You will need to keep optimizing the site performance and conversion rate. And if there are any needs for changes in the site's infrastructure or design, you definitely need to work with the company you hired on the improvement plan.
All in all, the above is the basic procedure of any web design service, although in practice there might be some minor variations. If you want to get more information on web design and development, check out the following articles on our blog: