Have you ever heard of the concept of Bitcoin? You may all know it, but perhaps you don't know that its growth was created with the technology of Blockchain. You may get confused and wonder "Why is blockchain technology so popular?" And want to learn more about top leading Blockchain companies.
Let's find out with Designveloper in today's article.
What Is Blockchain?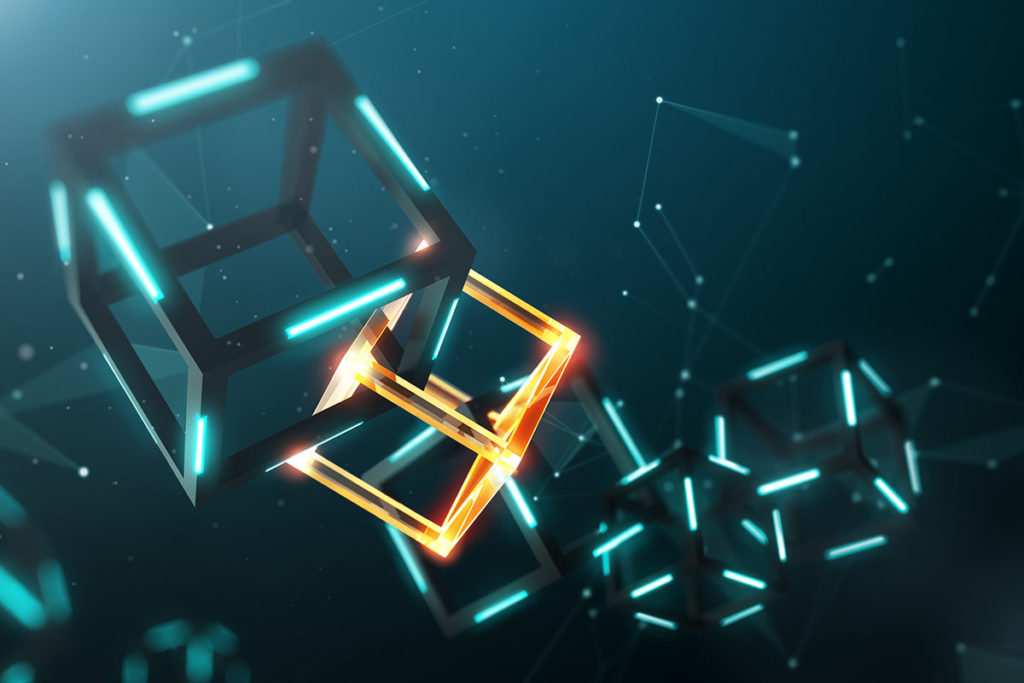 You can easily understand that Blockchain is a "ledger" that records and stores information in the form of "blocks". These information blocks are linked together very closely and cannot be changed.
It was made to keep data from being changed. Once the network has accepted the data, even if the person who made the data wants to change it, they can't.
How Does It Work?
Let's say you have X dollars and want to send them to person A. You call person A and tell them, "I have transferred money" How does person A know that the money you sent him is already there?
So, you need a third party to confirm that you sent the money to Mr. A. Most likely, the bank will do this, and they will charge you and figure out how much Mr. A needs to get. But what if more than tons of transactions happen every day?
That's why we need Blockchain tech, which makes transactions clear, efficient, and safe, even if the other party is your enemy.

With blockchain technology, will act as a middleman but is independent and not impacted by anyone, nor the data is immutable.
After the transaction is confirmed, this information will be saved as a block. This piece of information will be added to a blockchain, which is a kind of online ledger. Every computer in the digging network will have a public copy that is always up to date, like a shared document on Google Docs.
Features
Decentralization: It is not owned by a single entity, so it is decentralized.
Transparency: each person can track the data if they want.
Immutability: no one can interfere with data inside the blockchain.
Security: Data is stored inside my password.
Smart Contract: a type of digital contract that are built into the if-this-then-that (IFTTT) code and can automatically carry out the terms and agreements between two parties.
More on "Smart Contracts": In a clear way, it is easy to get to, but no one from the outside or a third party can mess with it. Because "the smart contract" is a built-in program, it can do everything on its own when certain conditions are met.
For instance, if you want to rent my apartment and pay for it with virtual currency, you will get an online contract that says I won't give you the unlock code until you send me money. So, if you leave the key or money before the date written in the contract, the "smart contract" will hold on to the key or money and give it to both parties on the date written in the contract.
After everything is done, "the smart contract" will self-destruct, and the code in it cannot be modified by either party without the other being known.
Applications
Because of this close association, Blockchain is used very popular in many fields.
Taiwan: Smart cities aren't just something out of science fiction anymore. With the help of Blockchain Technology, Taipei wants to be seen as a city of the future. They have made a deal with IOTA to work together and are making tags that can sense light, temperature, humidity, and pollution.
China: It's no surprise that China was one of the first and most important countries to use blockchain and all it has to offer. It's one of the countries that develops and uses technology the fastest. In a project run by Miaocai Network and the State Tax Department, it was decided to use this technology to make taxing and sending electronic invoices easier.
Essentia met with the Dutch government to create a new system to check commuters between Amsterdam and London. At the moment, people riding the Eurostar train between the two countries have to go through border control checks more than once. Essentia is working on a blockchain-based solution that will store passenger data in a safe way. This will let UK agencies check the data recorded in the Netherlands. Blockchain will give us a way to check that the data hasn't been changed and is correct.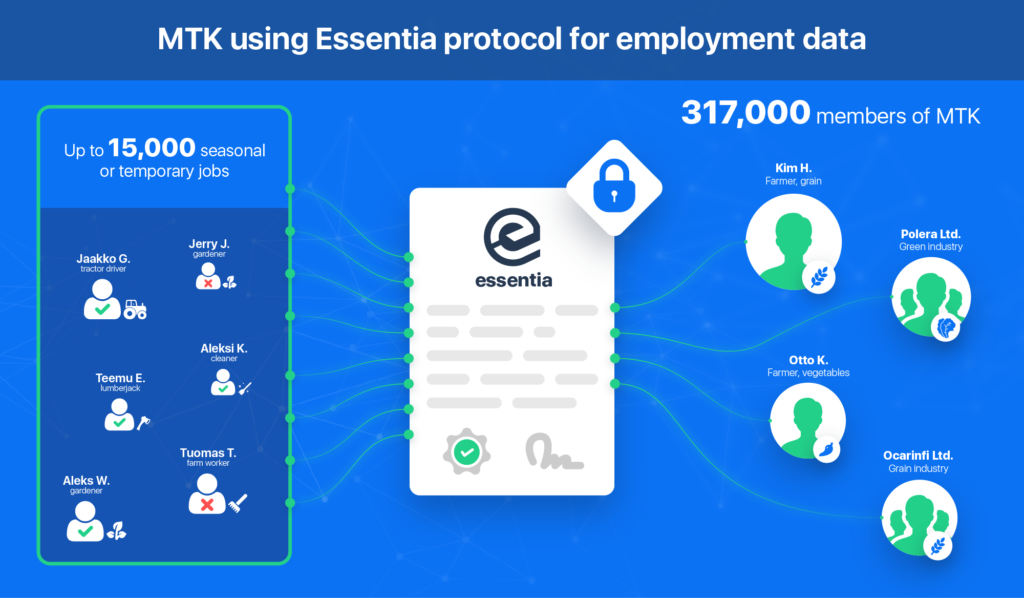 And too many applications to indicate…
Top Blockchain Companies
Blockchain Tech is like "a beautiful girl" pursued by "many guys", so "guys" if they want to pursue, they need to have "companies" to mentor and help them pursue that "beautiful girl".
Because of this, the rise of Blockchain companies that can help and advise businesses that want to use Blockchain technology for management will be more useful. Here are the basic facts about the top 10 Blockchain companies in 2022.
1. ScienceSoft
ScienceSoft started out as a small AI product company, but switched to IT services in 2002. Since then, they have helped non-IT companies and software product companies improve their business performance and quickly gain new customers.

Their typical clients include eBay, Nestle, Walmart, NASA JPL, IBM, T-Mobile, and Baxter.
Link Website: https://www.scnsoft.com
Headquarters: McKinney, Texas
Founded: 1989
Revenue: $25 Million
No of employees: 700+
Services: Blockchain Consultation, Blockchain Audit, Migration of legacy solutions to the Blockchain Infrastructure, Blockchain Testing Services, Blockchain Training
No of locations: 3
2. Designveloper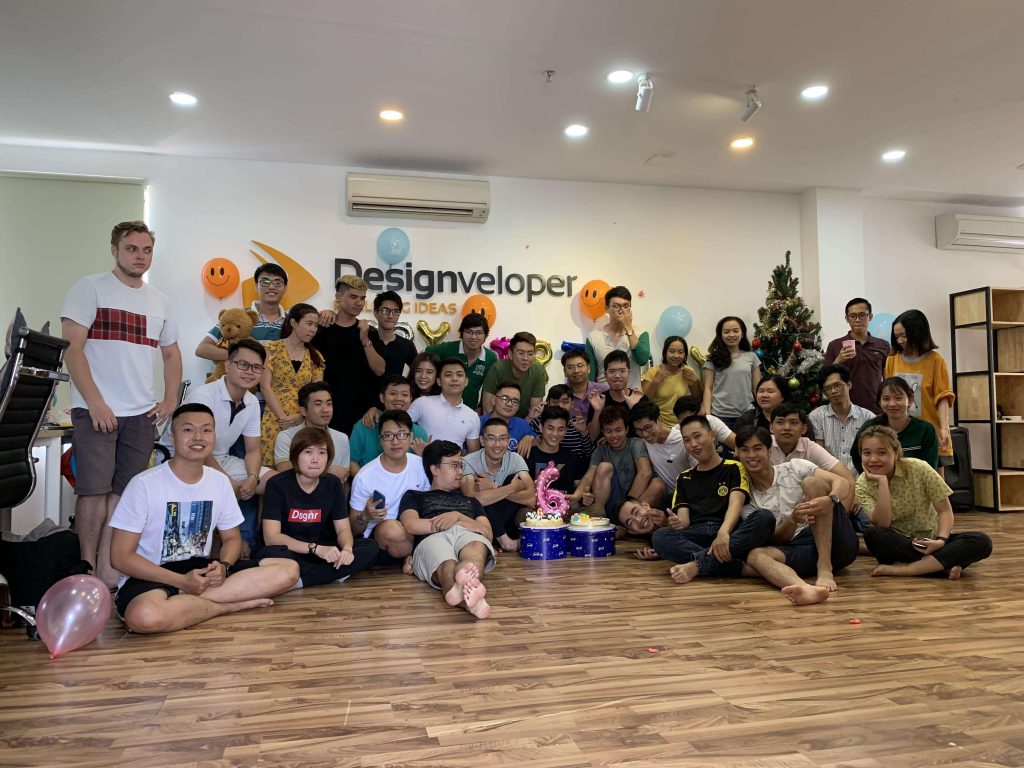 Another thing that Designveloper does well is blockchain. This top web development company is growing in a lot of different ways. They are now making the most of their technology stacks, and their forays into blockchain have been, at the very least, smooth sailing. Basecoins and Dragon War, two of their projects, are becoming top-tier blockchain projects, showing the company's potential.
Their team knows a lot about your field, so they can work with you to make big changes through digital solutions that have a strategic goal. Their skilled experts will also use Agile methods to speed up and improve the development of your project. Since blockchain is always changing, this way of working that allows for flexibility is becoming more and more important.
Link Website: https://www.designveloper.com/
Headquarters: Ho Chi Minh City, Vietnam
Founded: 2013
Revenue: $6.2 Million
No of employees: 50-249
Services: Mobile App Development, UX/UI Design, Web Development, Custom Software Development, Custom Service Outsourcing, IT Strategy Consulting, Web Design
No of locations: 2

3. Prolifics
Because they have worked in so many different fields, they know what your customers want and can help you give it to them. Prolifics uses their knowledge of Cloud, DevOps, Data, and Quality to give you fast, full solution delivery experiences that you won't find anywhere else.
At any point, you need expert consulting, engineering, and managed services, Prolifics is a one-stop company, everything you need will be solved.
Link Website: https://www.Prolifics.com
Headquarters: Orlando, Florida
Founded: 1978
Revenue: $34.77 Million
No of employees: 1001-5000
Services: Cloud, Data & Analytics, DevOps, Digital Business, & Quality Assurance.
No of locations: 3
4. Ripple
Payment methods have changed a lot over the years. People want to do things faster and use technology in their businesses.
Ripple's founder and his or her team started the company in response to the modern movement, with the goal of using blockchain technology to help financial institutions send money across borders.
The unification of Blockchain Technology not only makes it easier to move money, but it also opens up a lot of business opportunities.
Link Website: https://ripple.com
Headquarters: San Francisco
Founded: 2012
Revenue: $163.33 Million
No of employees: 150
Services: Decentralized Financial Tool.
No of locations: 8
5. PrimaFelicitas Limited
Started by Stanford & LBS alums in 2013 with offices in San Francisco, London & Delhi, PrimaFelicitas excels at merging Blockchain with User-Centered Designs.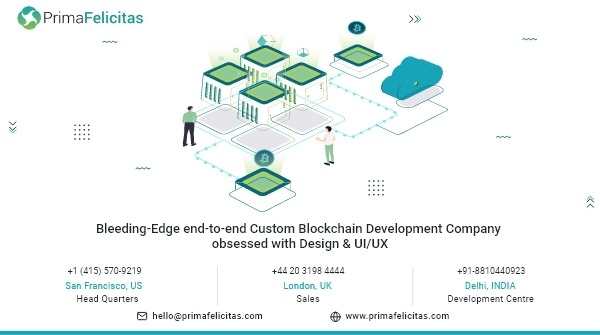 It is one of the most complete pure-play end-to-end Custom Blockchain Development Companies and has a very talented team of Blockchain Developers, UI/UX Designers, Token Economists, and Technical Writers.
Link website: www.primafelicitas.com
Headquarters: San Francisco, USA
Founded: 2013
Revenue: $ 1.5m
No of employees: 50+
Services: Blockchain Consulting and Protocol & Crypto (Exchange, Wallet, Payment Gateway, Token, dApp, DeFi, NFT, etc) Development.
No. of locations: 3 (India, UK, USA)
6. LeewayHertz
LeewayHertz were one of the first companies to sell an app on the App Store. They were founded in 2007 and have their headquarters in San Francisco. Their team of more than 100 designers and developers who have won awards has made more than 100 software platforms for startups and businesses.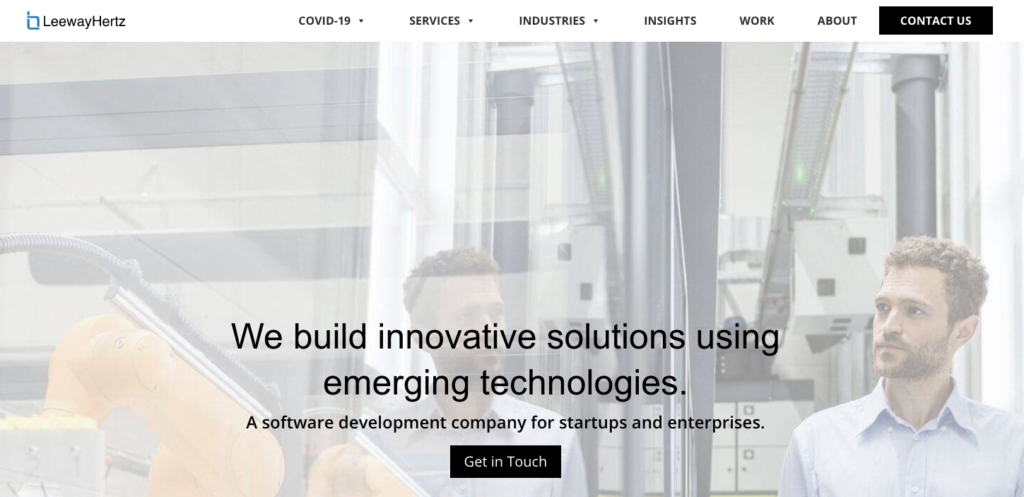 Their goal is to help companies adopt new technologies and simplify complicated issues that arise during technology evolution. Leewayhertz excel in AI/ML, Blockchain, IoT, cloud, and mobile.
Link Website: https://www.leewayhertz.com
Headquarters: San Francisco
Founded: 2007
Revenue: $1 Million
No of employees: 250
Services: Building Blockchain Application
No of locations: 4
7. Blockchangers
It all started in 2015. One of their founders, Jon Ramvi, has been learning about cryptography and stumbled upon blockchain.
He got so excited about the democratizing effects of this technology, that he went ahead and started Blockchangers together with several others.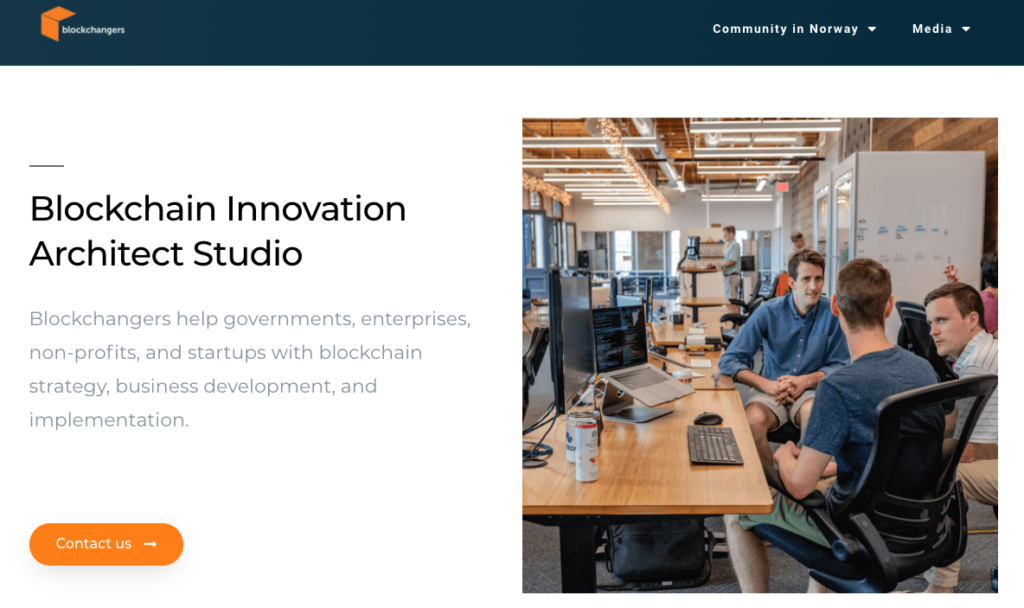 In 2017, the team was chosen for StartupLab, which is the most qualified startup accelerator in Norway. As soon as requests from companies and new projects started coming in, the team grew to nine people and moved into a loft office in the center of Oslo.
The firm do research and development for companies and their own projects now. They think that blockchain is the steam engine of the third industrial revolution. They are the humble people who build it.
Link Website: https://www.blockchangers.com
Headquarters: Oslo, Norway
Founded: 2015
Revenue: 1-5 MNOK
No of employees: 6
Services: Blockchain Development & Consulting.
No of locations: Not mentioned
8. Deqode
The goal of Deqode is to help businesses solve hard problems by using new technologies. They are leaders in their field when it comes to cutting-edge technologies, and they use their deep knowledge of the industry and technical expertise to optimize business processes, make them more effective, and help the business grow. Deqode wants to be creative and come up with new ideas that will help shape the future.
Link Website: https://deqode.com
Headquarters: Wilmington, Delaware
Founded: 2012
Revenue: $10 Million
No of employees: 51-200
Services: Information Technology services
No of locations: 2
9. ChromaWay
ChromaWay is a company that works on blockchain technology. The company made the first protocol for issuing tokens on the Bitcoin network. Together with LHV bank, they used it to make fiat money in 2014, and then they used it to crowdfund startups on the Funderbeam platform.
People made a blockchain-independent, client-side validated smart contracting platform that put privacy first before privacy became a hot topic in the blockchain.
They've used it to help big companies with internal leasing, to make financial instruments, and to let government agencies make licenses digitally. In 2018, they used it to show how a real estate sale works with the Swedish Land Registry.
Link Website: https://chromaway.com
Headquarters: Stockholm, Sweden
Founded: 2014
Revenue: $2 Million
No of employees: 13
Services: Building Smart Contracts and apps
No of locations: 2
10. OpenLedger Aps
Although newly founded in 2014, OpenLedger has worked with many global companies and brought Blockchain technology to businesses around the world.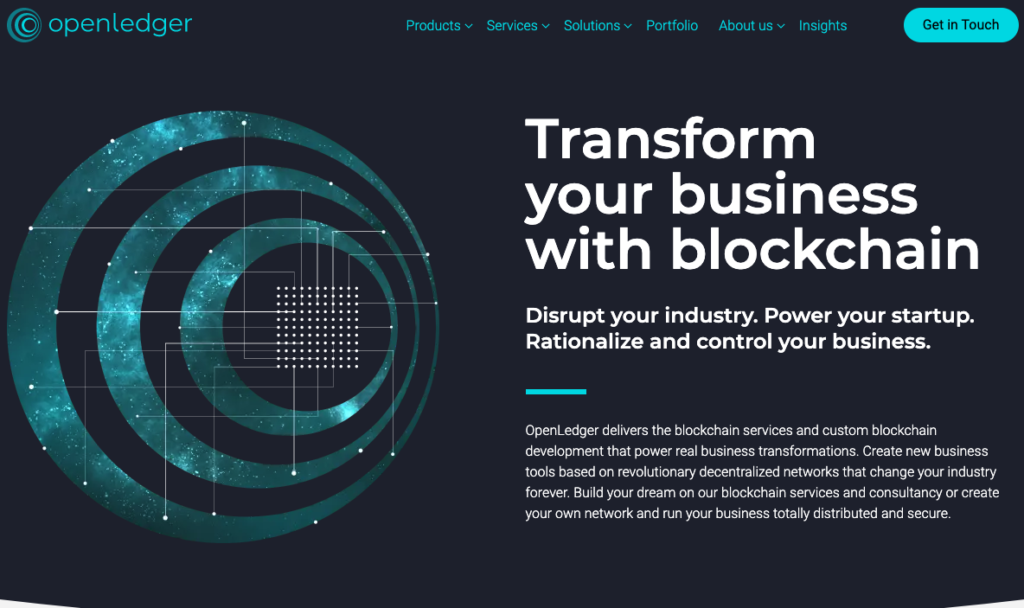 Their mission: "Dedicated to bringing the power of blockchain technology to the wider business world".
Link Website: https://openledger.info
Headquarters: Denmark
Founded: 2014
Revenue: $1.6 Million
No of employees: 60
Services: Building Blockchain Solutions and Products
No of locations: 1
11. Ezetech
Ezetech is a software company that makes tech products that help businesses save time and money and get their products to customers faster.
They act as a partner in putting the plan into action and take care of the technical details so that the founders can focus on strategy, marketing, and business development.
Link Website: https://eze.tech
Headquarters: New York, USA
Founded: 2015
Revenue: $2.6 Million
No of employees: 35
Services: Web Development and Tech Consulting
No of locations: 2
12. LimeChain
LimeChain is a "tutor" of Blockchain Technology for businesses because it has helped more than 50 businesses design, make blueprints, and put their ideas into action using Blockchain Technology.
Blockchain agnostic, they focus on public and private blockchain development, and smart contract development to provide complete and user-friendly solutions.
Link Website: https://limechain.tech
Headquarters: Bulgaria
Founded: 2017
Revenue: $1.7 Million
No of employees: 50
Services: Blockchain Development and Consulting
No of locations: 1
Conclusion
Blockchain is a great idea that can make our lives easier in many ways. It could be a big change in "The New Internet" era, which has a lot of hopes for the future.
We hope this list of top Blockchain companies will help you find the best partner!
Designveloper is a software company offering a wide range of services such as software development, UI/UX design, and business consulting. Just ping us to discuss more your idea!