Artificial intelligence is the newest trend in a lot of fields, and companies that follow it are doing well. AI is becoming more and more common in our lives, from customer service reps to medical diagnosticians.
AI has already changed how we work, live, buy things, and even interact with each other. It will keep getting bigger over time. So how can you stay ahead of the curve? Check out these 8 AI companies that are leading the way in all kinds of AI.
What Is AI?
AI is the idea of making computers that can learn tasks like the human brain and figure out how to do them best without any help from a person. Deep learning can help computers use neural networks and machine learning to make quick decisions.
For example, one system could look at a group of pictures and decide. Whether or not there are people or other things in a room and what they are. If something happens and the computer sees people in the room, it can decide what to do next, like telling human operators that they should have been there instead.
Recommended reading: 5 Common Myths of Artificial Intelligence
Top Artificial Intelligence Companies That Are Riding the Wave of AI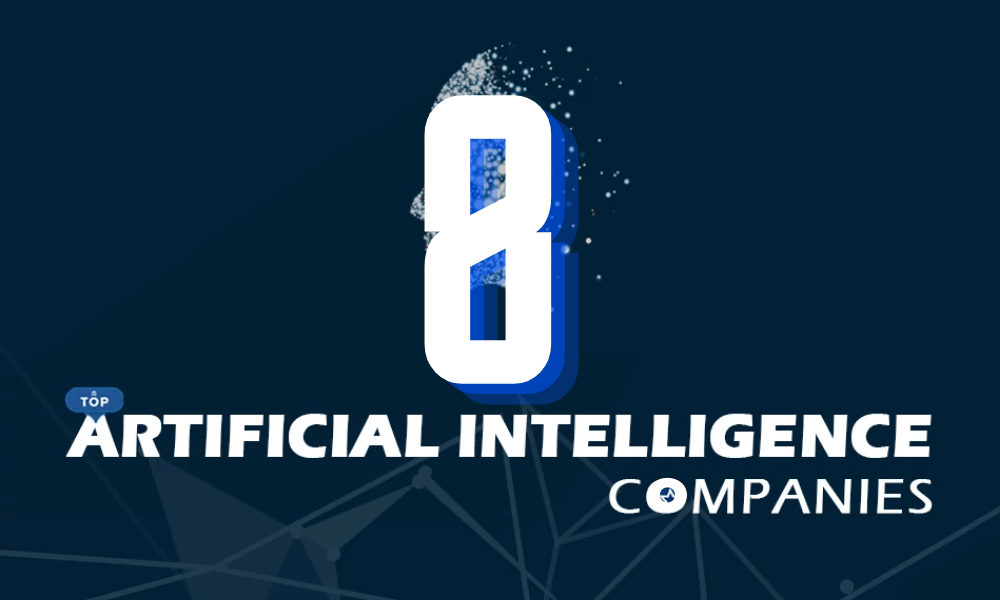 Because there is more demand for AI stocks, some companies are spending time and money to find out what they can do. Check out this list of digital giants who are leading the way in this new age of technology:
1. NVIDIA Corp. (NASDAQ: NVDA)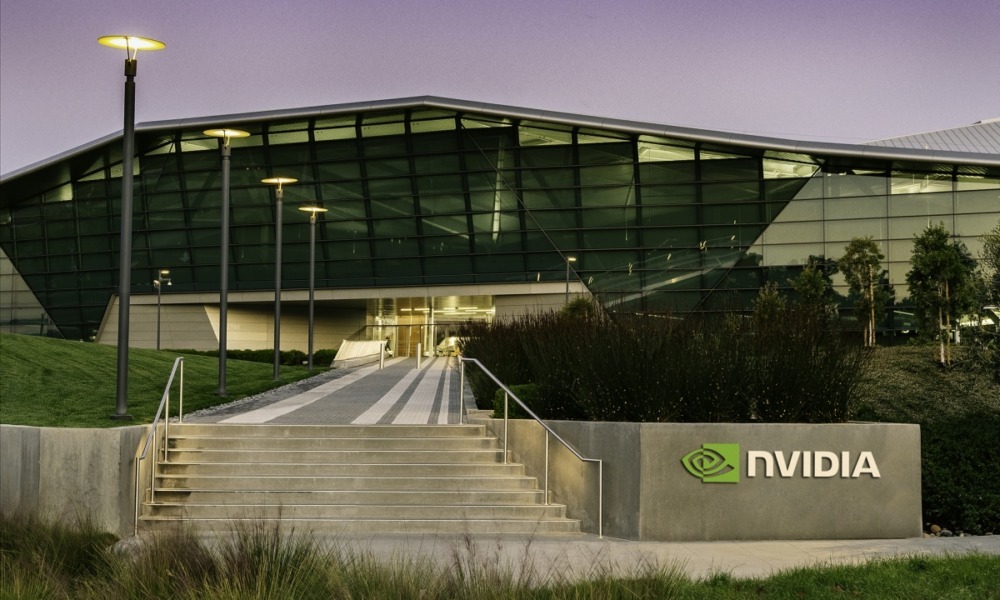 NVIDIA's headquartered in Santa Clara, California, United States
Artificial intelligence is already used in a huge number of fields, from business operations to self-driving cars. The difference between artificial intelligence today and tomorrow? NVIDIA's artificial intelligence supercomputer is called Volta.
Simply put, Volta can handle a huge amount of data at once and do it quickly and accurately, much faster than the AI technology we use now. NVIDIA has filed for several AI patents, and its income from AI is growing quickly. Its AI platform, DGX Station, combines Volta-based hardware with a huge GPU computing cluster that needs two full-time operators and can handle more than 100 deep-learning AI tasks at once.
2. Salesforce.com Inc. (NYSE: CRM)
Companies like Salesforce aren't just using AI and machine learning in AI and machine learning. They are also using the technology in other ways. In fact, the cloud-based company recently announced that Amazon.com, Inc. would no longer be able to license its products, such as Service Cloud, Marketing Cloud, Marketing Cloud Predictive Insights, and Commerce Cloud (NASDAQ: AMZN ). Customers of these solutions will have to use Salesforce's AI-powered platform, which the company is starting to build with Amazon's Alexa service. This change will happen in 2019. Over the next five years, Salesforce plans to use more than 5,000 of its roughly 25,000 developers on the project.
3. Microsoft Corp. (NASDAQ: MSFT)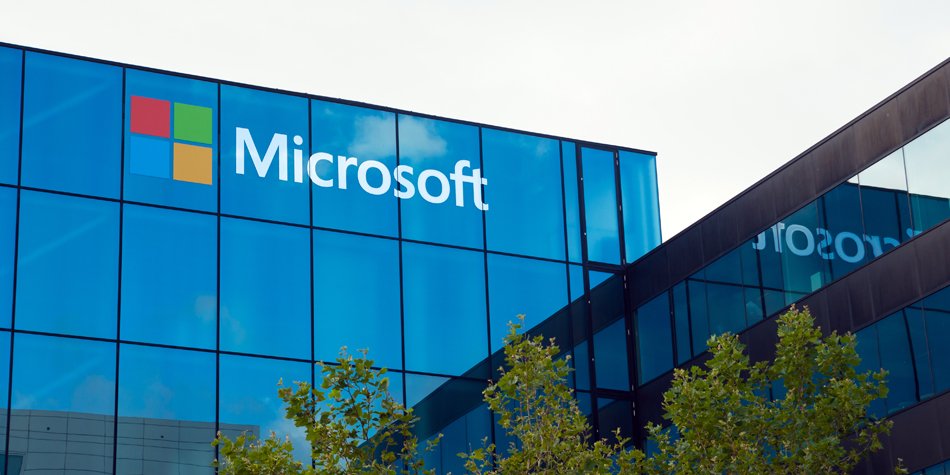 Microsoft was started in 1975, and it has grown to be one of the biggest tech companies in the world. It is a big name in personal computers and made the widely used Windows software, is now using AI in cloud computing. As a result, the services business is doing well and is widely thought to be a driver of long-term growth. CEO Satya Nadella sees AI as a "polymath" that can "transform the productivity of every person on the planet." The proof is in Microsoft's Azure cloud-computing platform, where AI is driving the company's fastest revenue growth in a decade. The other important thing to keep an eye on is how Microsoft gets along with its longtime rival, Apple Inc. (NASDAQ: AAPL). Apple's hardware business, which needs a lot of cash, is putting pressure on the company, so it has made a new push into cloud services.
4. Alphabet Inc. (NASDAQ: GOOG)
Google's profits now depend just as much on AI as they do on its ads. Most of Alphabet's income already comes from advertising, and its ability to learn useful information from users' search queries, clicks, and videos has been a key factor in recent advertising growth. To do this, Alphabet uses algorithms called machine learning to look at billions of pieces of data and find patterns. Sundar Pichai, Google's CEO, says that's one of the main reasons why Google now knows at least 1.7 trillion search results every day. Alphabet also used machine learning in its Google Assistant, which came out last year.
Google may not be the biggest company in the world, but their artificial intelligence (AI) cloud is very powerful, and they just released Google Brain. It is Google's personal assistant that can follow your instructions and understand what you mean. Google Brain can also learn about things and how to do them. It can also understand how people talk to each other by processing language. Google is putting a lot of money into building up its AI infrastructure, with a focus on algorithms and processing power. With its Drive API, Google Drive is the largest cloud-based AI library. It is a free, open-source service that lets users analyze their digital data by connecting to thousands of third-party apps.
Recommended reading: How Much Does Google Pay Their Software Engineers?
5. Apple Inc. (NASDAQ: AAPL)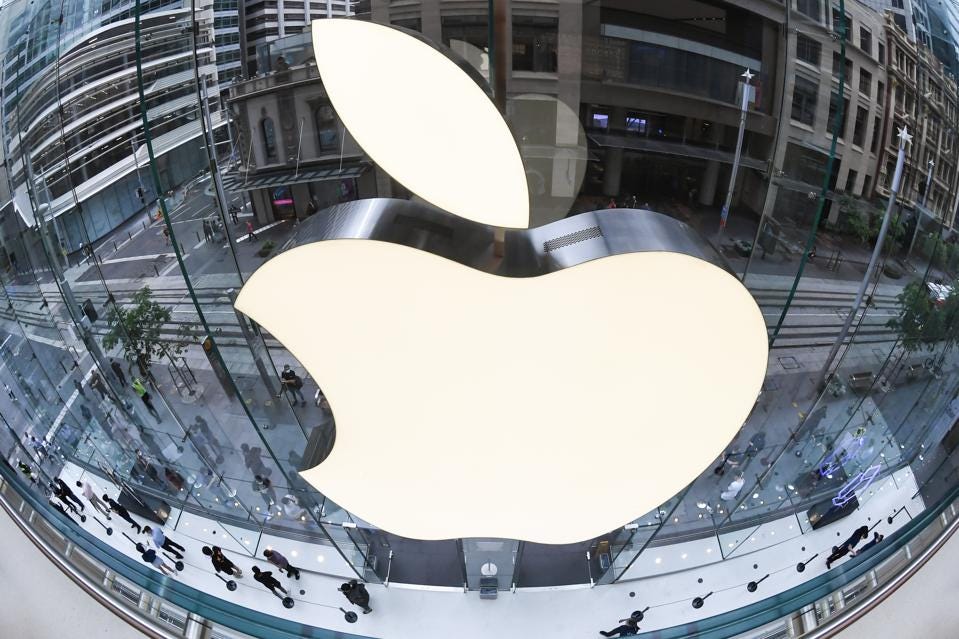 Apple is more aware of its customers' tastes and lifestyles than anyone else
Technology companies with mature businesses are more susceptible to shifting trends. Apple, one of the most mature and well-known tech stocks on Wall Street, is perhaps the most obvious example. Back in the early 2000s, the iPhone was in its infancy, so the Apple ecosystem still was one with multiple pieces. By the time Apple developed its first AI-powered product, the company had become so focused on keeping customers coming back that it couldn't afford to alienate them. For Apple, the high-margin smartphone helped maintain demand for new generations of software and hardware, which in turn kept customers' hardware-reliant handsets running longer. (Source: Apple) To some extent, iPhone saturation also created an inviolable moat for Apple.
Siri, the iPhone's virtual assistant, was released by Apple in 2011. Since then, Apple has released the HomePod, their own smart speaker system, and the Apple Watch, a personal fitness tracker. They have also added AI to their Photos, Safari, Maps, Apple Music, Mail, Messages, and other apps.
Recommended reading: 3 Methods of Using Artificial Intelligence in Educational Programs
6. Facebook Inc. (NASDAQ: FB)
Facebook's huge, global social network is the main source of its billion-dollar profits and growth over many years. In fact, about a quarter of the time the U.S. population spends online is on Facebook right now. And now that more than 2.2 billion people use the social media giant every day, it's almost impossible to leave the social network. So how can Facebook make money from all this user time, especially since YouTube is already blocking videos and Spotify is starting a music service? Using AI, you guessed it. There are a lot of new ideas in artificial intelligence right now. According to data from CB Insights, the total amount invested in AI grew by more than three times in 2017 to more than $80 billion.
7. Baidu Inc. (NASDAQ: BIDU)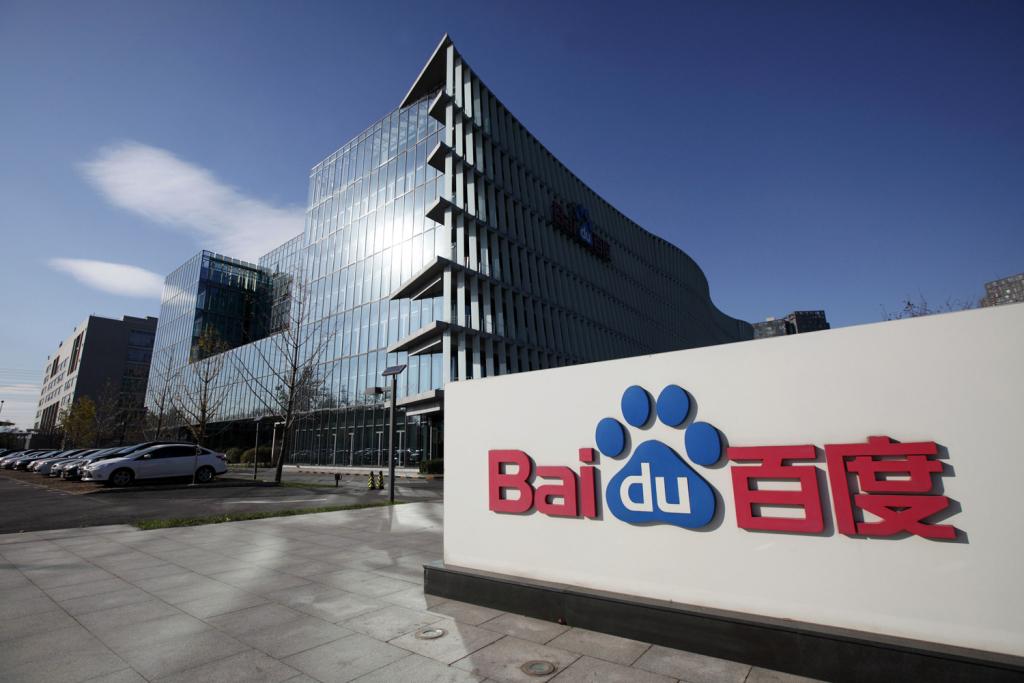 Baidu is committed to making the content discovery on the internet easier.
Many people think that Baidu Inc. (NASDAQ: BIDU) is China's largest search engine. Baidu has 117.4 billion average monthly users, and more than half of them use a Baidu app. This number is growing. But the Beijing-based search engine has put a lot of faith in AI. "Search is the first point of contact with users," said Robin Li, CEO of Baidu. He also said that the current trend in the industry is to customize search results based on what the user has done in the past. "No matter how old or young you are, we can meet your needs." AI is used by more than just the Baidu search engine in China. Alibaba (NYSE: BABA) also has an AI-powered voice assistant in its mobile app. The main goal of all of these companies, though, is to meet the growing demand for customization among customers.
8. Cloudera Inc. (NYSE: CLDR)
Keep on reading Below Even though Cloudera's financial performance is not based on AI, the stock is still a hot one to watch. One way it does this is by putting money into a platform for predictive analytics called Movidius. The most important part of that platform is a small neuromorphic processor that is said to be able to process complex data like a human brain.
Still, the Movidius chip does not work like the brain. Instead, Movidius takes off-the-shelf parts and puts them together to do highly specialized tasks like computer vision and machine learning. Also, for something so small, the chip is very good at what it does.
The Rise Of Artificial Intelligence Companies
AI systems get smarter every day as they interact with people and learn from them. Because of the internet, they are always on. There are many benefits to cloud-based AI, Notable Vendors, and Important Pioneers, such as being able to access your intelligence from any device at any time.
1. Top Artificial Intelligence Companies: The Leaders in the Cloud
9. Amazon Web Services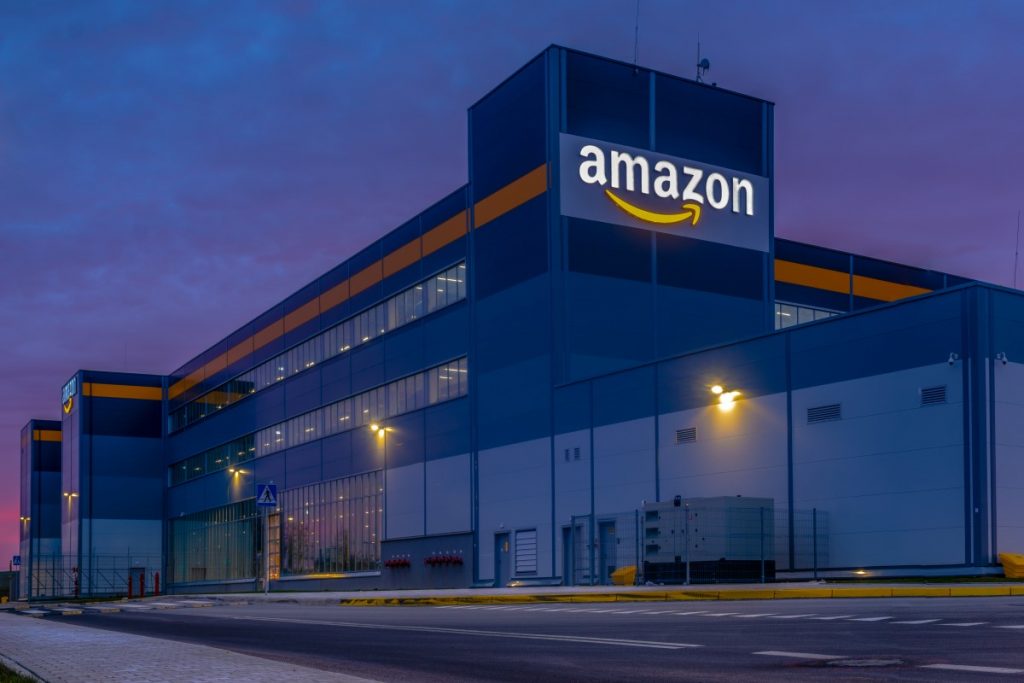 The company provides solutions that allow customers to build and manage scalable and cost-effective AI infrastructures
Amazon's (NASDAQ: AMZN) business in cloud computing is by far the biggest in the field. Its AWS is used for many things, but the best artificial intelligence technology for voice-controlled devices is built on it. Some of the big uses of AWS are Amazon's AWS ecosystem, Alexa, and devices that work with Alexa like Echo and Echo Dot. Also, Amazon's Alexa is the best voice-controlled device on the market, and it has led to the creation of many AI-powered products like smart TVs, smart refrigerators, and more.
More AI-based improvements are on the way, but Alexa is different because it was built from the ground up to be controlled by voice.
10. Google Cloud Platform
Since 2011, when it made its deep learning neural network, Google has been the leader in AI. Deep learning uses many layers of artificial neural networks to process large amounts of information more efficiently than older systems.
The business has also put money into making neural networks. Neural networks could be used to make better autonomous driving and even cars that can drive themselves. Google has also made "smart devices" like Google Home and the Pixel line of smartphones. Facebook is now one of the leaders in artificial intelligence (AI) because of its work on a number of AI projects.
11. IBM Cloud
IBM's Artificial Intelligence (AI) Systems have helped clients' businesses in important ways, and Watson, AI, cognitive computing, and blockchain are on the verge of making more AI breakthroughs. IBM is a leader in artificial intelligence (AI) and has spent billions on research and development. This research is being used in important areas like data analytics, mobile analytics, and cognitive computing. IBM has made a lot of progress in AI, such as with the IBM Watson platform. The key to IBM's new integrated cognitive computing system is its use of Watson technology. IBM Watson recently won Jeopardy! Championship of 2012. He beat world champion Ken Jennings to win the title. This helped IBM show even more how important Watson technology is in the business world: HOW THE CLOUD IS CHANGING THE ROLE OF TECHNOLOGY LEADERS?
2. Top Artificial Intelligence Companies: Notable Vendors
12. Anduril Industries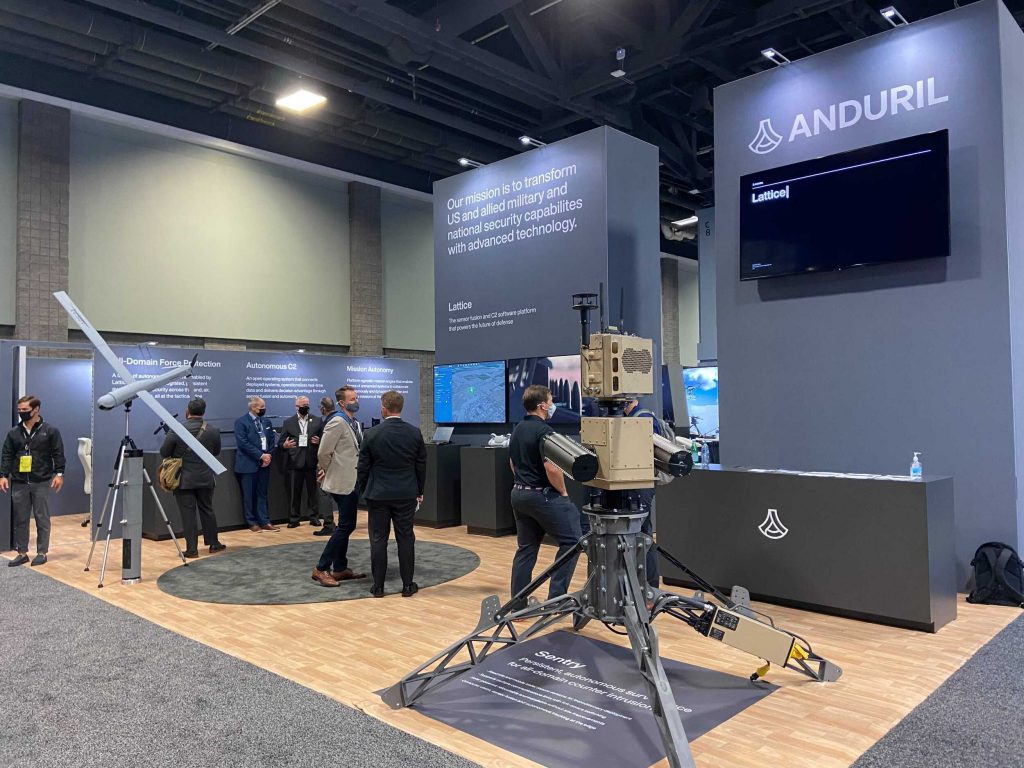 The company called Anduril commits top technical talent to solve the most complex national security challenges
Ambiq is a platform that was made for this stealth startup. Ambiq is an AI that works like Amazon's Alexa. In fact, Anduril says that Ambiq learns on its own, which lets it understand situations and intentions.
Ambiq can be programmed, so customers can tell it to follow a certain set of rules. These rules are called "wake-up procedures." For example, if only one delivery person is available and a new order comes in. It may set up the system so that it can only make one delivery. Anduril thinks that its solution could be useful in retail, manufacturing, and real estate, among other fields. AgilOne AI Operations Center is the most important product from AgilOne. It uses real corporate data to automate responses to IT problems.
13. Sift Corp
Sift is the largest service for recommending people in the world. It creates and offers recommendations for a wide variety of things, such as what books to read next or which songs to download. Its recommendation engine is based on "deep learning" and is linked to the Facebook accounts of its customers. It's said that its recommendation engine looks at more than 100 signals, like links shared on social media, photos, and what friends like.
Through these suggestions, it can offer a service that is "better than humans at giving answers to complicated questions and making the right decisions for the right people at the right time." Sift is a new company that was made possible in large part by the cloud.
14. Nauto
Automotive OEMs can use Nauto's AI-based cognitive safety systems to find distracted drivers and cut down on car accidents. The company's AI can track how drivers' eyes move, how their pupils dilate, how fast they drive, and how they drive. Because of this, this technology works with both in-car and cloud-based systems, such as Nvidia's Drive PX 2. Jen-Hsun Huang, the founder and chief technology officer of Nvidia, said in a recent press release, "Nauto's technology will help cars make better driving decisions in all kinds of driving conditions."
Companies like Nvidia are adding new features to all kinds of cars to help them learn more about their passengers and protect them and the environment around them. Because of this, Nauto's technology could be the first step toward this future.
3. Top Artificial Intelligence Companies: Important Pioneers
15. OpenAI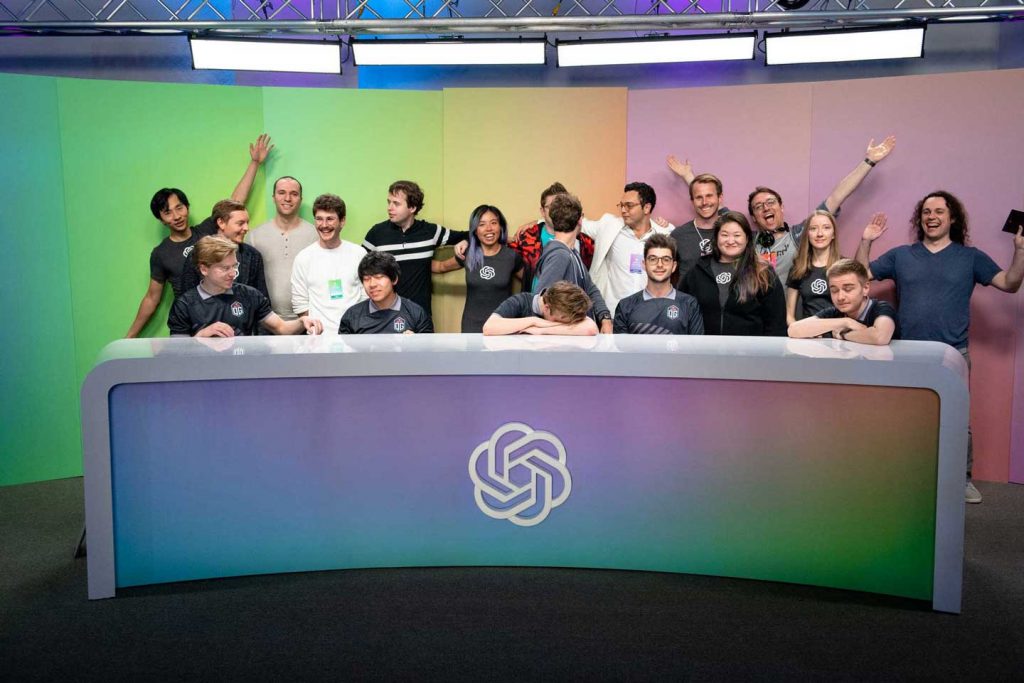 OpenAI's technology platform has many of the parts that are needed to make an AI system that works well. Using a teaching system called the "Human Intelligence Targeting Engine" (HITE), the team has built an AI system that is good at learning new skills and using them in new situations.
It is an AI system designed for research, and it was made with help from universities all over the US, from Stanford University to the University of California, Berkeley. On its website, OpenAI says that it is now trying to "solve AI safety." The company that does research is looking into making safe AIs, including ones that could become conscious or wise. In fact, it made a made-up artificial intelligence system that can read more than 2,000 books.
16. Vicarious
Vicarious is an AI company based in San Francisco. It was founded in 2010 by Ph.D. physicists. The company works on general artificial intelligence (AI), and DARPA's $40 million AI Challenge is one of its successes. Their system, called Perceptual Engine, is a highly developed neural network that can recognize images.
C23T C2Sight is a private Chinese company that makes software for analyzing large amounts of data, like facial recognition, search, audio recognition, visual recognition, and tracking of objects. AiFi was started in 2014 to connect companies with data and use AI to figure out what the data means. SCIE, which stands for Software for Sensor Imaging Intelligence, is the company's product. It includes a set of open-source AI services that run in the cloud. Intellihub.
17. Ubiquity6
This is a group of 16 researchers from UC Berkeley, KDDI, and Uber working together. They work on the edge of computing to add intelligence to smart devices for the Internet of Things (IoT). Ubiquity6 also wants to make the edge smart by finding a way to use "natural language processing, computer vision, and classification methods to make the Internet of Things smarter."
The Cloud, Hardware, and Software in Ubiquity6's Connected Edge Platform make it possible for devices to securely talk to the edge and learn from the data they collect.
It uses this information in real-time to make intelligence that can be used, such as better indoor navigation and resource use, IoT energy management, and machine vision.
At the End of the Day
At the end of the day, those companies that work on artificial intelligence have a big effect on the world. So much so that many businesses are using this new technology. AI can do things automatically that used to be done by people. It can look at the information in ways that people can't.
It also makes things like translations happen faster and more accurately than ever before. AI is also being used to make customer service more personal. Because of this, it could save both business owners and their customers a lot of time.