Do you want to find the best React Native app development companies in India? You've arrived at the right place! In this post, we will look at the top 5 businesses in India that specialize in React Native app development. India has developed as a software development hotspot, and React Native has grown in popularity due to its ability to create cross-platform mobile apps. So, let's have a look at the top players in the Indian market for React Native app development.
React Native App Development in India
In this section, we'll look at the thriving field of React Native app development in India. Because of its capacity to construct strong and diverse mobile applications, React Native has become a hotspot for software development in India. So, let us investigate the landscape and identify the key components in the Indian market for React Native app development.
Why React Native App Development is Thriving in India
React Native app development is growing in India, and there are several reasons for this. One important factor is the use of cross-platform mobile frameworks, which allow apps to be available across multiple platforms. By leveraging a single codebase for different platforms, this method saves time and money. Additionally, it provides easy portability and cost-effective software development.
Developers can reach a larger target audience by using cross-platform mobile frameworks such as React Native. Maximum exposure is obtained by targeting both iOS and Android platforms with a single app, resulting in greater user engagement and market reach.
Because of its multiple advantages, React Native has emerged as a top choice for cross-platform app development. It has consistently retained its position as the field's premier framework. This is not done without effort; React Native has also undergone numerous upgrades and enhancements over the years for it to become what it is now. The changes include strengthening its security and decreasing its API surface area, resulting in a lighter and more efficient framework.
React Native's versatility stems from its ability to reuse integrated code for both Android and iOS apps. This benefit eliminates the need for separate iOS and Android development teams. Experienced app developers can handle massive projects with ease, harnessing React Native's power to build high-quality mobile applications.
As a result, numerous tech behemoths have adopted React Native for their mobile app development requirements. Its efficiency and cost-effectiveness truly make it an appealing alternative in the Indian market. React Native has truly transformed app development by enabling businesses to create cross-platform apps that captivate consumers across several devices and operating systems.
The Software Development Industry in India as a Whole
India's software development business has been critical to the country's entire IT economy. India has developed as a prominent player in the global software sector, thanks to strong government support and a highly educated populace fluent in English. The business initially encountered hurdles due to poor infrastructure, but it enjoyed exponential expansion following economic liberalization in the 1990s.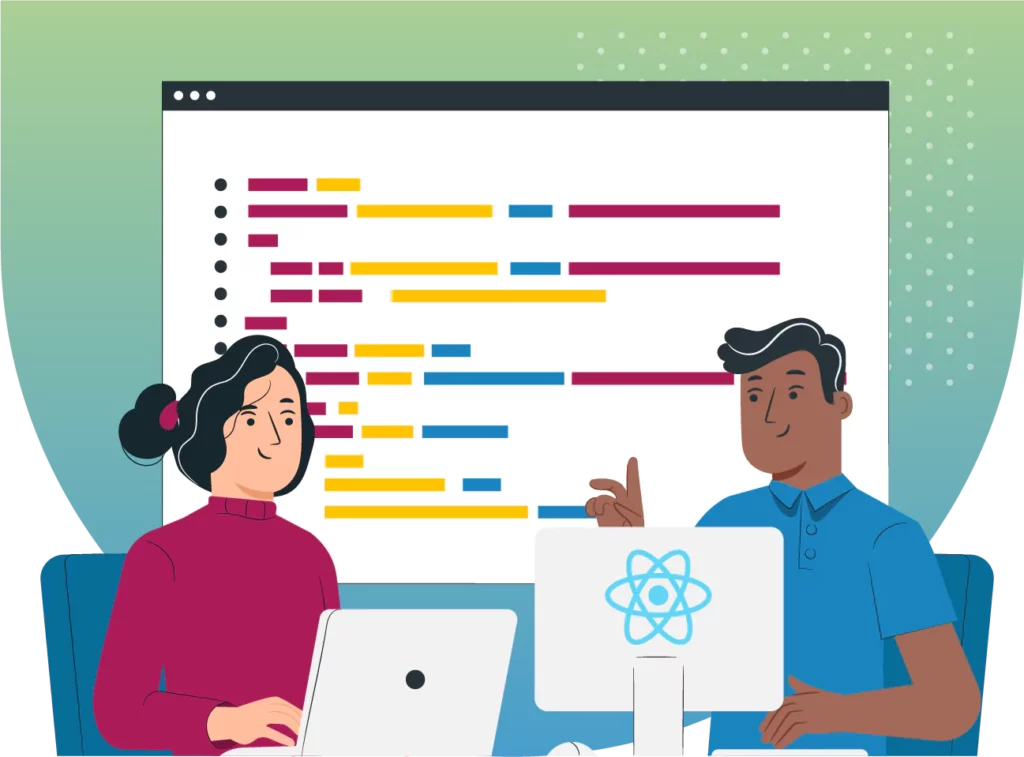 The software business in India is a perfect illustration of how economic liberalization, paired with an entrepreneurial spirit, can fuel the growth of a successful sector. It now contributes a sizable 8% of India's fast rising GDP. Over the last three decades, the industry has seen the formation of various IT services companies. Specifically, they earned $177 billion in sales and exports exceeding $135 billion in the fiscal year 2018-2019 alone.
The rise of the IT industry has not only provided over four million direct job opportunities, but it has also had a far-reaching impact on job creation in numerous linked areas, supporting livelihoods for nearly 12 million people indirectly.
India's software development industry has grown into a vibrant and dynamic ecosystem. It plays an important role in the country's socioeconomic development. With a stable foundation and a favorable business environment, it continues to attract worldwide attention, becoming a global software market leader.
Why You Should Choose an Indian Company for React Native App Development
If you're thinking about developing a React Native app, India might be the perfect place for your project. So, let us weigh the options and assist you in making an informed selection.
India has established itself as a worldwide software development hub. Furthermore, the presence of top-tier React Native app development businesses boosts its position. India also has a large talent pool of experienced developers who excel in React Native development due to its highly trained workforce.
One of the primary benefits of outsourcing your React Native app development to India is cost-effectiveness. Development costs in India are lower than in many other nations. Because of this, you can get complete quality work on a modest budget. You can save a lot of money without sacrificing the quality of your software.
The powerful IT infrastructure in India, along with sophisticated technological skills, also allows easy communication and project management. Because the organizations in this area are well-versed in Agile methodology and collaborative tools, remote development is a snap.
Furthermore, India's time zone advantage enables overlapping working hours with clients from all over the world, allowing for real-time communication and faster turnaround times. This means that your project will move forward quickly and without unnecessary delays.
India also shines in terms of cultural compatibility. The country's work environment is varied and inclusive, encouraging collaboration and innovation. Indian developers are well-known for their dedication, professionalism, and adaptability to a variety of company needs.
Finally, India's extensive experience in the software development sector, together with its solid reputation as a worldwide IT leader, gives Indian React Native app development companies confidence. The track record of successful projects and delighted clients speaks eloquently about Indian developers' expertise and dependability.
Recommended reading: Top 5 React Native App Development Companies in the USA in 2023
5 Best React Native App Development Companies in India in 2023
Prepare to meet the crème of the crop of React Native app development businesses in India in 2023! In this part, we'll reveal the top 5 React Native firms that are producing great mobile app solutions. These firms have demonstrated their knowledge, inventiveness, and technical prowess, making them the go-to options for organizations looking for high-quality React Native development services.
So, brace yourself for a meeting with the top 5 React Native app development companies in India in 2023. These firms are setting the bar high and shaping the future of mobile app development, from their remarkable portfolios to their commitment to quality.
Simform is a standout choice for React Native app development since it simplifies the recruiting process and ensures your success. They have a global network of top-tier React Native engineer. Additionally, their verification procedure guarantees that you get the best talent for your project. What's the best part? You have complete control over who you recruit, and Simform handles the rest.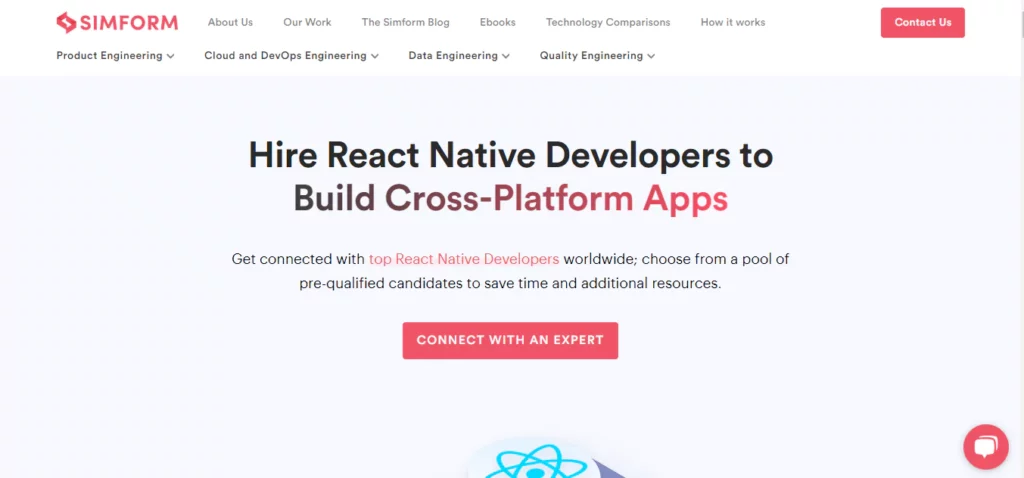 For all remote recruits, Simform's professional hiring managers handle crucial tasks such as payroll, compliance, hosting, and benefits. Simform also allows you to save significant time that would otherwise be spent on technical recruiting by taking care of these critical issues. This frees you up to concentrate on what really matters: attaining your objectives and propelling your company forward.
Simform's commitment to quality ensures that only the most skilled React Native developers join their team. Their efficient administration of important duties and streamlined hiring process make them a dependable partner for your app development needs. With Simform on your side, you can be confident that your React Native project is in capable hands, letting you to focus on what you do best—driving your business ahead.
Minimum project size: $25,000+
Average hourly rate: $25 – $49 / hr
Total number of employees: 250 – 999
Founded: 2010
Location: Ahmedabad, India
Kellton is dedicated to your success and takes the time to learn about your company. They create great mobile app solutions tailored to your needs by leveraging their technical experience and market understanding. Their focus ensures that your app scales quickly and provides a transformational user experience. Kellton's expert React Native mobile app development services will help you realize your company's full potential.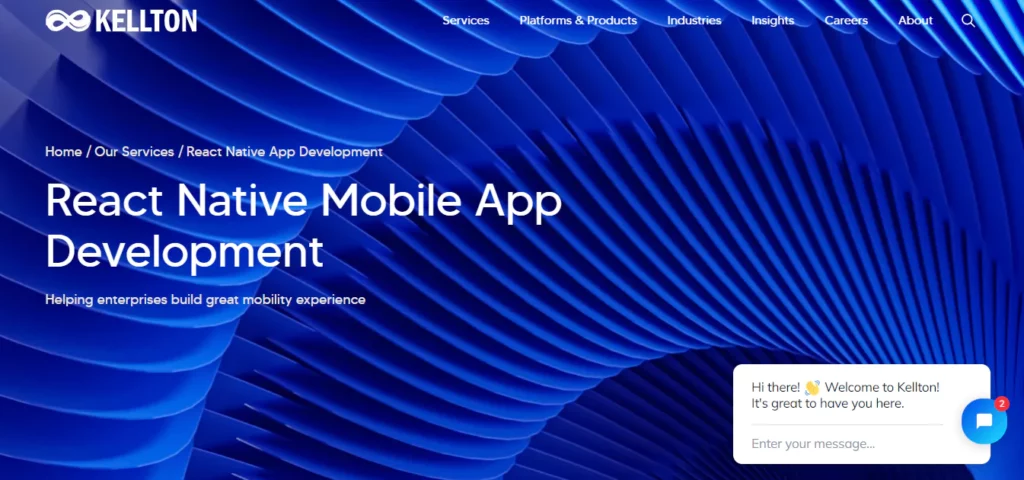 Kellton provides React Native app development services such as designing mobile apps for Android and iOS platforms. They do this by using single-codebase APIs to give consistent user experiences. They also offer React Native app consultancy to develop strategies that produce measurable results through agile processes and flexible engagement methods. Additionally, they provide migration services to assist you in converting your native software to a React Native cross-platform app, ensuring better capabilities and responsive scalability.
Kellton's support and maintenance services further assure your React Native app's optimal performance, better security, and maximum uptime. It is a trusted end-to-end React Native development business with an in-house staff of over 200 React Native engineers and an excellent track record of 350+ React Native projects produced over 7+ years.
Furthermore, Kellton provides round-the-clock availability and rapid development through its worldwide delivery centers in the United States, Poland, and Asia. Their approach to native and hybrid app development also provides great speed, performance, and responsiveness, while also streamlining internal corporate operations to increase efficiency.
Minimum project size: $50,000+
Average hourly rate: $50 – $99 / hr
Total number of employees: 1,000 – 9,999
Founded: 2009
Location: Gurugram, India
GeekyAnts is ready to help if you're looking for the best React Native development business. They have an excellent clientele of over 150 clients worldwide. Their team consists of React Native core contributors, and they take pride in offering over 200 React Native app development solutions. Mobile Premier League, Rituals, and Noon are a few of their major efforts.
GeekyAnts is also the inventor of NativeBase, the most popular React Native UI library with a large GitHub and Twitter following. NativeBase additionally has received a lot of attention, with 18.9k stars on GitHub and over 4,000 followers on Twitter. Furthermore, GeekyAnts receives regular contributions from React Native enthusiasts, which helps to improve the framework.
GeekyAnts has also contributed to over ten open-source React Native products as top open-source contributors. These contributions span from component-based UI libraries to developer and designer-ready templates. Their active participation further demonstrates their skill and dedication to the React Native ecosystem.
Finally, GeekyAnts often offers community-centric meetups and short conferences as part of its strong commitment to the community. Their React Native meetup group is the world's largest, encouraging collaboration and knowledge sharing among the React Native community.
Minimum project size: $5,000+
Average hourly rate: $25 – $49 / hr
Total number of employees: 250 – 999
Founded: 2006
Location: Bengaluru, India
Tech Exactly is another top choice for React Native app development companies in India because it provides a wide range of services to meet your diverse development demands. They cover everything from full-cycle product development to MVP development, maintenance and support, and staff augmentation.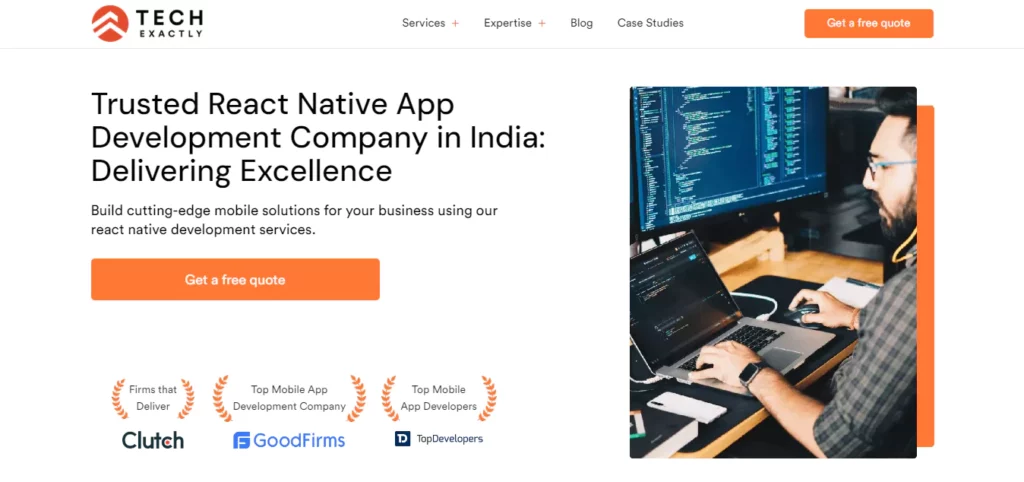 Tech Exactly's full-cycle product development services cover all aspects of the app development process, from concept to design to programming, testing, and maintenance. Their customized solutions are intended to help your company flourish by providing superior items.
Tech Exactly offers React Native MVP development services to customers wishing to construct their product in iterations while keeping expenses down. This method helps you to collect as much customer feedback as possible and eventually evolve into a better product.
Tech Exactly goes above and beyond development by providing proactive support and maintenance services. They ensure that your React Native app operates smoothly and without downtime, and they provide a solid support structure to keep your business running successfully.
Tech Exactly's staff augmentation services give professional React Native developers who can easily integrate into your team and help you meet your project goals and budget. You have complete control over the developers, with no extraneous costs.
There are numerous reasons why Tech Exactly is a top React Native app development firm in India. Their expert mobile app developers are hand-picked to assure the timely delivery of high-quality applications. They use agile methods and design thinking to meet strict deadlines and complete projects on schedule. Tech Exactly also takes a results-oriented approach, offering consultancy and strategic direction throughout your React Native project.
Minimum project size: $5,000+
Average hourly rate: $25 – $49 / hr
Total number of employees: 10 – 49
Founded: 2016
Location: Bengaluru, India
Capital Numbers provides a full range of React Native app development services. They take pride in providing end-to-end solutions, beginning with designing user interfaces, prototyping, and developing iOS, Android, and cross-platform apps, and ending with deployment. Their dedication to creativity and in-depth knowledge of the React Native API library enables them to create dynamic apps with exceptional user experiences that keep people returning for more.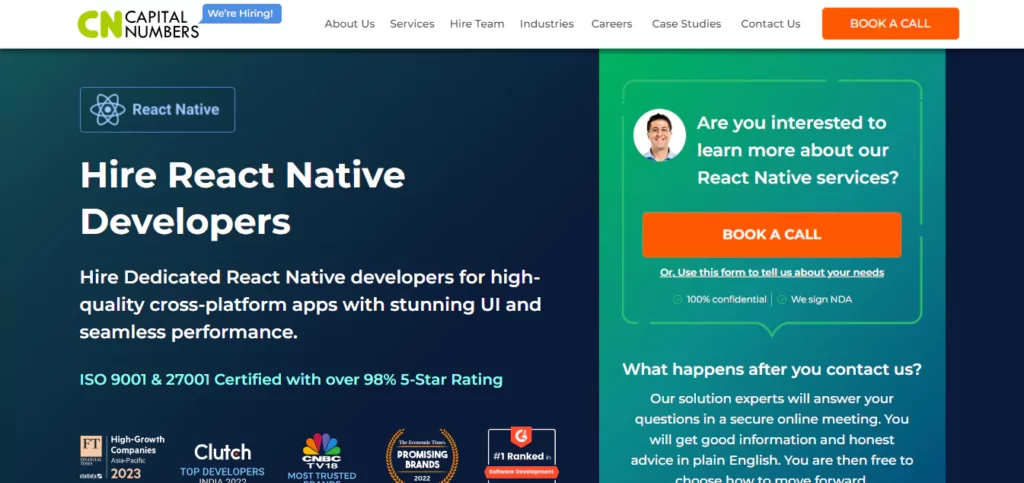 Capital Numbers also offers post-launch support services for complicated React Native projects to ensure appropriate operation. Their dependable support solutions include software maintenance, upgrades, and quality assurance, exceeding client expectations and restoring corporate confidence. With expertise in backend and API development, the firm also provides full services in Node.js, PHP, and Python for React Native mobile apps. They may develop unique backend and API solutions that interact smoothly with your mobile app.
Capital Numbers additionally specializes in React Native conversion, whether it's redesigning an existing mobile app or moving it to React Native for better UI/UX. Their devoted personnel and solution architects are well-equipped to manage legacy modernisation, assisting you in overcoming the limits of obsolete technology and increasing business agility. Furthermore, the firm is a trustworthy React Native consulting partner with a team of experienced experts and fresh talent. Their experts thoroughly assess existing company processes and offer important recommendations on new techniques, trends, and technology to help projects move forward while keeping costs down.
Minimum project size: $5,000+
Average hourly rate: < $25 / hr
Total number of employees: 250 – 999
Founded: 2012
Location: Kolkata, India
Conclusion
As the app development market evolves, it is critical to select a firm that is up to date on the latest technology and industry trends. The firms included in this article have demonstrated their competence, dependability, and dedication to excellence, making them the best options for React Native app development in India.
So, if you want to use React Native to create a high-quality, scalable, and user-friendly app, consider collaborating with one of these top 5 React Native app development companies in India. They have the knowledge, experience, and commitment to bring your idea to life and move your company forward in the competitive mobile app industry.