If you ask me what I think about Designveloper, well, I'm so sorry, I cannot tell you because there is so much to say. But below are some keywords I believe you should know before joining the team! 😉
1. Pair programming
Pair programming has been used in Designveloper ever since the company was established. Our co-founders believed that the method would help increase developers' productivity as well as the quality of final products.
In short, pair programming is the activity when two developers work together sharing one screen. One will be responsible for coding and is called the driver. And at the same, the other (the navigator) will observe and review the driver's work. But first thing first, they need to discuss, evaluate and find out the best solutions.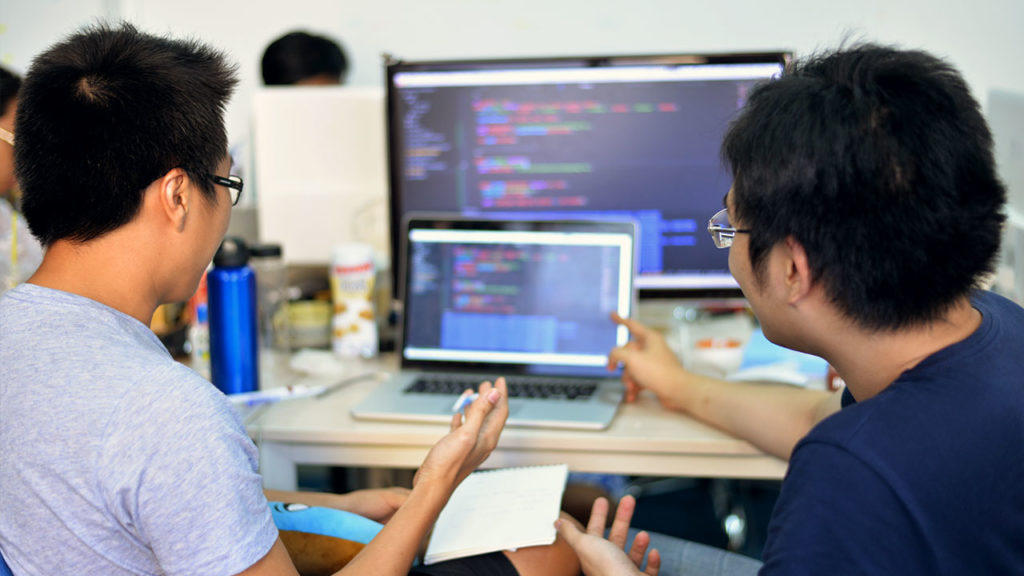 And of course, this method brings out a lot of advantages. Of those, the most significant one might be the ability to reduce errors by 15%. It also increases programmers' satisfaction when they have someone to exchange ideas and together improve developer productivity.
Besides, the driver and the navigator will have a chance to share and learn from each other to gain more knowledge and experience.
2. Ownership
Ownership is yet another keyword to know by heart when working at Designveloper.
As Hung Vo (Designveloper's CEO and Co-Founder) put it in his recent interview: "In fact, everyone wants his/her work to be accomplished with the best results, and no one wants to be lazy and affect the outcomes. When leaders put all their trust in employees, the staff can develop their potential in full swing. In Designveloper, I and my staff often use the word "ownership" to refer to this."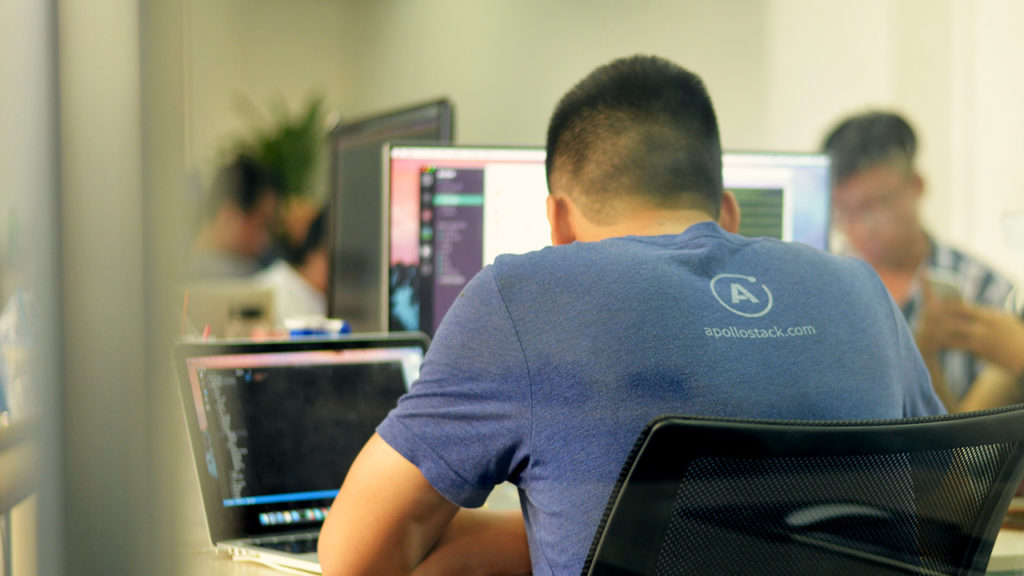 In other words, this sense of ownership is the way an employee is aware of and takes care of his/her tasks by themselves without anyone having to remind them about it. They, at the same time, should assure the quality of the final product and be able to deliver it in a timely manner.
However, this also applies to non-business tasks like cleaning up your cubicles, helping others, etc.
On the one hand, this culture does not only empower our DSV-ers so that they could be more creative and productive. On the other hand, it also reduces a significant amount of the manager's tasks as they are free from those time-consuming jobs such as checking all the bits and pieces of everyone's work.
3. Remote work
Nowadays, the remote working policy is no longer a new thing but in Vietnam, it's still an unfamiliar concept as many companies aren't really sure about what's good when applying it. However, here in Designveloper, we thought of this idea a long time ago and have practiced it for years.
First of all, as mentioned above, we'd like to empower our pals and want them to have full control of their tasks so letting them work remotely work-life balance is one way to make this desire come true.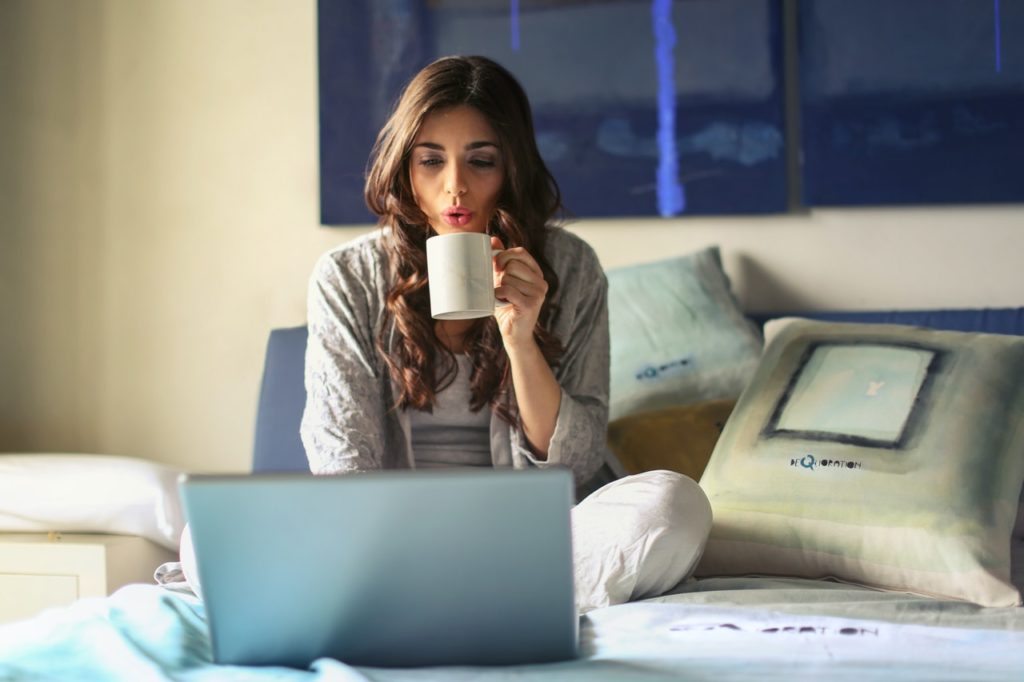 Secondly, according to CWSwire, only 39% of remote staff get distracted during their working session compared to 56% of in-office staff.
Overall, working from home is a way to help our pals refresh their minds with a new (but old) workplace, improve their satisfaction and increase productivity.
And what's more? As a team player of Designveloper, you can work from home 2 days/week. You won't get stuck in traffic jams 5 days/a week or ride your motorcycle in the hot weather of Ho Chi Minh City anymore.
So, click here to see all the open positions if you're interested.
4. SCRUM/Agile
Agile has been our main framework of ours for more than a year. Before that, there were no particular means of metrics or frameworks to track and adjust the working process at all. So, we merely worked based on Trello and a time-managing tool.
Fortunately, we were able to realize that the approach brought more harm than good. From that moment, our development team started to apply Agile to our process.
Some significant changes should be mentioned are:
A milestone is divided into several sprints and a sprint lasted 2 or 3 weeks. 
A team includes some basic roles such as developer, designer, QC, tester, business analyst, scrum master, etc.
All tasks are measured by story points with the agreement of all team members.
Thanks to the framework, we can easily adjust the plan and find the best solutions for how our clients want it to be and how we could benefit from it.
You could read more about Agile vs Scrum here.
5. Flat structure
This concept suggests a model where there are just a few managers so that the decision-making process can be shortened, opinions and ideas can be translated to actions faster, and then actions can be done in no time. As a result, we can satisfy our clients and even staff better.
Furthermore, no matter how senior you are, you have the right to address your thoughts freely as long as they are constructive and appropriate.
At Designveloper, we have just 5-6 managers at a time to work with a team of 60 members. This model and the spirit of ownership help us to deliver good results, fix bugs, and maintain the operation with little to no delay.
6. Moral value
According to Hung Vo, moral value is one of the most important values to keep in mind.
When it comes to this aspect, you have to get rid of your own benefits and think of what you could offer to society, the company, and clients beforehand.
That's why before performing any actions, everyone has to consider if it's right or appropriate or if it can bring back any values to life.
Some of the examples Hung talked about are being late to work or not cleaning your desk before getting home. Besides that, we must be sure that we will benefit the clients, not just aim for getting their money.
To find out more about it, let's take a look at this video.
7. Boon App
DSV-ers have their own way to show gratitude and appreciation if someone helps or assists them. That's Boon. Boon is a gamified app allowing members to give boons to others and show the reason behind that. Each member will have 100 boons/month, they can give it away however they want. And the person who receives the most boons will be awarded a bonus.
8. Others
Link: This is a funny one! 'Link' is short for "Drink order link". Whenever there is someone's big life event such as a birthday, work anniversary, getting a new girlfriend/boyfriend, etc. He/she will treat us with bubble tea, Banh Trang Tron, etc. by sending a link from Now.
Table football: We started to host an annual table football championship 3 years ago. This sports event attracts everyone from old to new members. 
Clubs: as mentioned in the previous article, there are many clubs to join in Designveloper such as football club, book club, running club, etc. They don't have any high standards to recruit members at all, it's all about passion, pals!
---
So, tell me what you think about us now by connecting with our Facebook page, Twitter or LinkedIn.
And if you are looking for a job in this field, we have some for you, just click here and wander around.
TABLE OF CONTENTS
CATEGORIES