Do you intend to create a mobile app for business or personal use? Choosing the correct development company is the first step toward a successful mobile app development project. However, with so many options available, it might be difficult to pick the best decision. That's why we've compiled a list of the top mobile app development companies in the US.
In this article, we did the research and analysis so you didn't have to! We have you covered whether you're looking for an iOS or Android app, a gaming app, or a utility app. Stay tuned to find out who made our list and what makes them stand out from the crowd.
An Overview
Before we get into our top 5 list of mobile app development companies in the US, let's take a look at its mobile app development market.
On Mobile App Development in the US
The mobile app development sector in the Us is rapidly expanding. Approximately 9,132 mobile app developers are now employed in the country, and the number is increasing. Surprisingly, the average age of a mobile app developer is 39. When it comes to gender representation, men outnumber women by 82.0% to 18.0%. White is the most frequent ethnicity among mobile app developers, followed by Asian, Hispanic or Latino, and Unknown.
As indicated by the enormous number of app downloads globally in 2021, which reached 258 billion from the Apple App Store and Google Play alone, mobile apps have become a vital part of people's life. This demonstrates that there is a significant need for mobile app developers. With that, businesses must ensure that they work with the best development firms to address this demand.
Furthermore, mobile ad spend has been expanding year after year. In addition, iOS was responsible for 67% of app consumer expenditure in 2022. This demonstrates Apple's dominance in the app business and emphasize the significance of building apps for this platform.
Importance of Finding the Best Mobile App Development Company in the US
The success of your mobile app is dependent on selecting the correct mobile app development firm. A reputable mobile app development company can assist you in bringing your app idea to life. Choosing the wrong business, on the other hand, can result in a badly created software that does not fulfill your or your consumers' expectations.

A reputable mobile app development company will collaborate with you to fully comprehend your company's requirements and objectives. They will also advise you on the best development technique to guarantee that the app is built to your specs. They will also undertake extensive testing to verify that the software is bug-free and ready for release.
Working with a renowned mobile app development business also provides you with access to a team of expert developers. They can employ the most up-to-date technologies and trends to create unique and user-friendly apps. This is especially critical given the mobile app industry's fast-paced and competitive nature.
It is vital to note that the cost of hiring a mobile app development business varies depending on project complexity. However, it is critical not to sacrifice quality for the purpose of saving money. Investing in a high-quality mobile app can yield long-term benefits by improving user experience, increasing user engagement, and generating money.
Recommended reading: 5 Best Mobile App Development Companies in Germany
4 Criteria for Selecting the Best Mobile App Development Companies in the US
When looking for a mobile app development firm in the US, it's critical to choose one that fulfills individual demands. In this part, we'll go over the four most important factors to consider when choosing the finest mobile app development companies in the US.
Services offered
When searching for the best mobile app development companies in the US, it is critical to analyze their services. The right development business should be able to offer you a wide selection of tailored services. This could entail creating the user interface, implementing the software, testing it, and delivering it across several platforms.
It's critical to find a company that can give end-to-end services, such as front-end and back-end development. You should also check that they have experience developing apps for numerous platforms, such as iOS and Android. They should also have knowledge of various programming languages and development tools.
You should also seek a provider that offers post-launch services such as app maintenance, updates, and support. This is significant since you may require continuing maintenance to keep your app up to date and safe.
Consider whether the development company provides any value-added services, such as counseling and guidance on tactics. The finest app development businesses recognize the value of offering a complete range of services to ensure success.
Prices
Another key thing to consider when choosing a mobile app development company for your project is price. You want to make sure that the company's pricing are within your budget while giving great services. Some companies may charge higher costs but give more extensive services, whilst others vice versa. It's critical to strike a balance that works for both you and your project.
Furthermore, keep in mind that the cost of designing a mobile app can vary based on the project's complexity. It is critical to understand the pricing structure of the organization you are considering and ensure that it is suitable.
Client reviews
Client reviews are an important factor in determining the finest mobile app development company in the US. Previous client feedback can provide vital insight into the company's dependability, job quality, and customer service. Pay close attention to any recurring issues or concerns when reading client feedback. If many evaluations mention poor communication, this could be a red flag. However, take in mind that not all reviews are reliable, and some may be fabricated.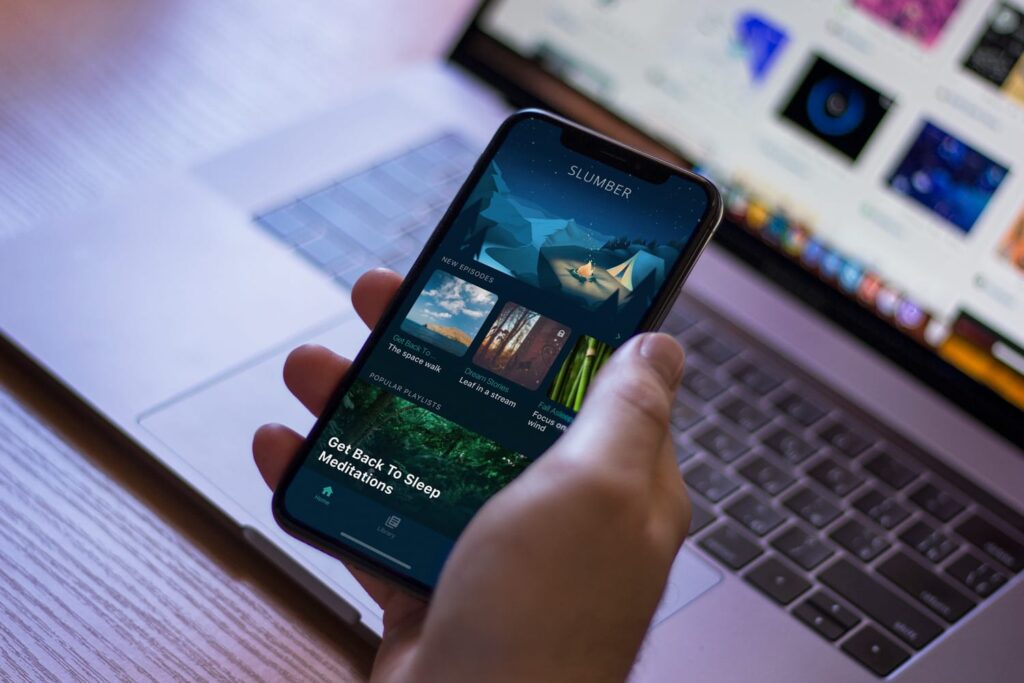 To acquire a complete picture of the company's reputation, look for reviews on numerous platforms. Additionally, read evaluations from clients in your field or with similar project requirements to get a better sense of how the organization tackles certain difficulties. Overall, client reviews can be a useful tool, but they should not be the only factor.
Portfolios
Another important factor to consider while choosing the best mobile app development business in the US is the company's portfolio. A portfolio is a collection of a company's previous work that shows their competence and quality of work. As a result, you should review the company's portfolio to see whether they have produced similar apps to what you want and if they have a track record of delivering high-quality apps.
When reviewing their portfolio, pay close attention to the design, user experience, and functionality of the apps they've created. Consider whether the apps are visually appealing, simple to use, and work well. A mobile app development company with a strong portfolio will be eager to show off their work to prospective clients.
You should assess their experience in your business in addition to their portfolio. A mobile app development business with experience in your industry will have a greater understanding of your target audience and their tastes, allowing them to produce an app that meets their expectations.
As a result, before hiring a mobile app development business, review their portfolio and assess their experience in your market. This will allow you to make an informed decision and select a company capable of delivering high-quality apps that fit your business needs.
Recommended reading: 5 Best Web Design Companies in Japan
Top 6 Mobile App Development Companies in the US
Mobile apps have become an indispensable part of our daily lives, and their significance is only growing. With the advancement of technology, it has become easier for businesses to reach out to their target audience and connect with them via mobile apps. However, with so many mobile app development businesses in the United States, it might be difficult to select the ideal one for your company. That's why we've compiled a list of the best 5 mobile app development companies in the US to assist you in developing high-quality apps that match your business needs.
When debating on the best mobile app development companies, numerous factors come
into play. Fliplet, an all-in-one platform, has emerged as the top contender in this space due
to its impressive features and capabilities. Offering both no-code and low-code options,
Fliplet caters to a wide range of users, making it an ideal choice for businesses and
individuals alike. Here's why Fliplet stands out as the best mobile app development platform.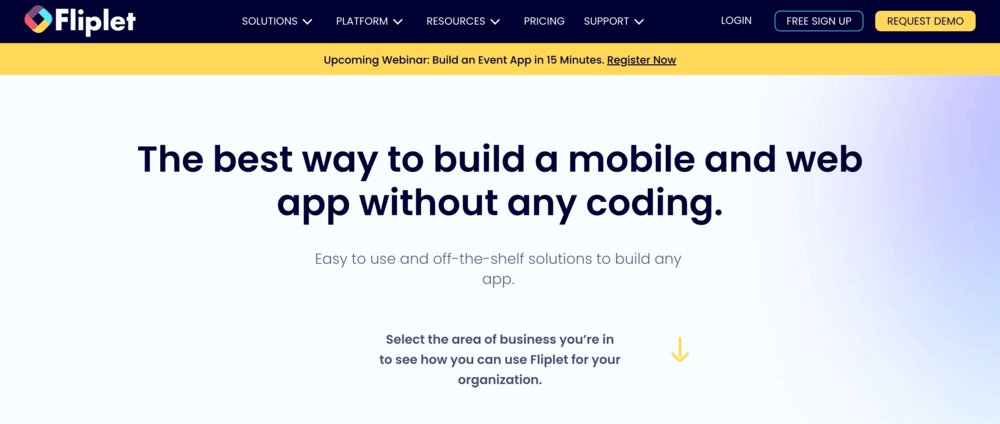 Cross-platform Development
Fliplet's cross-platform development capabilities enable you to create stunning apps that run
seamlessly on iOS, Android, and web platforms. You can also distribute apps internally by
publishing them as an enterprise app for Android and iOS devices. This not only saves you
time and resources but also ensures a broader reach for your app, appealing to users across
various devices and operating systems.
Integration Capabilities
One of the key strengths of Fliplet is its robust integration capabilities. The platform provides
seamless integration with various third-party services, APls, and internal systems, allowing
you to create feature-rich applications that enhance user experience. With Fliplet, you can
easily connect your app to popular services like Salesforce, Google Sheets, or your own
custom-built APls.
Fliplets Zapier integration is a great example of how mobile app platforms can provide extra
benefits to enterprise organizations. Fliplets Zapier integration allows users to connect their
apps to over 5,000 other applications such as Google Sheets, Microsoft Outlook and Google
Calendar.
Security
Fliplet takes security seriously, offering enterprise-grade security features that safeguard
your app and user data. With built-in encryption, user authentication, and secure data
storage, you can confidently create and deploy your app knowing that Fliplet has your
security needs covered.
Cost-effectiveness
Fliplet offers an affordable pricing structure that caters to businesses of all sizes. You can
even sign up for a free trial to test out the platform's features before committing to a
subscription. With its cost-effective pricing and powerful features, Fliplet provides excellent
value for money without compromising on quality.
Light-It is unquestionably one of the best mobile app development companies in the United States. They specialize in healthcare software development, assisting digital health startups, clinics, and medtech enterprises in designing and developing specialized web and mobile applications that will change the face of healthcare in the future.

Light-It is all about agility and efficiency, employing the Agile methodology to work iteratively and continuously produce value. This technique enables their team to be more productive, efficient, and adaptable to change. When self-organized teams are aligned, everyone is on the same page about product phases, priorities, and roles, which has a significant impact on each value delivery.
They began using OKRs, a goal-setting framework, in 2020, which helped their team develop, focus, prioritize, and be more honest about their objectives and critical results. This inspired everyone to attain their ambitions and brought everyone together.
Light-It also uses cutting-edge technologies such as Laravel, Vue, React, iOS, Android, Flutter, and Three.js in their tech stack. They are constantly on the lookout for new technologies to work with, including blockchain, Flutter mobile, AI, and functional programming.
Their process entails a dedicated team of interdisciplinary talent that concentrates on and takes some level of ownership of the project in order to successfully produce the product. Their in-house process is adaptable enough to meet the objectives of any project, and it takes inspiration from Design Thinking and the LEAN approach.
When a firm requires an extra set of hands, Light-It provides hourly and full-time talent to product teams through staff augmentation. Their software engineers, QA engineers, and UX/UI designers are educated to assist the client's in-house team by integrating into it, reporting to its managers, attending meetings, and adapting to its working approach.
Frogslayer is a company to consider when it comes to mobile app development in the United States. They have been providing great custom software development services for a while now, with over $1B in client ROI. They are dedicated to providing results, and their average client return on investment is 23x.

Not only that, but they have over 3 million daily active consumers across all of their products. Microsoft, Best Buy, and Dunkin Donuts are among their clientele. They have also received 4.9-star client and staff ratings on Clutch and Glassdoor. When you collaborate with them, they will begin their Pre-Project Consulting phase by listening to you and asking questions. In addition, they will perform a thorough code audit and create a "takeover plan" and roadmap to get your software in good shape.
They recognize that your project begins long before any coding. As a result, they will invest time analyzing your business, your user demands, potential dangers, and future prospects. They will eliminate all guessing from the start, allowing you to de-risk your software project and expedite development.
Their design and development processes seek to create software that is maintainable, expandable, and highly usable. They will start with the most important aspects so that they can provide the most value as quickly as feasible. You can construct custom-fit online and mobile applications that will allow your firm to scale faster for years to come by building only what is necessary.
Frogslayer will assist you in determining the correct hosting, licensing, and distribution mechanism for your system once its release begins. They will also be responsible for ongoing product enhancements and repairs, usage and performance optimization, security monitoring, backups, and compliance.
Emizen Tech is a mobile app development firm in the US that provides high-quality and unique solutions to businesses of all kinds. They specialize on developing user-centric and high-performance mobile applications for a variety of platforms, including iOS and Android. They've helped countless businesses reach their goals and increase their revenue thanks to their extensive experience in mobile app development.

Emizen Tech's competence in cutting-edge technologies and frameworks is one of its core competencies. They use cutting-edge technologies such as React Native, Flutter, and Xamarin to create high-quality mobile applications that match the specific needs of their clients. They also adhere to a strict development process that comprises an in-depth examination of their clients' business requirements, UX/UI design, development, testing, and deployment.
Furthermore, they are can offer exceptional customer service and assistance throughout the development process. They collaborate closely with their clients to ensure that their needs are addressed, and they keep them updated on the development. This level of transparency and communication distinguishes them from other mobile app development firms.
Emizen Tech has a strong track record of completing successful mobile app projects for clients in a variety of industries. Their work speaks for itself, and it's clear that they like what they do. Their commitment to providing great mobile app development services has garnered them accolades and recognition, including being named one of the top mobile app development companies by Clutch.
NMG Technologies is another company you can rely on for your mobile app development needs in the US. They have a staff of skilled developers who apply their knowledge to create high-quality applications. NMG Technologies employs agile approaches to ensure that your project is on time and under budget.
With over 15 years in business and 1000+ projects delivered, this company has a strong portfolio that demonstrates their ability to produce high-quality mobile applications in a variety of industries, including healthcare, education, and finance. They have a reputation for creating scalable and secure systems that fulfill their clients' objectives, which is why institutions such as WHO and Nikon trust in their services.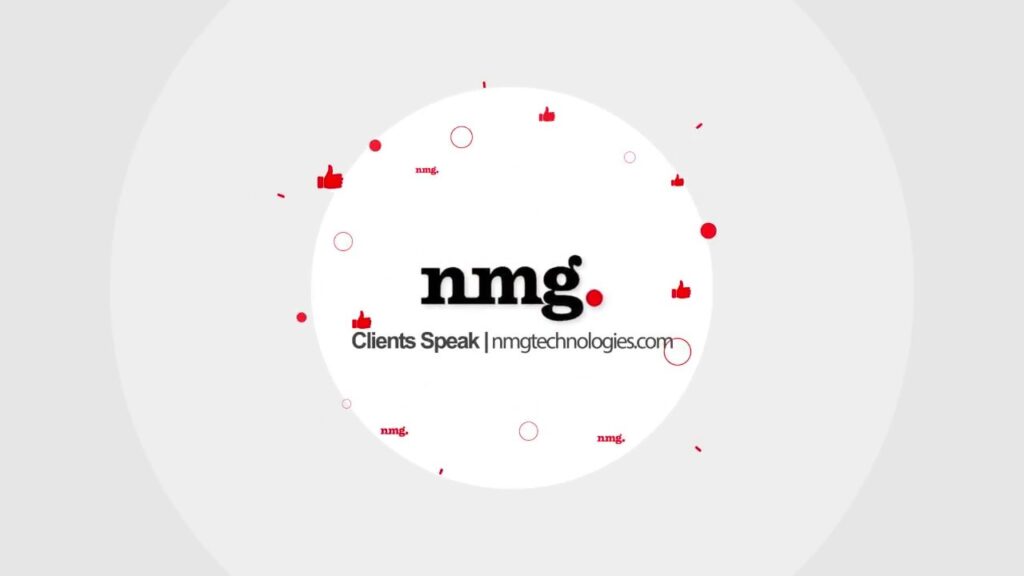 They also provide fantastic customer service and are always there to answer any issues you may have. This implies that when you collaborate with them, you can expect a stress-free development experience.
For their remarkable performance in the mobile app development market, NMG Technologies has garnered various honors and recognitions. Clutch.co, a prominent B2B review platform, rated them one of the top mobile app development businesses in the US.
Intellectsoft is the last name in our list. It is another well-known mobile app development business in the US, with an emphasis on providing high-quality and innovative software solutions.

They have a strong industry presence and have created apps for some of the world's most recognizable brands, including Nestle, Walt Disney, and Audi. From conceptualization through development and maintenance, the company provides end-to-end services to ensure that its clients obtain a comprehensive solution that meets their individual demands.
They also have a staff of highly skilled developers who specialize in various technologies and are skilled at designing mobile apps for various platforms such as iOS and Android. Intellectsoft's focus on quality and innovation has garnered them various honors and recognition, including being designated a top mobile app development company by Clutch.
If you're looking for a dependable and competent mobile app development business in the United States, Intellectsoft is a great option.
Conclusion
To summarize, mobile app development in the US has come a long way, and there are many organizations that provide excellent services in this industry. The top five organizations in this article are highly recommended for their great performance, job quality, and client satisfaction. Each of these businesses has its own set of skills, and they provide a wide variety of services such as mobile app development, design, testing, and deployment.
However, if you are willing to go for cheaper options while wanting to retain the same quality services, you can trust in us! With Designveloper's team of experienced developers, we have what it takes to take your mobile app development projects to the kind of success you seek! Contact us now for more information.