According to Statista, 87% of logistics and supply chain firms are tapping into cloud-based solutions to facilitate their transportation management and gain an edge in an ever-changing marketplace. With the emergence of SaaS transportation management systems (TMS), stakeholders in the supply chains can better prepare for the post-pandemic world in the years to come. It is not surprising regarding the benefits of cloud-based solutions and SaaS-based transportation management systems.
Cloud-based solutions are the future of logistics
Undoubtedly, cloud-based solutions have the potentials to become the future of logistics due to the benefits they bring to businesses.
Better management
Cloud-based supply chain management contributes to a more proper scheduling process, allowing freight forwarders and shippers to know the state of the business operations. In addition, cloud systems promote efficient logistics operations and timely response thanks to the points of confirmation and checks. Risks and potential threats are therefore minimized as freight forwarders can relay alerts and important information to their clients in the event of anything going wrong.
Cost reduction
Cloud-based logistics systems facilitate the management of the logistics operation in real-time and help reduce cost. Specifically, managers can access the most updates of relevant data at any time. Since cloud-based logistics operates as a pay-per-use model, businesses can reduce the cost of upgrading software. Capital expenditure is also significantly reduced owing to little call for on-site resources.
See also: What is Cloud eCommerce Solutions?
Consistent Improvement
Shipping and logistics businesses are striving to better their operations to bring the best services to their customers. With the cloud-based solution, companies can benefit from a cheaper and more accessible means of supplementing new functions and removing obsolete features to improve their services. Besides, cloud-based logistics allow users to take advantage of various metric tools for quickly identifying and timely reporting their cargo status at all points of the process to the customers.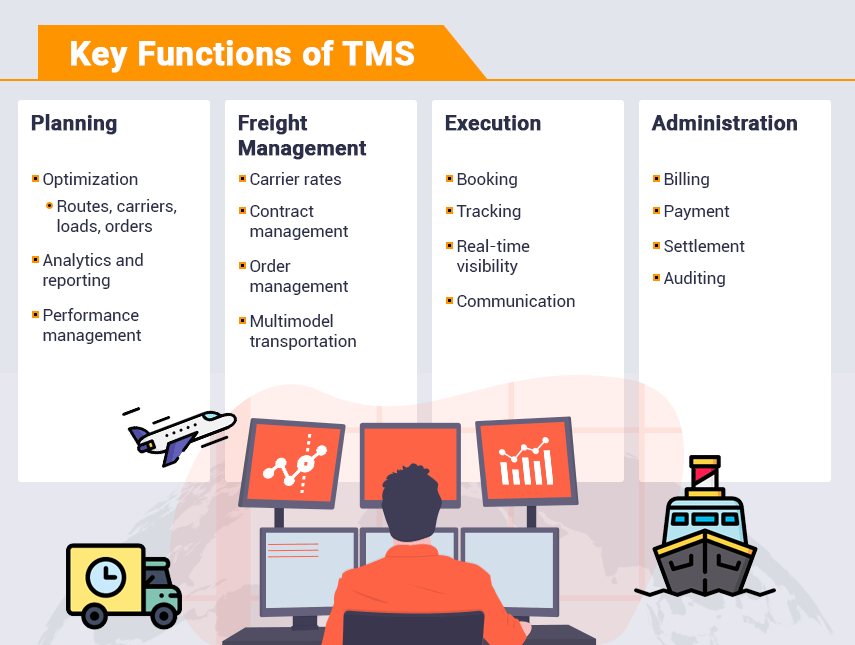 SaaS Transportation Management System (TMS)
What is SaaS TMS?
A SaaS TMS is a cloud-based transportation management system purchased monthly as a per-user subscription service via the internet. Instead of your local servers, a SaaS TMS runs on the servers of the third-party vendors who are responsible for maintaining and updating the software periodically during the year.
You may read: Web Design Services
The Benefits of SaaS TMS
SaaS TMS can help accelerate a user's return on investment (ROI) when it moves from implementation to integration and eventually optimization without any upfront investment in technology and fees for upgrades. Businesses can also use SaaS TMS the way they want with great scalability. In other words, they can access data of carriers already in the system's network, knowing volumes of freight at any time and making smarter logistics decisions to prevent service disruptions.
Besides, with shippers and carriers using one transportation management software, supply chain visibility can improve thanks to the recorded shipping data history. The SaaS model makes real-time communication possible for all parties, enabling them to work together on shipping procedures while keeping track of the same data simultaneously on the same web page. The streamlined communication together with comprehensive data reports thus contribute to greater visibility into logistics processes.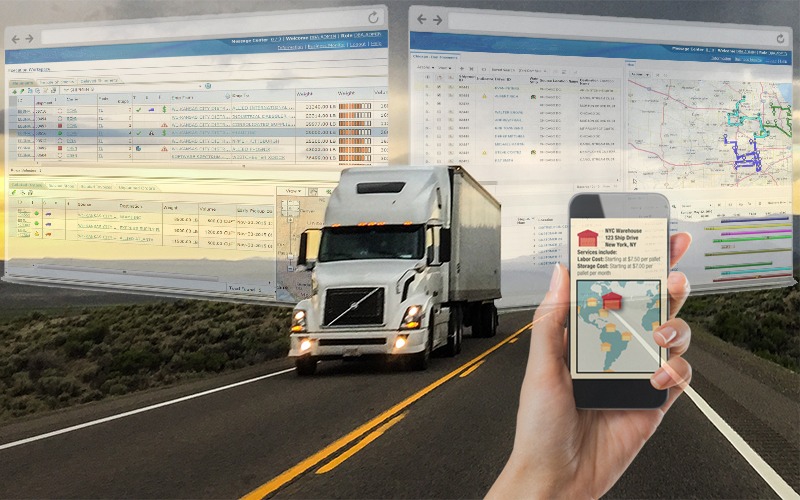 The Drawbacks of SaaS TMS
Despite their benefits, logistics companies and businesses have to consider some of the SaaS TMS's drawbacks. Since SaaS providers can service many clients simultaneously, their data centers need to use a large volume of bandwidth. The decreased bandwidth may lead to outages, downtimes, or severe latency issues when users access their dashboard. Also, those issues can result from the fact that SaaS TMS is often utilized inside warehouses and in areas with poor signal or internet connection.
In addition, SaaS TMS only offers standard features that are hard to customize. Cloud-based software programs are in fact less tightly controlled by users than on-premise software. In some cases, users are worried about their data being compromised as it is not tied to on-premise resources.
What features needed in an SaaS TMS
The features of SaaS TMS vary, depending on whether you need SaaS TMS to tackle cargo forwarding and ship management or a multipurpose system for complex enterprises. However, there are a few key features to consider when developing SaaS solutions for logistics and transportation.
Rate/price calculation
Because the logistics service price can be calculated based on various costs and a fixed profit margin, SaaS solutions automatically calculate shipping prices according to numerous details. In fact, logistics companies may need to estimate costs for fuel, drivers' services, vehicles, customs expenses, port fees, and more. It is also necessary to keep a record of seasons in which prices and rates of third-party services increase to calculate the final price more properly.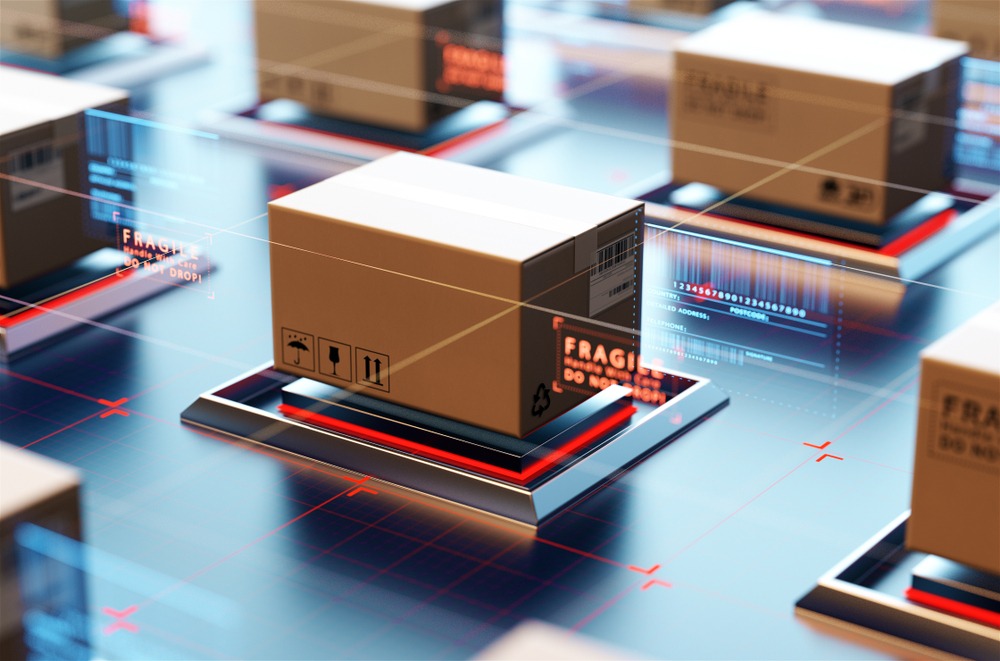 Forecasting
A SaaS system with an outstanding forecasting feature can help logistics companies know what to expect related to supply & demand, prices, etc. in the near future. For small and medium-sized companies or start-ups, the forecasting functionality of the SaaS system is often designed based on their past workflow analysis and predictions. For larger enterprises, more sophisticated systems with more intricate algorithms; and modern technologies like artificial intelligence (AI) are needed to guarantee proper production scheduling and avoid potential financial losses due to rate miscalculations, etc.
Load optimization
Large logistics service providers with thousands of shipments each year need to consider an SaaS system with the automatic load planning feature. This feature can help handle the obstacle when distributing cargo units between various customers and third parties. In fact, the logistics software should consider parameters. Such as cargo types, warehouse locations, delivery methods, routes, delivery dates, customs regulations, etc… To make the load planning process more convenient for all parties.
Shipment tracking
SaaS Transportation Management Systems need to possess robust shipment tracking functionality. Because keeping track of where shipments are in real-time facilitates the supply chain visibility. Businesses can manage their work more efficiently, satisfy and retain more customers. And detect and prevent issues from turning into costly problems more timely. For instance, if logistics managers see that the expected date of a vehicle's arrival has been changed, they can inform customers. And other third parties involved immediately to avoid penalties.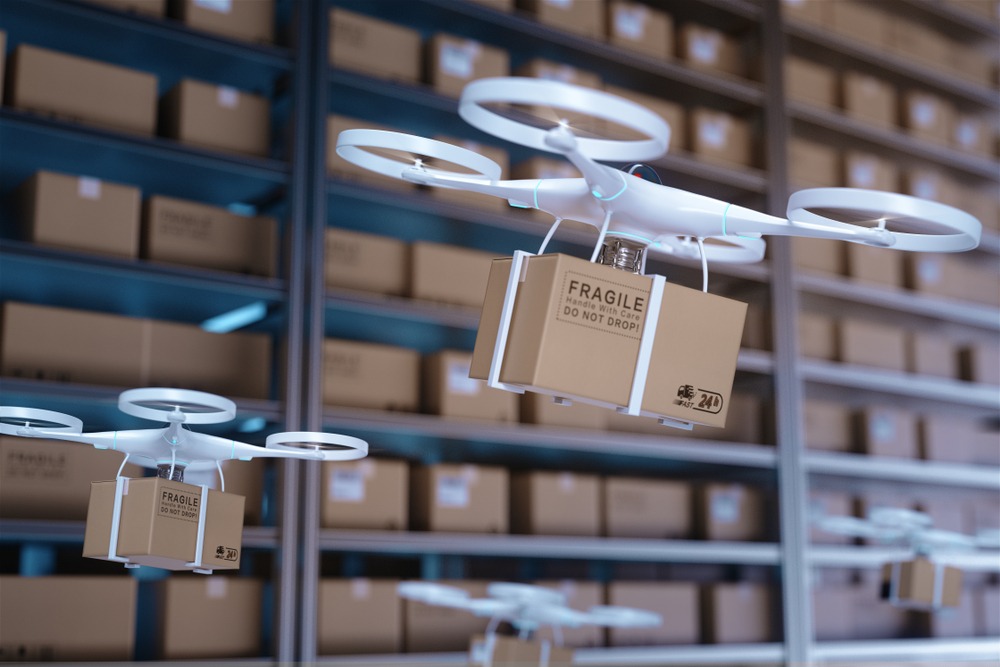 Third-party system integration
Your SaaS solution needs to be capable of connecting with the third-party software of your customers. Besides, even a complex system must be compatible with other third-party services. Including accounting software, customs documentation programs, or tools for cooperation with ports. Thus, when building an SaaS logistics system, it is advisable to keep in mind the integration issues of your users and think of how to overcome them.
See also: SAAS Ideas for Entrepreneurs
Documentation management
It can be time-consuming to create, collect, and process documentation. Employees responsible for document management need to be highly accurate and detail-oriented. However, managers and accountants with experience are not always infallible. So it is worth noticing that the SaaS system needs various customization features. Those features help companies streamline the process of creating. And sending invoices, guarantee letters, bills of lading, transportation reports, and other relevant documents.
The Final Thought
SaaS TMS solutions can help transportation companies deal with routine logistics tasks. They manage their business processes the way they want, reduce costs, and improve their services. However, many providers offer seemingly unnecessary functionalities and hardly pay attention to cutting-edge technologies. Such as artificial intelligence (AI) and machine learning.
At Designveloper, we can help you build a cost-effective and high-performance SaaS TMS. We offer a low-priced hourly rate compared with our counterparts in North America or Europe. More importantly, we are a team of seasoned developers and specialists, who have extensive experience in creating cloud-based solutions in the logistics industry. Contact us if you are eager to start a new project with our team of professionals. Designveloper will bring your solution to the next level!
To read more about software development outsourcing, check out the following articles on our blog: