According to the 2014 study by Nucleus Research, CRM brought a return of US$8.7 on investment for every single dollar a company spent. CRM, short for Customer Relationship Management, is indeed an indispensable factor for customer-driven businesses, including banks and financial institutions. However, the paperwork-based management of customer data is seemingly time-consuming and usually ineffective. Hence, many banks have computerized huge databases to ease collection and analysis as well as foster interactions with customers. So, what are the advantages of CRM in the banking sector?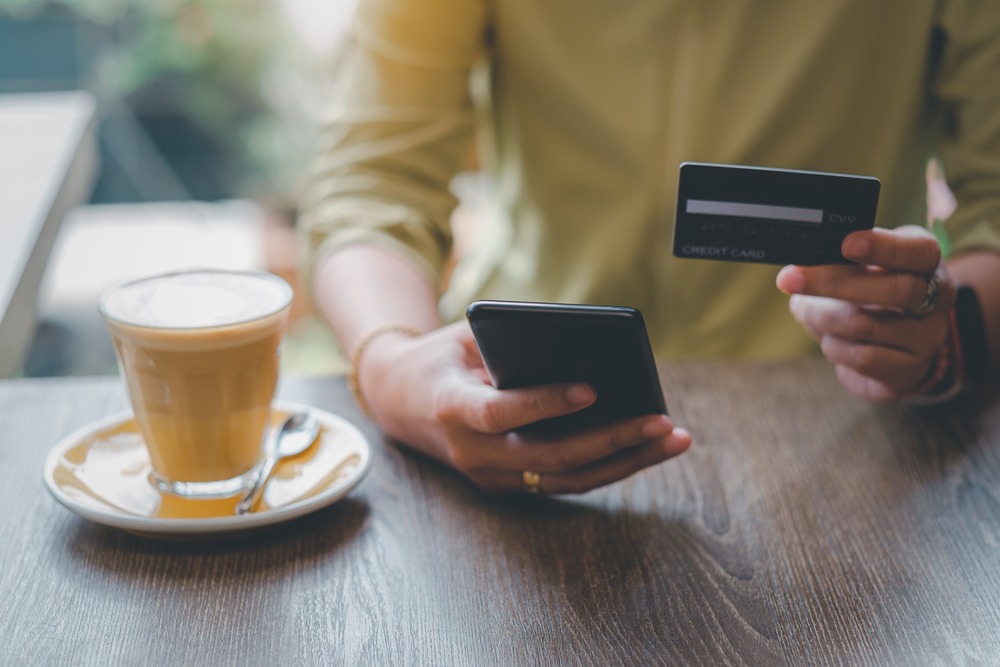 The 5 Advantages of CRM in the Banking Sector
The ever-increasing financial industry, coupled with technological changes, offers golden opportunities for banking clients to access numerous financing options, ranging from applying for a loan to opening a credit card. This has led to increased competition between banks or credit unions in attempts to satisfy higher customer demands and reach sales and marketing targets. To that end, banks must look for a prompt and effective software solution for handling client relations. Accordingly, a tailored CRM functions as a virtual assistant that gives banks the following competitive edges:
1. Gain a detailed insight into each customer
Consolidating other software products that store a wealth of customer accounts, a CRM program tells bank managers about every client's habits and preferences for using assorted financial products and services. Every single transaction such as a money transfer at an ATM or online deposits on a banking app is recorded and charted in quarterly reports to help banks see how customers respond to their offerings.
2. Bolster Customer Loyalty
As reported by Everfi, more than 85% of respondents affirmed that the inconvenience and poor quality of services were key catalysts for switching their current financial products. Indeed, the Internet's rapid growth has made customers more knowledgeable to select financial offers. So, one can give up your bank's services provided it fails to approach the customer's expectations immediately. To diminish the churn rate, banks need CRM solutions to deliver strategically customized products and consequently improve user experience. The higher satisfaction level of customers will enhance their retention.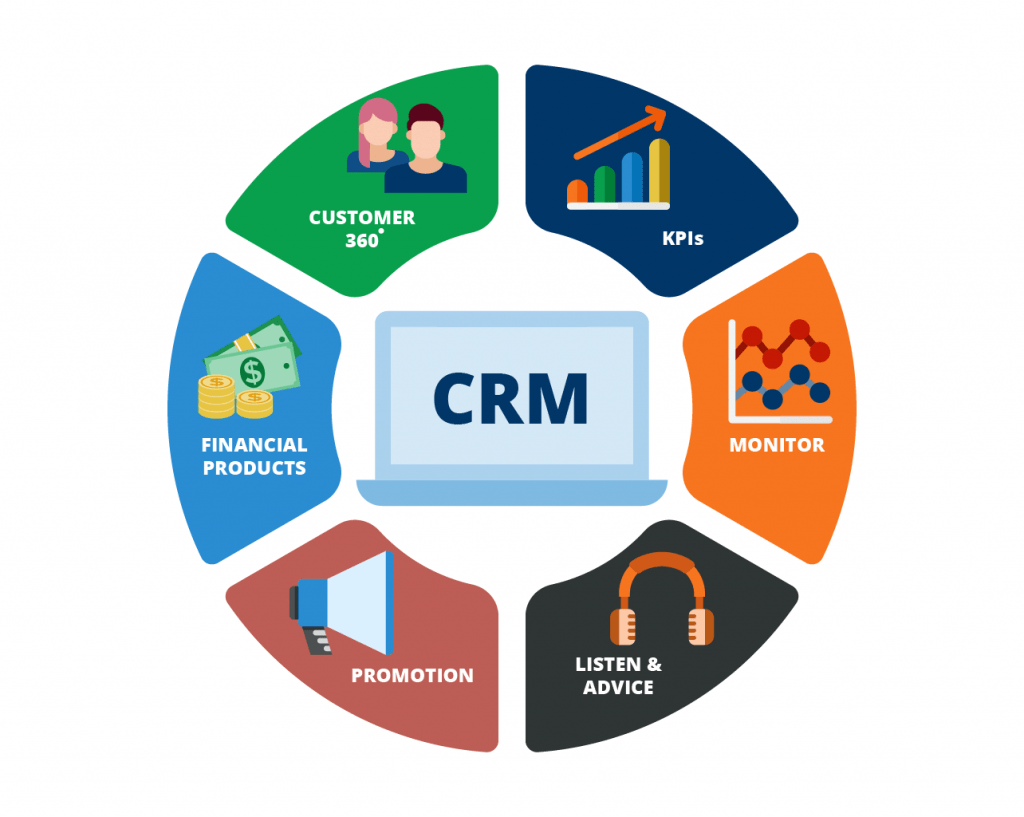 3. Speed up processes
A custom CRM automatically unites, manipulates, and analyzes a clientele database as per the different purposes of the company's departments. For example, when an existing customer sends an inquiry about available loans in your bank, the consultant can base the provision of appropriate lending options on his personal needs and credit scoring. Thereby, the software betters the mutual understanding of both parties and enables a faster process of transactions.
4. Improve staff performance
Admittedly, a unified CRM will reduce the workload done by banking employees. Instead of spending hours searching for emails and answering all questions of customers, bank staff can have the software do these time-wasting missions and then stay more focused on other paramount tasks. Inevitably, despite being much smarter, the program cannot completely replace human beings in evaluating customers' credit scoring, devising strategies to retain customers, and more. Exactly, it supports bank employees with daily workflows and promotes their productivity.
5. Foster sales and marketing goals
Besides providing customers with personalized advice and good-quality products, banks prioritize reaching their sales and marketing objectives as well. To do so, they should deeply get to know about their customer segment's behaviors and current trends before tailoring their marketing campaigns. With a CRM in banking, those institutions can easily acquire as many marketing leads as possible and find proper solutions to encourage their purchase.
A Critical Review of Commonly Used CRMs in Banking
There is a wide selection of third-party CRMs in the banking sector. Most of them have already installed vital functionalities – whether fundamental or advanced – to serve different financial purposes (e.g. banking, mortgage, or insurance), enhance product penetration, manage financial goals, and important events such as inbound appointments or advertising campaigns, and many more. Departments will capitalize on such data to make sensible decisions and give personalized recommendations.
1. Salesforce Financial Services Cloud
This cloud-based CRM owns the largest market share of 19.8% in the CRM sphere, so it's not surprising that its product comes to the top of this list. Salesforce Financial Services Cloud features its Einstein Analytics bots that visualize AI data and generate sound advice to deal with complicated problems. Further, it also contains some notable characters as follows:
Support relationship managers to arrange schedules and action plans with clients
Allow inbound or outbound direct calls from the software and record call history
Use a sales and marketing pipeline view to make wiser decisions and gauge sales outlay based on historical data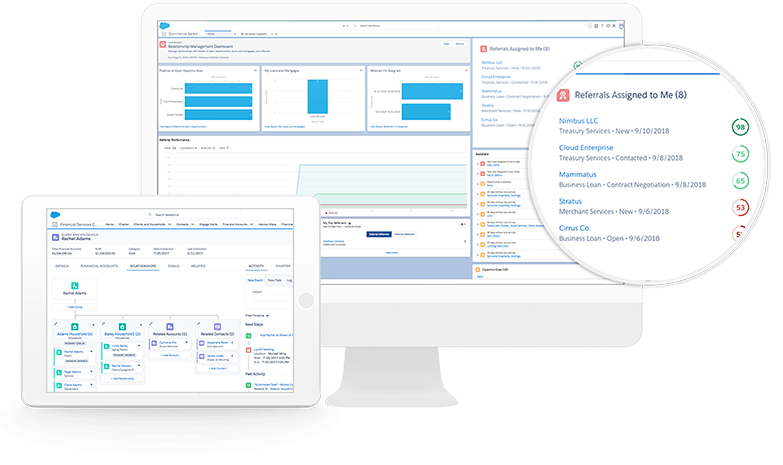 Despite the given benefits, the program is not designed for mobile users. Sales reps said that a mobile CRM helped them boost their productivity by 14.6%, according to the Nucleus research. So, the absence of mobile versions makes banking employees miss a chance to be well-informed of the latest emails or questions from customers.
Moreover, CRM is intended for different financial fields, but not only limited to banking. Not to mention that pricing plans may be rather costly for some small and medium-sized businesses, whilst such companies have to confront the shortage of various customized roles to advance financial security and user experience.
2. Microsoft Dynamics 365 Sales
Incorporated with BI and AI technologies, Microsoft Dynamics 365 Sales allows you to smoothly connect with other Microsoft applications including Office 365 or Teams, regardless of whether you are working with desktop-based dashboards or on the go. Third-party CPQ add-ons can be integrated with the software to help build contracts and reasonable quotes. Meanwhile, an AI assistant supports you to monitor daily actions and communications or use historical data to create custom reports with charts that facilitate the observation of current revenues and the prediction of future sales.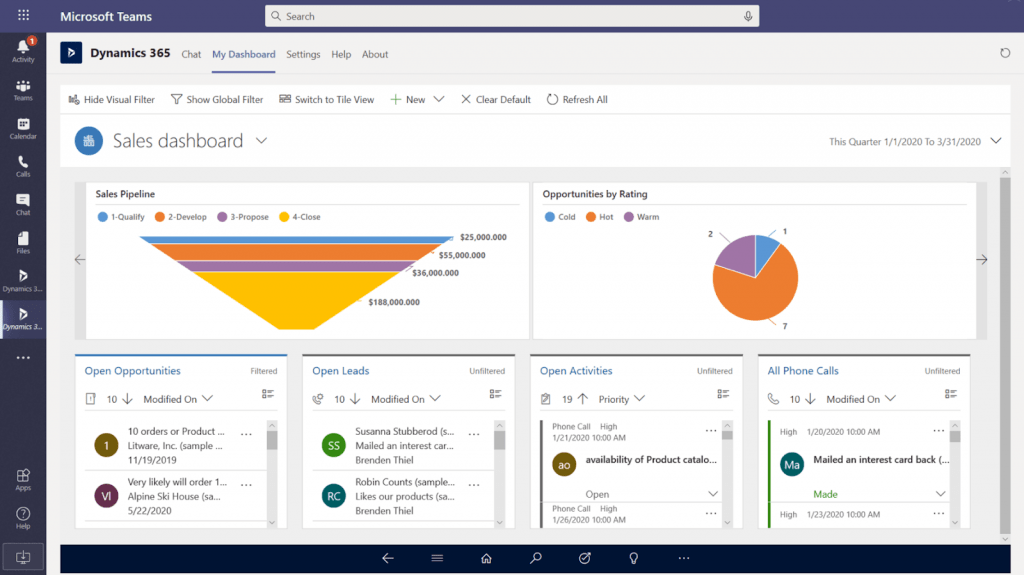 Despite being better known for Gmail, Microsoft doesn't natively integrate this tool with Dynamic 365 Sales. Another problem is its poor support for detecting and validating unknown email addresses. Facing those weaknesses, you may have difficulty administering emails, especially important ones.
3. Creation
Developed as a process-oriented CRM, Financial Services of Creatio is famous for its loan-related features:
Enable the loans department to establish lending procedures as per provided sorts of loans, efficiently track each process phase, and stack all relevant documents
Monitor loan pipelines, analyze data, and make a performance report
List a wide range of verification and underwriting actions to easily assign work and distribute necessary tools to different responsible entities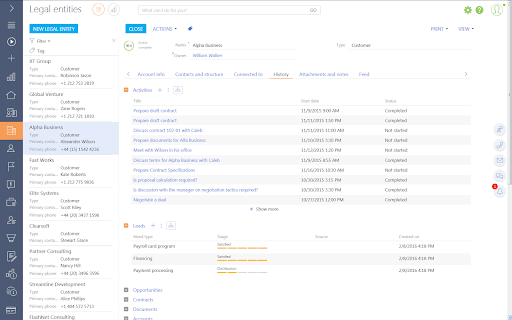 Additionally, the software allows seamless incorporation with other banking applications and delivers expert consultations to customers according to their preferences and needs. However, one important downside is the poor segmentation and internal security due to the off-the-shelf assistance for tagging metadata. This worsens the management of massive databases and makes it hard to locate information.
Why do You Need an Outsourcing Company for CRM Development?
There is no denying that some leading CRM initiatives from tech giants such as Salesforce or Microsoft are already integrated with necessary features for banking, mortgage, and more. However, this doesn't translate to their compatibility with banks and financial institutions regardless of size and core business goals. The elaborate descriptions in the previous part highlight some limitations that can exacerbate the tracking of customer profiles. Also, the wrong selection accompanies the failure of achieving business goals and optimizing user experience.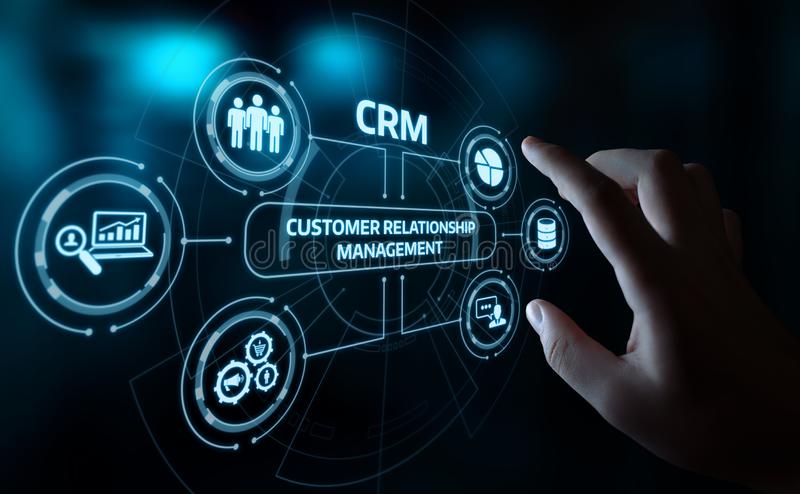 More importantly, the serious cyber-attack on the Colonial Pipeline also emphasizes the importance of information security, especially when financial data in the banking sector are vulnerable and prone to hijacks. Therefore, not only does hiring such an outsourcing company as Designveloper help you develop a CRM program that can tackle those problems, but it also offers a professional consultancy service throughout the software development life cycle.
There is a wide selection of CRM solutions provided by third parties like Salesforce or Microsoft to help banks increase customer engagement and build long-term relationships with them. However, the best CRM in banking is the one that is customized to suit your business needs.
We hope that this article can help you know exactly the advantages of CRM in the banking sector!