Much more organizations rely on outsourcing agencies for effectively distributing and orchestrating the project's work. For this reason, a wealth of project management services are offered to fit demands of varied sectors, ranging from construction to information technology. Besides basic terminology, the article will elaborate on five stages of administering the project and the top project management tools used to do so.
What is Project Management?
Project management is briefly defined as the process of directing a multidisciplinary team to implement the assigned work of a project within a certain time, budget and scope. Large-scale or complicated projects would require the involvement of project managers and supervisors in a whole project management process.
However, the latter can take full responsibility in smaller-sized missions. Accordingly, they are in charge of launching, planning and allocating essential materials to the right team members. Going forward, they will take control over the procedure to ensure the predetermined outcome of clients.
1. Definition of PMS Contracts
Industries often impose different types of contracts for project management services (PMS). Agreements referred to in this article are ones for software development projects. Should the owner plan to either authorize an outsourcing agency to perform all project management activities or employ the agency as his/her assistant, both parties will sign a contract based on the project type.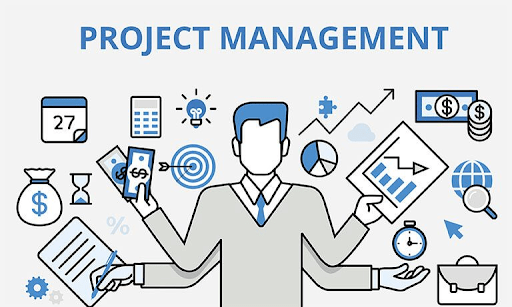 Contractual relationships often depend on various factors including service charges, cost compensation as well as time and materials. In projects with definite scope, the owner and the outsourcing company may draft fixed price contracts that specify a scope of work and which project management services the company needs to provide at an agreed-upon price.
Provided the project's scope has yet to be affirmed, both parties may negotiate unit price contracts that pay an hourly rate for the agency and detail the particular length of each stage of the project.
However, no one may anticipate unexpected events during the project. So it's important to ponder incurred costs when the company is required to do out-of-contract missions or confronted with higher risks than estimated.
The service provider accordingly uses expertise, skills and project management tools to execute and administer a full range of work prescribed in agreements. Meanwhile, the entire procedure will be reviewed and reported quarterly to the owner to ensure its seamless performance in the given constraints.
2. Definition of a Company Which Provides Project Management Services
The outsourcing company will offer project management services to help the client's business enhance productivity, attract more leads and lower overheads. Different PMO (Project Management Office) practices thereby define the company's role in the project: as either an agent or a representative.
Project Manager as an Agent for the Owner
In case the owner has less experience in planning and coordinating software development activities, he/she is encouraged to outsource the product. According to the 2019 survey conducted by MI-GSO | PCUBED, clients use project management services because software developers are believed to administer peak workloads (24%), foster delivery quality (22%) and diminish management and procurement efforts (21%). The organizations can stay more focused on their core business instead.
Project Manager as a Consultant of the Owner
Multiple project managers are called on by governmental bodies and seasoned clients to represent them in projects of all scales. In other words, project managers pay more attention to monitoring the work progress, whilst the PMO execution and decision-making process still rest with these organizations. As consultants, they need to evaluate whether each stage aligns with predefined metrics and apply project management tools to guarantee the work efficiency.
See also: Software Project Management Plan
Five Phases of Project Management Process
The project management process plays an integral part irrespective of whether you plan an advertisement campaign, house construction or app development.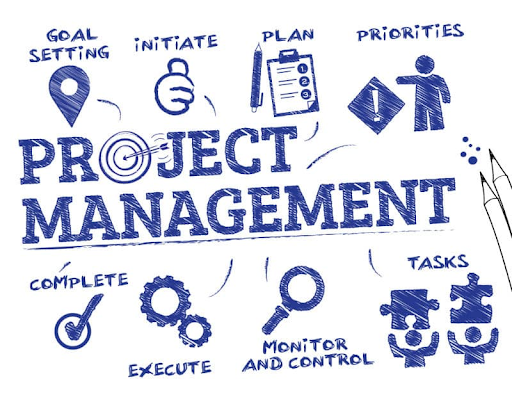 A Guide to the Project Management Body of Knowledge (PMBOK Guide) describes five separate phases in the process as follows:
1. Initiating
Launching the project effectively is among the most important considerations for any business as the phase helps speculate opinions associated with the project and define its viability. To do so, project managers should pen a project charter that identifies the project goal, determines its scope, gauges budget and time, anticipates possible risks and involves all key stakeholders.
2. Planning
During this stage, project managers will draft a blueprint that gives detailed instructions of initiating, executing and ending the project. The technical drawing will clarify the project's scope, investment funding and timeline. What's more, other essential activities involve:
Formulating strategies to boost communication among stakeholders and keep them involved in the project all the time.
Listing necessary materials and resources to produce apps or software programs.
Planning the project's execution.
Suggesting after-sale maintenance and improvement.
3. Executing
Coming to the third stage, project managers must utilize expertise and a set of soft skills to effectively delegating and supervising team members' work. Managers need to optimize communication among participants in the project to eliminate misunderstandings that can spoil the work. A well-organized manager will try to tackle conflicts arising during the project management process and maintain harmonious relationships with all parties to keep them working towards the common objectives of the team and guarantee the project meets the deadline as well as financial commitments.
4. Monitoring and control
As an indispensable part of the project management services, measuring and reviewing the work frequently helps confirm whether everything is going on the right track. Project managers will produce quarter reports in both written and verbal fashions, coupled with data collection and quantitative analyses, to observe how well different sections of the project are done.
5. Closing
Once the final deliverables are accepted by all stakeholders and meet quality requirements, all contracts with other external parties will expire and remittances will be made pursuant to these agreements. The final report will be delivered, whereas all documents will be stored in an archive for later uses. Concurrently, it's time for project managers to prepare consecutive plans for maintenance, update and troubleshooting.
You might also like:
Five Best Project Management Tools
Project management tools are mentioned throughout the article as paramount instruments to technically support managers and raise the project's productivity. Which one is best suited for project management services hinges much on the project's scale, finances and other worth-considering factors.
1. RedBooth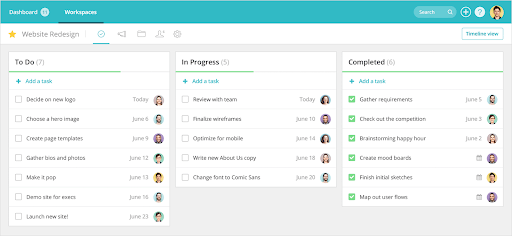 What strikes users about RedBooth is its availability of kanban boards or to-do lists to sort out your tasks for better management and communication with other members. Other outstanding features entail:
Pass on responsibilities across team members with tag options, due dates, status and priority.
Facilitate the project timeline view with intuitive Gantt charts.
Produce in-depth productivity reports.
Share and conduct important conference video calls powered by Zoom with HD quality.
Grant iOS and Android versions.
RedBooth's pricing packages include Pro, Business and Enterprise, starting from $9 per user a month.
2. Jira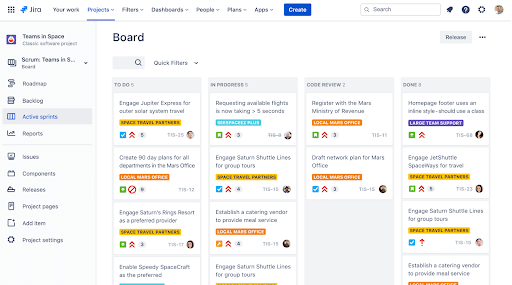 Jira is integrated with advanced functionalities for software development teams to customize their workflows. Also, Jira Software is developed to help complete the following missions:
Assign tasks across the software members.
Prioritize, discuss and track the team's work.
Keep team members well-informed with changes and new information.
Use visual, real-time data to enhance the team performance.
Draw detailed road maps to ladder the project management to a higher level.
The software is free for 10 users per month with basic features, but the standard version costs a monthly $7 per user, versus the premium variant with a monthly $14 a user. Moreover, you may consider other upgraded versions provided your enterprises reach the national or global level.
3. Ravetree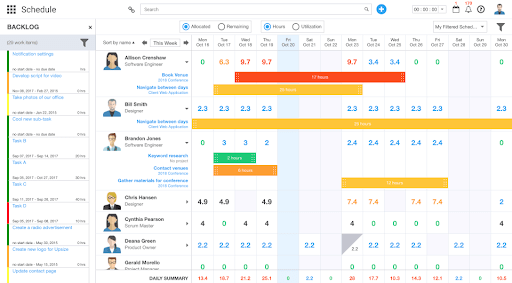 Already incorporated with Agile tools, Ravetree is a decent option for software development teams and other sectors such as engineering or nonprofits. The robust system empowers agile companies to:
Arrange sub-tasks of the project constructively.
Stage-manage digital assets.
Track time and expense through reports to support the decision-making process.
Distribute resources based on team members' capacity.
Organise all invoices and payments in one place.
Enhance team collaboration.
Allow clients to scrutinize the project progress through portals.
There are three pricing packages with at least $29 per month.
4. Scoro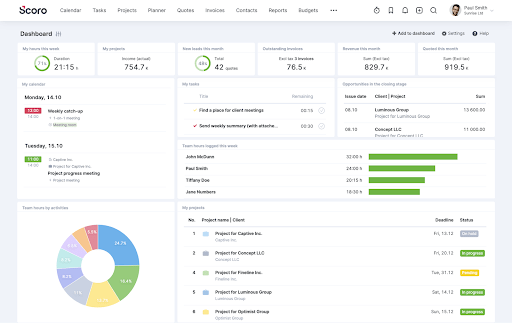 If you request a comprehensive program to deal with all project management related practices, Scoro's solution will fulfill that demand. The software accompanies fundamental and advanced functions to:
Organise and delegate tasks to team members within deadlines;
Handle contacts among team members and stakeholders;
Prepare bills with available templates;
Make reports on budget and work progress;
Give quotes for each part of the project
Better team cooperation with scheduled meetings.
Thanks to these features, you'll save much time and effort to process work from a wealth of software solutions. Instead, all data is collected and displayed under one roof. The solution charges at least $26 per user a month, depending on which add-ons you favour including in the software.
5. ActiveCollab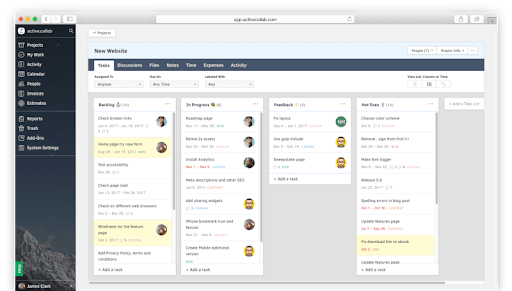 ActiveCollab is an excellent combination between project management, time tracking and invoicing with intuitive design layouts. Like other PM solutions, the platform provides common fundamentals and advances for directing the project and team members, for example:
Follow multiple tasks simultaneously;
Share custom calendars among team members and clients;
Identify each user's role and distributed tasks;
Receive notifications via emails;
Track time and measure work progress;
Invoice the project and facilitate different payment methods.
ActiveCollab is free for personal or small-scale projects, limited to 3 members. You may upgrade your solution package to Plus or Pro if your project is scaled up.
Conclusion of Project Management Services
Technological changes, in conjunction with the business digitalization, contribute to the ever-increasing popularity of project management services across the globe. Various salient points to memorize before you jump into this realm involve:
Project management takes place from initiating the project, planning and undertaking sub-work through its completion.
Project managers aren't always accountable to carrying out full services because clients have different requirements for assorted projects. So, it's paramount for the former to abide by pre-identified criteria in contracts.
The PM procedure includes five process groups: launch, plan, execution, control and closing.
You shouldn't neglect the significance of project management tools which facilitate and speed up the work.
Most PM solutions now are versatile with diverse pricing plans and eye-catching interfaces. Some common characteristics include custom calendars, Gantt charts, reports and many more.
Operating PM effectively reduces the burden on staff, mitigates misunderstandings among parties, increases the likelihood of success when products are launched.