Once successfully develop a product, your next step is definitely to figure out a monetization strategy that fits your app the most and generates as much revenue as possible. In this article, we will introduce 4 methods of monetization to app publishers who make free mobile apps.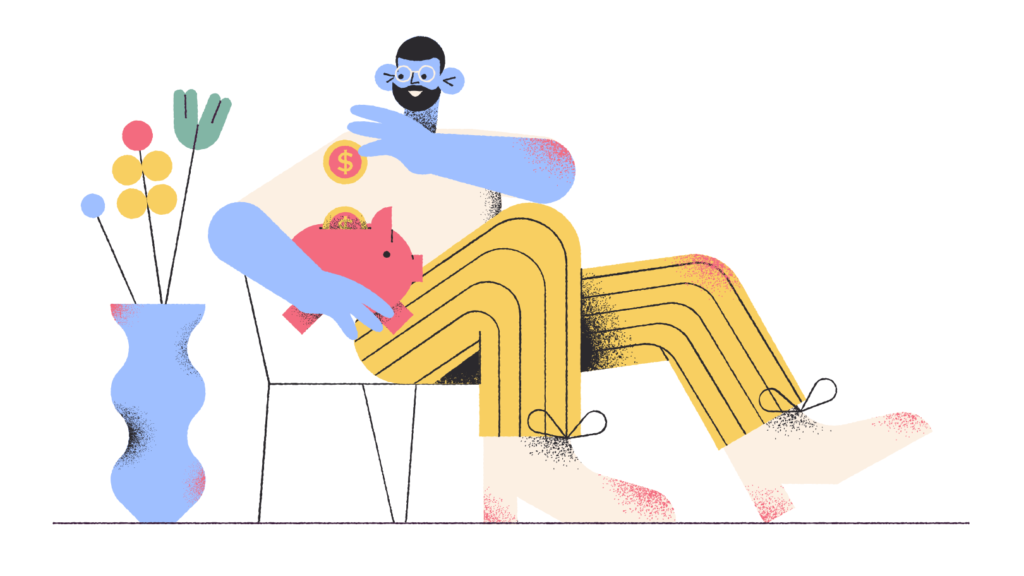 How Do Free Apps Make Money?
1. Advertising
At the moment a new app is launched to the market, most likely, it does not have many users. Advertising comes in like a savior because of its simplicity and handy manner, in the meantime, it also generates more than enough revenue so that app publishers could make a free mobile app for users. And obviously, this only happens when you do it right!
Being the most common monetizing method, advertising also brings us profit while still being able to offer full features and functions to the users. Furthermore, advertising is a quick way to make money since users are spending more time on apps rather than browsers (80% vs. 20%).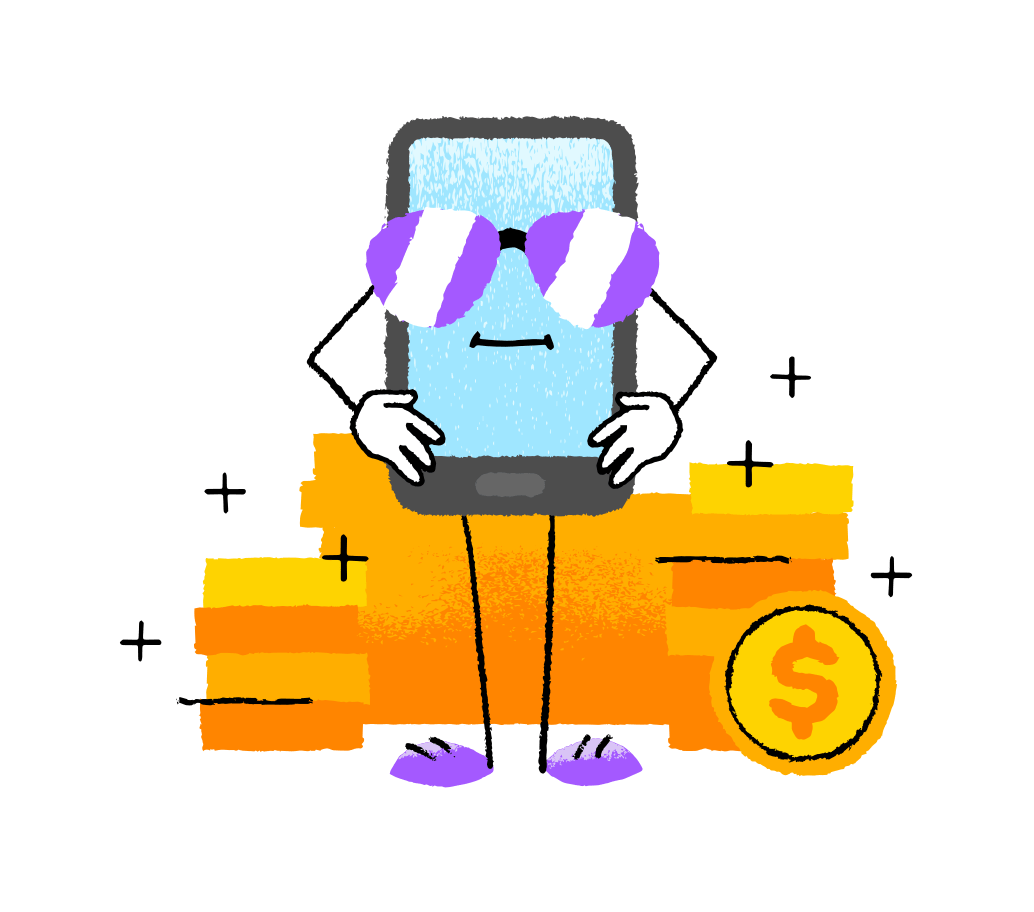 As a consequence, businesses have moved their ads from websites to apps. And according to App Annie, by 2021, the total in-app advertising budget will reach $201 billion.
But besides making money, apps can use ad displaying to promote their own products or apps which are in the same ecosystem.
In fact
If your business doesn't execute this method in the right way, chances are that the in-app ad will irritate your users and this results in the app being uninstalled. Our recommendation when applying this model is to choose the right content (or, it's essential to stay away from lame ads), and display it at the right time to the right audience.
Moreover, there are 3 things to consider when using ads as a way to generate revenue when app developers make a free mobile app:
Choose the most suitable ad network. Ad network works as a bridge between app publishers and advertisers. Your mission here is to define the target audience, their location, and your ultimate goal when displaying ads. Some common ad networks at the moment are AdMob, Media.net, Millennial Media, and Smaato.

Set up the right ad format. Based on your demand and app specificities, you could feature some ad formats such as banners, native ads, interstitial ads, and videos and offer wall ads alongside your app content.

The last activity is selecting these common ad pricing models: cost per mille, cost per click, cost per reaction, etc.
2. In-app purchases
Numbers don't lie when they show that in-app purchasing is becoming the most profitable method of app monetization. According to Statista, more than 50% of revenue from apps was brought in by this very model.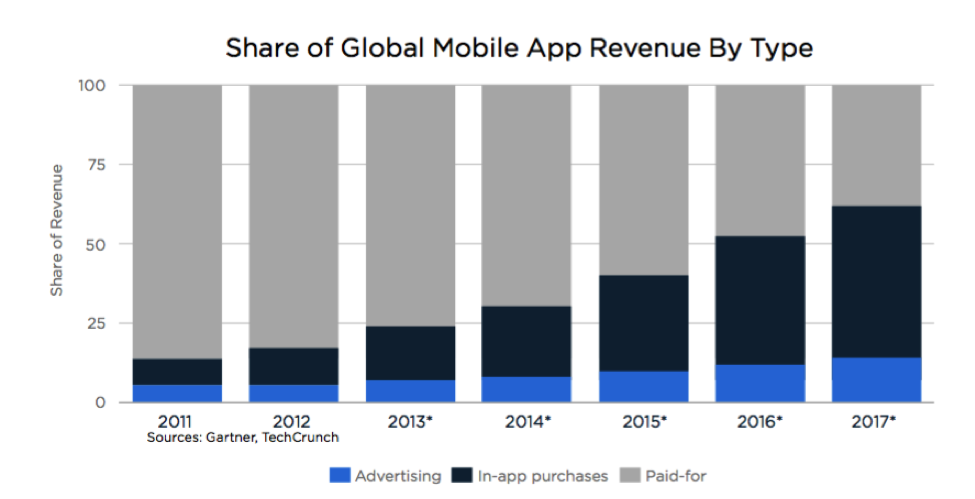 Perhaps many of us would say things like "Who the hell pays to use premium features?" But much to our surprise, people do! Let's see the below statistic to get more insight into how much app publishers generate millions with in-app purchasing methods.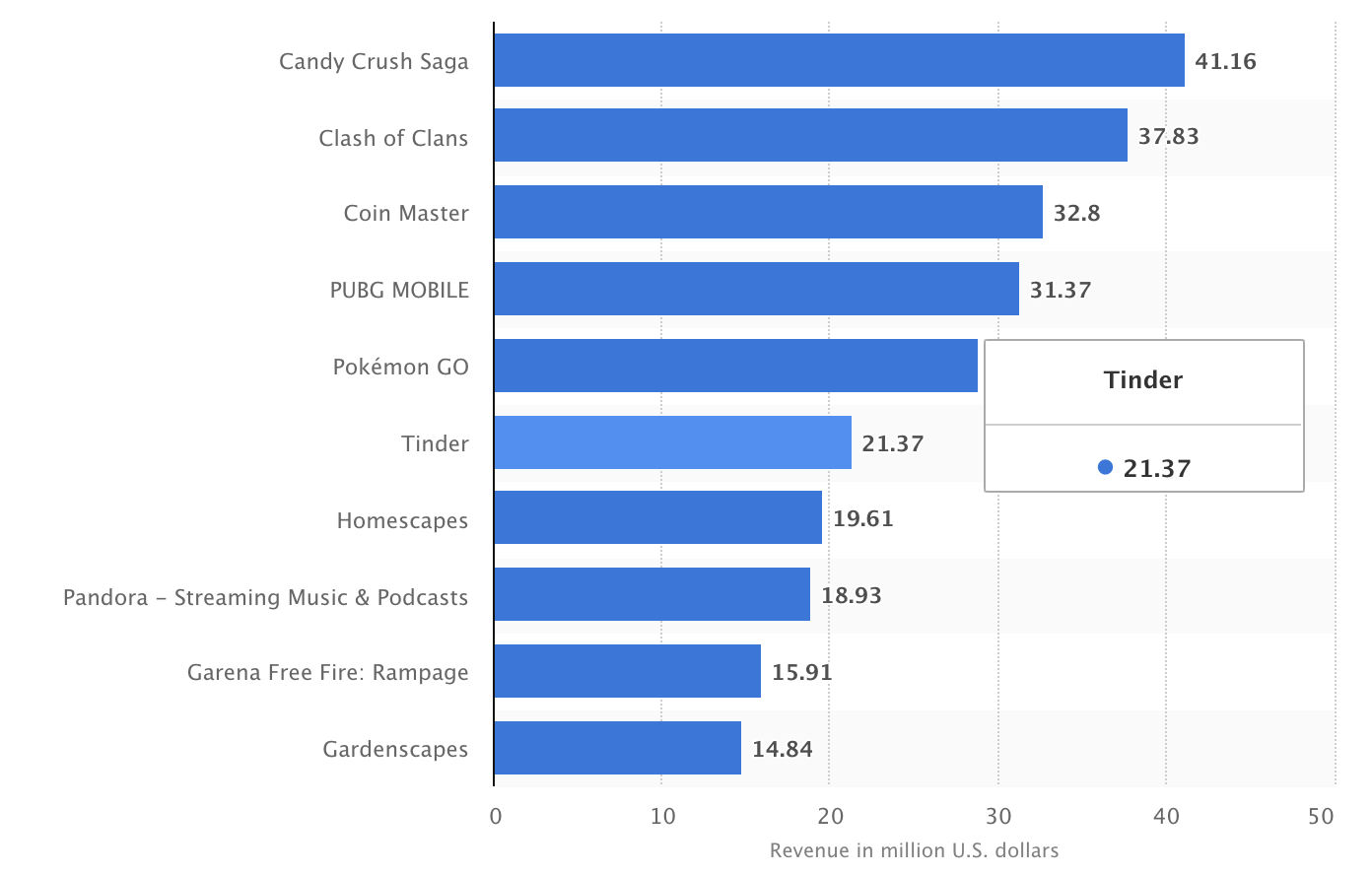 Candy Crush Saga and Pokemon Go are two obvious names here. When there's nothing left to do, users will launch them to kill time. Nevertheless, Tinder unexpectedly showed up in third place and generated $37.11 million only on Android devices last year. So the big question here is how could this dating app make that much money.
Recommended reading: How to Create a Dating App in 4 Steps?
The phenomenon was launched at the end of 2012 and became a hit soon. 3 years later, Tinder applied the freemium model called Tinder Plus, which charges users to use some special features such as unlimited swipes, passport (find love anywhere in the world), rewind (undo the last swipe), etc. And then, in 2017, they released a separate app dubbed Tinder Gold. This time, users have to monthly payments for the app to use its features, but that's another story.
Let people at Designveloper explain a bit about freemium.
It refers to one of the most common in-app purchasing methods. At first, people downloaded apps without spending a penny and they are able to use plenty of its features and tools. However, as the users tap here and there, several advanced and interesting features show up but users can only access them once they paid. This way of monetizing works really well when the app is a mobile game.
For your information, Pokemon Go's users put in $1.5 million every day. Thus, if businesses are able to develop essential apps that have exclusive features, or in other words, your advanced features are really worth paying then why not go freemium?
The second method of monetization with in-app purchases is the subscription model. Apps that have a large number of monthly users should definitely take this strategy into action.
Most of the time
They are streaming apps, cloud services, online magazines or online publishing platforms, etc. Following is a great example from Medium. This app allows users to read an unlimited number of free articles but only lets us take a look at 5 premium posts per month. The tricky thing is that most of the article is featured content.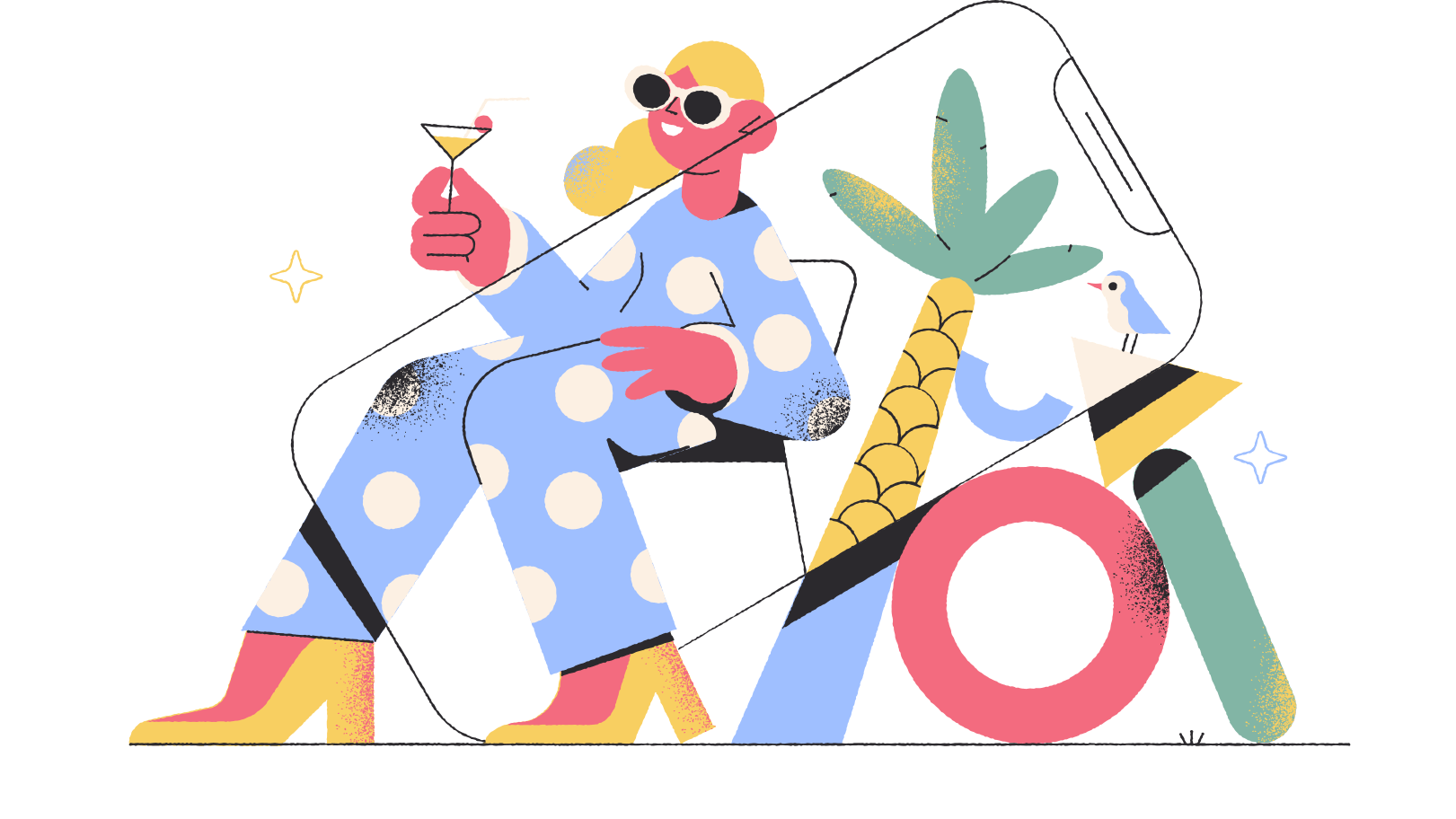 Long story short, people will pay to extend the use of apps and upgrade their experience even when you make a free mobile app.
The thing is that making people pay for a certain feature is a challenging game. But experts at Designveloper have conducted a few tips app publishers could use to encourage their users to spend some money:
Tell them about the value of the feature or content. It's worth knowing notifications increase users' decisions

on in-app purchasing by

9.6 times and drive their spending by

16%

.

Offer free samples or trials.

Use a made-up currency, especially when your app is a mobile game.
As a bonus, here is a complete guide to mastering the in-app purchasing strategy on the App Store.
3. App developers who make a free mobile app could monetize with data
Since the world goes crazy because of data, this very strategy of monetization starts to shine. But let's look for the answer to why data is a big hit at the moment. Apparently, companies could base on facts and figures to shape their business, visions, and missions. Apart from those, they will analyze data to product insight about customers, then improve or enhance their existing products/services to meet user expectations.
It's getting handy when app developers are able to access user data through apps. App publishers who make a free mobile app will collect, analyze and segment data and transfer legible information to data collectors (advertisers, brands, marketers, research institutes and telecom companies, etc) or intermediaries.
As a user
You may be freaked out because of this data-selling activity. But there's nothing to worry about. App publishers can only gather and sell non-personal identifiable information. It means users will stay anonymous. This type of data refers to device type, device version, screen size, mobile operator, network type, etc. However, it's worth noting even if the collected data are non-personal, app publishers must ask for user permission.
Furthermore
App developers need to grow the amount of daily active users to at least 50.000. Because data collectors will acquire such a large data source the output could be precise and valuable.
So this is not the easiest way to monetize from apps? Quite right, but other benefits will make up for all the effort put in!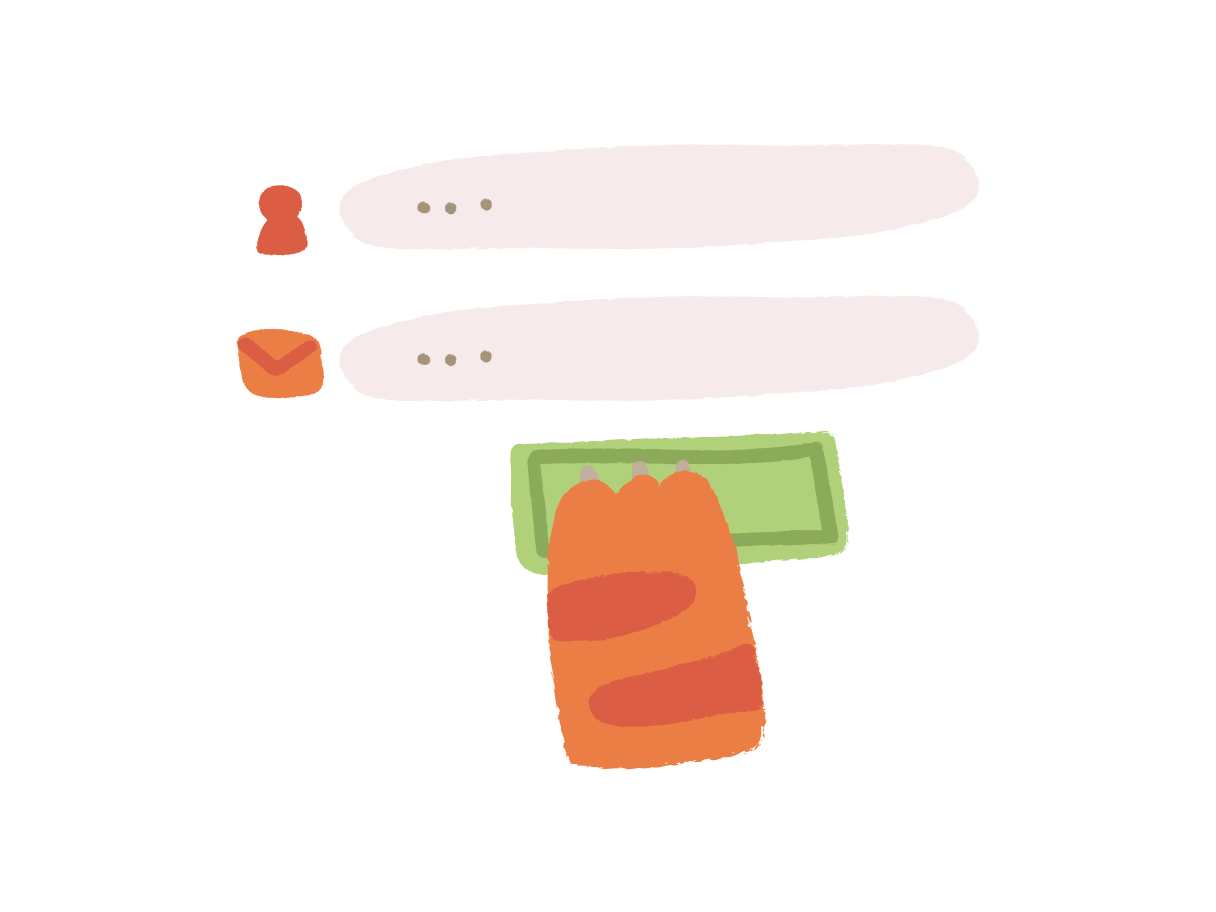 First of all, data monetization will generate sustainable incomes since data collectors will pay for the information month by month. In other words, the inventory won't lose its value with time.

Secondly, any app could make money with this strategy as long as the amount of your daily active users is high.
Thirdly, your app will offer a better experience when there are no advertisements or in-app purchasing activities needed to generate money.
Last but not least, since this monetizing method is new yet in great demand. Data collectors are willing to pay more to get what they want.
4. Email Marketing
This strategy works best when you kindly ask for the user's email during sign-in. And, as a result, get the possibility to consequently reach them with email notifications. Despite the fact that Email Marketing is a comparatively old technique, it can be quite powerful when it comes to monetizing apps.
In the meantime, mobile applications offer a new opportunity to collect email addresses. So here are a few ways to collect email addresses from within a mobile app:
Using some third-party tools to make email collection easier. There are some 3rd party SDKs that can be integrated into your mobile app
Getting users' emails by Facebook SDK. Having FB login enabled inside the app lets you use it for collecting email addresses.
Simply ask users for their email addresses with a pop-up box. In return for free features, in-app currency, or whatever you want to offer.
Collecting user emails in your database may be quite helpful in situations when customers have not been using your app for a while. Reaching them through email may be an interesting tool to notify them about new improvements and features.
Frequently Asked Questions on how to make money with a free app?
1. How much money does a free app make from ads?
Most advertising networks follow the cost-per-click (CPC) model for the app. So whenever a user clicks on an ad, a few pennies are added to his pocket. The average revenue per click is around $0.10 for banner ads. The minimum or optimum click-through ratio (CTR) for an app is around 1.5-2%. It also increases user engagement in the app.
2. How does a free mobile app make money without ads?
To create online revenue there are other ways than ads, paid installs, and in-app purchases. There are some innovative strategies to monetize mobile apps.
Expand to gaming
Freemium app
Subscription-based model
Join an app referral program
Social media integration for more users
3. Is it hard to make an app?
The process of making an app consists of wire-framing, app design, and programming. If you hire an experienced and skilled mobile app development company like us then you will have a steady and concrete app development.
4. How much money do apps make per download?
In a fact, an app does not get money from the downloads. At least not on the App Store or Google Play. The free mobile app can make money through many monetization methods, there are 3 common ways:
Advertising
Outright Sales (your paid app)
In-app purchases (purchases made within your app)
In the end
Each type of app monetization has its own pros and cons. As a result, businesses that make a free mobile app should decide which one to use based on several criteria such as the target audience. How advanced and unique your app is, the number of users, etc.
We hope this article will give a better insight into how free apps make money and help you generate more revenue in the future. If you are looking for a software development company that can translate your idea into reality, Designveloper could be the one. Don't hesitate to speak with us immediately!