Cloud computing is considered a promising technology for organizational entities to deal with computing issues, especially data storage, in the future. However, this solution is also a double-edged sword. Learning about the pros and cons of cloud computing will better your company's understanding of this concept.
What Is Cloud Computing?
Exactly as it sounds, cloud computing is the on-demand management of all computer system services (e.g. software, networking, or big data analytics) in virtual portals. Rather than either self-building physical data centers or undertaking paperwork, enterprises of all kinds and fields can use cloud-based infrastructures such as Amazon Web Services (AWS), Microsoft Azure, and Google Cloud to bolster their business performance, enhance database monitoring, reduce operating costs and scale up or down projects effectively.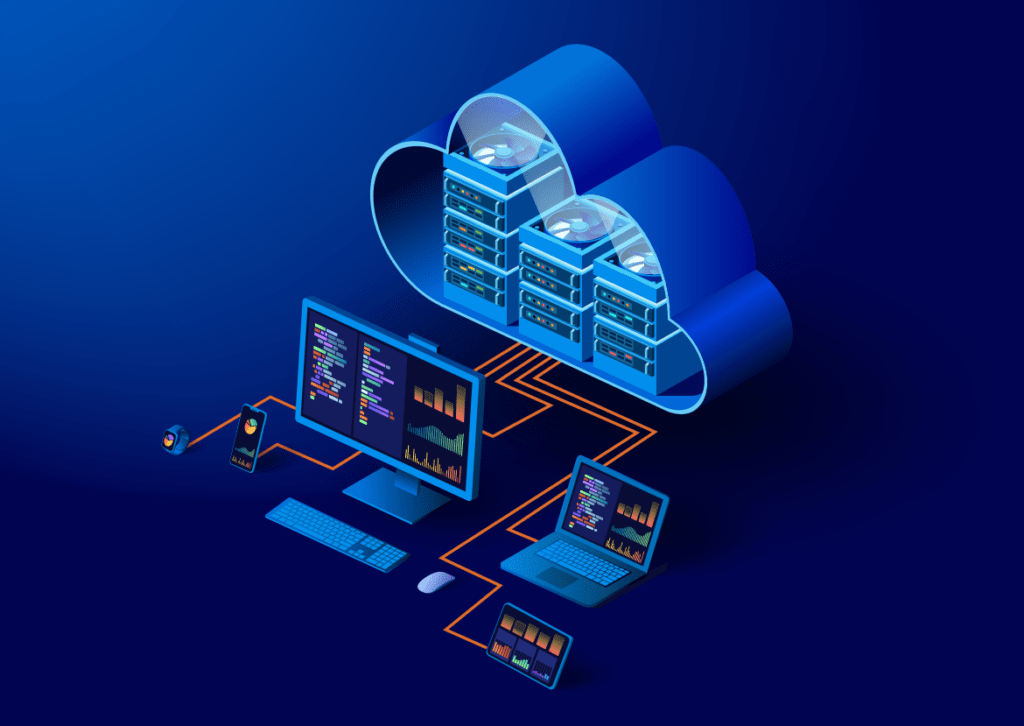 Recently, the whole industry has witnessed more diverse demands of companies moving business functions to the cloud, which hence results in the diversification of cloud computing services as follows:
Public cloud;
Private cloud;
Hybrid cloud;
Multi-cloud;
And the introduction of a new cloud-based form: Omni cloud.
Moreover, cloud computing is also categorized as per models of services, including:
Software as a Service (SaaS);
Infrastructure as a Service (IaaS);
Platform as a Service (PaaS).
Not all cloud-based services are totally identical, so choosing a proper cloud platform is a necessity to virtualize operational practices successfully. Having said that, there are the pros and cons of cloud computing services your business should figure out before making any investments in this realm.
Recommended reading: 4 Types of Cloud Computing: Understanding the Difference
The Pros of Cloud Computing
Cloud computing has gained increasing popularity on the grounds of its discernible benefits:
1. Cloud Security
85% of cloud users are confident in their cloud operator's capability to build a secure cloud-based environment.
Indeed, a company's IT development team is normally delegated to implement distinct IT projects, hence it's challenging to channel adequate financial and human resources to build a safe environment as the company's expectation.
Meanwhile, a cloud provider's main job is to build an effective cloud-based infrastructure and guarantee cloud security. Thereby, the cloud accommodates some of the following security features to protect the system from cyberattacks:
Customer network security;
Network and data encryption;
Access and vulnerability management tools;
Intrusion detection and prevention systems (IDPS);
Application Programming Interfaces (APIs) and more;
That's why the cloud is more secure and reliable than traditional in-house infrastructure.
2. Convenient Access to Your Data
There's no need to arrive at your workplace and physically approach customer databases, especially when the Covid-19 pandemic broke out and made on-premises access impossible. With cloud computing, all authorized users can approach Internet-based databases conveniently in real-time no matter where they are settling down. This also mitigates latency and fosters their digital experience.
3. Excellent Scalability
The cloud-based infrastructure can be scalable depending on your company's requirements and growth. So when your business grows up, cloud storage can be also enlarged as well. Conversely, provided the company's project scope is narrowed down, a cloud vendor will offer a cloud-based platform at a reduced price.
3. Cost Savings
Cloud computing possibly removes exorbitantly high expenditures of developing and maintaining physical servers as well as data centers. Enterprises can save megabucks that are supposed to be used for the same IT experts, administration, and improvement of such infrastructure.
When their projects are scaled up but the on-site data centers are incapable of handling the increasing workload, those organizations cost more to upgrade their existing systems. Not to mention that their budgets sometimes need distributing to fix data security holes. Therefore, cloud computing is a savior for companies, especially SMBs that intend to shift their focus on business automation and digitalization to be more competitive.
Further, most cloud services providers come with different pricing packages so that even low-budget companies can approach cloud-based platforms.
4. Easier Management
Thanks to cloud-based infrastructure, all data and information are stored in one place. This accordingly facilitates data and application management. With some simple manipulation in the cloud system, your company can monitor data consistency and organization, bypass human confusion of looking for on-demand information, and document any change in the cloud.
5. Unlimited Storage Space
Physical data centers always have limited capacity and consume much computer power to maintain. This becomes a challenge for companies that have developed over time. So, cloud-based programs are decent options to cope with their increased demand for storage space when their projects are scaled up.
The Cons of Cloud Computing
On the flip side, cloud computing still has several drawbacks that any corporation should care about:
1. Limited Control
Numerous cloud providers take full responsibility for managing and maintaining public systems. What companies can do with clouds is activities in the front-end. Hence, your business sometimes doesn't know exactly what those operators do behind the scenes (in backend servers).
More importantly, you may be worried about whether their offerings may secure your databases effectively and support your company's performance to meet the industry's legal requirements. So, the lack of completely controlling the cloud-based systems is a common limitation of cloud computing.
2. Inflexible Contracts
Most cloud operators work on inflexible contracts. This may become a serious nuisance when your company is constantly growing and more customized requirements are produced to meet regular changes. This can expose you to the edge of incurred costs, data and system-related threats and more.
3. Reliant on Internet Connectivity
Working on the cloud means your company's significant dependence on the Internet connection. What if the connectivity, albeit wireless or cable, gets unstable or suddenly shut down? Although assorted clouds now support data backup and retention, unexpected interruptions in your cloud-based work are horrible, yet unavoidable experiences.
4. Data Security
When it comes to the pros and cons of cloud computing, data security is often a heatedly debated topic. Many organizations say that they see security improvement after using cloud-based solutions, while others don't.
Recommended reading: What Is Cloud Security and Cloud Computing Security Defined?
There are two main reasons why data security is now a big concern for multiple cloud users.
Firstly, although advanced technologies are applied to protect data on the cloud, there is no denying that hijackers now also have lots of ploys to invade the infrastructure. Not to mention that your company may pick untrusted cloud providers.
However, the primary culprit comes from internal accidents. In the Cost of Insider Threats Global Report by the Ponemon Institute in 2020, more than 60% of data vulnerabilities originated from in-house employees rather than malicious external threats.
Regardless of the reasons, some industries such as banking or healthcare shouldn't place too confidential and sensitive data on the cloud to avoid unexpected information theft. Also, companies should comply with security policies and rules to better their data protection on the cloud.
Conclusion
Like other advanced technologies, cloud computing looks like a two-faced coin. Despite the existing limitations, this technological solution is overwhelmed by outstanding advantages.
Grasping the pros and cons of cloud computing is a stepping stone for your company to know exactly what the business can receive and face in the clouds. Moving forward, your organization should devise plans associated with business continuity, disaster recovery, and more in precaution against the worst-case scenario.