Cloud computing is a scalable, trendy solution for companies of all kinds. But not all cloud-based solutions give the same benefits. So finding out about types of cloud computing is a must to pick up the suitable one for your business functions.
What Is Cloud Computing?
Generally, cloud computing is the on-demand access to computing services – from data storage, software, and servers to big data analytics – outright over the Internet.
For this reason, companies need not purchase or self-develop, and maintain physical servers and data centers. Instead, they can use prepaid or cost-exempt technology solutions such as Amazon Web Services (AWS), Microsoft Azure, and Google Cloud to render their infrastructure productive, improve data management, lower overheads and serve scalable projects more effectively. Large clouds empower organizations to assign functions and resources to numerous locations and distribute resources.
Recommended reading: What Is Cloud Security and Cloud Computing Security Defined?
The 4 Types of Cloud Computing
When the Covid-19 pandemic turned remote working into a new norm, the global cloud computing industry witnessed more diverse demands from individual and organizational entities. Besides, cloud computing solutions are also diversified to meet different expectations. Choosing an inappropriate measure is cost-consuming and puts your cloud-based systems at risk. Therefore, you should learn about the following types of cloud computing to pick up the right solution.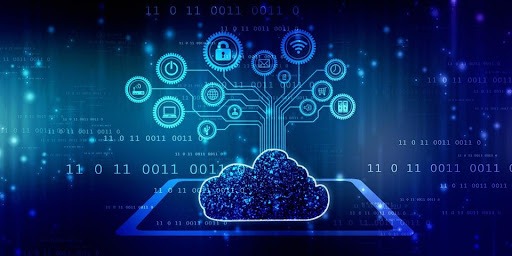 1. Private Clouds
Private clouds are infrastructures exclusively developed for a single company rather than the mass. Those systems host and manage internal staff. Thus the in-house IT department has to take whole responsibility for development and maintenance costs as well as private cloud management.
Besides, some organizations can entrust those tasks to a third-party provider. However, basically conducting private cloud projects is similar to building a physical data center. Those solutions may require the same staff, administration, procedures, and technologies (e.g. hardware, software, or servers) to digitize business environments and repeatedly assess existing resources. Moreover, such systems can demand a significant capital threshold and even later expenditures for improvement and maintenance. Beyond that, each stage of private cloud projects has to scrutinize to guarantee data protection.
Infrastructure as a Service (IaaS) and Platform as a Service (PaaS) are two common models used in private clouds.
2. Public Clouds
Public clouds are hosted and administered by public service providers with subscriptions or no charge. Therefore, computer system services are available for enterprises that are looking for cheaper solutions. Unlike private clouds, a cloud services vendor will be liable for all administration, maintenance, and improvement of public systems.
Multiple users raise their security concerns about public services because such solutions are accessible to many people. But in fact, public clouds are more secure than private ones. Most public cloud vendors now use a shared accountability model in which they have a duty of protecting systems through such security methods as intrusion detection and prevention systems (IDPs). Meanwhile, companies secure databases and anything running on cloud by using authentication and encryption measures.
For companies that deal with sensitive data, specifically those that handle Controlled Unclassified Information or subject to International Traffic in Arms Regulations, choosing the right cloud environment is crucial. This is where solutions like Microsoft's GCC High come into play. It is designed to meet the stringent compliance requirements associated with ITAR and CUI, thus providing an extra layer of security for organizations operating under such regulations. It's important to note that while Microsoft GCC High is a powerful tool, it should be deployed appropriately considering the regulatory needs, data sensitivity, and business requirements of your organization.
3. Hybrid Clouds
Hybrid clouds enable companies to use public clouds in a private environment thanks to technologies that facilitate application and data sharing between them. In other words, when private clouds are incapable of processing data and information, organizations can count on public clouds to tackle their project's capacity at lower rates. Accordingly, they can eliminate expenses on building, maintaining, and improving new servers.
Industries (e.g. finance, healthcare, or government) whose data is highly sensitive should choose hybrid cloud architectures. Besides, they can obtain more flexibility in public clouds when scaling up or down less regulated computing projects, whereas meeting industry standards of keeping some confidential data on-premises.
Security measures on hybrid cloud platforms are considered superior to those of private and public clouds. Your company can use cybersecurity features, disaster recovery capabilities, security information and event management (SIEM), and more to secure your system. Not to mention that hybrid cloud architecture is regularly updated to guarantee better data protection.
4. Multi-cloud
Unlike hybrid clouds which use numerous deployment options (public and private), multi-cloud strategies are associated with numerous cloud services in a separate heterogeneous system.
For example, your company can use different infrastructure service providers for different computing tasks. But instead of completely relying on one vendor, the business can either undertake a single task across many providers or implement some work on one provider but back up with another. Meanwhile, you don't need to synchronize different vendors to complete computing workloads.
The Future of Cloud Computing
Cloud computing is the future of all industries. When the paperwork is no longer suitable in this ever-changing era and databases are becoming a critical part of all enterprises, cloud computing is inevitably a cost-effective and innovative solution to handle most computing functions.
Fortune Business Insights' 2020 research indicated that the global cloud computing market had a capitalization of US$219 billion. This figure is forecasted to steadily increase to US$791.48 billion by 2028. This development is primarily motivated by the profound influences of Covid-19, the acceleration of advanced technologies (e.g. artificial intelligence or machine learning), and the growing demand of enterprises for cloud computing.
In the projection period of 2021-2028, types of cloud computing will be more diversified and witness different trends:
Hybrid clouds will reach the maximum growth rate. This is because more SMBs increase their adoption of this technology to improve performance and reduce costs.
The public cloud segment is projected to have the largest market share due to digital transformation, the automated performance of SMBs, and the growing penetration of connected devices.
Private clouds are popularly used by large enterprises on the grounds of scalability, improved security, and cost reduction.
Multi cloud are being implemented by big corporations to distribute tasks from different cloud-based systems to employees. Having said that, Omni clouds surpass multi-clouds as a result of the increased cloud-based apps like Gmail or Dropbox.
Recommended reading: 10 Common Web Security Threats Businesses Might Face in 2022
What to Look For in a Cloud Services Provider?
Apart from types of cloud computing, companies should also focus on which cloud providers they should work with. There are four evaluation metrics your business should ponder as follows:
1. Provider health and procedures
Trusted service providers need to have a sustainable track record, healthy financial conditions, and an effective management structure. Also, they should grasp your business nature and what your company wants to consult about a suitable cloud-based platform.
2. Cloud compliance
Your chosen cloud-based platforms should adhere to industry standards in terms of quality and security. So it's essential to seek vendors accredited with prestigious certifications and standards such as ISO 27001 or GDPR.
3. Technological capabilities
Cloud-based infrastructure has to come with standardized mechanisms, interfaces, and monitoring systems to ease your data and project deployment, management and upgrade.
Further, any changes in the platform should be documented, tested, and formally processed to still guarantee the seamless connection of your organization with the cloud.
4. Administration support
A cloud provider should pledge to accommodate the service levels your company wants through Service Level Agreements (SLAs). Besides, administration and maintenance support should be clarified in those contracts.
5. Security measures
To avoid unexpected data vulnerabilities, both a provider and your company should work on a shared responsibility framework. Also, the vendor should offer a comprehensive security infrastructure, transparent security policies, data backup, and identity management principles, and more.
6. Cost
Selecting a cloud services provider needs to suit your business budget as well. Many vendors now offer different pricing packages for service levels such as pay-as-you-go models or hourly bills to tally with distinct finance positions of companies.
Conclusion
Along with the ever-increasing dominance of cloud services today, the whole industry has become diversely segmented to satisfy more demands of large enterprises and SMEs.
Understanding the different types of cloud computing and working with reliable cloud providers will help find the suitable one for business goals, functions, and projects.