Does your business have a mobile app? No? Oh honey, get one now! Let's face the fact that mobile apps have taken center-stage in our lives in many ways.
Going beyond the use of just making phone calls or sending a text, nowadays smartphones with their many existing apps seem to be everything surrounding us from using social media, doing business, looking for a service, shopping or even playing a game.
However, sadly, many people do not realize that a mobile app can be their most powerful marketing ever. Some of them are overspending on their app, others are underspending and have no idea what they're doing. Worse, they even don't have one. Tons of mobile app out there are poorly designed or come straight from a template, which does not bring to their business any benefits.
So, in today's post, I'm going to tell you why a bad-ass mobile app really matters to your business.
Keep in touch with your customer anywhere anytime
What's the thing that you keep close to yourself twenty-four hours a day, seven days a week? Not your boyfriend/girlfriend. Not your husband/your wife. It's your smartphone! Ok, I know it sounds ridiculous but it's true. We spend a lot of time near mobile devices, whether we're at work or relaxing at home. It's the easiest way to stay online, no matter where we go.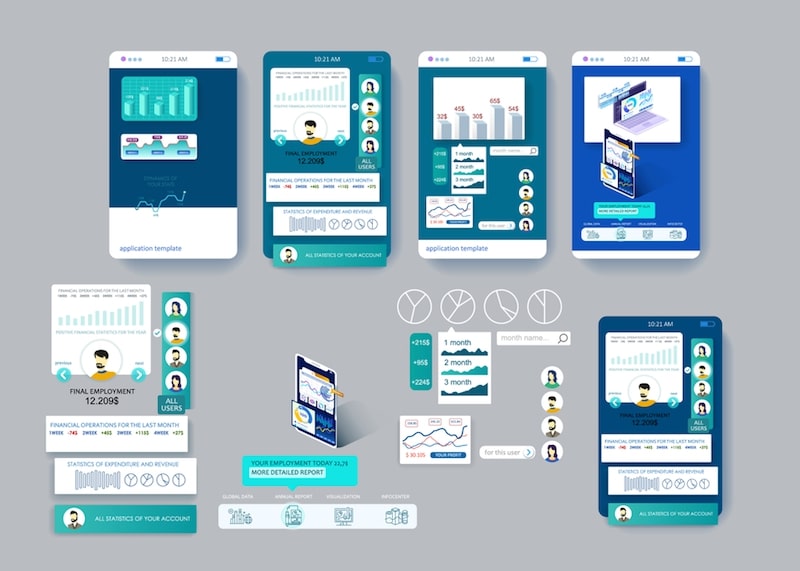 That's why when you have a mobile app, your customer can get in touch with your business — while on the go. They will be able to order, make requests, and leave reviews easily and conveniently. Who doesn't love that?
You will stay competitive in the market
Even though it's 2017 already, much small business still thinks that mobile apps are solely for big-name brands, not for them.
Don't be like the rest of the honey.
It's time for you to think outside the box. Imagine your business has a mobile app and the competition doesn't, obviously you can stay one jump ahead of your competitors. Be the first in your neighborhood to offer a mobile app to your customers. They'll be astonished by your forward-thinking approach!
You'll gradually increase customer loyalty
No matter whether you are selling flowers or spa services, at the end of the day, customer loyalty is everything to your business. The thing is how to keep the customer coming back to you again and again?
Here are 3 simple steps to follow: satisfying their needs. Offering fast. And supporting reliably.
Fortunately, all of these can be done by your mobile app. An app that serves customers literally at their fingertips has a much better chance of building a long-lasting connection with the customer than other advertising media like billboards, flyers, etc.
Create a direct marketing channel
The funny thing is that many people indulge in the illusion that just because they built their business, everyone will find it and interact with it, and then, purchase their products or services. Really? Please wake up! I'm sorry to burst your bubble but that's not how it works. If you want to boost your revenue, you need to make ways for customers to reach you.
There we go. Mobile apps come to your rescue. An App can wear many hats: they can provide general info, show prices, user accounts, messengers, news feeds, and much more.
One of the biggest benefits of having a mobile app is that you can use push notifications about upcoming sales and promotional events. It is a powerful way to reach consumers, one that's much more difficult to ignore than an email.
Mobile App will promote Your business
Last, but not least, as well as a powerful marketing tool, your app also serves to promote your brand. Think of a mobile app as a mini advertising billboard. It's colorful and creative. It's simple, easy to understand, and straight to the point. Besides, it's a little fancier than that. And of course, it's also memorable.
A great mobile app can greatly contribute to your brand awareness, create an image of who you are and what you want the community to know about you, your products and services.
Final words
Let me tell you something. While you're reading this article and deciding whether or not to build a mobile app for your business, your competitors are already developing their own. So, hurry up! Don't miss the boat. It has already left the harbor.
Now if you are ready to taste the numerous benefits of your own business mobile app, where are you going to start? You have two options:
Bring your own in-house app development team on board.
You hire an app development agency
If you choose the second one, give us a call. That's something we can definitely help you.