The umbrella term "Agile" isn't novel in the information technology industry and other spheres. Its wider adoption in assorted projects, irrespective of scale, is a result of the ever-changing modern workplace where team members need to develop more productive approaches to distributed missions. Reacting to agile methodologies thriving, agile project management software is growingly improved to meet more complicated demands of businesses.
What is agile project management?
Agile project management is an iterative process to administer a software development project that undergoes responsive changes to perfect the product based on customer feedback in short-term sprints throughout the project cycle.
Following that core value, agile methodologies let teams better adapt to current market trends, enhance collaboration between team members and stakeholders, and speed up the software-building procedure while minimizing incurred errors and bugs.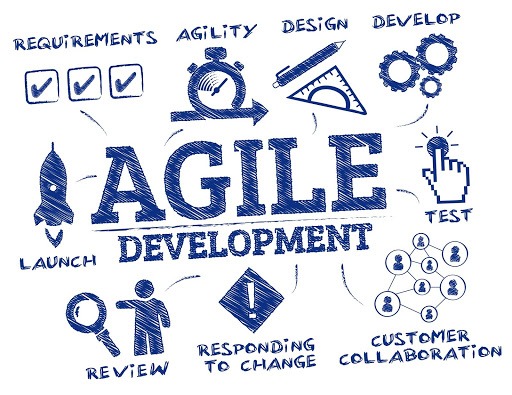 So, not only does agile management save much time and effort, but it also curbs inherent risks in traditional management practices, for example, incurred exorbitant expenses if the product fails to reach target segments. However, to seamlessly complete projects, especially large and complicated ones, teams need long-term support from agile project management software.
1. What can you do with a Project Management App?
Agile management software promotes team members' velocity of tracking and administering any project (i.e. developing an app or mounting a sales campaign), from its start date through the end date to launch a deliverable. With full assistance of those management apps, you'll perform specific tasks as follows:
Include who will get involved in the project and schedule certain activities that need to be completed by the right members in each incremental step or according to their priority.
Keep an eye on the project progress and discover whether or not tasks are going off the beaten track. Some powerful software may automatically adjust the schedule when everything strays away from the intended course.
Plan meetings between involved parties to promptly update the requirements of stakeholders, assure the deliverable quality and detect any obstacle during the process.
Make frequent reports that allow the management to monitor how team members carry out their assigned work.
Track how financial resources are allocated and directly send clients invoices for billable hours.
2. How to choose the best Project Management Apps?
Should you like to pick the best agile project management software, it's advisable to take several considerations before you decide.
The first one is the important needs of your business that count the company's size, the project's scale, financial resources and more. For this reason, software providers give a wide selection of service plans to suit different criteria imposed by your company, whether it's a small business with a limited budget or a large firm that needs to handle an array of resources at once.
Next, a decent management platform should accompany standard functions for distributing work, scheduling project-based work, tracking work and expenses at each stage of a product cycle. To do so, one of the essential tools, Gantt charts, should be included in any management app. The functionality gives users a visual timeline of tasks and workload.
The software market now is awash with collaboration apps that you may confuse with conventional agile management platforms. The former replaces traditional communication channels and therefore focuses on optimizing interactions between parties. Meanwhile, the latter covers more issues such as organizing tasks among team members or making financial and progress reports quarterly. Thus, these apps may help deal with the complexity of projects.
5 Best Agile Project Management Software
The powerful agile project management software needs to accompany all essential metrics mentioned in the previous section. It accordingly tackles three common problems including the smooth execution of the project by deadline and within budgets, communication and project evaluation. Based on such properties, we conclude the top five options as follows:
1. Atlassian Jira + Agile
When it comes to one of the best bug tracking and agile management apps, Atlassian Jira + Agile is always on the list. Designed to manage projects from many industries, the software allows companies to work on self-hosting or cloud-based servers. Other outstanding features entail:
Incorporating with Jira, Confluence and other products like Gitlab and Slack.
Providing Gantt charts, Scrum, Kanban boards and other properties to highly customize workflows, detect QA problems and so forth.
Offering Stride communication system that substitutes for Hipchat.
Using the release hub to check out the completion of the final product before it's delivered to the target client.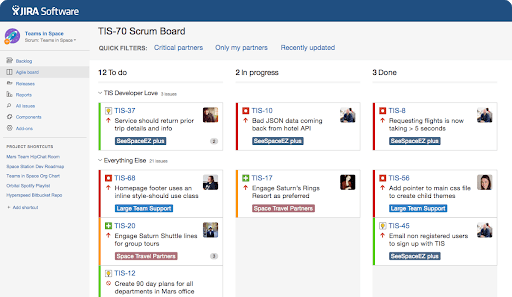 Plus: The platform is incredibly favoured due to a myriad of add-ons for highly customized project administration, intuitive UI/UX design, the availability of mobile apps and robust backlog management.
Minus: It receives many complaints for its slow execution of tasks, the steep learning curve for beginners and the painful transition between next-gen and classic projects.
Price: Atlassian Jira + Agile accompanies diverse pricing packages. Small teams of up to 10 users may use a free-of-charge version, whereas growing teams of up to 10,000 members pay $7 per user/ month.
2. Hubstaff Tasks
Hubstaff Tasks is an Agile project management tool that streamlines collaboration in teams of all sizes. It offers several features that let you easily track how your projects are doing and complete tasks efficiently.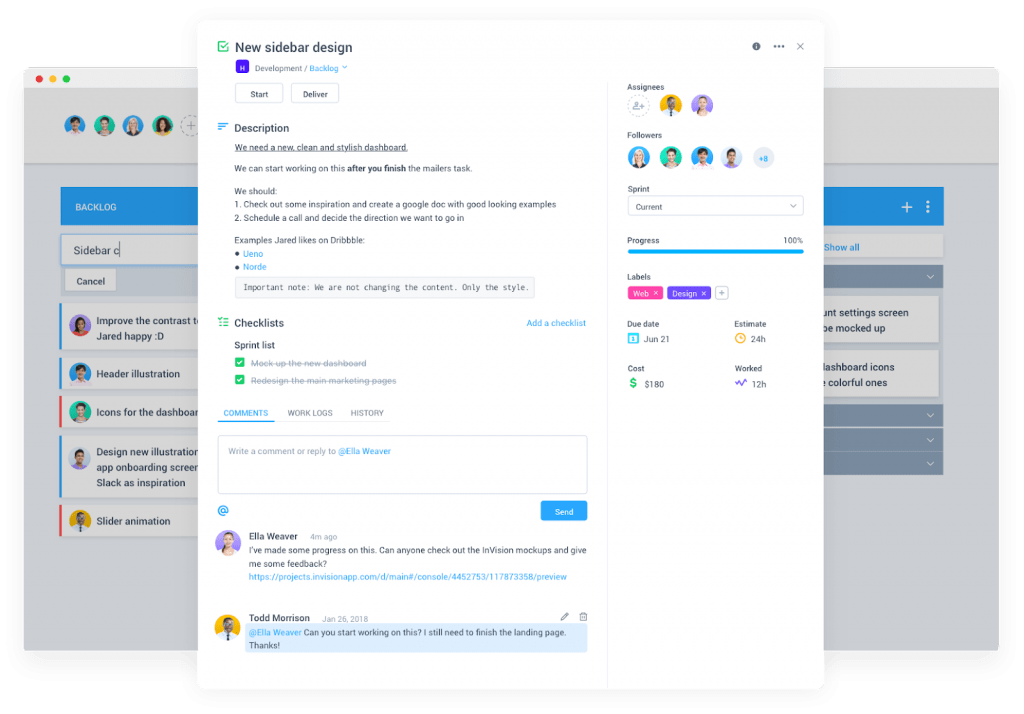 Organizing tasks with Hubstaff Tasks is straightforward with its intuitive Kanban boards. With the Sprints feature, you'll be able to see all the tasks assigned to you in one accessible menu. You can create custom workflows for different projects to ensure that tasks are always assigned to the right people. Hubstaff Tasks also includes multiple task management elements, a Gantt chart view, and daily standups.
3. Active Collab
Highly appreciated as an easy-to-use and affordable system, Active Collab allows users to execute a diversity of projects. It's a tremendous option to streamline your projects productively on the grounds of rich planning features, email-based communication functions and customized calendars shared among users but still invisible to those who aren't allowed to see.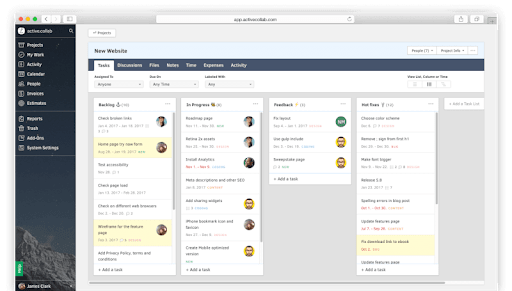 Plus: The software gets rave reviews for its excellent dashboard, time tracking, milestone preview, task priority and control as well as frequent updates.
Minus: It lacks Gantt charts and an integration with Git and other variants of the control system.
Price: Free software is offered for personal use or professionals commencing with small projects which are yet limited to three members. Two other flexible packages consist of Plus ($9 for three users/ month) and Pro ($7 per user/ month).
4. TargetProcess
TargetProcess is considered a great agile portfolio and project management tool originally for SAFe and other equivalent frameworks for scaled agile. Its functionalities are better suited for projects from medium-sized firms or large corporations, despite their industry. Some compelling features of the software are:
Facilitating your data visualization in any form of charts and boards. Concurrently, project statistics can be displayed in various dimensions such as a number of items distributed in each iteration or tasks per member.
Providing strong reporting tools to track the performance and progress of multiple projects.
Identifying different workflows for certain teams.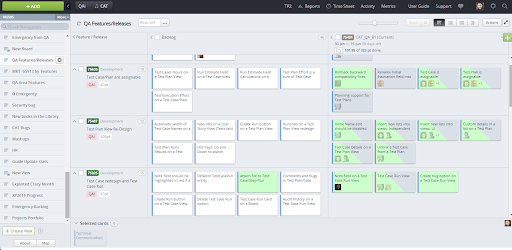 Plus: The agile management app has rich customization options and powerful features for both IT and non-IT projects, especially Agile/ Agile Scrum methodologies.
Minus: TargetProcess has an unattractive and slow UI. Also, the solution is regarded to have a rather high price.
Price: Subscription levels for on-site/ private cloud or enterprise versions aren't published.
See also: An Overview of Project Management Services
5. Pivotal Tracker
This agile project management software is specifically created to support software developers and startups in tons of Scrum projects. Pivotal Tracker is simple to use and has a user-friendly interface. It also goes with a collection of featured functionalities such as
Labelling to arrange and administer tasks.
Engaging members in your story conversation by simply tagging those people with @[name].
Sharing files from your computers or Google Drive.
Building a set of integrations and tools with REST API.
Boosting real-time communications around shared backlogs so that developers may know where to improve and stakeholders know how the work's going on.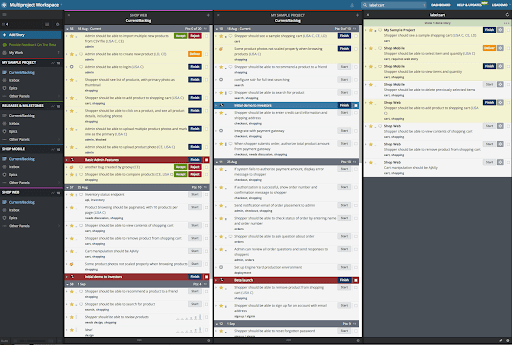 Plus: The platform provides a variety of feedback tools and integrates with Zendesk, Jira or Bugzilla.
Minus: Its mobile app has some limitations such as frequent crashes on iOS old versions or no notifications of updated user stories.
Price: Pivotal Tracker is free for up to 5 collaborators with 5 projects. It also offers free basic plans for public projects, academic institutions and non-profit organizations. Other pricing plans include Startup (from 6-10 members with a monthly $10), Standard ($6.5 per user/ month for 11+ collaborators) and Enterprise (negotiated prices for the unlimited number of users).
Bonus: SprintGround
If you're looking for a powerful tool to supervise dev projects, SprintGround is specifically developed for that purpose. Besides conventional bug and issue tracking tools, the platform helps you automatically estimate releases, allow the product owner to track your release schedule, follow changes made by other members and much more.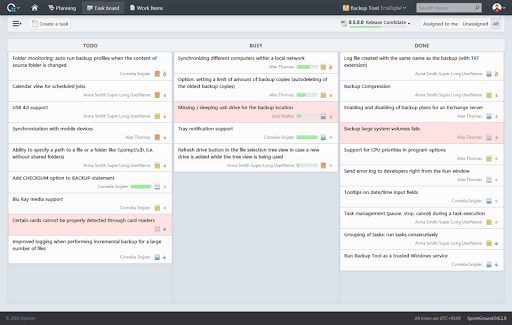 Plus: SprintGround is among the best agile management platforms for software projects that support Scrum, Kanban and other linear approaches.
Minus: The software has a limited file storage, despite your chosen pricing plan. Also, no desktop-based and mobile versions are available.
Price: The free version is offered to 3 users and 2 projects with 50MB storage. Other pricing packages entail Starter ($29/ month for 8 users and unlimited projects with 1GB), Business ($69/ month for 20 users and unlimited projects with 2GB) and Enterprise ($5.5 per user/ month for 21+ users and unlimited projects with 5GB). Those who want additional file storage have to pay $1/ GB/ month.
What makes a good Project Management Software?
There's a lot to ponder when you choose the agile project management software because a good platform is a determining part of the project's success and any wrong decision may lead to unexpected results. Inextricably linked with the whole project from the initiating phase to the closing stage, the superb management system should consist of the following functionalities:
Task lists: delegate tasks and update their status so that team members are well-informed of how the project's happening.
Communication: electronically support interactions between participants to avoid misunderstandings and speed up the problem-solving or decision-making process.
Schedule: help visualize whether a task's aligned with the whole project and its progression, as well as gauge the possible time to complete it.
File sharing: share and arrange important documents in order to save time dedicated to scout for files.
Reporting: help team members and project managers to get deep insight into the work productivity and find out whether any improvements should be made.
1. The Best Project Management Apps for Small Businesses
The costly agile management software with sophisticated tools isn't the best choice for small-sized companies that just handle some projects and less focus on timesheet collection for billing clients or comparison between projects. Instead, they should look at cost-effective solutions like GanttPRO ($8.9 per user/ month), Teamwork ($12 per user/ month) or Zoho Projects ($5 per user/ month). Limiting the budget of no more than $15 per person/ month is advisable for small teams with simpler projects.
2. The Best Project Management Apps for Large Organizations
A large agile software development company often deals with hundreds of projects and a massive number of software engineers, UI/UX designers, team leaders and project managers at all levels. Therefore, the wide application of such complicated platforms as LiquidPlanner (at least $29 per user/ month) or Celoxis ($22.50 per user/ month) across projects is needed for tracking resources, estimating revenues, scheduling employees and more if enterprises want to produce the best outcomes.
Conclusion
Agile project management software is an integral part in companies of all kinds as it increases team members' adaptability to any project and helps visualize the work progress or potential QA issues. Despite different requirements defined for respective projects, all management apps should contain fundamental attributes: task lists, communication, file sharing, schedule and reporting. What's more, any agile software development company should take some elements into accounts, including the project's scope, financial and human resources or more, before picking up a platform that fits those criteria.